Post-vaccination getaway plans scrambled by ongoing pandemic uncertainty – The Record (New Westminster)
TORONTO — For more than four decades, Christine Mak travelled every year to Disney parks and various conventions to commune with fellow fans of fantasy and science fiction. But her streak was interrupted early last year when the COVID-19 crisis halted cross-border celebrations.
The Toronto resident thought vaccination would be her ticket to reuniting with the global group of friends she's made through shared enthusiasm for the British sci-fi serial "Doctor Who" and all things Disney.
Soon after she received her first COVID-19 shot in March, Mak started making arrangements to get back on the U.S. circuit of pop-culture destinations, booking tickets to Florida theme-park capital Orlando and "Doctor Who" conventions in Chicago and Los Angeles.
But then the more contagious Delta variant emerged.
As case counts recently climbed in Florida, Mak scrapped her planned pilgrimage to Walt Disney World in January.
With dire assessments persisting for parts of the United States, she now wonders if the rest of her travel itinerary is just wishful thinking.
"It's so disappointing that after doing everything right, we're almost back to square one," says Mak, who worries she could lose hundreds of dollars in cancellation fees if her other trips are thwarted.
"I love travelling. You can only make so many cakes and putter around your garden for so long."
Mak is among many Canadians whose post-vaccination vacation plans have been scrambled by the pandemic, with ongoing COVID-19 uncertainty and ever-changing global travel rules complicating excursions, be they across the border or across the pond.
A number of Canadian concertgoers have taken to Billy Joel's Facebook page to express dismay that the ongoing closure of the U.S.-Canada land border will prevent them from driving to Buffalo to see the crooner perform next Saturday.
Meanwhile, many British expats feel slighted that Canada was excluded from the United Kingdom's recent move to ease quarantine restrictions on fully vaccinated travellers from the United States and most of Europe.
Milton, Ont.-based travel advisor Kristin Hoogendoorn says she received a rush of inquiries this spring as the expansion of Canada's vaccination rollout seemed to unleash a wave of pent-up wanderlust along with optimism.
Nevertheless, Hoogendoorn says she's advising her clients against booking trips out of the country until 2022.
Every nation has its own convoluted set of COVID-19 testing, vaccination and quarantine requirements, and these standards may differ between your place of departure and destination, says Hoogendoorn.
For example, she says, Canadians who mixed and matched brands of COVID-19 shots don't meet the criteria to be considered fully vaccinated in some countries.
And even if they do, further complications may await in the vaccination rules of event venues, hotels and restaurants you hope to visit.
"This isn't 2019 anymore. This is a whole new world," says Hoogendoorn. "(Travellers) never had to think about plan B.… That was always the worst-case scenario. Now, the worst-case scenario seems to be the reality."
In this emerging era of contagion-constrained travel, tourists must accept the chance their trips won't go as planned, says Frederic Dimanche, director at the Ted Rogers School of Hospitality and Tourism Management at Ryerson University.
The travel industry is adjusting to the most significant challenge it's faced since the terror attacks of Sept. 11, 2001, Dimanche says.
There's going to be a learning curve for tourism professionals and travellers alike, he says, so visitors need to be more forgiving about complications such as flight delays, hotel mix-ups, barriers to public venues and other service disruptions.
There's always some degree of uncertainty when it comes to venturing abroad, says Dimanche, and while voyagers can take steps to mitigate the risks associated with COVID-19 restrictions, the truth is that this is what travel may look like for the foreseeable future.
"International travel was never 100 per cent easy … but now there is an additional level of complexity," he says. "It's going to be difficult, so we need to plan for it."
This report by The Canadian Press was first published Aug. 8, 2021.
Adina Bresge, The Canadian Press
Apple's iOS 14.8 Pegasus security fix: iPhone owners urged to update immediately – CNET
Apple released security updates for its iPhones, iPads, Apple Watches and Mac computers earlier this week that close a vulnerability reportedly exploited by invasive spyware built by NSO Group, an Israeli security company.
On Monday, the tech giant posted a security note for iOS 14.8 and iPadOS 14.8 that said some malicious PDFs could take advantage of its operating systems. "Processing a maliciously crafted PDF may lead to arbitrary code execution," the note read. "Apple is aware of a report that this issue may have been actively exploited."
Apple also released WatchOS 7.6.2, MacOS Big Sur 11.6 and a security update for MacOS Catalina to address the vulnerability.
The fix, earlier reported by The New York Times, stems from research done by a public interest cybersecurity group called Citizen Lab that found a Saudi activist's phone had been infected with Pegasus, NSO's best-known product. According to Citizen Lab, the zero-day, zero-click exploit against iMessage, which it nicknamed ForcedEntry, targets Apple's image rendering library and was effective against the company's iPhones, laptops and Apple Watches.
Read more: Check if your iPhone is infected with Pegasus spyware with this free tool
Citizen Lab, based at the University of Toronto, says it determined NSO used the vulnerability to remotely infect devices with its Pegasus spyware, adding that it believes the exploit has been in use since at least February. It urged all Apple users to immediately update their operating systems.
"Ubiquitous chat apps have become a major target for the most sophisticated threat actors, including nation state espionage operations and the mercenary spyware companies that service them," Citizen Lab said in a report. "As presently engineered, many chat apps have become an irresistible soft target."
The security update rolled out a day before Apple took the wraps off a slate of new products, including iPads, Apple Watches and iPhones. The company used the fall rollout of devices, which is one of the company's most important annual events, to tout its security measures. Saying that privacy is "built in from the beginning," Apple said the upcoming version of its iOS software will block trackers and prevent monitoring of email, among other safety provisions.
Read more: Watch iPhone 13 launch live: How to watch Apple's event today
Apple thanked Citizen Lab for providing a sample of the exploit, which the iPhone maker said wasn't a threat to most of its users.
"Attacks like the ones described are highly sophisticated, cost millions of dollars to develop, often have a short shelf life, and are used to target specific individuals," Ivan Krstić, who runs Apple's security engineering and architecture operations, said in a statement. "While that means they are not a threat to the overwhelming majority of our users, we continue to work tirelessly to defend all our customers, and we are constantly adding new protections for their devices and data."
In July, researchers found evidence of attempted or successful installations of Pegasus on 37 phones of activists, journalists and businesspeople. All but three of the devices were iPhones. Some of the people appear to have been targets of secret surveillance through Pegasus, software that's supposed to be used to pursue criminals and terrorists. The spyware is reportedly capable of accessing and recording texts, videos, photos and web activity as well as passively recording and scraping passwords on a device.
NSO released a statement late Monday that didn't directly address Apple's update but said it "will continue to provide intelligence and law enforcement agencies around the world with life saving technologies to fight terror and crime."
The company, which licenses surveillance software to government agencies, says its Pegasus software helps authorities combat criminals and terrorists who take advantage of encryption technology to go "dark." Pegasus runs secretly on smartphones, providing insight into what their owners are doing. Other companies provide similar software.
CEO Shalev Hulio co-founded the company in 2010. In addition to Pegasus, NSO offers other tools that locate where a phone is being used, defend against drones and mine law enforcement data to spot patterns.
NSO has been implicated in other hacks, including the high-profile hack of Amazon founder Jeff Bezos in 2018. In the same year, a Saudi dissident sued the company for its alleged role in hacking a device belonging to journalist Jamal Khashoggi, who was murdered inside the Saudi embassy in Turkey.
iPhone 13 Pro runs Geekbench, reveals 55% better GPU performance vs iPhone 12 Pro – GSMArena.com news – GSMArena.com
As you probably already know, Apple unveiled four new smartphones yesterday – the iPhone 13, 13 mini, 13 Pro, and 13 Pro Max. They're all powered by the A15 chip, but there are GPU differences between them.
While the iPhone 13 and 13 mini have a 4-core GPU, the iPhone 13 Pro and 13 Pro Max, along with the new iPad mini, have a 5-core GPU.
This A15 chip with a 5-core GPU has been tested on Geekbench's compute benchmark using the Metal API today, by someone in possession of an iPhone 13 Pro prototype. The resulting score is 14216, which is about 55% more than the iPhone 12 Pro's 9123. This points to huge GPU performance improvements in the new iPhone 13 Pro and 13 Pro Max compared to their direct predecessors.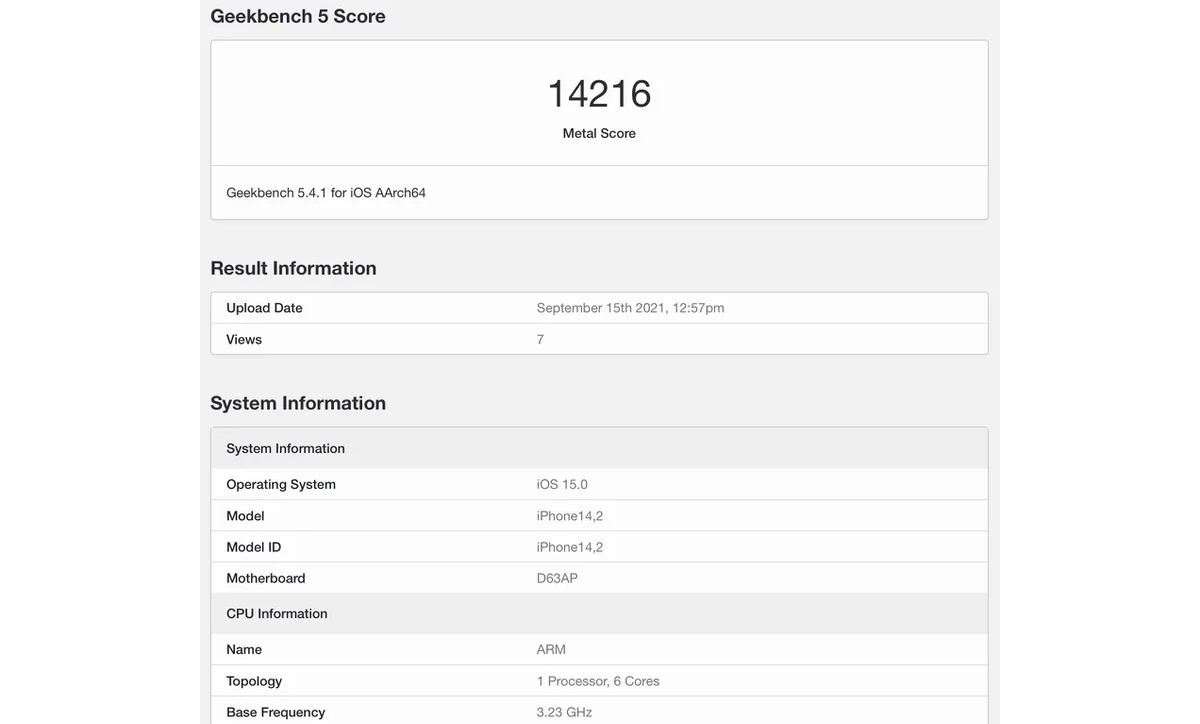 Apple has called the 5-core GPU version of the A15 "the world's fastest smartphone chip", and promised that it delivers "50% faster graphics performance than any other smartphone chip". Well, that seems to be the case at least when comparing to last year's A14 Bionic with 4-core GPU, as featured in the iPhone 12 Pro. The iPhone 13 Pro has 6GB of RAM too.
We don't yet know how the A15 with 4-core GPU would perform, since no one has benchmarked an iPhone 13 or 13 mini yet. We also don't have CPU benchmark results for any of Apple's new devices at this point, but all of these are surely coming soon.
Apple Quietly Removes 256GB iPhone SE Model From Online Store – MacRumors
Following updates to its product lineups this week, Apple has quietly discontinued the 256GB capacity option for the iPhone SE.

Prior to this week, the ‌iPhone SE‌ was available in 64GB, 128GB, and 256GB configurations, but since Tuesday's "California streaming" event and subsequent product lineup rejig, only the first and second of those capacities are listed on Apple's online store. Pricing for the 64GB and 128GB ‌iPhone SE‌ options remains the same.
According to Apple analyst Ming-Chi Kuo, Apple is planning an update to the ‌iPhone SE‌ for the first half of 2022. The current model was launched in April 2020, so the removal of the 256GB variant could be a sign that Apple is beginning to ramp down production of this particular model.
During its virtual event, Apple announced that the iPhone 13 and ‌iPhone 13‌ mini start with 128GB of storage, which is double the base 64GB offered for the iPhone 12 and iPhone 12 mini.
The storage capacities available for the ‌iPhone 13‌ and ‌iPhone 13‌ mini include 128GB, 256GB, and 512GB, while the iPhone 13 Pro and ‌iPhone 13 Pro‌ Max also have a new 1TB storage option.
Pricing continues to start at $699 for the ‌iPhone 13‌ mini, $799 for the ‌iPhone 13‌, $999 for the ‌iPhone 13 Pro‌, and $1,099 for the ‌iPhone 13 Pro‌ Max. Preorders for the new ‌iPhone 13‌ models begin Friday.
Top Stories
Apple today announced that the iPhone 13 and iPhone 13 mini start with 128GB of storage, which is double the base 64GB offered for the iPhone 12 and iPhone 12 mini.
The storage capacities available for the iPhone 13 and iPhone 13 mini include 128GB, 256GB, and 512GB, while the iPhone 13 Pro and iPhone 13 Pro Max also have a new 1TB storage option. Pricing continues to start at $699 for the…
Just two days ahead of Apple's annual iPhone event, reputable analyst Ming-Chi Kuo has outlined expected storage capacities for the iPhone 13 lineup.
In a research note with investment firm TF International Securities, obtained by MacRumors, Kuo said the iPhone 13 lineup will start with 128GB of storage, with no 64GB option for any models. Kuo added that the iPhone 13 Pro and iPhone 13 Pro…
With the launch of the new iPhone 13, iPhone 13 mini, iPhone 13 Pro, and iPhone 13 Pro Max, Apple has refined its iPhone lineup and has discontinued the iPhone XR and the iPhone 12 Pro.
The iPhone 12, iPhone 11, and iPhone SE are still around as lower-cost options, with all models getting a price drop. Apple's full lineup continues to be priced starting at $399: iPhone SE – $399 iPhon…
Apple today announced that the iPhone 13 Pro and iPhone 13 Pro Max are available with up to 1TB of storage, which is the largest storage capacity ever offered in an iPhone. The storage option is not cheap, with the iPhone 13 Pro Max with 1TB of storage priced at $1,599 in the United States, making it the most expensive iPhone ever.
Four storage capacities are available for the iPhone 13 Pro…
The new iPhone 13 Pro models support 4K ProRes video recording, but there's a catch if you want to capture video at the highest quality – you need an iPhone 13 Pro or Pro Max with at least 256GB of storage space.
On Apple's tech specs page for the new devices and in the press release announcing the new iPhone 13 Pro models, Apple says that if you have an iPhone 13 Pro or iPhone 13 Pro Max…
Apple today announced that the iPhone 13 mini, iPhone 13, iPhone 13 Pro, and iPhone 13 Pro Max will all be available to pre-order this Friday, September 17 at 5 a.m. Pacific Time, and all four devices will launch one week later on Friday, September 24. These dates apply to customers in the United States, Australia, Canada, China, Germany, India, Japan, the UK, and more than 30 other countries and …
With the imminent launch of brand new iPhone models, cellular carriers are already beginning to share various offers that should help save you money when buying the iPhone 13.
AT&T
Starting with AT&T, new and existing AT&T customers will have the opportunity to get a new iPhone 13 Pro or iPhone 13 mini at no cost, with an eligible trade in and on an unlimited cellular plan.
Under this…
Apple today held its annual iPhone-centric event, introducing the iPhone 13 mini, iPhone 13, iPhone 13 Pro, and iPhone 13 Pro Max. We also got a look at the new Apple Watch Series 7 and were surprised with the new ninth-generation low-cost iPad and the iPad mini 6.
Subscribe to the MacRumors YouTube channel for more videos. It took Apple an hour and twenty minutes to introduce the new devices …
With the launch of the iPhone 12 mini, iPhone 12, iPhone 12 Pro, and iPhone 12 Pro Max, Apple has decided to keep the iPhone SE, iPhone XR, and iPhone 11 around as lower-cost options.
The only iPhones that are no longer available for purchase are the iPhone 11 Pro and iPhone 11 Pro Max, which have been eliminated in favor of the new iPhone 12 Pro models.
Apple's full lineup now features…