Prince Harry blames 'toxic' U.K. media for royal exit with Meghan Markle – Global News
Prince Harry said he and his wife Meghan, the Duchess of Sussex, stepped back from their royal duties because of the toll that British tabloids were taking on their mental health, in his first interview since the couple's high-profile move to North America.
"It was destroying my mental health," Harry told British TV host James Corden during an interview that aired Thursday on CBS' Late Late Show. "I did what any husband and what any father would do. It was like, I need to get my family out of here."
Harry discussed his exit, his new life in Los Angeles and his plans for the future during the interview, which was shot on an open-topped double-decker bus in Los Angeles. The video aired less than a week after Buckingham Palace finalized the couple's departure.
"We never walked away, and as far as I'm concerned, whatever decisions are made on that side, I will never walk away," Harry told Corden. "It was stepping back rather than stepping down."
Prince Harry also stressed that he remains committed to public service, which was a core element of his life as a working member of the Royal Family.
The prince denounced the British media as "toxic," and said he had to leave the country for the sake of his wife and their young son Archie.
Harry's dislike for the British tabloids is well documented in public statements and several recent lawsuits. He has blamed U.K. media in the past for the death of his mother Diana, the Princess of Wales. He has also railed against coverage of his courtship and marriage to Meghan, which sometimes verged into racism in the U.K.
Harry, Meghan and Archie moved to North America in early 2020 after announcing plans to step back from their roles as working royals. They initially lived in B.C. before securing a more permanent home in Santa Barbara, Calif., where they now live.
Queen Elizabeth stripped the couple of their remaining royal duties on Feb. 19, saying it wasn't possible for them to "continue with the responsibilities and duties that come with a life of public service" after they stepped away from the work of the Royal Family. Harry and Meghan replied by saying "service is universal" and underscoring their commitment to the U.K., a response seen by some as disrespectful to the queen.
Harry told Corden that he's settling in nicely since the move, and is looking forward to the arrival of his second child. He also described fatherhood as "hysterical," and shared that Archie's first word was "crocodile."
Corden, who is well-known for his "Carpool Karaoke" segments with celebrities, managed to get Harry singing the theme song to The Fresh Prince of Bel-Air during a visit to the mansion where the show was shot.
Corden also briefly spoke to Markle via FaceTime, during which she revealed her pet name for her husband.
"Haz, how's it going?" she asks him.
"I didn't know we were calling you Haz now,″ Corden says.
"You're not my wife,″ he replies.
Corden tried to convince the couple to buy the mansion, if only so that "Haz" could become the Prince of Bel-Air.
"I think we've done enough moving," Markle said.
Harry told Corden that he remains in touch with Queen Elizabeth and Prince Philip. He added that the queen sent Archie a waffle maker for Christmas at the boy's request.
Corden eked out Oprah Winfrey for the couple's first interview after their royal departure. The segment was light-hearted throughout and did not touch on the commercial ventures that the couple have on the go.
Oprah's interview with Harry and Markle is scheduled to air on March 7.
—With files from The Associated Press
© 2021 Global News, a division of Corus Entertainment Inc.
Hong Kong Leader Jokes About Need for Law to Muzzle Media Leaks – Bloomberg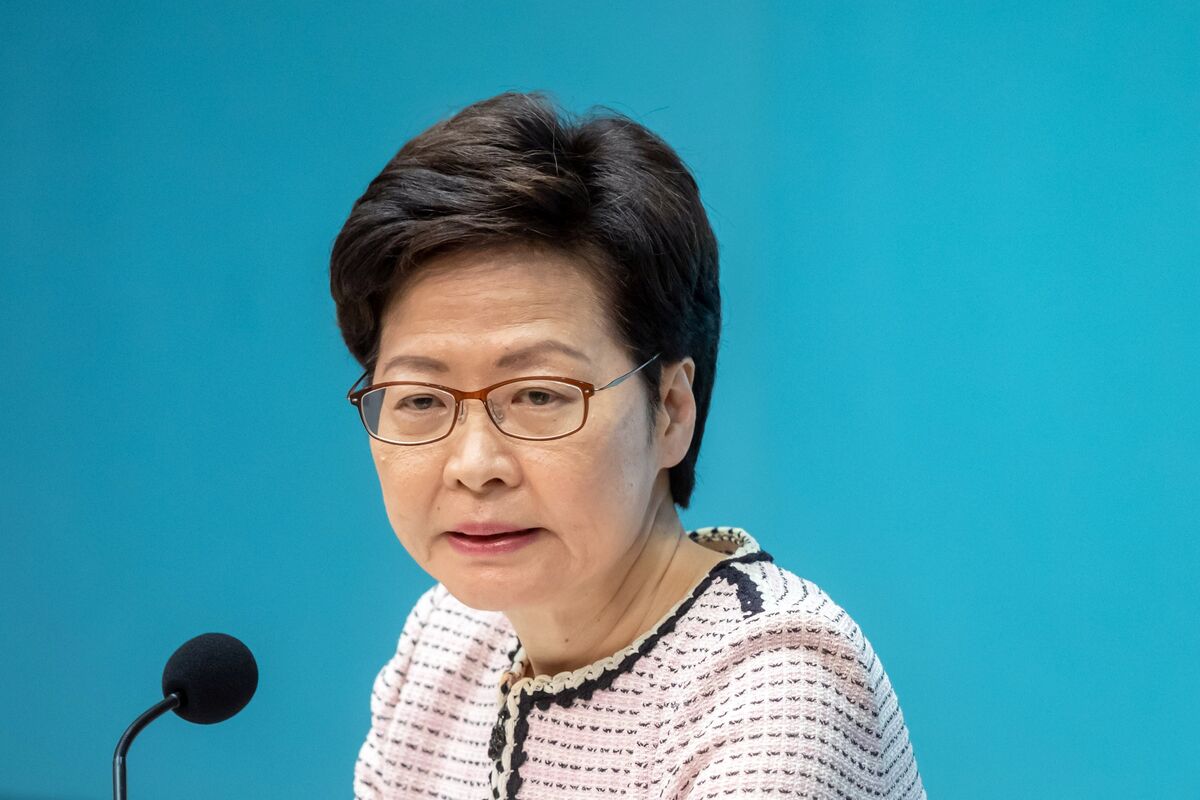 Hong Kong's leader criticized media who published her comments in a private meeting and joked that a law might be needed to curb such reporting — comments that are likely to fan concerns about the city's press freedom.
Hong Kong Chief Executive Carrie Lam said on a radio talk show Friday that a two-year-old report on comments she made to a closed-door meeting of businesspeople in 2019 "showed the integrity and the morality of some of the media." She added that the "media should not have reported something that was given in that fashion."
Prominent Agencies And Marketers Are Ramping Up Their Ad Commitment To Minority-Owned Media – Forbes
The killing of George Floyd and the subsequent protests has triggered a call to action in the advertising industry to invest a greater amount of their budgets to minority owned media companies. As a result, every prominent media holding group recently launched a separate division with the objective to facilitate and encourage their clients to make long-term investments and a greater portion of their ad budget to media companies owned by minority groups that target multicultural audiences. Additionally, several "blue-chip" marketers have separately announced their own plans to allocate more ad dollars to minority owned media outlets.
Many of these announcements occurred during the upfronts when agencies are registering their client's budgets and negotiating billions of ad dollars for the upcoming year. Here is a rundown of these recent announcements.
GroupM: In May, the WPP-owned media company launched the Media Inclusion Initiative, an integrated investment strategy to support and grow diverse and Black-owned media companies and creators. The initial focus will be on Black-owned media and creators. GroupM, the world's largest media investment company, will invite their clients to pledge at least 2% of their annual ad spend on Black-owned media. In June, twenty GroupM clients had committed to this initiative.
IPG Mediabrands: In May, announced a commitment to spend a minimum of 5% of ad budgets in Black-owned media channels across all clients, in aggregate, by 2023. IPG also launched their first annual Equity Upfront™ to highlight the importance of Black-owned companies that target Black audiences. Among the media companies participating were the Allen Media Group/Entertainment Studios, BET Network, Essence Communications, Urban One ReachTV, Revolt, The Source, Blavity, Ebony along with a number of IPG clients. The goal is to expand to other multicultural platforms in the future. In June IPG announced a partnership with ReachTV, a Black-owned in-airport linear TV channel.
Dani Benowitz, US President, MAGNA says "We saw the critical need to move beyond intent and into actionable steps with minority and Black-owned media partnerships. This young and affluent audience shapes the culture, is entrepreneurial and drives growth. At MAGNA and Mediabrands, we presented the first Equity Upfront, in an effort to reverse long-standing inequities in the advertising industry. We also launched our partnership with ReachTV so our clients could see the immediate benefit of how minority-owned media companies not only provide them with exciting content environments, but also closely connect them with highly desirable and hard to reach consumers in engaging ways."
Dentsu: Also in May, Dentsu International announced the creation of a separate, stand-alone division to promote diversity in media and support minority-owned companies. The new group called Economic Empowerment, will combat the existing inequities by creating benchmarks when clients are investing in minority owned media and reaching diverse audiences. The unit will support both established and up and coming media companies as well as offer strategic consultancy services to clients along with feedback to media owners.
Omnicom
OMC
: In June, Omnicom announced the launch of Diverse Content Creators Network which targets minority-owned publishers and content creators. The plan is to tap Omnicom clients into content from Asian, Black, LatinX, and LGBTQ+ creators across all media platforms and eliminate any barriers of ad investments. These creators include actor Will Smith (53.8 million Instagram followers), director Ava DuVernay (2.7 million Twitter followers) and singer Jason Derulo (46.2 million TikTok followers) as well as famous web creators. Furthermore, Omnicom will add a programmatic element with the goal of overcoming built-in biases especially with smaller minority publishers that typically wind up toward the bottom of programmatic bidding.
Havas: In July, the Havas Media Group started BIPOC (Black, Indigenous and People of Color) Media Connections. The goal is to assist advertisers to allocate more ad dollars to Black and Hispanic owned U.S.-based radio stations. Havas says 180+ minority owned radio stations have joined. Last year, Havas had launched a social equity marketplace that facilitated their clients to invest ad dollars in underrepresented Black, Hispanic and LGBTQ+ owned media companies. A number of HMG clients have enlisted in the initiative. Havas has been expanding the program to global markets.
Publicis: In July, Publicis launched a cross-industry consortium called The Once and For All Coalition: a multi-year, industrywide initiative to remove barriers to equitable financial opportunity and representation of ethnically-diverse suppliers to help its clients uncover opportunities that mirror their brand values and drive growth with audiences in a multicultural world.
"The Once and For All coalition was created to address a legacy challenge to our client's business growth, which is the ability to sustainably evaluate, support and invest with ethnic minority owned or targeted businesses to drive superior performance with communities of underrepresented backgrounds," said Jason Smith, President, Diversified Investment at Spark Foundry, a part of Publicis. "We felt a strategic need to approach this critical growth area with a comprehensive, collaborative, measurable and open-source approach built off industrywide representation and an eye toward the rapidly changing dynamic of our culture."
Publicis says 21 clients have signed on for the first wave of participation along with 23 minority owned and targeted supplies from traditional and emerging media. The early emphasis will be on Black and Hispanic owned media. In addition, a number of marketers have pledged greater advertising support to minority owned media outlets.
Coca-Cola: In June, the Atlanta-based Coca-Cola Company
KO
vowed to almost double their ad spending with minority owned media. Coca-Cola has announced their ad spend will be five times higher in minority owned media when 2021 is compared to 2020. Furthermore, by 2024 Black, Hispanic, Asian American and Pacific Islander (AAPI)-owned media will account for 8% of Coca-Cola's annual ad spend in North America, resulting in an increase of at least $500 million in five years. Coca-Cola also said their U.S. employee population across all positions will mirror the U.S. census for race and ethnicity.
General Motors: In May, General Motors charted a "five-point action plan" to amend how they partner with diverse owned media companies and their audiences. Historically one of the top marketers in ad spend, the Detroit-based carmaker announced they would allocate 2% of ad spend in Black-owned media spend in 2021, double it to 4% by 2024 and then double it again to 8% in 2025. General Motors was cited by Black-media owners for spending less than 0.5% of their ad budget on Black-owned media, although GM
GM
disputes the figure. The carmaker also had a virtual meeting with members of NABOB (National Association of Black Owned Broadcasters) to make their commitment known. GM also plans to invest $50 million over the next decade to fund diversity in sponsorships and marketing.
McDonald's
MCD
: The quick service restaurant announced plans to double by 2024 their marketing dollars toward media companies, programmers and production companies owned by Black, AAPI, females and the LGBTQ community. McDonald's plans to increase their national ad spend to diverse owned media companies from an estimated 4% this year to 10% in 2024. As part of their marketing strategy, McDonald's will increase their national ad dollars to Black-owned media from 2% this year to 5% in 2024. McDonald's said they also cultivate long-term relationships with minority owned media companies.
Other blue-chip advertisers announcing plans to commit to minority owned media include.
· Target
TGT
, a GroupM client, announced plans to invest $2 billion in Black-owned businesses by the end of 2025.
· Verizon
VZ
announced plans to increase their ad spend in Black-owned media companies.
· The goal of Procter & Gamble's
PG
"Widen the Screen" initiative is to improve the image of Black life on screen and promote Black creators in film, television and advertising. Procter & Gamble also has plans to invest more ad dollars in minority-owned media.
The multicultural consumer is an attractive target for advertisers. Their population is growing; within 25 years, the Census Bureau projects non-Hispanic whites will account for less than half the U.S. population. The buying power of minority groups in the U.S. is exploding, totaling $4.2 trillion in 2020 and forecast to be $5.2 trillion in 2023. In addition, the multicultural market presents a desirable youthful target for marketers, the median age of Hispanics is 30, for Blacks it is 35 and it is 38 for Asian-Americans, compared to 44 for non-Hispanic whites.
Nonetheless, support of minority owned media and their target audience has been sluggish. For example, Nielsen's Ad Tel reports Black-owned media companies account for less than 2% of total ad dollars spent in 2020 despite accounting for 13% of the U.S. population.
CBC grapples with how to program an Olympics in the social media age – The Globe and Mail
After dozens of Olympics on television, you might think it would be easy for a network programmer to figure out which sports Canadian audiences want to watch. But conventional wisdom goes only so far. "In a Winter Games, it's pretty much: hockey, figure skating, curling – and then you sort everything else out," said Chris Irwin, the executive producer and head of production for CBC Olympics, in a recent interview. "But a Summer Games, once you get past the big three – athletics, aquatics, gymnastics – everyone in the room has a different opinion."
In the entertainment realm, TV networks that are programming a new show might base decisions on the performance of similar fare: if CSI Miami pulls in 10 million viewers on Thursdays in primetime, it's a safe bet CSI: Poughkeepsie would do more or less the same. That works for sports, too: Networks can project with some accuracy the viewership numbers for a typical Yankees or Maple Leafs game.
But the relative rarity of the Olympic Games, combined with their changing locations and the head-swirling developments in both technology and viewer habits, have made historical comparisons of little use for the Tokyo Games, which will unfold 11½ to 16 hours ahead of viewers watching across Canada.
"It's definitely part science, part art form," Irwin said.
What to watch at the Tokyo Olympics: Everything you need to know about the Summer Games
Looking at data from the 2018 Games in Pyeongchang, "you have the right time zone [as Tokyo], but it's winter sports, so nothing is relevant. You go back to Rio, and it's summer sports on the same schedule, but nothing is relevant from a time-zone perspective," he said. "So, when you get people weighing in and saying, 'The highest-rated sporting hour in Rio was this [particular event],' you say, 'Yes, but that's because it was at 9 o'clock eastern time and it followed that big, huge other thing.' And then you try to map that to Tokyo, and [that same sport] is at 8 a.m. and the available audience is one-tenth of what it is [in primetime].
"So, the last comparable Olympics with information that could help you make better decisions was [the Beijing Games in] 2008 – and you can imagine how irrelevant that research is. Nobody was watching streaming. There wasn't even an app in 2010," for the Vancouver Games. "So the idea that people [might watch the Olympics] on their phones, and in their beds and on trains and planes and everything, was just non-existent until this cycle."
Canadians will have a dizzying array of ways to access these Games: five broadcast channels (the main CBC network, which will devote 23 hours every weekday, and 24 hours on weekend days, to coverage; two channels each of CBC's sub-licensees, TSN and Sportsnet); up to 20 livestreams at once on CBC's Gem app, the new CBC Olympics app, and the CBC Olympics website. Amazon Prime will have a CBC Olympics hub filled with live games and replays. Select bits of content will run on YouTube, Twitter, Facebook and Instagram. CBC Sports even started up a TikTok account for Tokyo.
"As we look at these Olympics and [the 2022 Winter Games] coming up, and Paris [in 2024] down the road, I'm convinced it's our responsibility not to just expect Canadians to come to the main channel and watch it like they used to," said Chris Wilson, the executive director of CBC Sports and Olympics. We've got to challenge ourselves to present the Olympic content in different ways, on different platforms and be very creative with our partners."
Mindful of its role as a public broadcaster, the CBC will be offering the opening ceremony, which airs Friday morning, in eight Indigenous languages on its online platforms: Eastern Cree, Dehcho Dene, Denesuline, Gwich'in, Inuktitut, Inuvialuktun, Sahtu Dene and Tlicho.
And while TSN and Sportsnet are only available to paying subscribers, all of the action airing on those cable networks will also be available free on the CBC's streaming platforms.
That free and universal access – at least for those who have broadband internet – contrasts with the United States, where NBC will spread content across its over-the-air network and several of its pay cable channels. And it is using the Games to push subscriptions to its new streaming service, Peacock.
The CBC is also treating these Games as a promotional opportunity. "We're certainly interested to see if we can drive additional awareness and additional free subscriptions to Gem," Wilson said. "There's no question that Gem is a massive part of our future."
During the Games themselves, all of those online platforms will help Irwin and his team take the country's pulse on a continuing basis: They'll be able to see, in real time, what people are engaging with, what they're sharing. "Actual clicks, actual minutes, actual numbers, when [viewers] joined, when they left: There are some very specific things that the digital and social metrics can tell us all about what the country is thinking, what the users are thinking," Irwin said. But, he adds, those numbers need to be read with some caution. Social media is not a perfect proxy for the wider world.
And while the CBC can simply run all of the available sports on its online platforms, it needs to aggregate the largest possible audience for the five broadcast channels at its disposal, especially the main CBC network. That's where it will aim to show the biggest event of interest to Canadians at any given moment. Long-form competitions – including team sports, road races, golf – will be carried on TSN and Sportsnet, with the CBC main channel possibly cutting in to the final minutes.
Recognizing that many viewers can and do access results on their phones as soon as they occur, the CBC decided years ago it would prioritize live events. "That's where the change has come to the global media [landscape]," Irwin said. "You can no longer stage the release of information in a way that makes a show [of tape-delayed content] work, or make an audience play along."
So the broadcaster decided "live trumped everything, and that your filters to make decisions started with live – live Canadian, live of Canadian interest – and worked its way down, to delayed international events that aren't for medals." That made it immediately clear where an event might end up on its matrix of outlets.
Irwin knows that makes it challenging to bring in a primetime audience, but he says there is still a hunger for that communal, narrative experience. "The audience, if they love [a particular sport], they did see it when it happened live," possibly hours before. "And we told them about it on our digital platforms and in our shows and social [media] talked about it, and our daytime show reviewed it, and we've interviewed athletes since it happened. But now we have a very captive audience that has made an appointment to come and watch us tonight, when they have a chance to sit down. And we've made them a promise that we're going to tell them a story."
Sign up for The Globe's Olympic newsletter and follow all of the news, features and opinion in the leadup to the Summer Games in Tokyo.