Pro-Chinese agents pose as activists on social media to protest Canadian rare earth mine – Financial Post
Cybersecurity experts say fake accounts created to give China miners competitive advantage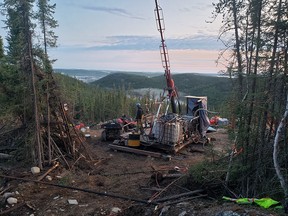 Article content
Pro-Chinese agents posed as concerned local residents on social media to try to spark protests over the opening of rare earth mines in the U.S. and Canada, cybersecurity researchers said in a new report.
Article content
The fake Twitter and Facebook accounts were created to give China, the largest producer of rare earth minerals, a competitive advantage, cybersecurity research company Mandiant disclosed on Tuesday.
Mandiant has reported on a network of thousands of fake accounts across numerous social media platforms, websites and forums since 2019 that support China's political interests. In one recent campaign Mandiant coined "Dragonbridge", fake accounts purported to be concerned local residents and environmentalists on Facebook to orchestrate protests at the Texas facility of the Australian mining company Lynas Rare Earths Ltd., according to Mandiant. It was unclear who was behind the campaign, the firm said.
Article content
The fake accounts claimed that the processing facility would spur irreversible environmental damage and radioactive contamination that could cause cancer and deformities in newborns, Mandiant researchers said. The accounts also criticized President Joe Biden's plan to expedite mining of these rare minerals.
China has used its dominance in the rare earth minerals market, critical for manufacturing mobile phones and other electronics, to threaten the U.S. with export bans.
As a result, the Pentagon has promised to beef up domestic production. It inked a US$30 million deal with Lynas in 2021 to build a facility in Texas, which the Australian company said could help it produce a quarter of the world's demand.
Article content
Dragonbridge was also behind fake accounts criticizing a new mine in Saskatchewan from Canada's Appia Rare Earths & Uranium Corp., which was announced this month, according to the report. In addition, the campaign's accounts stoked anger over USA Rare Earth LLC's plans to open a mine in Oklahoma, Mandiant said.
The Department of Defense said it will review the report, adding it would look into "ongoing concerns regarding a lack of transparency and over-reliance on concentrated foreign sources of critical minerals in key U.S. supply chains for essential global civilian and national security applications."
Dragonbridge has been behind 10 disinformation campaigns targeting Ukraine, according to Mandiant, including claims that the U.S. was storing bio-weapons in labs in the country, according to Mandiant.
"The private sector is now the victim of attacks by Chinese information operations, which are growing increasingly aggressive," said John Hultquist, vice president for Mandiant Intelligence.
"Information operations are typically a problem for civil society, governments, and platforms," he said. "They rarely target the private sector so directly and aggressively."
Children Are Increasingly Facing Cyberbullying On Social Media – Forbes
Social media is increasingly how many younger people communicate these days, but according to a new report from McAfee, there has been an increase of cyberbullying on the platforms. What is especially worrisome is that it isn't just teens who are coming under attack, as racist attacks are being directed at children as young as 10-years-old.
In addition, more than one in four kids globally now face some form of racism on social media; while online sexual harassment is also impacting one in every six children globally. One in every five U.S. kids is now victim of such harassment, and in India the number is as great as one in three.
More Than Stranger Danger
What is also notable is that the threat of cyberbullying is increasingly coming from someone who the children may know personally. Globally, 58 percent of children said they were victimized by someone they know, with just 46 saying they had been cyberbullied by a stranger.
Children are also more worried than ever that they may be bullied online. Currently, six in 10 kids globally said they were more worried about cyberbullying than last year. The "good news" – if it can even be called that – is that 71 percent of children have told their parents they had experienced cyberbullying.
Are The Platforms Doing Enough?
Even as the platforms have strived attempted to improve safety, some are doing more than others. Meta apparently still has work to do, as the respondents to the McAfee survey said that cyberbullying occurs more than twice as often when comparing social media platforms like Meta's Facebook to Twitter—and more than four times the rate when comparing Meta's messaging app WhatsApp to Discord.
Facebook had been found to lead the way with the highest rate of children both witnessing (53 percent) and experiencing (50 percent) cyberbullying worldwide, with Instagram coming in at a close second with witnessing cyberbullying at 40 percent and experiencing cyberbullying at 30 percent.
McAfee has noted that while more than half of parents are talking to their children about different forms of cyberbullying, there is still vastly more that needs to be done to understand the growing threat of online safety for children. What remains a concern is that children may not consider behaviors such as jokes and name-calling to be harmful online – and perhaps may go further than they might when compared to an in-person exchange.
"Despite having some of the most engaged parents, children in the U.S. experience among the highest rates of cyberbullying in its most extreme forms, such as sexual harassment, compromised privacy, and personal attacks," said Gagan Singh, McAfee executive vice president and chief product officer.
"It's no surprise that globally we've reached the point in the adoption curve where social media is integrated into all areas of our lives – adults and children alike," Singh explained via an email. "It is especially important to understand how daily social media interactions across platforms impact our children. This data clearly shows where, how, and at what frequency children are experiencing cyberbullying online globally, giving parents the knowledge to help their children stay safe wherever they live and on whatever platform they use."
Of course it should be noted that adults are hardly good role models on the platforms. In recent years, social media has become an echo chamber that is used to amplify political sentiment and to tear down the other side. Given this fact, many adult users have become bad role models for their children.
It is well-past time that these platforms return to being about the social.
Social media model arrested in Hawaii on murder charge – The Globe and Mail
Law enforcement in Hawaii on Wednesday arrested social media model Courtney Clenney on a charge of second-degree murder with a deadly weapon.
Hawaii County police said in a statement they assisted the U.S. Marshals Service as they arrested the 26-year-old in Laupahoehoe, which is on the Big Island. Officers used an arrest warrant issued by Miami-Dade County, Florida.
She's being held at the East Hawaii Detention Center while she waits for her initial court appearance in Hilo District Court on Thursday, police said.
Her Miami defense lawyer, Frank Prieto, told the Miami Herald that she was in Hawaii while in rehabilitation for substance abuse and post-traumatic stress disorder.
"I'm completely shocked, especially since we were cooperating with the investigation and offered to voluntarily surrender her if she were charged," Prieto said. "We look forward to clearing her name in court."
Our Morning Update and Evening Update newsletters are written by Globe editors, giving you a concise summary of the day's most important headlines. Sign up today.
10 Year Old Actor Sebastian Singh Makes His Toronto International Film Festival Debut in Clement Virgo Film "BROTHER"
Toronto, ON – Sebastian Singh will appear in his first feature film at this year's Toronto International Film Festival. (TIFF) The ten-year-old actor will play the younger version of the Lamar Johnson's lead character Michael in Clement Virgo's "Brother."   "Brother" makes its world premiere at TIFF in September. The film is the story of Francis and Michael, sons of Caribbean immigrants maturing into young men amidst Toronto's pulsing 1990's hip-hop scene and the mystery that unfolds setting off a series of events which changes the course of the brothers' lives forever.  Sebastian is excited and honoured to be a part of this film and to attend TIFF.
Sebastian Singh is a talented ten-year-old with a bright future ahead of him and an already established work ethic.
The multi-talented young actor has established himself as a new up and coming talent to watch for in the Film and TV industry in Canada. Sebastian was a part of the award-winning PSA Sick kids Mom vs Hard days, has appeared in the popular television series, Suits, Margaret Atwood's Handmaid's Tale and Left for Dead: The Ashley Reeves Story, for Lifetime.  Sebastian is also an award-winning filmmaker for the short film H.E.N.R.I, which he co-wrote, produced, and played the lead with his twin sister Ava and father, Ryan Singh.
Everyone agrees, Sebastian Singh's star is on the rise and can't wait for what's next.
**Sebastian is represented by Annie Oakes of Glickman
Alexander Talent Management
Media Inquiries:
Sasha Stoltz Publicity: 
Sasha Stoltz | Sasha@sashastoltzpublicity.com | 416.579.4804