Protest, love, art: The unusual uses of blood in India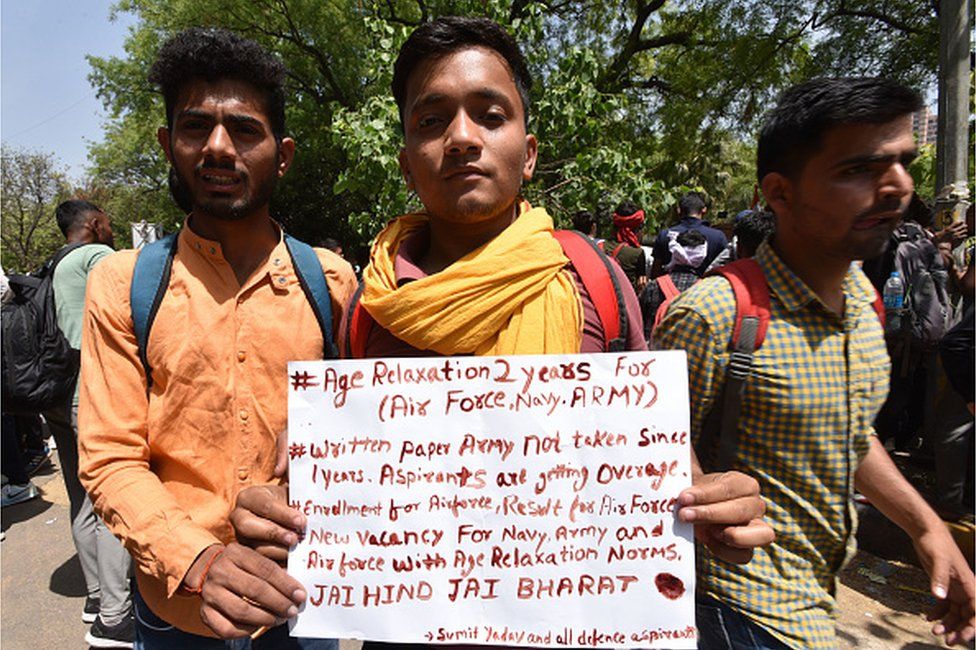 For more than a decade, a non-profit organisation in India has been creating paintings using blood donated by its members.
"Blood is rich in symbolism. We make our paintings in blood to instil patriotism among people. Love for the country is diminishing among children," Prem Kumar Shukla, who heads the non-profit group, told me.
Its founder, Ravi Chander Gupta, a retired school principal, donated blood for 100 paintings until his health began failing. "I started this to attract the public and get their attention. People are more interested if the portraits are in blood. Blood creates sentiments," Gupta, who died in 2017, once told interviewers.
Mr Shukla, his successor, is a doughty 50-year-old school teacher and poet. He claims to have donated blood for 100 paintings alone. Donors like him go to a local lab where their blood is extracted, mixed with anti-coagulants – human blood becomes sticky when its clots – put into 50ml bottles, and given to a bunch of artists. Usually 100ml of blood is enough to make two to three paintings, Mr Shukla says. "I donate blood four times a year for our paintings."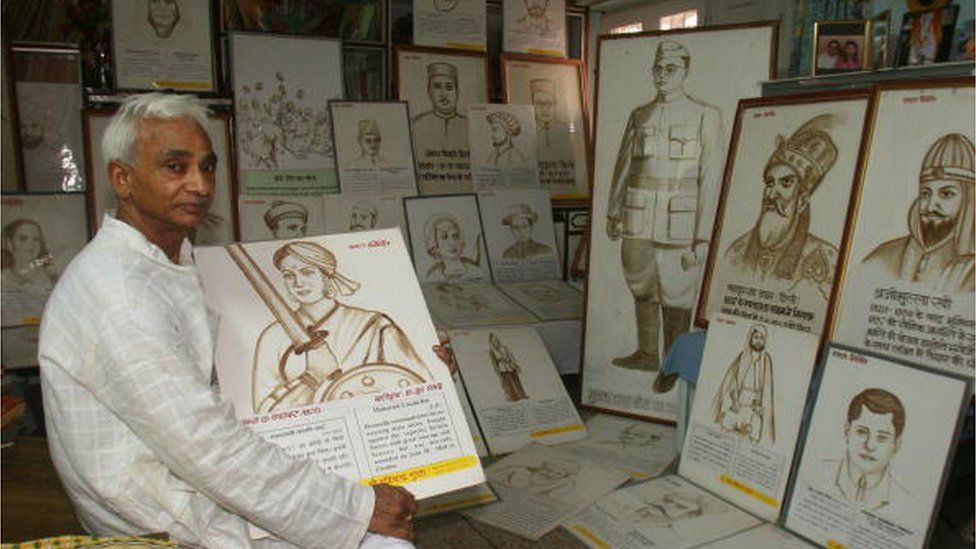 The "blood paintings", says Mr Shukla, were inspired by the persuasive rhetoric – "give me blood and I will give you freedom" – of independence hero Subhas Chandra Bose, known as "Netaji" (respected leader). Bose raised an army of Indian soldiers to fight the British.
The politics of blood runs deep in India. Mahatma Gandhi endlessly monitored his blood pressure and had a "preoccupation with blood", write Jacob Copeman and Dwaipayan Banerjee in Hematologies, a book which examines the connections between blood and politics.
Blood was also an anti-colonial metaphor. Gandhi, the world's most famous pacifist, hoped Indians would "possess blood that could withstand the corruption and poison of colonial violence". A blood-stained cloth worn by the leader on the day he was murdered in 1948 is among the artefacts on display in a museum in Madurai in southern India. "Metaphors of blood – its extraction and sacrifice – are inescapably rife in Indian political discourse," note Mr Copeman and Mr Banerjee.
Not surprisingly blood is a metaphor for loyalty and sacrifice. Ardent supporters of Prime Minister Narendra Modi have drawn his paintings in their blood. Blood is also a mode of protest: In 2013, more than 100 women from villages in Gujarat wrote a letter to Mr Modi in blood, protesting against plans to acquire their land to build a new road. They said they had written postcards, and the prime minister hadn't replied. A teenage girl in Uttar Pradesh state wrote a letter to officials with her blood, seeking justice for her mother who was burnt alive.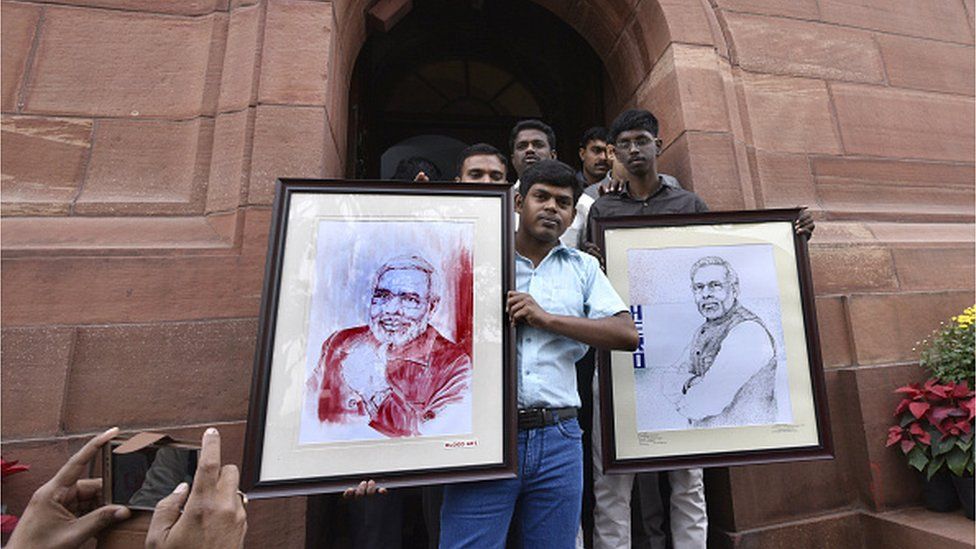 Protesters write petitions in blood demanding higher wages, hospitals and schools and opposing laws that they believe are draconian. Some also write love letters in blood to get attention. And people also routinely complain that politicians "suck the people's blood" as a metaphor to highlight issues like corruption and red tape.
In 2008, survivors of the 1984 gas tragedy in Bhopal – the worst industrial accident in India's history – walked 800km (497 miles) to Delhi and sent to then prime minister Manmohan Singh a letter written in their blood to draw his attention to their health and rehabilitation problems.
During demonstrations in the oil-rich state of Assam in 1980, a 22-year-old man used his own blood to write protest slogans on the streets of the capital, Guwahati. "We will give blood, not oil," read one of the slogans.
The street, reported a newspaper, "metamorphosed into a place of pilgrimage where the agitators started lighting earthen lamps, incense sticks and organised devotional prayers".
In 1988, the Communist Party of India (Marxist) asked its supporters to sell their blood to raise money to build a power plant in West Bengal following a funding dispute with the federal government – much of the collected blood had to be eventually destroyed because of lack of storage space, and the plant was completed with a Japanese loan. Around the same time, a group of donors in Kolkata (then Calcutta) sold blood to support a financially impoverished medical institution. (Selling blood was outlawed 10 years later.)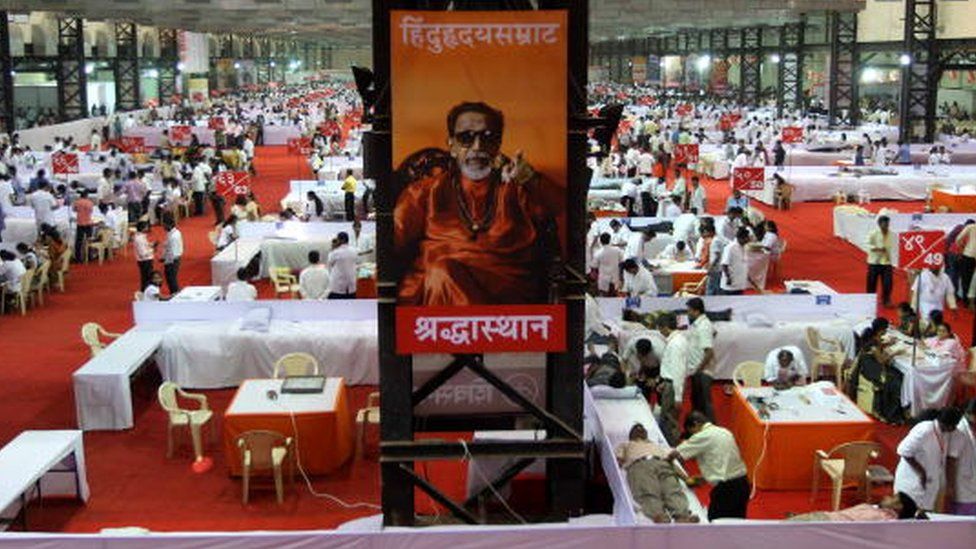 Political parties organise blood donation camps to gain public attention. Supporters donate to gain advancement. One blood bank professional told the authors of Hematologies that camps organised by political parties were "terrible because there's no other motivating factor than 'I am trying to please the leader'".
Clearly, blood is a useful symbol. "Blood is associated with purity of caste. Also historically, writing in blood has been a very male thing. Purity related to caste and gender in the form of maleness are the two main forms of social expression in India. Blood is also seen as the highest form of loyalty," says Sanjay Srivastava, a sociologist. In modern-day India, however, women have used blood to break "taboos" around menstruation.
In the end, blood gains you instant attention and recognition.
In 2004, a karate teacher in Chennai (then Madras) painted 57 portraits in his blood of the late Jayaram Jayalalitha, then chief minister of Tamil Nadu state, of which the southern city is the capital.
Shihan Hussaini needed a plot of land for a karate school, and sought an appointment with the chief minister. "She brought me to her residence and promised me a million dollars [for the plot]," Mr Hussaini told the authors of Hematologies. Blood art, he said, was a "tool of propaganda, communication and influencing decision making".
Criss Bellini Art Fans Urge for Pop-Up Gallery – E! NEWS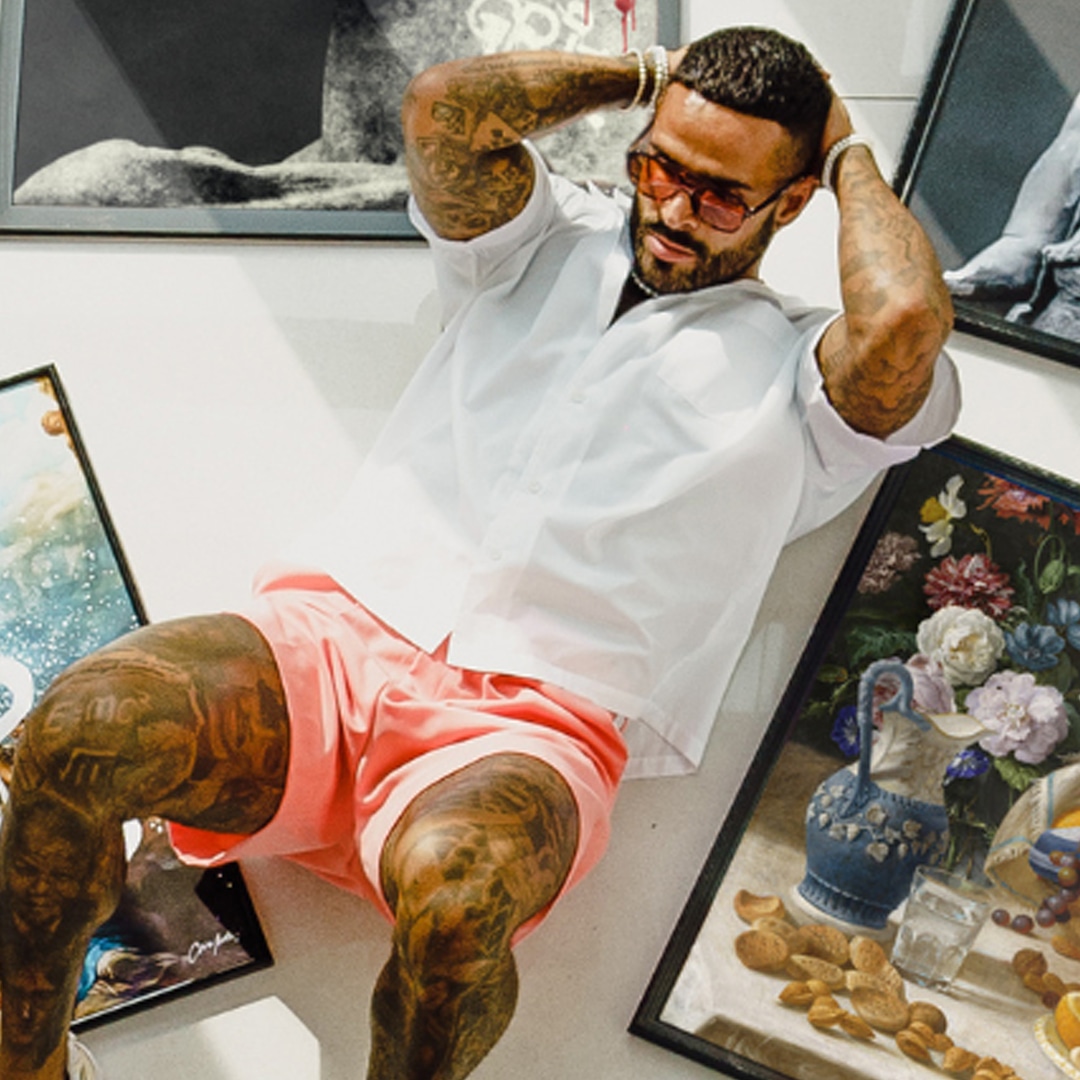 Since the brand's launch in 2020, Bellini's sales have skyrocketed, selling over $1 million in its first year and exceeding its sales in 2021, in 2022, with over 2 million sales in euros. Seeing this, it is clear that art sales are booming, and people want to see more of his unique pieces.
However, because Bellini's website is the only place to view and purchase his art, the public has begun to request a gallery or a pop-up gallery where they can go visit Bellinis' work and see it for themselves.
Wish you could set fire to the last 3 years? A huge flaming art installation is coming to Toronto – CBC.ca
What if you could just set fire to the past? Would you feel liberated — free to start fresh in 2023, flush with feelings of love and peace and other things you could file under positive vibes?
The City of Toronto launched an interactive art project last Thursday called The Burn, a seven-week initiative that aims to offer a moment of respite in the wake of COVID-19, and it comes to a climax on March 11 — the third anniversary of the pandemic.
On that date, a monumental art installation will go up at Nathan Phillips Square, and the centrepiece involves three towering steel sculptures that'll be set aflame for 24 hours — fires that will keep on burning with a little help from the public, who'll be invited to add bits of (supplied) wood to the blaze.
It's a scenario that sounds significantly more thoughtful and controlled to hear Roger Mooking describe it. Mooking is the lead creative on the project, and he talks about The Burn as a chance to heal and grow as a collective. In short, it's bigger than an all-day bonfire.
Mooking says he began thinking about the work in 2021, prompted by the "overwhelming melancholy" of lockdown. "I recognized that I was not the only one, that we were in this kind of collective consciousness globally, and we all needed to heal," he tells CBC Arts. And with The Burn, he's inviting Torontonians to actively begin that healing process.
The first phase of the project is already underway, and involves a series of interactive sculptures — significantly smaller vessels than the ones that'll go up at Nathan Phillips Square. They're being stationed at public sites around the GTA as part of a tour that launched Jan. 19 in three locations: Fort York National Historic Site, the Toronto Zoo and Twist — Mooking's restaurant at Toronto Pearson International Airport.
Here he is, testing it out in Terminal 1.
As of writing, people can find The Burn at three new sites through Feb. 1: Spadina Museum, Native Canadian Centre and the Market Gallery at St. Lawrence Market.
"We want to make sure that we're hitting every corner of the GTA: north, east, south, west, central — all the nooks and crannies," says Mooking. Twenty-one locations are currently scheduled for the tour, and a full map and schedule can be found through the city's website.
Through March 11, visitors will find metallic dodecahedrons at different destinations — sculptures created by local artist Javid JAH. And under each sculpture is a bowl of wooden balls: spheres the size of marbles that have been carved out of cedar.
Take a ball, and you'll be asked to stop and think — to sit with your feelings, really. In the language of The Burn, you'll be "setting an intention." Is there something weighing on you: an emotion you wish you could change or simply set free? Once you've identified that feeling, you're asked to drop your ball inside the sculpture. It's a moment for "letting go," so to speak.
"People are carrying so many things, especially coming through this COVID time," says Mooking. "It's a very simple thing … that can be very, very emotional."
A multihyphenate known for his success as a chef, TV personality (Man Fire Food), and musician (Bass is Base), Mooking's presented participatory art projects for the city before. Just last August, to coincide with Emancipation Month programming at Toronto history museums, he launched Read(In), an interactive installation that also appeared in multiple locations throughout the GTA.
To bring The Burn to life, project curator Umbereen Inayet connected him with collaborators JAH (who designed and produced the installation's ornate sculptural elements) and artist Catherine Tammaro, a Wyandot Elder who served as an advisor, particularly concerning the project's spiritual bent. Says Mooking: "There's a deep history of Indigenous cultures using fire and water for cleansing and preservation and healing, so we needed that guidance to make sure that we were respecting that tradition."
The wooden balls collected at each tour site will eventually fuel the fire on March 11, and Mooking says those attending the activation at Nathan Phillips Square will also have the opportunity to set an intention. At the big event, visitors will send their cedar spheres down a chute, directly into the flames. And when the fire's extinguished, all the ash that's left behind will be collected for use in city gardens. "We're really trying to emulate the cycle of life: from the spark to the ash," says Mooking. "We're looking to carry the spiritual intentions from everybody in the city to fortify our Earth."
The city says it will be announcing more public projects that respond to COVID's impact on residents. Like The Burn, they're part of a program called Stronger Together that launched in late November. More programming is expected to be revealed in February.
In the first few days of The Burn's cross-city tour, Mooking says he was receiving reports from the participating venues. Folks are interacting with the sculptures already, he says. "It's been cathartic, I hope. … I can't wait to see how much healing we're able to do when we really roll out the full scale of this at Nathan Phillips Square."
Full event details, including a map of The Burn's tour locations, can be found on the project's website.
Art is everywhere this weekend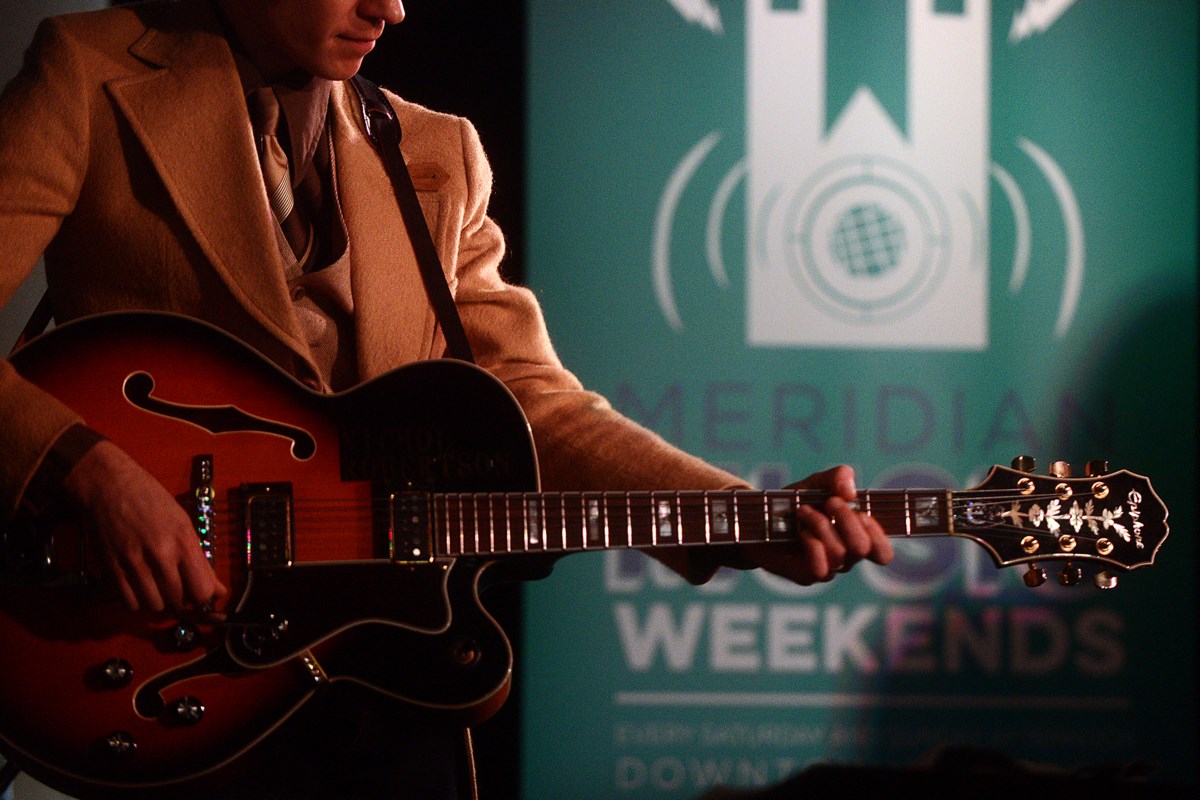 Saturday, Jan. 28
2023 ArtsEverywhere Festival
Multiple locations; 10 a.m. to 10 p.m.
From film screenings to drag brunches and book fairs, the free annual festival has something for everyone. Learn more here.
Winterstock
Royal City Studios; 7 p.m. to 11 p.m.
Join Royal City Studios for a live music tribute to Woodstock 1969; attendees are encouraged to wear their best 60s style clothes. Get tickets here.
Music Weekends
Western Burgers & Steaks; 2:00 p.m. to 5 p.m.
The genre-bouncing Probable Cause will perform live at The Western, pay-by-donation. Doors open at 2 p.m., show starts at 2:30.
Sunday, Jan. 29
2023 ArtsEverywhere Festival
River Run Centre; 10 a.m. to 2:30 p.m.
The last day of the free festival features a lecture and a film screening, both at the River Run Centre. Learn more here.
Music Weekends
Onyx Nightclub; 2p.m. to 5 p.m.
Join SHEBAD for their live concert at Onyx. It's family-friendly and pay-by-donation. Doors open at 2 p.m., show starts at 2:45.
OHL Hockey
2 p.m.: Guelph Storm vs. Sudbury Wolves, Sleeman Centre