Province reinforces COVID-19 self-isolation rules, talks virus clusters – HalifaxToday.ca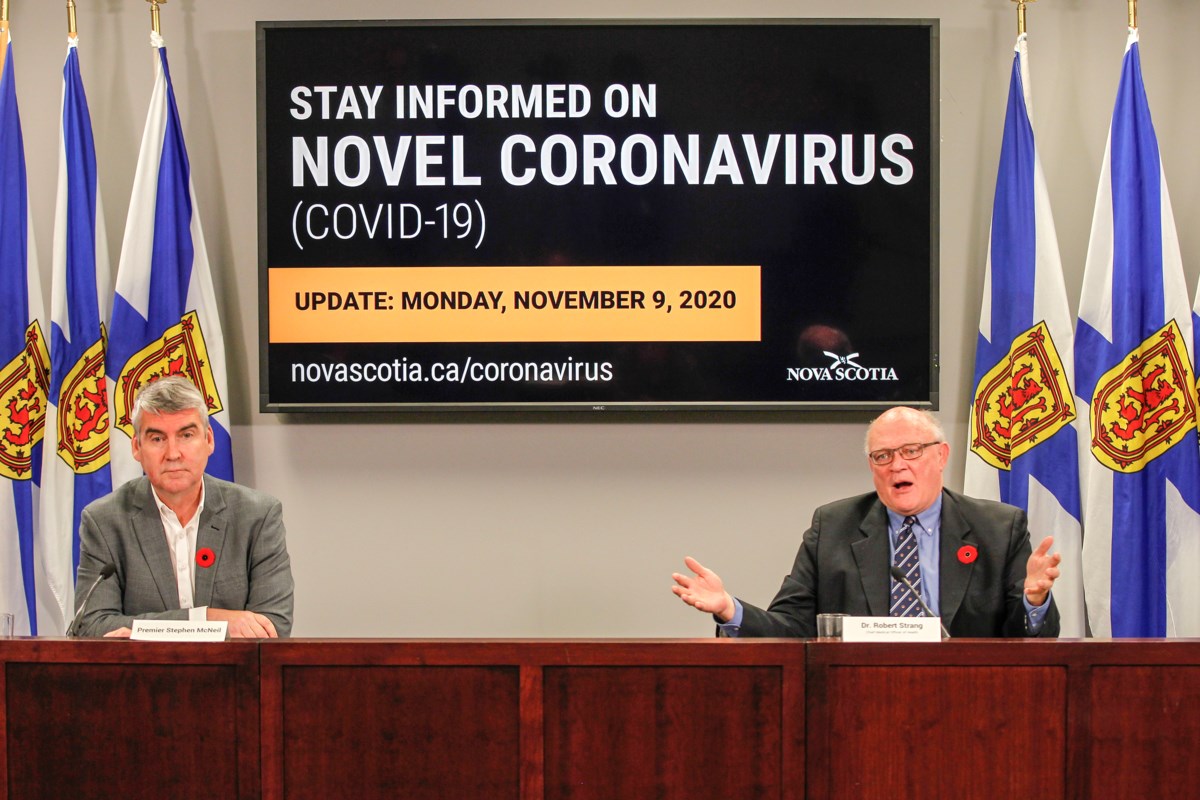 A briefing held this afternoon by the province reinforces the 14-day self-isolation period for all travellers entering Nova Scotia outside of the Atlantic bubble.
Starting today, anyone entering Nova Scotia from outside of the Atlantic bubble is required to self-isolate alone for 14 days upon arrival. If they cannot self-isolate alone, the entire household they're self-isolating in must quarantine for 14 days.
"As we see the surge in COVID-19 cases in other parts of Canada, we need to take further steps to slow the spread here," said Premier Stephen McNeil. "I am worried people are becoming complacent. We all have our part to play in keeping each other safe and I remind everyone again to follow public health protocols — wash your hands, wear a mask, practise social distancing and limit social contacts."
BREAKING: Nova Scotia changing rules for those who are self isolating. Premier McNeil says starting today if you are coming into Nova Scotia from outside of the Atlantic Bubble you must self-isolate for 14 days alone.

— NEWS 95.7 Halifax (@NEWS957) November 9, 2020
During the briefing, Nova Scotia's chief medical officer Robert Strang clarified the details of self-isolation.
A traveller who self-isolates at a hotel or another location for a few days but then continues to self-isolate with another household forces the members of that household to also self-isolate. Moreover, the amount of days for the self-isolation period resets to 14 days for everyone in that household.
As Nova Scotia reopened over the summer, these restrictions were relaxed as the risk was deemed minimal. Now as other provinces begin seeing more cases, the risk rises.
Regarding self-isolation for rotational workers, the province is looking at an isolation period similar to Newfoundland and Labrador.
In that province, residents who travel within Canada but outside of the Atlantic provinces must self-isolate for either seven days with a negative COVID-19 test or for the full 14-day self-isolation period with no test. Testing can occur any time after the fifth day of self-isolation.
Since the last briefing on Nov. 3, there were 15 new active cases announced.
Nine active cases were in a cluster in the Clayton Park area which Strang said are under "active investigation." The cluster includes the Rockingham area and extends over to Kearney Lake Road between the Bedford Basin, Highway 102, Bayers Lake and Lakeside.
Strang said they're not trying to single out or place blame on anyone or any community since there have been potential exposures all over the Halifax Regional Municipality.
Moreover, anyone at the three new clusters of COVID-19 cases must call 811 and get tested for the virus.
The three new clusters include:
Strang said he's not yet comfortable saying the recent cases are from community spread, but that it's not being ruled out. He said they have some work to do before making a firm conclusion.
"We need people to help us out if we're going to get in front of this cluster and stop it in our tracks and minimize the change to spread further," he said. "It is a wake-up call for all of us."
Strang also realizes there was some miscommunication between 811 and people who were at these cluster locations. He clarified that those people must call 811 back and make arrangements to get tested.
"When it comes to COVID, things can change very quickly," he said. "We are at a tipping point in Nova Scotia.
"We all need to make changes if we're going to make changes to our trajectories."
In terms of testing, Strang said the province is trying to make it faster and easier.
The Halifax Infirmary testing site will now be dedicated to people who have been at locations where potential COVID-19 exposures have occurred. Other people who want to get tested will be directed to other testing sites.
Strang also said people without health insurance will now be able to get tested at no cost.
"We're making sure that cost is not an issue and people come forward for testing," he said.
While these are the only changes made to public health regulations today, Strang said he's working with the public health team to see if more changes must be made.
He reinforces that people must wash their hands frequently, practice good cough and sneeze etiquette and properly wear masks. He said wearing a face shield does not replace the need to wear a mask.
While Strang said his team doesn't plan on locking down the province, they plan to take a much more "targeted approach" based on geography.
Despite not being an official order, Strang suggested that Nova Scotians now start reducing the number of social activities they partake in.
For the upcoming holiday season, Strang said this season will have to look differently.
"We are in the middle of a pandemic," he said. "Non-essential travel in and out of Atlantic Canada needs to stop. Now is not the time for casual visiting.
"We need to think about, 'What did we do in wave one that stopped the wave and kept us safe?'"
Doug Ford rebuffs calls to reopen retail shops at 25 per cent capacity in Toronto, Peel region – The Globe and Mail
Ontario Premier Doug Ford is rejecting a push from prominent retailers to reopen non-essential stores in Toronto and Peel, a day after they published an open letter urging the government to allow 25 per cent capacity in retail shops in lockdown regions.
Mr. Ford on Wednesday said he feels the pain of business owners who are forced to close until at least Dec. 20 during the lockdown, but said he is listening to the province's Chief Medical Officer of Health and others guiding his government during the COVID-19 pandemic.
"I'd switch those things open in a heartbeat. But I can't. I have to listen to the health experts," Mr. Ford said during his daily press briefing at Queen's Park.
"I'm a businessperson. I don't want to close these down. But health trumps my personal belief."
As part of the lockdown, big-box stores selling essential items – such as Costco and Walmart – are allowed to open at 50 per cent capacity, while other retail stores and small businesses cannot offer in-store shopping and are forced to sell items for delivery or curbside pickup only.
A coalition of nearly 50 retailers, including Canadian Tire, Indigo, Hudson's Bay and others, this week called on the Ontario government to lift the COVID-19 restrictions that have shuttered stores just in time for the crucial holiday shopping season.
In an open letter released on Tuesday, the group said that the closing of retailers deemed non-essential in Peel Region, which includes Mississauga and Brampton, and in Toronto is "an ineffective policy" that puts retail businesses at risk of failure. The group called for Ontario to implement store capacity limits at 25 per cent of the building capacity for all retailers – not selective lockdowns with big-box stores open at 50 per cent capacity.
Signatories pushing for the changes said Wednesday they felt unfairly targeted by the government's rules.
"[Retailers] feel undeservedly singled out as an initiative to stop the spread of COVID-19, when in fact the government's own statistics indicate that retail is not a significant source of spread," Leon's Furniture Ltd. president and chief executive officer Edward Leon said in an e-mail on Wednesday.
David Bensadoun, CEO of the Aldo Group Inc., said the decision to keep non-essential stores shuttered would drive customers to American stores.
"Every time we do a lockdown of specialty stores, we're hurting Canadian retail," he said.
"Even though Canadian retailers have terrific online experiences, they cannot compete with the big American players for ad dollars, so when we shift consumers online, we're largely shifting them to Amazon, Walmart and other American mega-players. I don't envy Ford's position, I don't think it's easy. But in this case I think he's made a mistake, and the sooner he corrects it the better, because these are the biggest weeks of the year for shopping."
Heather Reisman, CEO of Indigo Books & Music Inc., said by funnelling more people into fewer stores, "you actually cause longer waiting lines with chance for closer contact. … This could create higher health risk while doing devastating damage to hundreds of businesses."
Mr. Ford acknowledged that keeping big-box stores open for in-store shopping is "not fair," but said they are intended to be a one-stop shop for groceries and other essential items. However, those stores also sell non-essential goods such as clothing, toys and gifts.
Ryan Mallough, director of provincial affairs for Ontario at the Canadian Federation of Independent Business, said small businesses are also calling for the government to present data that back up the need to keep independent retailers shuttered. His group has called for limited in-person and appointment-only shopping during the holiday season.
"If there's any evidence that shopping at a busy big-box store with a couple hundred other people, even at 50 per cent capacity, is safer than at a small business with two or three other people, then show that data. Because right now that is one of the immensely frustrating things," he said.
Ontario reported 1,723 new cases of COVID-19 on Wednesday, as well as 35 new deaths owing to the virus. Toronto and Peel account for more than half of the new infections, with 500 cases reported in Peel and 410 in Toronto. There were 196 new cases in York Region, north of Toronto, which is not in lockdown and still allows in-person shopping in malls and stores.
Our Morning Update and Evening Update newsletters are written by Globe editors, giving you a concise summary of the day's most important headlines. Sign up today.
Charity tree festooned with Dr. Strang's ties fetches $8K at auction – CBC.ca
As Nova Scotians get ready for Christmas, one anonymous person is celebrating with a tree like none other after winning it at auction for $8,250.
Instead of snowflakes or angels, this tree is adorned with ties from Nova Scotia's chief medical officer of health, Dr. Robert Strang.
Strang's eclectic tie collection has been thrown into the spotlight during the province's regular COVID-19 updates, which are streamed online. It was his wife's idea to wear a different one every day.
"It became a part of the briefing, me wearing a different tie each time," said Strang, who started receiving ties as gifts from people as he became a household name among Nova Scotians.
"I don't think of myself as famous. In some ways, it's kind of embarrassing. I just happen to be, because of my job, I'm the front face of this."
'Light bulb' idea
A few months ago, Strang was at a book launch and ran into Starr Cunningham, president and CEO of the Mental Health Foundation of Nova Scotia.
Cunningham said she's always trying to come up with ideas to decorate items for the charity's big Festival of Trees fundraiser. That encounter led to what she called a "light bulb moment."
"I thought, 'Wow, what if we got those ties and got them on a tree?'" she said. "I just reached out to him on a whim and he replied immediately and said, 'How many do you want?'"
Strang dug through his collection and found 22 ties, each with their own story. One was from Sawyer Burke, an 11-year-old from Hatchet Lake who has become Strang's penpal.
"He was very excited that what he's given to me, I was then giving forward to contribute to the fundraiser for broader contributions to mental health," said Strang.
The tree, trimmed with ties and bottles of hand sanitizer, was placed on the auction block where Cunningham said it received an immediate response.
"We were amazed," she said. "We were watching the bids all night, because the auction closed at 8:30 and it just kept growing and growing and growing."
The final price tag was $8,250 — the highest price for any item in the auction.
A timely cause
Strang said the tree was the first direct request he's received to support a charity, and he was particularly interested in the cause.
"As part of our pandemic response, we need to be paying attention to the mental health impact," he said. "There's significant increases around stress, anxiety, depression — particularly in young people."
Cunningham said the money raised from the tree's sale will be used to create grants for various programs. This year, the foundation has helped connect people to their families and clinicians during the pandemic through technology.
"Something as simple as a phone in their hand has helped them cope in the pandemic," said Cunningham.
So far, she is tight-lipped about the tree's anonymous buyer. But she said people will soon know who spent thousands on Strang's ties.
"We're not able to say at this point in time, but it will certainly be shared with the community very soon."
MORE TOP STORIES
Pfizer cuts COVID-19 vaccine delivery by half for 2020 due to supply chain issues – Global News
Pfizer has confirmed to Global News that it will be distributing half the amount of COVID-19 vaccines that it had originally proposed for 2020 due to supply chain issues.
In an emailed statement to Global News, the pharmaceutical company confirmed what was first reported by the Wall Street Journal, that it will be delivering up to 50 million doses of the COVID-19 vaccine by the end of 2020 worldwide, down from the 100 million doses previously promised.
"Based on current projections we expect to produce globally up to 50 million vaccine doses in 2020 and up to 1.3 billion doses in 2021," Pfizer said in a statement.
Pfizer said there are two reasons the number of doses expected has changed.
"For one, scaling up a vaccine at this pace is unprecedented, and we have made significant progress as we have moved forwards in the unknown," the company said.
"Additionally, scale up of the raw material supply chain took longer than expected."

1:27


Coronavirus: Canadian officials expect Pfizer vaccine 'likely' to arrive first



Pfizer also noted that results of its clinical trial were received later than expected.
The company said finished doses are currently being made at a "rapid pace."
"We are confident in our ability to supply at a pace of approximately 1.3 billion doses by the end of 2021," Pfizer said.
Pfizer had adjusted its supply outlook in 2020 from 100 million to 50 million in November in publicly available statements, but had promised up to 100 million doses as late as September.
The vaccine has been found to be 95 per cent effective against COVID-19 in recent tests, and the United Kingdom became the first country to approve the vaccine on Wednesday.
Canada is set to receive up to four million doses of Pfizer's vaccine between January and March 2021, and will finish its review of the vaccine "soon," according to Health Minister Patty Hajdu.
© 2020 Global News, a division of Corus Entertainment Inc.