PS5's quiet cooling 'is even more impressive than its loading times', praises Japanese hands-on – Video Games Chronicle
The first PlayStation 5″ href="https://www.videogameschronicle.com/platforms/playstation/ps5/">PlayStation 5 hands-on previews have expressed surprise at the quietness of the console's cooling system.
Publications including 4Gamer and Dengeki shared their experiences with the next-gen console on Sunday, as well as over ten YouTubers who published PS5 gameplay for Astro's Playroom, Godfall" href="https://www.videogameschronicle.com/games/godfall/">Godfall and Devil May Cry V Special Edition.
The two publications aimed particular praise at the PS5's cooling system. Dengeki (translated by VGC contributor Robert Sephazon) said "the quietness of the fans was more impressive than the loading times," while 4Gamer was similarly impressed.
"I started playing one of the launch titles, Godfall, and after some time passed, I checked [the temperature]. The breeze coming from the exhaust port was gentle and didn't feel exceedingly hot," wrote 4Gamer.
"During this time, the studio itself was about 30 degrees Celsius. Based on the specifications of the SoC, it operates at around 55 to 60 degrees Celsius. While you may think, 'isn't the fan loud?', it's quite the opposite.
"As previously mentioned, the breeze from the exhaust port was light, and I could barely hear what I believe to have been the fan rotation," it added. "By the way, the studio where we shot was in a basement, and there were four, powerful lights for recording videos on the ceiling, so the room temperature was 30 degrees Celsius."
The publication notes that a typical home environment is likely to be much cooler than the studio they tested PlayStation" href="https://www.videogameschronicle.com/platforms/playstation/">PlayStation 5, so it's "quite likely that the PS5's exhaust will not be terribly loud."
It added: "If anything, the main concern should be the size of the unit, so it's necessary to ensure enough space both for the unit as well as ventilation. If you plan to replace your PlayStation 4″ href="https://www.videogameschronicle.com/platforms/playstation/ps4/">PS4 with a PS5, be sure to account for its size and prepare an additional space of 10 to 15 cm from the front, back, left and right."
Dengeki was similarly impressed with PS5's cooling system, calling the console "exceptionally quiet".
"I want to report that the quietness of the fans was more impressive than the loading times," it wrote. "There must be many people who are interested in this.
"The PS5 was exceptionally quiet! We had about 1 hour and 45 minutes with the unit, and I think it took about 1 hour and 20 minutes to actually start playing the PS5. Since we were in a studio, there was various equipment around, but the room temperature felt hot because of the intense lighting.
"While playing Astro's Playroom and Godfall, I didn't notice the sound of the fan. When I was about to finish playing, I quickly confirmed, 'is this a fan?' Finally, when I touched the main unit, it didn't feel hot.
"It seems there is no need to worry about its cooling and ventilation system. Rather than focus on fan noise or cooling efficiency, I want to express that the size of the main unit was relatively large. Since it is quite bulky, I would recommend placing it somewhere with plenty of room for proper ventilation."
The PS5's size and shape appears to be heavily influenced by Sony Interactive Entertainment" href="https://www.videogameschronicle.com/companies/sony/">Sony's intention to improve PS5 cooling and fan noise.
According to a Bloomberg report from earlier this year, Sony has implemented an "unusually expensive" cooling system in PlayStation 5, something which the platform holder has itself previously hinted at.
Speaking in a PS5 hardware video earlier this year, system architect Mark Cerny first revealed PS5 would feature a "high-performance cooling solution."
However, Cerny would not share exact details of PS5's cooling solution, only stating that he felt users would be happy with "what the engineering team came up with."
A dev kit patent recently suggested the next-gen console would utilise "a plurality of cooling fans" to supply airflow to a heat sink and keep the console cool.
.cls-1fill:url(#linear-gradient).cls-2fill:#fff
Don't buy the iPhone 12 — why iPhone 12 Pro is better value – Tom's Guide
On paper, the iPhone 12 is the better bargain than the iPhone 12 Pro. After all, the regular iPhone 12 costs $799, compared to $999 for the iPhone 12 Pro. And both phones sport a 6.1-inch OLED display and fast A14 Bionic processor that blows away Android phones on various benchmarks.
There are other similarities between the iPhone 12 and iPhone 12 Pro, from the Ceramic Shield-protected screen and faster aperture for the main camera to the Dolby Vision HDR video recording.
But if you look closer at what you're getting for the money, the iPhone 12 Pro emerges as the better value. Here's why.
Double the storage
The iPhone 12 starts with a paltry 64GB of storage, which I think is the biggest iPhone 12 weakness, and it costs $50 to upgrade to 128GB. The iPhone 12 Pro starts with 128GB. If you're going to be shooting a lot of pictures and videos and downloading games, you're going to want as much room as possible.
The iPhone 12 goes up to 256GB for $949, which is a robust amount of storage, while the iPhone 12 Pro 256GB model costs $1.099. So in that case the delta between the two phones shrinks to $150. If you want 512GB, only the iPhone 12 Pro goes that high — if you're willing to part with $1,299.
Brighter display
The displays on the iPhone 12 and iPhone 12 Pro are both bright, but the OLED panel on the Pro model is even brighter. While the 6.1-inch screen on the regular iPhone 12 is rated for 625 nits of average brightness, the iPhone 12 Pro averages 800 nits.
When you're watching HDR content, both phones can reach a peak brightness of 1200 nits, but in general the iPhone 12 Pro's panel will be easier to read outdoors, especially in direct sunlight.
More versatile cameras
With its faster f/1.6 aperture, Smart HDR 3 and Deep Fusion for better detail on both the wide and ultra-wide cameras, the iPhone 12 is a stellar camera phone. But I'd rather have the iPhone 12 Pro for taking photos.
The iPhone 12 Pro offers a 2x telephoto zoom that lets you get closer to your subject without sacrificing detail, as you'll see in this side-by-side comparison between the iPhone 12 Pro and iPhone 12. The bark in the tree looks sharper.
In addition, the iPhone 12 Pro features a LiDAR sensor, which enables faster auto focus and portraits in Night mode. You can't do night mode portraits on the regular iPhone 12.
Sleeker design
This is more subjective, but I prefer the look and feel of the iPhone 12 Pro over the iPhone 12. The matte glass on the Pro does a better job resisting fingerprints, while the regular iPhone 12's glass back shows smudges more quickly. And while I like the aluminum band on the iPhone 12, the stainless steel band on the iPhone 12 Pro gleams and really pops.
The only strike against the iPhone 12 Pro in the design department is that it's heavier despite having the same dimensions as the iPhone 12. This is because the Pro has an additional camera and LiDAR sensor.
Bottom line
The iPhone 12 is a very good phone. But for my money I would buy the iPhone 12 Pro because of its higher standard storage, better cameras and brighter display. And the fact that it looks more premium doesn't hurt either.
Five iPhone 12 features you won't find on any Android phones (and one Apple is missing!) – Daily Express
iPhone 12 and iPhone 12 Pro landed on shelves on Friday October 21, with those who managed to pre-order earlier this month receiving their new smartphones through the post on the same day. Apple looks like it's struggling to keep up with demand – with shipping estimates now slipping well into mid-November on most models. This could be a sign that Apple fans are flocking to the new design, reworked cameras and 5G support… or the widespread shutdowns due to the global pandemic have seriously impacted the Californian company's ability to manufacture handsets and ship them around the world at its usual scale. Who knows, it could be a bit of both.
What we do know is exactly how the iPhone 12 series stacks-up against its closest rivals from the likes of Samsung, OnePlus, Sony and Google. So, to breakdown exactly what the new iPhone has going for it – as well as what it's sorely missing – here is a list of five features that you won't find on its Android counterparts.
1) iPhone 12 features you won't find on Android: Ceramic Shield
Ceramic Shield is a new toughened glass developed with Apple and smash-proof specialists Corning. Although you'll find Corning's super-strength Gorilla Glass product, including the latest Gorilla Glass Victus (which is designed to prevent against day-to-day scuffs and scratches as much as drops) announced back in August, on a huge array of Android smartphones, the company uses a custom formulation when it works with Apple. And according to both companies, the latest result of this partnership is truly special.
Dubbed Ceramic Shield by the Apple Marketing department, the Californian company says it's tougher than any other smartphone glass available right now. Corning and Apple have infused the toughened glass with nano-ceramic crystals to improve toughness. The result? Apple says all four new iPhone 12 models are four times more likely to survive accidental drops.
2) iPhone 12 features you won't find on Android: MagSafe
Android smartphones have had wireless charging support for years… and Apple was incredibly slow to jump on the bandwagon. However, now that wireless charging is baked into every iPhone on-sale in the Apple Store, the US company is now bringing some interesting new additions to the table. MagSafe, which borrows its brand name from the trip-proof magnetic charging cables previously shipped with all MacBooks, lets the wireless charging puck snap to the back of your iPhone. This ensures the smartphone can't buzz itself out of alignment with the charging coils after a few notifications and means you'll be able to pick-up and use your iPhone when it's charging.
Of course, you can do all of that with a good ol' fashioned cable. But a charging cable isn't much good if you trip over it – it'll send your £999 iPhone 12 Pro flying across the room. That's something that won't happen with MagSafe. And more interesting than charging, Apple is already using MagSafe for a series of new accessories, including a lightweight card-holder that magnetically sticks to the back of your handset and new cases that trigger custom animations to match the colour of the accessory. Third-parties will be allowed to make their own MagSafe gadgets, so we're likely to see a truckload of interesting applications – from car charging mounts, to wallets and folios – over the coming months.
3) iPhone 12 features you won't find on Android: A14 Bionic
While most flagship Android smartphones are fuelled by the latest-and-greatest from US chipmaker Qualcomm, Apple designs its own processors. This has enabled the Californian firm to focus on what it prioritises – battery life, speed, camera – compared to a one-size-fits-all approach designed to work in devices from a wide variety of manufactures, like the Snapdragon 865. For the last few years, Apple's approach seems to have really paid off, with iPhones regularly toppling Android handsets with three times the amount of RAM during benchmark tests.
With the A14 Bionic, Apple is toppling its own MacBook Air models. The chipset inside the iPhone 12 series is the first smartphone silicon to be built on a 5-nanometer process. In a nutshell, that means all of the core components are squeezed together on a minuscule chip – allowing data to travel less distance and using less energy, which makes the smartphone faster and boost battery life, respectively. That's a (very) simplified explanation, but all you really need to know is that A14 Bionic is a true beast.
It boasts the fastest CPU and GPU by up to 50 percent compared to the fastest competing smartphone chips. A14 Bionic also includes a 16-core Neural Engine – designed to hope with AI tasks handled on the handset itself, like identifying faces in the Photos app, suggesting iOS apps throughout the day based on your habits, and more.
Apple says its A14 Bionic boasts an 80 percent increase in performance and is capable of completing 11 trillion operations per second. Android cannot match that… until the Huawei Mate 40 Pro, which will use a Huawei-designed chipset built with a 5nm process – but no access to YouTube, Google Maps or the Google Play Store, launches in the coming weeks.
4) iPhone 12 features you won't find on Android: Smart Data Mode
5G is clearly the future. This next-generation mobile signal allows super-speedy downloads and lower latency. Better yet, 5G smartphones won't lose speed when in a crowded area, like a packed football stadium, sell-out gig, or festival – something that can't be said for 4G. However, 5G can be a bit of a tax on battery life.
Most Android manufacturers have solved this issue by increasing the size of the battery cell. There's no denying it, this works pretty well. However, Apple has taken a different approach to enable it to create the "smallest and lightest" 5G smartphone on the planet – the diddy new iPhone 12 Mini, which launches in November.
Dubbed Smart Data Mode, the iPhone 12 will toggle between 4G and 5G based on how much bandwidth it thinks you need. So, if you're reading an email, or a long-form article – like this one – chances are, 4G speeds will work fine. So, Apple will quietly shift over your iPhone 12 to this slower mobile technology and conserve battery life. But, if you're about to jump on the train to start the morning commute and try to download an entire season of a show on Netflix, iPhone 12 will connect to 5G and download hours of HD content in a few minutes.
5) iPhone 12 features you won't find on Android: Dolby Vision
If you're a budding Hollywood director, the iPhone 12 is the first device on the planet that offers the ability to film and edit Dolby Vision HDR footage. Video can be shot in up to 60 frames-per-second – comfortably more than the 24fps most blockbusters are filmed at – and edited within the Photos app or iMovie. Dolby Vision grading is processed live and sustained during editing thanks to the grunt of the A14 Bionic (see above). Apple's professional-grade editing software Final Cut will be updated to support Dolby Vision HDR soon and you can already playback your latest movie with an Apple TV too.
1) Android features you won't find on the iPhone 12: High-Refresh Rate Display
A dizzying number of Android smartphones – at the same price point as the iPhone 12 and iPhone 12 Pro, as well as much cheaper – already offer a high-refresh rate OLED display. For those who don't know, until recently, most smartphone displays were 60Hz, which meant they refreshed the image 60 times each second. Doubling that to 120Hz makes system animations smoother, removes the stuttering from scrolling, makes fast-paced video games feel more responsive and much more.
Unfortunately, Apple has decided to keep the refresh rate at 60Hz across the iPhone 12 series. It's a shame as Apple is well aware of how brilliant 120Hz panels can be – the company was one of the pioneers of this technology when it introduced it to the iPad Pro range years ago. Given the shared "Pro" branding between this premium tablet and the iPhone 12 Pro, it seems odd Apple hasn't included it in the £999+ smartphone at the very least.
iPhone 12 Lineup Enables Personal Hotspot Over Faster 5GHz Wi-Fi – MacRumors
As noted by MacRumors contributor Steve Moser, and confirmed by Aaron Zollo, the iPhone 12 lineup introduces support for Personal Hotspot tethering over faster 5GHz Wi-Fi, compared to 2.4GHz Wi-Fi on previous iPhones.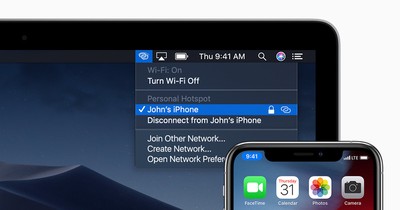 Personal Hotspot over 5GHz Wi-Fi is enabled by default on all iPhone 12 models. In the Settings > Personal Hotspot menu on these devices, there is a new "Maximize Compatibility" toggle that reverts Personal Hotspot to 2.4GHz Wi-Fi when enabled, with Apple noting that this may reduce internet performance on devices that are connected to the hotspot.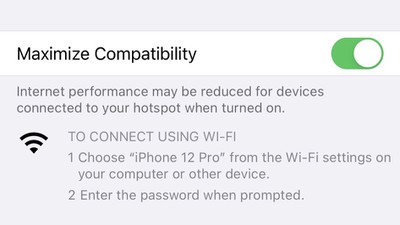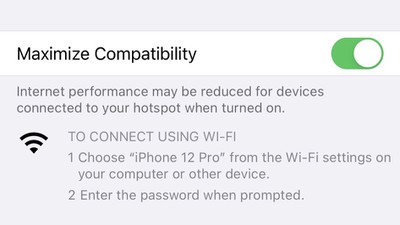 The combination of iPhone 12 models supporting higher-speed 5G networks and 5GHz Wi-Fi's higher maximum throughput paves the way for faster Personal Hotspot, but testing will have to be done to confirm the exact speed improvements. Keep in mind that while 5GHz Wi-Fi is faster than 2.4GHz Wi-Fi, it has shorter range, so Personal Hotspot speeds will vary based on the distance of a tethered device to the iPhone.