Public Highly Critical of State of Political Discourse in the U.S. – Pew Research Center
The public renders a harsh judgment on the state of political discourse in this country. And for many Americans, their own conversations about politics have become stressful experiences that they prefer to avoid.
Large majorities say the tone and nature of political debate in the United States has become more negative in recent years – as well as less respectful, less fact-based and less substantive.
Meanwhile, people's everyday conversations about politics and other sensitive topics are often tense and difficult. Half say talking about politics with people they disagree with politically is "stressful and frustrating."
When speaking with people they do not know well, more say they would be very comfortable talking about the weather and sports – and even religion – than politics. And it is people who are most comfortable with interpersonal conflict, including arguing with other people, who also are most likely to talk about politics frequently and to be politically engaged.
Donald Trump is a major factor in people's views about the state of the nation's political discourse. A 55% majority says Trump has changed the tone and nature of political debate in this country for the worse; fewer than half as many (24%) say he has changed it for the better, while 20% say he has had little impact.
Perhaps more striking are the public's feelings about the things Trump says: sizable majorities say Trump's comments often or sometimes make them feel concerned (76%), confused (70%), embarrassed (69%) and exhausted (67%). By contrast, fewer have positive reactions to Trump's rhetoric, though 54% say they at least sometimes feel entertained by what he says.
Pew Research Center's wide-ranging survey of attitudes about political speech and discourse in the U.S. was conducted April 29-May 13 among 10,170 adults. Among the other major findings: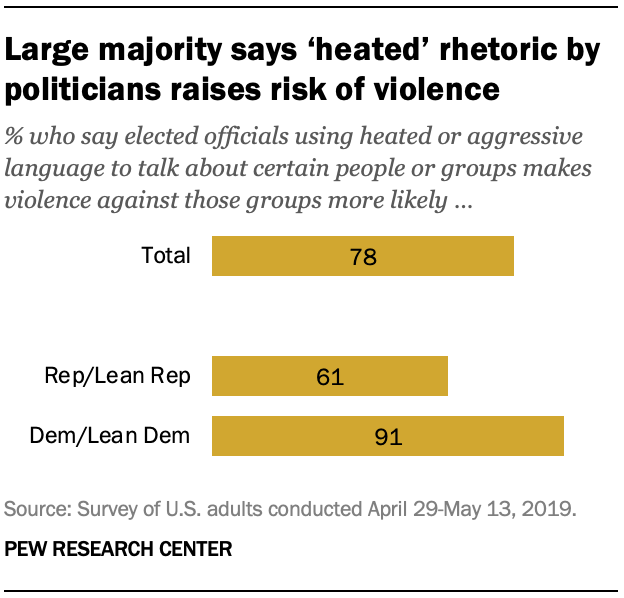 Broad agreement on the dangers of "heated or aggressive" rhetoric by political leaders. A substantial majority (78%) says "heated or aggressive" language directed by elected officials against certain people or groups makes violence against them more likely. This view is more widely shared among Democrats and Democratic-leaning independents than Republican and Republican leaners.
Partisans demand a higher standard of conduct from the other party than from their own. Majorities in both parties say it is very important that elected officials treat their opponents with respect. But while most Democrats (78%) say it is very important for Republican elected officials to treat Democratic officials with respect, only about half (47%) say it is very important for officials from their party to treat Republican politicians with respect. There is similar divide in the opinions of Republicans; 75% say Democrats should be respectful of GOP officials, while only 49% say the same about Republicans' treatment of Democratic officials.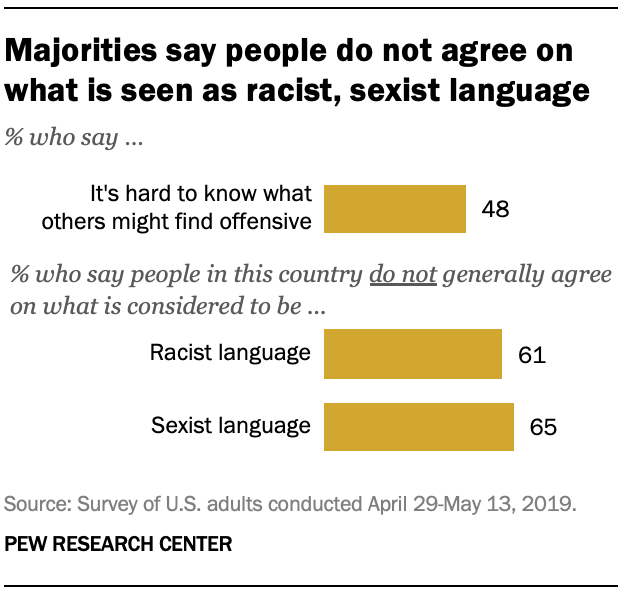 Uncertainty about what constitutes "offensive" speech. As in the past, a majority of Americans (60%) say "too many people are easily offended over the language that others use." Yet there is uncertainty about what constitutes offensive speech: About half (51%) say it is easy to know what others might find offensive, while nearly as many (48%) say it is hard to know. In addition, majorities say that people in this country do not generally agree about the types of language considered to be sexist (65%) and racist (61%).
Majority says social media companies have responsibility to remove "offensive" content. By a wide margin (66% to 32%), more people say social media companies have a responsibility to remove offensive content from their platforms than say they do not have this responsibility. But just 31% have a great deal or fair amount of confidence in these companies to determine what offensive content should be removed. And as noted, many Americans acknowledge it is difficult to know what others may find offensive.
Talking about Trump with people who feel differently about him. The survey asks people to imagine attending a social gathering with people who have different viewpoints from theirs about the president. Nearly six-in-ten (57%) of those who approve of Trump's job performance say they would share their views about Trump when talking with a group of people who do not like him. But fewer (43%) of those who disapprove of Trump say they would share their views when speaking with a group of Trump supporters.
What's OK – and off-limits – for political debates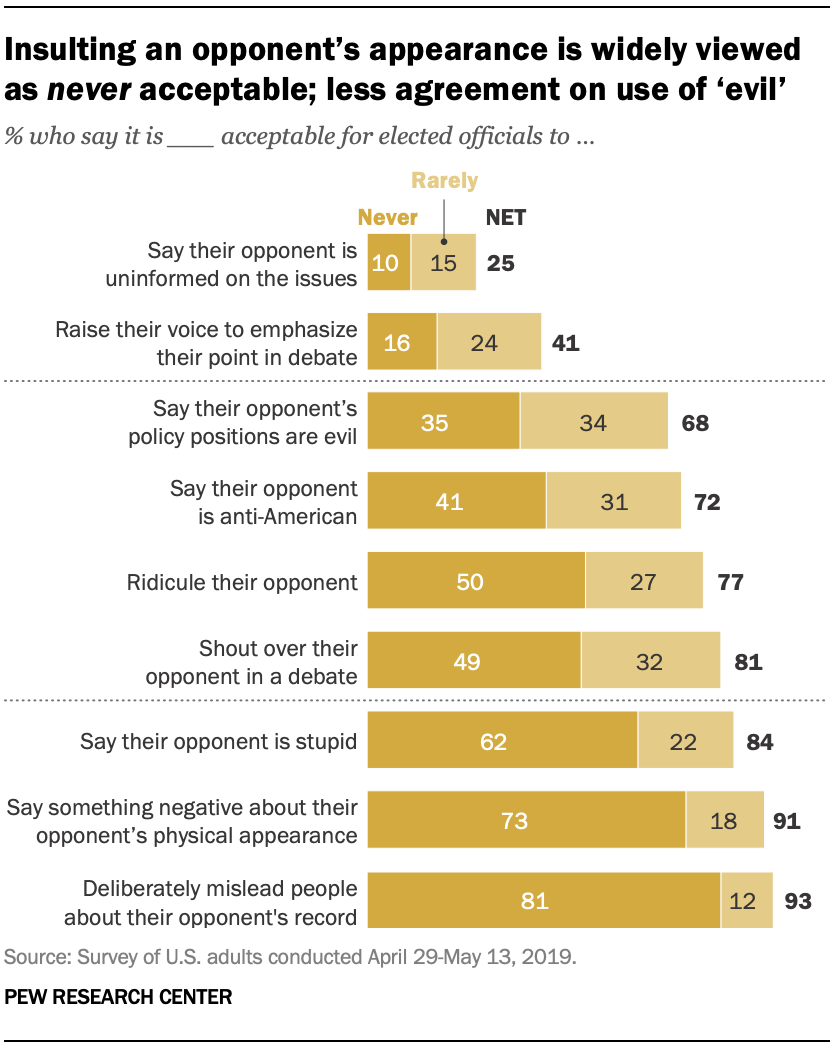 While Americans decry the tone of today's political debates, they differ over the kinds of speech that are acceptable – and off-limits – for elected officials to use when criticizing their rivals.
Some language and tactics are viewed as clearly over the line: A sizable majority (81%) says it is never acceptable for a politician to deliberately mislead people about their opponent's record. There is much less agreement about the acceptability of elected officials using insults like "evil" or "anti-American."
Partisanship has a major impact on these opinions. For the most part, Democrats are more likely than Republicans to say many of the insults and taunts are never acceptable. For example, 53% of Democrats say it is never acceptable for an elected official to say their opponent is anti-American; only about half as many Republicans (25%) say the same.
As with views of whether elected officials should "respect" their opponents, partisans hold the opposing side to a higher standard than their own side in views of acceptable discourse for political debates.
Most Republicans (72%) say it is never acceptable for a Democratic official to call a Republican opponent "stupid," while far fewer (49%) say it is unacceptable for a Republican to use this slur against a Democrat. Among Democrats, 76% would rule out a Republican calling a Democratic opponent "stupid," while 60% say the same about Democrat calling a Republican "stupid." See Chapter 2 for an interactive illustration of how people's views about the acceptability of political insults vary depending on whether or not they share the same party affiliation of the elected officials casting the insults.
Large shares have negative reactions to what Trump says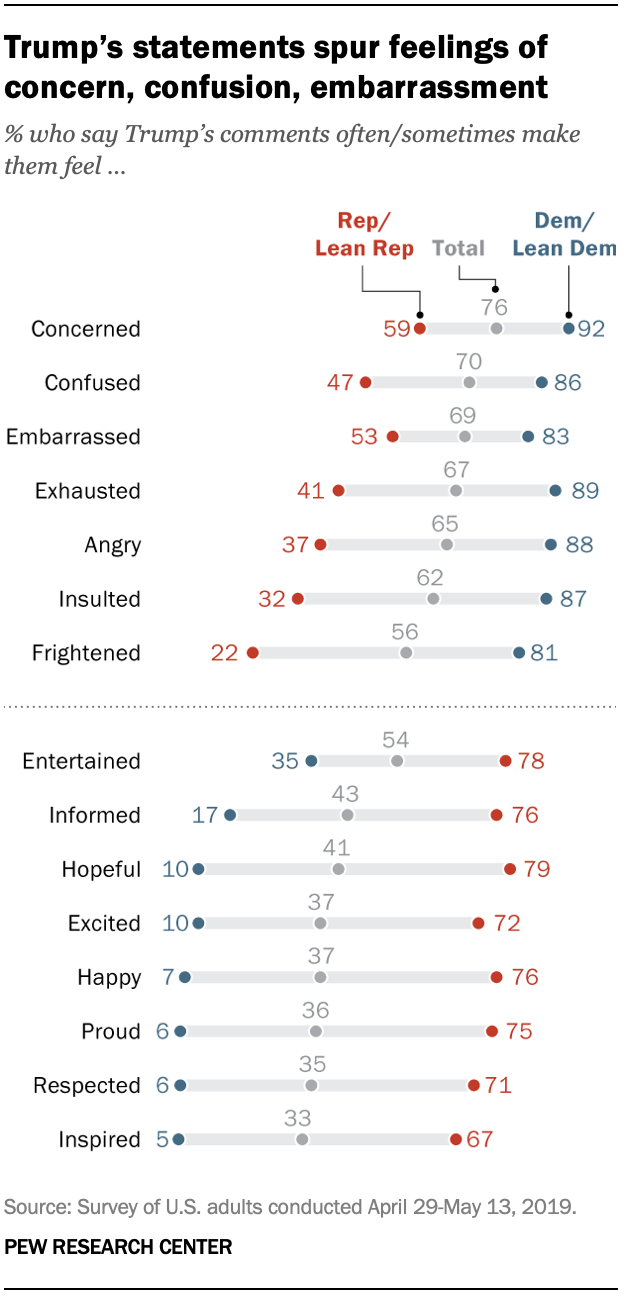 Majorities of Americans say they often or sometimes feel a range of negative sentiments – including concern, confusion, embarrassment and exhaustion – about the things that Trump says.
Positive feelings about Trump's comments are less widespread. Fewer than half say they often or sometimes feel informed, hopeful, excited and happy about what the president says. A 54% majority says they at least sometimes feel entertained by what Trump says, the highest percentage expressing a positive sentiment.
Democrats overwhelmingly have negative reactions to Trump's statements, while the reactions of Republicans are more varied. Among Democrats and Democratic-leaning independents, at least 80% say they often or sometimes experience each of the seven negative emotions included in the survey.
A 59% majority of Republicans and Republican leaners say they often or sometimes feel concerned by what Trump says. About half also say they are at least sometimes embarrassed (53%) and confused (47%) by Trump's statements.
By contrast, large majorities of Republicans say they often or sometimes feel hopeful (79%), entertained (78%), informed and happy (76%) and other positive sentiments in response to the things Trump says.
No more than about 10% of Democrats express any positive feelings toward what Trump says, with two exceptions: 17% say they are often or sometimes informed, while 35% are at least sometimes entertained.
Republicans see a less 'comfortable' environment for GOP views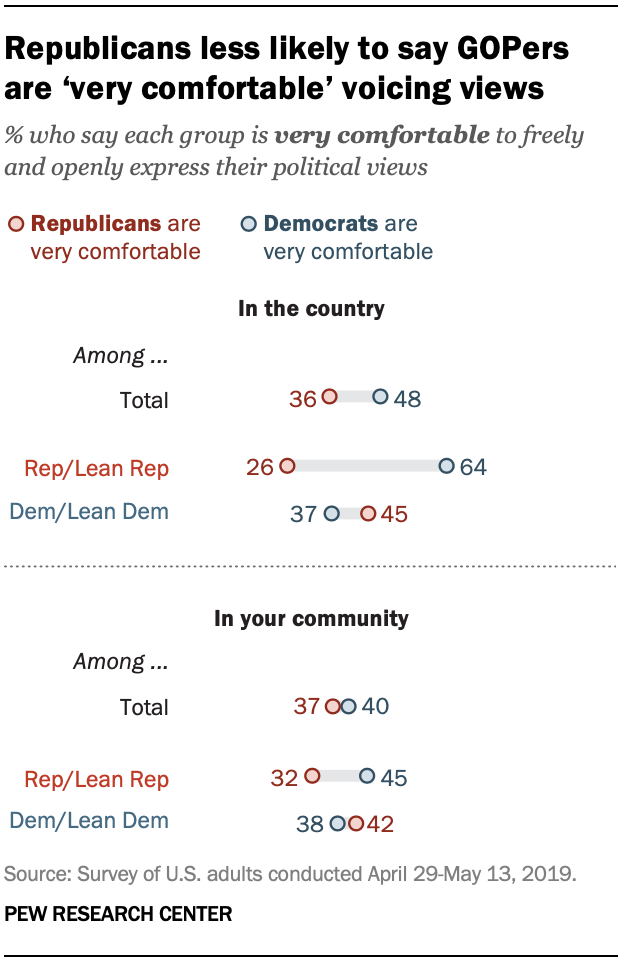 Republicans say that members of their party across the country are less comfortable than Democrats to "freely and openly" express their political views. In addition, Republicans are far more critical than Democrats about the climate for free expression in the nation's educational institutions – not just colleges, but also community colleges and K-12 public schools.
Just 26% of Republicans say that Republicans across the country are very comfortable in freely and openly expressing their political opinions; nearly two-thirds of Republicans (64%) think Democrats are very comfortable voicing their opinions. Among Democrats, there are more modest differences in perceptions of the extent to which partisans are comfortable freely expressing their political views.
There are smaller partisan differences when it comes to opinions about how comfortable Republicans and Democrats are expressing their views in their local communities. Yet these opinions vary depending on the partisan composition of the local community. Republicans and Democrats living in counties that Trump won by wide margins in 2016 are more likely than those in evenly divided counties (or those that Hillary Clinton won decisively) to say Republicans are very comfortable expressing their views.
Republicans' concerns about the climate for free speech on college campuses are not new. The new survey finds that fewer than half of Republicans (44%) say colleges and universities are open to a wide range of opinions and viewpoints; Democrats are nearly twice as likely (87%) to say the same.
Republicans also are less likely than Democrats to say community colleges and K-12 public schools are open to differing viewpoints. By contrast, a larger share of Republicans (56%) than Democrats (40%) say that churches and religious organizations are very or somewhat open to a wide range of opinions and viewpoints.
Members of both parties generally view their own local communities as places that are open to a wide range of viewpoints. Large and nearly identical shares in both parties say their local community is at least somewhat open to a wide range of opinions and viewpoints (75% of Democrats, 74% of Republicans).
Timeline: Thailand's turbulent politics since 2014 military coup – The Journal Pioneer
BANGKOK (Reuters) – Thai protesters, led by student groups, are returning to the streets calling for the ousting of the government less than two years after a general election was held. One group has openly criticised the monarchy, in a rare show of defiance.
Here are the major events that have led up to these protests:
May 22, 2014 – Military stages a coup, ousting an elected government for the second time in a decade, citing the need to restore order in the face of street demonstrations against a populist government linked to telecoms tycoon Thaksin Shinawatra, who himself was ousted in a coup in 2006.
Oct. 13, 2016 – Constitutional monarch King Bhumibol Adulyadej dies after a 70-year reign. His son becomes King Maha Vajiralongkorn.
April 6, 2017 – A military-backed constitution is ratified after being approved in a referendum, with changes requested by King Vajiralongkorn that increased his powers, paving the way for an election.
Feb. 7, 2019 – The king rebukes his sister, Princess Ubolratana, over a Thaksin-linked party's nomination of her as its candidate for prime minister. The party is later dissolved by a court before the election.
March 24, 2019 – General elections held amid complaints of cheating and vote-buying. Former army chief Prayuth Chan-ocha, who led the 2014 coup and was then prime minister of a military government, heads a pro-army party that wins the most votes.
Nov. 20, 2019 – Court disqualifies rising opposition figure Thanathorn Juangroongruangkit, leader of the Future Forward Party, from parliament prompting thousands to rally in Bangkok.
Jan. 12, 2020 – More than 12,000 people join an anti-government "Run Against Dictatorship" in the biggest show of dissent since the 2014 coup. A rival group holds a run in support of Prayuth.
Feb. 21 – Future Forward Party is banned for illegally taking a loan from its billionaire leader, Thanathorn, prompting small student protests on university campuses.
March 22 – Given restrictions to stop the novel coronavirus, student protests peter out but online criticism of government continues, with some also directing criticism at the king. The hashtag "#whydoweneedaking?" is posted more than 1 million times.
June 8 – Small protests held to call for an investigation into the disappearance of an exiled government critic in Cambodia.
June 15 – Prayuth warns political activists not to criticise the monarchy.
June 24 – Protesters gather to mark the anniversary of the end of absolute monarchy in 1932.
July 18 – About 2,500 protesters gather at Democracy Monument, one of the largest demonstrations since the coup, calling for the dissolution of parliament and new elections.
Aug. 4 – Speakers call for the monarchy's power to be curbed at a rally attended by hundreds in Bangkok.
(Reporting by Chayut Setboonsarng; Editing by Robert Birsel)
'Sheep without a shepherd': Hong Kong churches torn by politics – TheChronicleHerald.ca
By Yanni Chow
HONG KONG (Reuters) – When Hong Kong's largely peaceful pro-democracy protests turned violent last summer, it drove a wedge through every section of society, dividing friends, families and also worshippers at its more than 1,500 churches.
The majority of people in Hong Kong follow some form of Buddhist, Taoist or other traditional Chinese religion, but the former British colony has about 900,000 practicing Christians, about 12% of the population according to government figures, split almost evenly between Roman Catholic and Protestant faiths. There is no consensus among them about the protests or China's tightening grip on the city.
Canaan Wong, Blesson Chan and Kristy Chan, all in their mid-20s, are part of a group of about 40 people who in late June quit their positions as mentors and teachers at the evangelical Tung Fook Church, because they said they felt pressure from senior church leaders to keep quiet about political matters.
They said several pastors were told by church leaders to remove their names from public statements opposing a bill last year that would have allowed criminal suspects to be extradited to mainland China, the issue which sparked the protests. The bill was eventually withdrawn. The three said they did not know which church leaders, or how many, were telling pastors to remove their names.
"It sends chills down our spine with such self-censoring," said Wong. "This shows that in this church, politics clearly overrides religion and truth."
The group wants the church to speak up on political issues, such as the new national security law enacted by China on June 30, which makes anything that Beijing regards as subversion or promoting independence punishable by life in prison.
"We are not asking for a yellow church," said Blesson Chan, using the local shorthand for pro-democracy. "We just feel that church is a part of the society and should not be hiding up in an ivory tower."
The group is set to have talks with leaders of the church, which is located next to the headquarters of China's new national security agency in Hong Kong, about how to resolve their issues. A representative for Tung Fook church said it wanted to "enhance communication and eliminate misunderstanding" with the group.
If the church does not take a stand, the three said they feared it will end up resembling the Three-Self Patriotic Movement, a Protestant organization in mainland China that is closely controlled by the state and whose leaders staunchly support the Chinese Communist Party.
The National Committee of the Three-Self Patriotic Movement of the Protestant Churches in China declined to comment.
Although China is an officially atheist state, it does allow certain state-supervised religious organizations, such as the Three-Self Patriotic Movement, to operate. However, Beijing has closed down many so-called underground or house churches outside the state-controlled system and has imprisoned worshippers on the grounds that they are more loyal to their religion than to the Chinese state.
Chinese authorities did not respond to a request for comment.
'TEAM JESUS'
On the other side of the divide is a 49-year-old police officer, who said he left the Christian and Missionary Alliance Tak Tsuen Church after 14 years last June, when he was abused by fellow worshippers who told him the police deserved to be attacked by protesters.
"As Christians, seeing the police bleed and wounded, how can you think it's good and we deserve it?" said Sing, who asked to be identified by only one name. The church did not reply to a request for comment.
Shortly after, the policeman joined Trinity Theology Baptist Church, set up by former police officer Ricky Wong, 54, as a refuge for police who felt unwelcome elsewhere.
"I want to minimize my brothers' and sisters' hatred towards the yellow camp," Wong told Reuters, referring to the general opposition among police officers to Hong Kong's pro-democracy movement.
"When (Jesus) saw the crowds, he had compassion on them because they were harassed and helpless, like sheep without a shepherd," said Wong, quoting a passage from the Bible. "These people are also lambs."
Wong said the 120 or so members of his church, which include many members of the uniformed services plus some doctors and teachers, pray at secret locations for fear of being targeted by pro-democracy activists.
Despite his concern about the yellow camp, Wong said he did not identify as blue, or pro-Beijing. Instead, he described his congregation as "Team Jesus."
ANGELS FEAR TO TREAD
When China took back control of Hong Kong in 1997, it adopted the principle of "one country, two systems" and agreed to uphold the territory's Basic Law, its de facto constitution, which includes the freedom of speech and religion.
That principle is now seen to be under threat after China imposed the new national security law, which supporters say will bring stability to the financial hub, but critics say will crush all forms of freedom.
Hong Kong's government did not reply to a request for comment. It has said previously the new security law preserves "the basic rights and freedom lawfully enjoyed by law-abiding citizens." The law makes no mention of religious groups.
Nevertheless, church leaders are treading cautiously.
A day before the law was imposed, Lo Hing-choi, president of the Baptist Convention of Hong Kong, the umbrella group for the city's 164 Baptist congregations, posted a message critical of the law on the convention's website, but took it down a day later.
"We expect the government to enact just laws to make society harmonious and stable," said Lo in the withdrawn post, arguing that the new security law could not achieve long-term stability and that only a truly democratic system would lead to prosperity.
Lo, 68, told Reuters he was unnerved by an anonymous caller who accused him of encouraging violence.
Ta Kung Pao, a Hong Kong newspaper controlled by the Chinese state, singled out Lo for what it called "hijacking the churches." The newspaper did not reply to a request for comment.
"In churches now, different people, different political stances are constantly fighting," said Wong. "Right now, I don't think the rift in our society can be mended."
(Reporting By Yanni Chow in Hong Kong; Writing by Anne Marie Roantree; Editing by Bill Rigby)
The politics of fiscal relief is failing Americans – Financial Times
In one of its worst-ever years in peacetime, the US has been able to nurse a consolation. As badly as it handled the Covid-19 pandemic, it was quick to soften the economic effects. Fiscal relief for a shuttered economy achieved bipartisan support in March. The $2tn Cares Act — worth roughly a tenth of national output — raised unemployment benefit, offered credit to companies and shored up state governments. Given the initial defeat of the 2008 bank bailout in Congress, none of this was inevitable.
Even this solace, it seems, is shortlived. Another round of fiscal intervention is clearly necessary. Continuing hardship, a surge in infections and the re-closing of many businesses that had opened put that beyond doubt. This time, however, the politics is failing.
Democrats and Republicans cannot agree on the size or duration of another bill. Among the unseen victims in this tiff are the recipients of the extra $600 in weekly unemployment aid that passed in March. It ran out on July 31. Democrats want to extend it until the end of the year, while Republicans cite the moral hazard of disincentivising work. Democrats propose $3.4tn in total stimulus. Republicans balk at that cost.
It is not frivolous to worry about intervention on this scale. It can have distorting effects and lead to waste. A return to some semblance of normality will involve unpicking this tapestry of fiscal transfers and lines of credit. Such is the nature of the crisis, however, that politicians must for now err on the side of action. Congress debates at leisure: the human cost in lay-offs and home-evictions mounts at pace. In haggling over aid, to the unemployed for instance, the bias of lawmakers should be towards generosity, and towards speed.
Ideally, it would be enough to appeal to conscience. If this is not enough, then lawmakers should remember that the jobless rolls include many of their own voters (they are simply too large not to) and that an election is less than three months off.
As well as the domestic suffering, Congress should also heed the implications for a world economy that America helps to drive. The first bill was an international event. If it transpires, this one will be, too. Jay Powell, chosen to chair the Federal Reserve by President Donald Trump and hardly a notorious socialist, urges against premature withdrawal of government support.
It would help matters if Mr Trump took a lead. He is less of an ideological free marketeer than many of his partisan colleagues, including Larry Kudlow, his economic adviser. Tellingly, the president made sure to associate himself with the original stimulus in the Cares Act. With the presidential election in the offing, he has an interest in what is proving to be popular intervention in the economy.
Of late, though, Mr Trump's contribution has been to suggest a cut in payroll taxes. ("What payroll?" those without jobs will ask). He also repeated insinuations on Wednesday that Democrats want to bail out states they run. The first notion is one his own side say they will not support. The second just sours the cross-partisan mood that is needed for a deal.
In the end, this unprecedented intervention will have to be paid for through some blend of tax, borrowing and cuts to spending. Politicians who dread the growth of government, or of the deficit, should certainly set out a path to a more "normal" state of fiscal affairs. In the meantime, however, a devastated economy needs their help. An often traduced Washington salvaged some of its reputation in the spring. It is close to forfeiting it all over again.