Public Highly Critical of State of Political Discourse in the U.S. – Pew Research Center
The public renders a harsh judgment on the state of political discourse in this country. And for many Americans, their own conversations about politics have become stressful experiences that they prefer to avoid.
Large majorities say the tone and nature of political debate in the United States has become more negative in recent years – as well as less respectful, less fact-based and less substantive.
Meanwhile, people's everyday conversations about politics and other sensitive topics are often tense and difficult. Half say talking about politics with people they disagree with politically is "stressful and frustrating."
When speaking with people they do not know well, more say they would be very comfortable talking about the weather and sports – and even religion – than politics. And it is people who are most comfortable with interpersonal conflict, including arguing with other people, who also are most likely to talk about politics frequently and to be politically engaged.
Donald Trump is a major factor in people's views about the state of the nation's political discourse. A 55% majority says Trump has changed the tone and nature of political debate in this country for the worse; fewer than half as many (24%) say he has changed it for the better, while 20% say he has had little impact.
Perhaps more striking are the public's feelings about the things Trump says: sizable majorities say Trump's comments often or sometimes make them feel concerned (76%), confused (70%), embarrassed (69%) and exhausted (67%). By contrast, fewer have positive reactions to Trump's rhetoric, though 54% say they at least sometimes feel entertained by what he says.
Pew Research Center's wide-ranging survey of attitudes about political speech and discourse in the U.S. was conducted April 29-May 13 among 10,170 adults. Among the other major findings: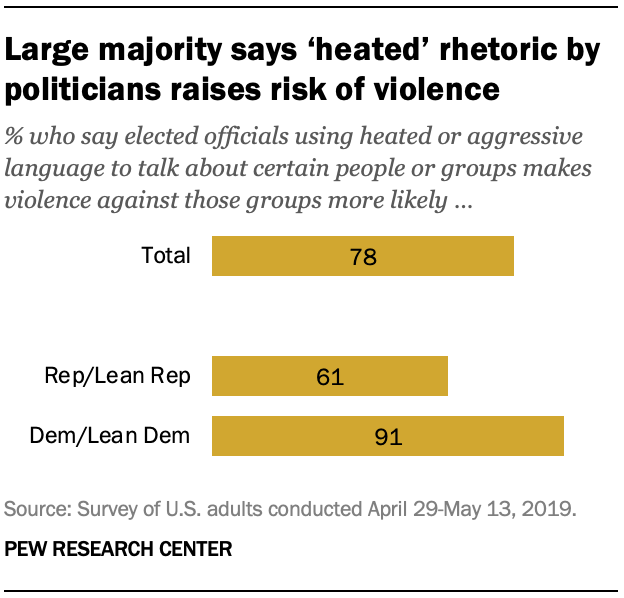 Broad agreement on the dangers of "heated or aggressive" rhetoric by political leaders. A substantial majority (78%) says "heated or aggressive" language directed by elected officials against certain people or groups makes violence against them more likely. This view is more widely shared among Democrats and Democratic-leaning independents than Republican and Republican leaners.
Partisans demand a higher standard of conduct from the other party than from their own. Majorities in both parties say it is very important that elected officials treat their opponents with respect. But while most Democrats (78%) say it is very important for Republican elected officials to treat Democratic officials with respect, only about half (47%) say it is very important for officials from their party to treat Republican politicians with respect. There is similar divide in the opinions of Republicans; 75% say Democrats should be respectful of GOP officials, while only 49% say the same about Republicans' treatment of Democratic officials.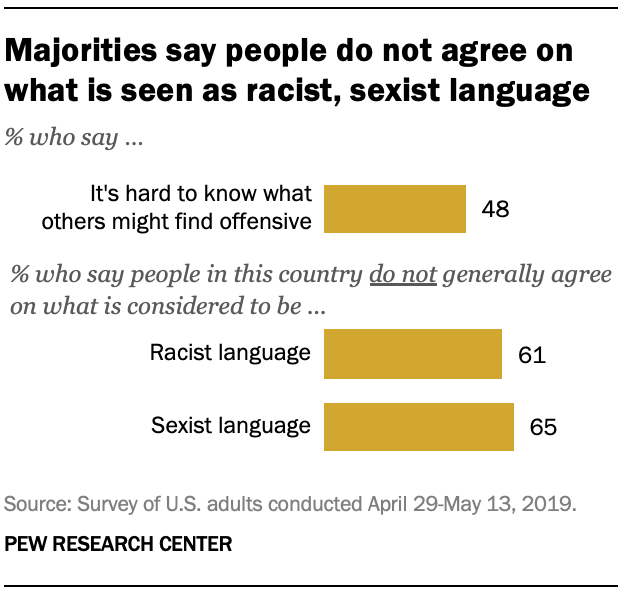 Uncertainty about what constitutes "offensive" speech. As in the past, a majority of Americans (60%) say "too many people are easily offended over the language that others use." Yet there is uncertainty about what constitutes offensive speech: About half (51%) say it is easy to know what others might find offensive, while nearly as many (48%) say it is hard to know. In addition, majorities say that people in this country do not generally agree about the types of language considered to be sexist (65%) and racist (61%).
Majority says social media companies have responsibility to remove "offensive" content. By a wide margin (66% to 32%), more people say social media companies have a responsibility to remove offensive content from their platforms than say they do not have this responsibility. But just 31% have a great deal or fair amount of confidence in these companies to determine what offensive content should be removed. And as noted, many Americans acknowledge it is difficult to know what others may find offensive.
Talking about Trump with people who feel differently about him. The survey asks people to imagine attending a social gathering with people who have different viewpoints from theirs about the president. Nearly six-in-ten (57%) of those who approve of Trump's job performance say they would share their views about Trump when talking with a group of people who do not like him. But fewer (43%) of those who disapprove of Trump say they would share their views when speaking with a group of Trump supporters.
What's OK – and off-limits – for political debates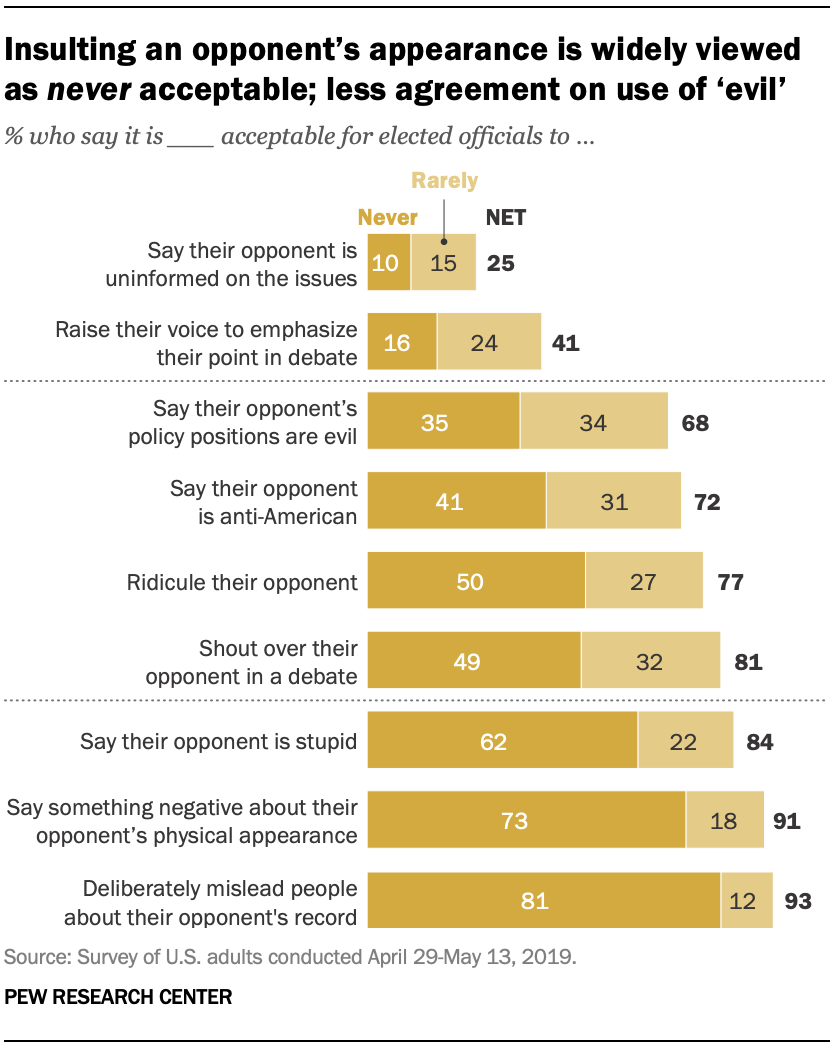 While Americans decry the tone of today's political debates, they differ over the kinds of speech that are acceptable – and off-limits – for elected officials to use when criticizing their rivals.
Some language and tactics are viewed as clearly over the line: A sizable majority (81%) says it is never acceptable for a politician to deliberately mislead people about their opponent's record. There is much less agreement about the acceptability of elected officials using insults like "evil" or "anti-American."
Partisanship has a major impact on these opinions. For the most part, Democrats are more likely than Republicans to say many of the insults and taunts are never acceptable. For example, 53% of Democrats say it is never acceptable for an elected official to say their opponent is anti-American; only about half as many Republicans (25%) say the same.
As with views of whether elected officials should "respect" their opponents, partisans hold the opposing side to a higher standard than their own side in views of acceptable discourse for political debates.
Most Republicans (72%) say it is never acceptable for a Democratic official to call a Republican opponent "stupid," while far fewer (49%) say it is unacceptable for a Republican to use this slur against a Democrat. Among Democrats, 76% would rule out a Republican calling a Democratic opponent "stupid," while 60% say the same about Democrat calling a Republican "stupid." See Chapter 2 for an interactive illustration of how people's views about the acceptability of political insults vary depending on whether or not they share the same party affiliation of the elected officials casting the insults.
Large shares have negative reactions to what Trump says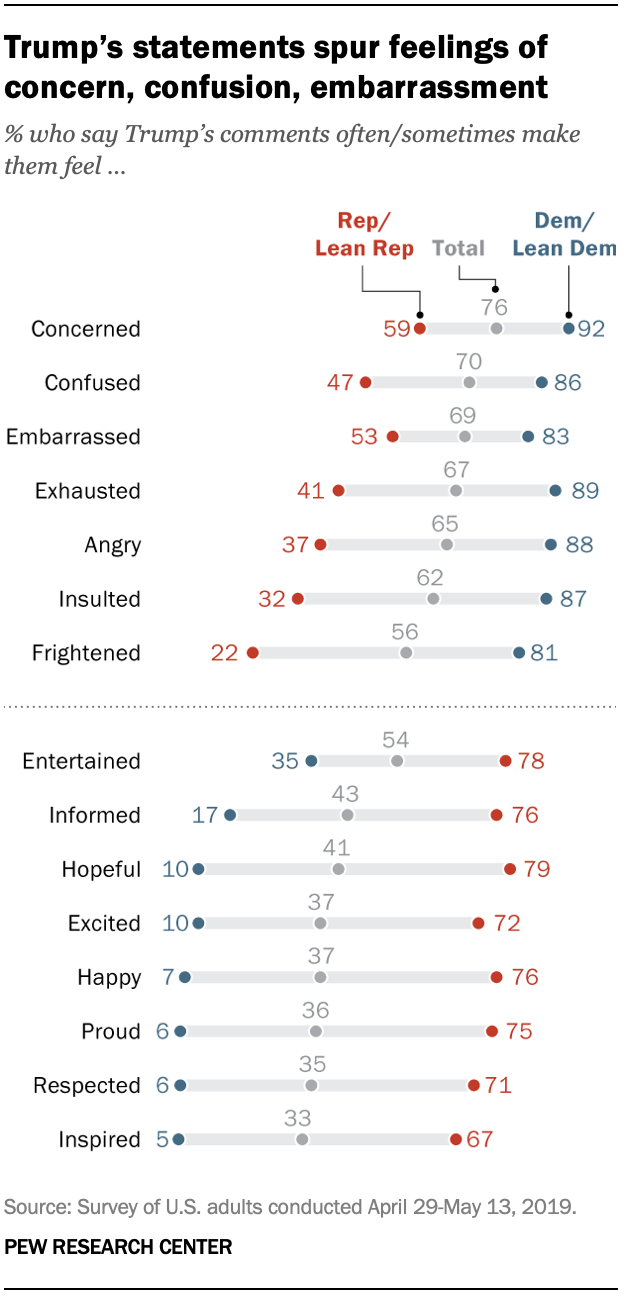 Majorities of Americans say they often or sometimes feel a range of negative sentiments – including concern, confusion, embarrassment and exhaustion – about the things that Trump says.
Positive feelings about Trump's comments are less widespread. Fewer than half say they often or sometimes feel informed, hopeful, excited and happy about what the president says. A 54% majority says they at least sometimes feel entertained by what Trump says, the highest percentage expressing a positive sentiment.
Democrats overwhelmingly have negative reactions to Trump's statements, while the reactions of Republicans are more varied. Among Democrats and Democratic-leaning independents, at least 80% say they often or sometimes experience each of the seven negative emotions included in the survey.
A 59% majority of Republicans and Republican leaners say they often or sometimes feel concerned by what Trump says. About half also say they are at least sometimes embarrassed (53%) and confused (47%) by Trump's statements.
By contrast, large majorities of Republicans say they often or sometimes feel hopeful (79%), entertained (78%), informed and happy (76%) and other positive sentiments in response to the things Trump says.
No more than about 10% of Democrats express any positive feelings toward what Trump says, with two exceptions: 17% say they are often or sometimes informed, while 35% are at least sometimes entertained.
Republicans see a less 'comfortable' environment for GOP views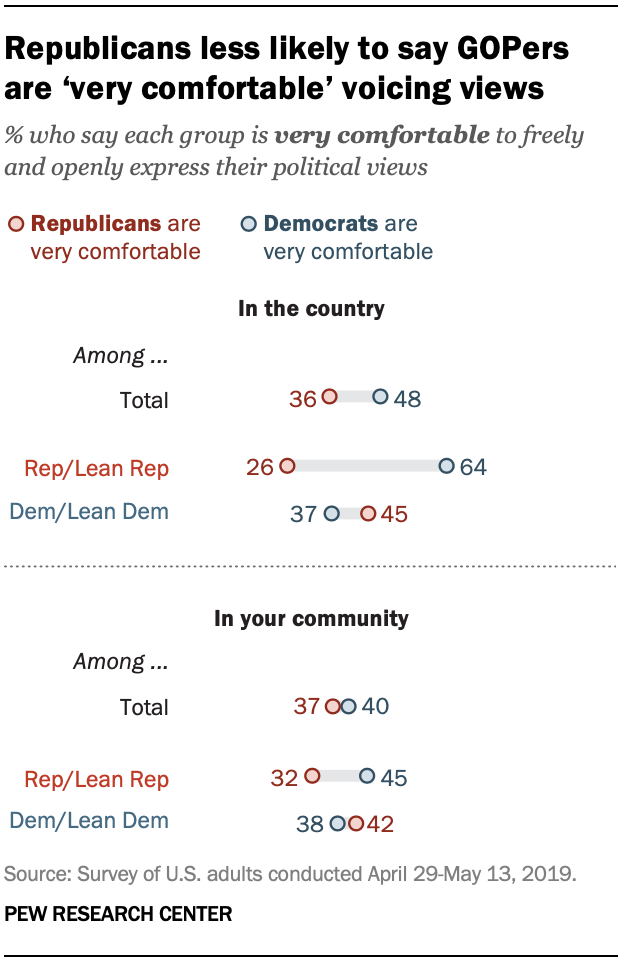 Republicans say that members of their party across the country are less comfortable than Democrats to "freely and openly" express their political views. In addition, Republicans are far more critical than Democrats about the climate for free expression in the nation's educational institutions – not just colleges, but also community colleges and K-12 public schools.
Just 26% of Republicans say that Republicans across the country are very comfortable in freely and openly expressing their political opinions; nearly two-thirds of Republicans (64%) think Democrats are very comfortable voicing their opinions. Among Democrats, there are more modest differences in perceptions of the extent to which partisans are comfortable freely expressing their political views.
There are smaller partisan differences when it comes to opinions about how comfortable Republicans and Democrats are expressing their views in their local communities. Yet these opinions vary depending on the partisan composition of the local community. Republicans and Democrats living in counties that Trump won by wide margins in 2016 are more likely than those in evenly divided counties (or those that Hillary Clinton won decisively) to say Republicans are very comfortable expressing their views.
Republicans' concerns about the climate for free speech on college campuses are not new. The new survey finds that fewer than half of Republicans (44%) say colleges and universities are open to a wide range of opinions and viewpoints; Democrats are nearly twice as likely (87%) to say the same.
Republicans also are less likely than Democrats to say community colleges and K-12 public schools are open to differing viewpoints. By contrast, a larger share of Republicans (56%) than Democrats (40%) say that churches and religious organizations are very or somewhat open to a wide range of opinions and viewpoints.
Members of both parties generally view their own local communities as places that are open to a wide range of viewpoints. Large and nearly identical shares in both parties say their local community is at least somewhat open to a wide range of opinions and viewpoints (75% of Democrats, 74% of Republicans).
U.S., UK, Germany clash with China at U.N. over Xinjiang
The United States, Germany and Britain clashed with China at the United Nations on Wednesday over the treatment of Uyghur Muslims in Xinjiang, angering Beijing by hosting a virtual event that China had lobbied U.N. member states to stay away from.
"We will keep standing up and speaking out until China's government stops its crimes against humanity and the genocide of Uyghurs and other minorities in Xinjiang," U.S. Ambassador to the U.N. Linda Thomas-Greenfield told the event, which organizers said was attended by about 50 countries.
Western states and rights groups accuse Xinjiang authorities of detaining and torturing Uyghurs and other minorities in camps. Beijing denies the accusations and describes the camps as vocational training facilities to combat religious extremism.
"In Xinjiang, people are being tortured. Women are being forcibly sterilized," Thomas-Greenfield said.
Amnesty International secretary general Agnes Callamard told the event there were an estimated 1 million Uyghurs and predominantly Muslim ethnic minorities arbitrarily detained.
In a note to U.N. member states last week, China's U.N. mission rejected the accusations as "lies and false allegations" and accused the organizers of being "obsessed with provoking confrontation with China."
While China urged countries "NOT to participate in this anti-China event," a Chinese diplomat addressed the event.
"China has nothing to hide on Xinjiang. Xinjiang is always open," said Chinese diplomat Guo Jiakun. "We welcome everyone to visit Xinjiang, but we oppose any kind of investigation based on lies and with the presumption of guilt."
The event was organized by Germany, the United States and Britain and co-sponsored by Canada, Australia, New Zealand and several other European nations. Germany's U.N. Ambassador Christoph Heusgen said countries who sponsored the event faced "massive Chinese threats," but did not elaborate.
British U.N. Ambassador Barbara Woodward described the situation in Xinjiang as "one of the worst human rights crises of our time," adding: "The evidence … points to a program of repression of specific ethnic groups."
She called for China to allow "immediate, meaningful and unfettered access" to U.N. human rights chief Michelle Bachelet.
Human Rights Watch executive director Kenneth Roth called out Bachelet for not joining the event.
"I'm sure she's busy. You know we all are. But I have a similar global mandate to defend human rights and I couldn't think of anything more important to do than to join you here today," Roth told the event.
Ravina Shamdasani, deputy spokesperson for the U.N. Human Rights office, said Bachelet – who has expressed serious concerns about the human rights situation in Xinjiang and is seeking access – was unable to participate.
"The High Commissioner continues to engage with the Chinese authorities on the modalities for such a visit," she said, adding that Bachelet's office "continues to gather and analyze relevant information and follow the situation closely."
(Reporting by Michelle NicholsEditing by Chizu Nomiyama, Alison Williams and Elaine Hardcastle)
Ex-finance minister breached ethics rules in charity dealings
Former Canadian Finance Minister Bill Morneau breached conflict-of-interest rules by not recusing himself when the government awarded a contract to a charity he had close ties to, independent ethics commissioner Mario Dion said on Thursday.
In a parallel probe, Prime Minister Justin Trudeau was cleared of having broken any ethics rules when WE Charity was tapped to run a C$900 million ($740.9 million) program to help students find work during the COVID-19 pandemic last year.
The charity later walked away from the contract.
Trudeau and Morneau both apologized last year for not recusing themselves during Cabinet discussions involving WE.
Trudeau's wife, brother and mother had been paid to speak at WE Charity events in previous years, but Dion said this appearance of a conflict of interest was not "real".
Morneau, on the other hand, was a friend of Craig Kielburger, one of the charity's founders, Dion said. The charity had "unfettered access" to the minister's office that "amounted to preferential treatment", a statement said.
No fines or penalties were levied.
Morneau said on Twitter he should have recused himself. Trudeau said in a statement issued by his office that the decision "confirms what I have been saying from the beginning" that there was no conflict of interest.
Ahead of a possible federal election later this year, the opposition could use the ruling to underscore the government's uneven track record on ethics. Trudeau has been twice been found in breach of ethics rules in the past.
In August 2019, he was found to have broken rules by trying to influence a corporate legal case, and in December 2017, the previous ethics commissioner said Trudeau had acted wrongly by accepting a vacation on the Aga Khan's private island.
In a statement, opposition Conservative Party leader Erin O'Toole said: "To clean up Ottawa, Conservatives will impose higher penalties for individuals who break the Conflict of Interest Act and shine a light on Liberal cover-ups and scandals, ending them once and for all."
The controversy over Morneau's ties to the charity was a factor in his resignation in August last year, when he also left his parliamentary seat, saying he would not run again. Chrystia Freeland was named to take over for him a day later.
($1 = 1.2147 Canadian dollars)
(Reporting by Steve Scherer; Editing by Frances Kerry and Jan Harvey)
EU prepares new round of Belarus sanctions from June
The European Union is readying a fourth round of sanctions against senior Belarus officials in response to last year's contested presidential election and could target as many as 50 people from June, four diplomats said.
Along with the United States, Britain and Canada, the EU has already imposed asset freezes and travel bans on almost 90 officials, including President Alexander Lukashenko, following an August election which opponents and the West say was rigged.
Despite a months-long crackdown on pro-democracy protesters by Lukashenko, the EU's response has been narrower than during a previous period of sanctions between 2004 and 2015, when more than 200 people were blacklisted.
The crisis has pushed 66-year-old Lukashenko back towards traditional ally Russia, which along with Ukraine and NATO member states Latvia, Lithuania and Poland, borders Belarus.
Some Western diplomats say Moscow regards Belarus as a buffer zone against NATO and has propped up Lukashenko with loans and an offer of military support.
Poland and Lithuania, where opposition leader Sviatlana Tsikhanouskaya fled to after the election she says she won, have led the push for more sanctions amid frustration that the measures imposed so far have had little effect.
EU foreign ministers discussed Belarus on Monday and diplomats said many more of the bloc's 27 members now supported further sanctions, but that Brussels needed to gather sufficient evidence to provide legally solid listings.
"We are working on the next sanctions package, which I hope will be adopted in the coming weeks," said EU foreign policy chief Josep Borrell, who chaired the meeting.
The EU has sought to promote democracy and develop a market economy in Belarus, but, along with the United States, alleges that Lukashenko has remained in power by holding fraudulent elections, jailing opponents and muzzling the media.
Lukashenko, who along with Russia says the West is meddling in Belarus' internal affairs, has sought to deflect the condemnation by imposing countersanctions on the EU and banning some EU officials from entering the country.
"The fourth package (of sanctions) is likely to come in groups (of individuals), but it will be a sizeable package," one EU diplomat told Reuters.
More details were not immediately available.
(Reporting by Robin Emmott in Brussels, additional reporting by Sabine Siebold in Berlin, editing by Alexander Smith)