Putin targets U.S. social media, secret agent leaks and protests with new laws – The Guardian
MOSCOW (Reuters) – President Vladimir Putin signed an array of laws on Wednesday handing Russia new powers to restrict U.S. social media giants, label individuals "foreign agents", and to crack down on the disclosure of its security officers' personal data.
The laws, which also introduce new restrictions for protests, cap a year of constitutional reforms allowing Putin, 68, to stand for two more six-year terms in the Kremlin instead of stepping down in 2024 as he had been legally required to do.
Other reforms such as one granting former presidents lifelong immunity from prosecution have kept analysts guessing about his plans as Moscow's ties with the West have come under new strain over the poisoning of Kremlin critic Alexei Navalny.
One of Wednesday's laws enables Russia to block or restrict access to sites that "discriminate" against its media, part of a campaign under Putin to increase Russia's internet "sovereignty" that has fuelled fears of creeping China-style controls.
Twitter currently labels some Russian media "state-affiliated media", a move decried by Moscow. The law's backers cited complaints made about prejudice shown by Facebook, Twitter and YouTube.
A second law introduces hefty fines of up to 20% of their previous year's Russia-based turnover for sites that repeatedly fail to remove banned content, something that YouTube and Facebook have often failed to do according to Russian lawmakers.
A third law prohibits the disclosure of the personal data of Russian security officials, records that are sometimes leaked online and have been used by investigative journalists to track clandestine operations.
Earlier this month, investigative website Bellingcat used flight records and other data to identify a group of alleged Federal Security Service agents whom Navalny has accused of trying to poison him in August, an allegation denied by Moscow.
Other new laws introduced jail sentences of up to two years for slander online as well as new regulations that would prohibit the funding of protests by "foreign agents" and allow rallies to be banned due to emergencies.
Another law granted authorities new powers to label individuals "foreign agents" and also jail them for five years if they fail to report their activities correctly.
(Reporting by Tom Balmforth; editing by Angus MacSwan)
Poland proposes social media 'free speech' law – BBC News


.css-94m6rd-HeadingWrapperborder-bottom:solid 1px #BABABA;padding-bottom:1.5rem;.css-94m6rd-HeadingWrapper > *:not([hidden]):not(style) ~ *:not([hidden]):not(style)margin-top:1rem;.css-vk3nhx-ComponentWrappermargin:1.5rem 0;
.css-2y05cd-StyledFigurefont-family:ReithSans,Helvetica,Arial,freesans,sans-serif;font-weight:400;font-size:0.875rem;line-height:1.125rem;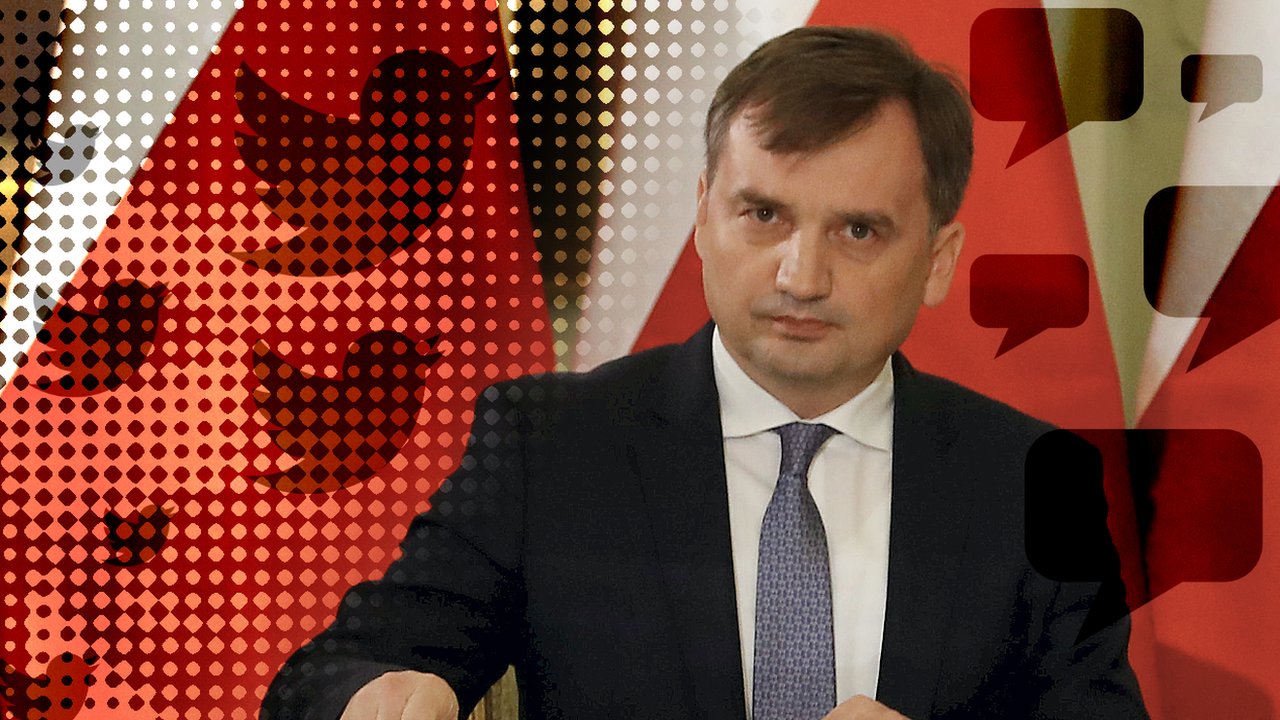 .css-uf6wea-RichTextComponentWrappermargin:1rem 0;max-width:36.25rem;
.css-83cqas-RichTextContainercolor:#3F3F42;.css-83cqas-RichTextContainer > *:not([hidden]):not(style) ~ *:not([hidden]):not(style)margin-top:1rem;
.css-14iz86j-BoldTextfont-weight:bold;Poland's government has proposed a new law to stop social media platforms deleting content or banning users who do not break Polish laws.
The proposed bill would see social networks fined up to 50 million zloty (£9.8m, $13.4m) for failing to restore deleted posts or accounts.
Justice Minister Zbigniew Ziobro announced the "freedom of speech protection" bill on Friday.
The law would also establish a "freedom of speech council".
The council would be able to order social networks such as Facebook or Twitter to restore deleted content, or unblock a user's account following a review, Mr Ziobro said.
Social media users in Poland who had been blocked or had content deleted would be able to complain directly to the platform, which would have to respond within 24 hours.
If a social media company refused to comply with an order, the council would be able to issue a fine of between 50,000 and 50 million zloty.
Mr Ziobro leads a hard-right junior coalition partner in the Polish government. His party claims that traditional Roman Catholic values are under threat from LGBT rights.
He said large internet corporations were increasingly limiting freedom of speech.
"Often, the victims of ideological censorship are also representatives of various groups operating in Poland, whose content is removed or blocked just because they express views and refer to values that are unacceptable," Mr Ziobro said recently.
Under the proposed bill, members of the free speech council would be appointed for six-year terms by a three-fifths majority vote in parliament, in an attempt to safeguard pluralism, Mr Ziobro said. They would be experts, not politicians.
Poland's prime minister Mateusz Morawiecki has said that protecting freedom of speech on the internet is a priority for him and has warned against "political correctness".
"Censorship is not and cannot be accepted," he wrote on Facebook, which has suspended US President Donald Trump's account.
On Friday, the Rzeczpospolita daily newspaper quoted an anonymous government source who said Mr Morawiecki was going to lobby the EU to regulate the issue, because domestic regulations would be ineffective without EU-wide backing.
According to Sebastian Kaleta, a deputy justice minister, the measures could come into effect by next January.
Twitter's banning of President Trump has attracted some criticism in Europe, with German Chancellor Angela Merkel calling it "problematic".
.css-kqym7f-SectionWrappermargin:1.5rem 0;padding-top:1.5rem;font-size:0.875rem;line-height:1.125rem;
Sleep, social media and mental health: Western U researchers look for links – Globalnews.ca
Researchers out of Western University in London, Ont., are trying to find out exactly how social media and sleep impact mental health, particularly among young people.
While the interplay between sleep, social media, and mental health has not been confirmed and "warrants further study," two recently published papers are starting to shed light on how complex the relationship is.
"There is quite a large body of evidence linking poor sleep with adverse health outcomes, especially among adults," Dr. Saverio Stranges, chair of the department of epidemiology and biostatistics, told Global News.
"However, the evidence among younger people, especially people like adolescents facing critical life transitions, is much more limited."
One of the studies, which analyzed data from the Canadian National Longitudinal Survey of Children and Youth, found that adolescents who experience difficulties sleeping are at higher risk of developing symptoms of anxiety and depression.
In particular, girls between the ages of 12 and 15 with persistent difficulties sleeping experienced higher rates of anxiety and depression.
"When present, these symptoms can persist into young adulthood and negatively impact relationships, quality of life and employment," said Stranges.
In another study, associate professor Kelly Anderson looked at previously published studies and reportedly found significant associations between excessive social media use and poor mental health outcomes, as well as between poor sleep quality and negative mental health.
"They are likely all part of a larger process that are feeding back to each other. So, if you aren't sleeping well, you are probably going to use social media more often, which is going to impact your mental health, which impacts your sleep and so on."

5:51


Foods that help with sleep



Junayd Hussain, one of the contributing authors, says it's the link between the three that "really interested us."
"Based on our research, it seemed as though at least part of the negative effects that social media use has on mental health may act through sleep disturbances."
The researchers say the studies highlight the need for public health initiatives to promote sleep hygiene.
Stranges said that, in terms of public health campaigns, there has been much attention paid to the importance of diet and physical activity and the impacts of smoking and alcohol consumption, but he doesn't believe sleep hygiene gets the same amount of attention.
"Good sleep habits should be really promoted in the very early stage because otherwise, you know, this may translate to long-term adverse health outcomes. And I think is important also from a public health perspective that we pay more attention to the way we sleep."
Researchers say one way to promote good sleep hygiene is to limit screen time before bed.
© 2021 Global News, a division of Corus Entertainment Inc.
Amnesty International extends deadline for 26th annual Media Awards – Canada NewsWire
OTTAWA, ON, Jan. 15, 2021 /CNW/ – Canadian journalists have an extra week to submit their stories to Amnesty International's Media Awards in Canada, the human rights organization announced today.
The English-speaking branch of Amnesty International's Canadian section will now accept submissions up to 11:59 p.m. EST on Jan. 22, 2021.
These awards honour outstanding reporting on human rights issues by journalists in Canada and Canadian journalists abroad, while also increasing awareness and understanding of human rights issues for all in Canada.
If you are a Canadian journalist or working as a journalist in Canada, we invite you to review the judging criteria below and submit your 2020 human rights stories with the link provided. We look forward to hearing from you.
All entries must be published or broadcast in Canada between Jan. 1, 2020 and Dec. 31, 2020. Unfortunately, we can only accept English submissions at this time.
Categories for 2020-2021:
Written News: A written story on a current or breaking news story relating to a human rights issues of 2,000 words or less.
Written Feature: A written story of more than 2,000 words on a human rights issue. Investigative pieces and multi-part series are also welcome.
Short-Form Video: A filmed news story relating to a human rights issue of no longer than 10 minutes.
Long-Form Video: A documentary or film relating to a human rights issue with a runtime of more than 10 minutes.
Audio News: A radio or podcast news story highlighting a human rights issue with a maximum runtime of 35 minutes.
Long-Form Audio: A radio or podcast feature, or series, highlighting a human rights issue with a maximum runtime of 70 minutes. *If submitting a series, please select 2-3 examples to highlight the series. The total runtime of the selected works must not exceed 70 minutes.
Mixed Media: A combination of at least two of the abovementioned elements: text, video and audio.
Post-Secondary Youth Award: A text, audio, video or mixed media story about a human rights issue created by a student attending a post-secondary school in Canada. The piece must be published or broadcast with a school publication.
Secondary Youth Award: A text, audio, video or mixed media story about a human rights issue created by a student attending a secondary school in Canada. The piece must be published or broadcast with a school publication.
Please complete the electronic form, answer all the required questions and ensure you have URLs for your media work.
The Amnesty International Media Awards winners will be announced in late February or early March 2021. Due to the ongoing pandemic, we are opting to host the awards ceremony online again. The virtual ceremony will be held in May 2021, with an exact date to be determined.
Click here for the Media Awards submission form.
Judging criteria:
1. Is there a human rights issue at the heart of this story? This is yes or no. If no, then don't go any further. No points awarded.
2. Does it advance the voice and agency of individuals or communities whose experience is at the centre of the story? Maximum 10 points.
3. Is the story told in ways that advance and promote diversity and equity, and avoid maintaining stereotypes or narratives that are racist, oppressive, sexist or otherwise discriminatory? Maximum 10 points.
4. Is there a solution suggested or being worked on by different stakeholders? Or does the story simply point out the abuse or violation without going further to suggest what needs to change? Maximum 10 points.
5. How much research and enterprise reporting was involved in the story? Maximum 10 points.
6. What is the level of professionalism of the story? i.e. Is it accurate, fair, and well-written? Maximum 10 points.
7. What is the impact of the story? Has it resulted in a change to law or policy? Has it positively impacted the lives of those who are at the centre of the story? Maximum 10 points.
SOURCE Amnesty International
For further information: Lucy Scholey, Media Relations, Amnesty International Canada, 613-853-2142, [email protected]ty.ca