Putin's Media Blitz on Africa Food Crisis Sparks Alarm in Europe – BNN
(Bloomberg) — European governments have been alarmed by a Russian disinformation campaign that seeks to deflect criticism that President Vladimir Putin's war with Ukraine risks leaving millions of people in Africa facing famine.
Russian diplomats have gone on a media offensive in recent months to push the narrative that sanctions, rather than Russian blockades, are causing shortages of grains and fertilizer in Africa. The public-relations onslaught shows how the months-long war in Ukraine is becoming a global propaganda battle as food, fuel and crop-nutrient prices surge.EU and UK officials who've recently met their African counterparts at meetings in New York and Rwanda expressed concern that the Russian message is gaining traction, said senior European diplomats who asked not to be identified. In response, European governments are increasing their engagement with leaders on the continent and boosting their own information campaigns to counter the Russian narrative, the diplomats said.
A senior European intelligence officer said the Kremlin had manufactured the debate as a means to get sanctions lifted and was intent on using the threat of global hunger as a bargaining tool in any future peace talks. Moscow has focused much of its influence operations on Africa and the Middle East, the official said.
No Link
The US and EU haven't sanctioned any Russian agricultural products and say there's no link between penalties on Moscow and grain or fertilizer exports from Russia or Ukraine.
That's not stopped Russian embassy officials across Africa from placing the blame for the crisis on the west. Recent examples include Russia's ambassador to Djibouti posting a graphic on Twitter accusing the EU of lying about gas and food shortages, while a Russian diplomat in South Africa wrote an editorial in the Mail & Guardian newspaper entitled "The Russian embassy rejects accusation of 'provoking global famine' spread by Western propaganda."
Social media campaigns have amplified their messages, with Facebook pages parroting Kremlin talking points in French, targeting West African nations including Mali and Ivory Coast, according to Moustafa Ayad, executive director for Africa, the Middle East and Asia at the Institute for Strategic Dialogue, a London-based think tank that analyzes online disinformation. Online conspiracy communities in South Africa have also been targeted, he said.
The head of the United Nations World Food Program, David Beasley, said Russia's blockade of Ukrainian ports was a "declaration of war" on global food security, with 49 million people in 43 countries facing famine.
"Since the Ukraine war began, the price of food and fuel has risen dramatically in countries around the world," he said June 24. "Now, millions may starve."
Global food prices surged to a record after Russia's Feb. 24 invasion disrupted exports of grain and vegetable oil through Ukraine's Black Sea ports, adding to cost pressures from logistics snarl-ups and a rebound in consumer demand after the coronavirus pandemic. That's exacerbated a hunger crisis affecting countries including Ethiopia, Kenya and Somalia.
While Ukraine and its US and European allies blame Russia for blocking exports and Moscow points the finger at Kyiv, UN-sponsored talks have so far failed to yield a compromise to resume deliveries.
Read: Putin Has Reason to Slow-Walk a Ukraine Grain Deal
Before the war, Russia and Ukraine accounted for three-quarters of global sunflower-oil exports, about 30% of wheat and 15% of corn, according to the US Department of Agriculture. Shortages of grains have driven up prices, with global benchmarks for wheat and corn rising 22% and 12% respectively this year.
"The crisis is caused by Russia. Without that invasion we wouldn't be in the situation we are in," said Wandile Sihlobo, chief economist at the Agricultural Business Chamber of South Africa. "The price shock is inescapable and that is directly related to the war."
Food costs account for 40% of consumer spending in sub-Saharan Africa, compared with 17% in advanced economies.
In 2020, Africa imported $4 billion of agricultural products from Russia, with 90% of that being wheat, while $2.9 billion of wheat, corn, sunflower oil, barley and soy came from Ukraine, according to Sihlobo. FAO data shows that Eritrea and Somalia were almost entirely dependent on Russia and Ukraine for their wheat supplies last year, while Tanzania, Namibia and Madagascar relied on them for more than 60% of supplies.
Russian and Ukrainian harvests and exports have surged in the past decade and farmers in the region typically produce at lower costs than more traditional suppliers like Canada and the US, which has helped to keep wheat prices lower. Their proximity to North Africa also reduces shipping costs versus suppliers further afield.
Part of Russia's propaganda effort has been to amplify statements by African officials that can be seen as supportive of Russia's argument. After African Union President Macky Sall met Putin for talks June 3 in the resort town of Sochi, Sall said sanctions had exacerbated the food crisis.
"Anti-Russia sanctions have made this situation worse and now we do not have access to grain from Russia, primarily to wheat," Sall said . "And, most importantly, we do not have access to fertilizer. The situation was bad and now it has become worse, creating a threat to food security in Africa."
Colonial Legacy
Russia can draw on its historical role of having supported liberation movements in parts of Africa during the wars and struggles against colonial and Whites-only rule — backing that helped the former Soviet Union undermine the US and Europe as part of its Cold War strategy to gain influence in Africa. By contrast the UK and France, as former colonial powers, still attract suspicion.
"What we have seen are narratives focused very precisely on how the US is orchestrating this conflict along with NATO in order to starve the globe," Ayad said. "Colonialism has to be taken into account with African disinformation. That's what the Kremlin is counting on: calling out Western states rather than the Kremlin as an imperial force."
The danger is "very big" that Putin will attempt to establish a narrative that the West is responsible for the famine threatening Africa, German foreign ministry spokeswoman Andrea Strasse said June 3. "This is a narrative that we want to strongly resist," she said.
French President Emmanuel Macron said last week at the Group of Seven leaders summit in the Bavarian Alps that he will announce measures in September to intensify the "fight against disinformation." At a press conference, he referred to Russia's efforts to link the food crisis to sanctions as "fake news."
The Russian propaganda campaign is also getting under the skin of the Americans.
"The Russian government's attempts to deflect responsibility for its actions by blaming others for the worsening crisis in the global food system are reprehensible," the US State Department said in a June 22 statement entitled 'Lying to the World About Global Food Security.' "The Russian government should stop weaponizing food and allow Ukraine to safely ship out its grain so that millions of hungry people in the Middle East and Africa can be fed."
©2022 Bloomberg L.P.
Netflix is not in deep trouble. It's becoming a media company – CNN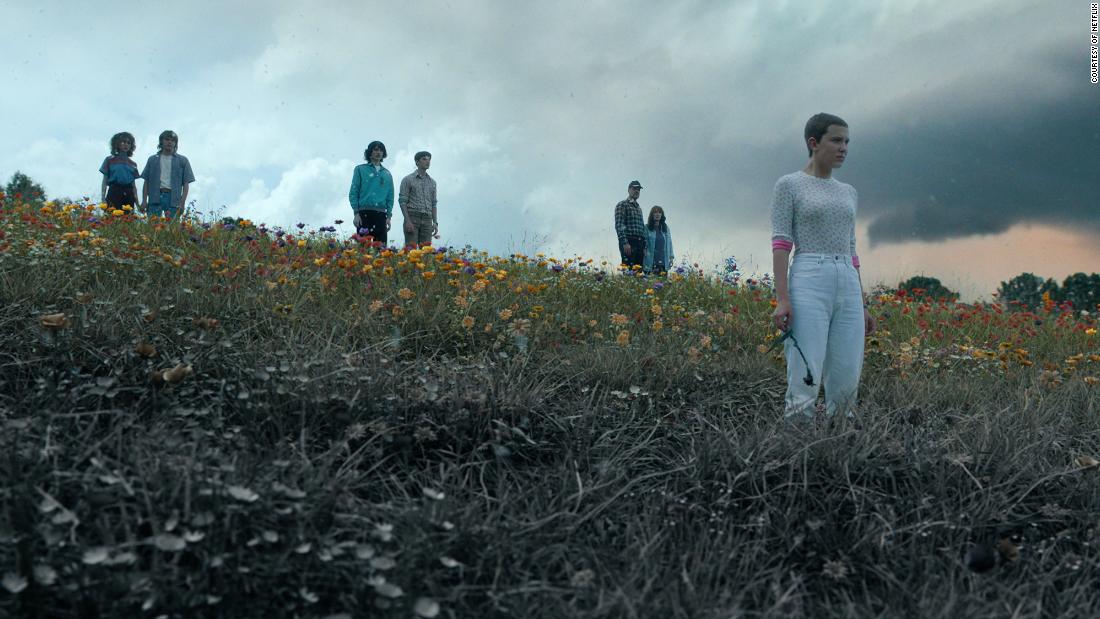 New York (CNN Business)Netflix has had a terrible 2022. In April, it said it lost subscribers for the first time since 2011. Its stock has tumbled more than 60% so far this year.
Yet its recent struggles may not be the start of a downward spiral or the beginning of the end for the streaming giant. Rather, it's a sign that Netflix is becoming a more traditional media company.
Netflix
(NFLX)
was originally valued as a Big Tech company, part of the Wall Street acronym, "FAANG," which stood for
Facebook
(FB)
,
Apple
(AAPL)
,
Amazon
(AMZN)
, Netflix and
Google
(GOOG)
. Wall Street once valued the company at about $300 billion — a number on par with many Big Tech companies that Netflix's business model ultimately couldn't live up to.
"I think Netflix was extremely overvalued," Julia Alexander, director of strategy at Parrot Analytics, told CNN Business. "Unlike those companies that have different tentacles, Netflix does not have a lot of tentacles."
But Netflix was never really a tech company.
Yes, it relied on subscriber growth like many companies in the tech world, but its subscriber growth was built on having films and TV shows that people wanted to watch and pay for. That's more a like a studio in Hollywood than a tech company in Silicon Valley.
Netflix looked a lot more like a tech company than, say, Disney, Comcast, Paramount or CNN parent company Warner Bros. Discovery. But as those traditional media companies start to look a lot more like Netflix, Netflix in turn is starting to take page out of its rivals' playbooks: It's going to
start serving ads
and it has been releasing some shows over the course of weeks and months rather than all at once.
Netflix has said that its cheaper ad tier and clampdown on password sharing may come next year. It's partnering with
Microsoft
(MSFT)
for its
ad business.
"I think in many ways the moves Netflix are making suggest a transition from tech company to media company," Andrew Hare, a senior vice president of research at Magid, told CNN Business. "With the introduction of ads, crackdown on password sharing, marquee shows like 'Stranger Things' experimenting with a staggered release, we are seeing Netflix looking more like a traditional media company every day."
Hare added that Netflix's former business strategy, which was "once sacrosanct is now being thrown out the window."
"Netflix once forced Hollywood deeply out of its comfort zone. They brought streaming to the American living room," he said. "Now it appears some more conventional practices could be what Netflix needs."
At Netflix right now, "a lot of these strategic moves are being made as they mature and move into the next phase as a company," noted Hare. That includes focusing on cash flow and revenue rather than just growth.
"In other words, old school business," he said.
— CNN Business' Moss Cohen contributed to this report.
City of Brandon – August 7th Media Release – City of Brandon –
For the last 24 hours:
Drinking in Public Leads to Multiple Criminal Charges:
At about 11:40 AM Saturday morning, it was reported that a male subject was acting bizarrely in and around the 700 block Rosser Ave. When located in the area, the 21 year-old was drinking an alcoholic beverage so was detained under the LGCCA. He was subsequently found to be in breach of multiple conditions of two separate Probation Orders. Search incident to arrest revealed a machete in his backpack. He disclosed taking an unknown quantity of unknown pills, so was released on appropriate police imposed conditions as he was receiving medical assessment and treatment. He is to appear in Court on October 3rd, facing one count of possessing a weapon and six counts of failing to comply with a Probation Order.
Break & Enters:
An unlocked attached residential garage on Falcon Crescent was entered overnight on Friday and tools were stolen. Some of those were recovered strewn across neighbouring property.
A resident in the 300 block 27th Street reported that the detached garage had been forcibly entered overnight Thursday – Friday. The complainant was unsure if anything had been stolen but the walk-through door frame had been damaged during the incident.
Theft With Threat:
At about 3:50 PM Saturday afternoon, it was reported that a resident in the 700 block 20th Street had been robbed of a bicycle approx. 20 minutes prior, while in his back yard. Police attended and spoke with the victim who related that an unknown male came into his back yard and stole an old bicycle of no value, and brandished a knife while doing so. The suspect left without further incident. The suspect was described as Indigenous in appearance, 6'5", skinny, wearing a blue hoodie, black bandana and hat. The knife was pulled from the front right pants' pocket.
Arrest Warrants:
A 28 year-old female was encountered in the 700 block 18th Street Saturday evening, with personal effects strewn about a business vestibule. A records query revealed a warrant for arrest for failing to comply with a Probation Order. She was arrested and released on scene with a court date of October 3rd.
Just before midnight Saturday night, Brandon RCMP advised having a 51 year-old male in custody on the strength of a BPS held warrant for arrest for sexual assault. RCMP had attended to a complaint in Glenboro and encountered the accused. He is held in custody and will appear before the court later today.
Motor Vehicle Collision With Injuries:
At 11:15 PM Saturday night, 911 reported a two vehicle collision at the intersection of Russell Street and Madison Crescent. Two occupants were stuck in a vehicle that had rolled over onto its' side. The investigation revealed that the driver of the rolled vehicle failed to stop at the stop sign. That driver was transported to BRHC by EMS with non-life threatening injuries. The second driver was uninjured.
Others:
Several people were detained from separate incidents, for their own safety or to prevent a breach of the peace, due to their level of intoxication. They will be held in custody until sober enough to care for themselves.
RELEASE AUTHORIZED BY:
A/Staff Sergeant Dallas Lockhart, #101
C Platoon
~~~~~~~~~~~~~~~~~
Anyone with information on any unsolved crime is asked to call Brandon Crime Stoppers at 204-727-(TIPS) 8477, www.brandoncrimestoppers.com or by texting BCSTIP and your message to CRIMES (274637). Crime Stoppers pays up to $2000.00 cash for information that leads to the solution of a crime.
CRIME STOPPERS 204-727-TIPS
Social Media Buzz: Taiwan, Indiana Abortion Ban, Kim and Pete – Bloomberg