Quebec stabbings leave at least two dead, five injured – local media – National Post
Article content
At least two people died and five were injured after being stabbed by a man wearing medieval clothes, armed with a bladed weapon near the Parliament Hill area of Quebec City, Canada, late on Saturday, local media reported.
The local police said they arrested a male suspect early on Sunday and told people residing near the area to stay indoors as the investigation was still ongoing.
The police had earlier said that they were on the hunt for a man dressed in medieval clothing carrying a bladed weapon, leaving "multiple victims."
Five victims have been transported to a local hospital, but their immediate condition was not known, according https://bit.ly/3jNtii8 to police spokesperson Etienne Doyon, cited by the CBC News.
It quoted Doyon as saying that the suspect was in his mid-20s and was also taken to a hospital for evaluation.
There were no immediate details available on the possible motive behind the attack. (Reporting by Bhargav Acharya in Bengaluru; Editing by Toby Chopra)
Media literacy is the new alphabet: why everyone needs to know how to read the news – The Concordian
Disinformation circulating on social media can now be the difference between illness and health.
To the untrained eye, a video of Stella Immanuel, an American doctor, appears completely legitimate. Immanuel, while wearing her white coat and standing in front of the U.S. Supreme Court building, says she knows how to prevent further COVID-19 deaths. With a line of other people wearing white lab coats behind her, she assures that the virus has a cure: hydroxychloroquine.
The claim spread quickly across social platforms, garnering millions of views after being shared by Donald Trump and one of his sons. Both Facebook and Twitter quickly removed the video for violating their misinformation policies, and the Centers for Disease Control debunked the doctor's claims. But for millions, the damage had already been done — the seed of misinformation had been sown.
Media literacy, or more specifically a lack thereof, could prove to be one of the biggest threats posed by social media. As displayed by viral claims that attempt to downplay the virus's severity and unfounded theories for potential cures, the threat extends beyond the practice, and to society as a whole.
Facebook and other social media platforms have upped their misinformation policies as a response to the pandemic and the 2020 U.S. presidential election. Twitter has implemented a label beneath tweets that present disputed election claims, warning the viewer of such. They've also begun completely removing some tweets with false information, as they did for the Immanuel video. Facebook has also started flagging posts as misleading or inaccurate, though its implementation has drawn a mixed reaction.
As the World Health Organization deems it, the problem this "infodemic" presents is obvious; the solution, on the other hand, remains in question. While the steps taken by Twitter and Facebook are a good start, more needs to be done to help individuals struggling to navigate the modern media landscape. I believe that media literacy courses should be required for all Canadians at the high school level, in order to reduce the spread of misinformation, and improve social media as a news-sharing platform.
Per a Ryerson University study, 94 per cent of online Canadians use social media. More than half of those users reported having come across some form of misinformation. A McGill University study found that the more a user relied on social media for news related to the pandemic, the more likely they were to defy public health guidelines. The inverse is equally true: the more a person relies on traditional news media for pandemic information, the more likely they were to follow the guidelines. A similar study at Carleton University found that almost half of Canadians surveyed believe at least one Corona virus conspiracy theory, with more than 25 per cent believing the virus was engineered in China as a weapon.
There are media studies courses that focus on the influences that advertising, propaganda and even cinema can have on consumers. But in the digital ecosystem that we currently find ourselves in, it has become essential to realize why misinformation exists on social media, and who benefits from it. Yet, students are never taught how to use these platforms properly.
In April, the Canadian government invested $3 million in order to help fight against virus-related misinformation. The money will be divided among several programs with the aim of "helping Canadians become more resilient and think critically." As recently as late October, the federal government launched a program in collaboration with MediaSmarts to benefit Media Literacy Week in 2020, 2021, and 2022.
This plan, while well-intentioned, is reactive rather than proactive. Viewing misinformation related to the pandemic as a blip rather than the new normal is potentially very dangerous.
Last year in the U.S., a federal bill was introduced calling for $20 million of investment in media literacy education. Since then, 15 states have introduced media literacy bills, which aim to add media literacy as a part of the required high school curriculum. Beyond more consistent and clear messaging from all levels of government, experts prescribe some level of training required for students. Right now, social media users are left to use the formative platforms without the proper equipment; they are placed in a sea of information without a life raft.
In order to remedy its problem with misinformation, it will be essential for Canadian students to be instructed in media literacy by the time they graduate from high school. This baseline education, coupled with the advocacy we continue to see from groups such as MediaSmarts, creates a more educated media-consuming population. In the midst of this pandemic, it is media literacy, even more than epidemiology or politics, that could prove to be the greatest life-saver.
Feature graphic by @the.beta.lab
Anti-mask fringe movement getting more media coverage than warranted: expert – Montreal Gazette
Article content continued
Social media platforms like Facebook, Twitter, YouTube and Reddit have enabled once-marginal movements to reach audiences numbering in the millions, he said.
The study surveyed 27,615 Canadians on where they got their news and on their attitudes toward COVID-19.
It also looked at how anti-intellectualism — the generalized distrust of experts and intellectuals — influences attitudes on the risk of contracting COVID-19 and prevention measures like mask-wearing and physical distancing .
Mainstream media are also contributing to the increased visibility of anti-mask groups, Bridgman said. One reason is that media constantly seek another side of every story as a means of advancing the news, he said.
For example, at the beginning of the pandemic, when health authorities around the world were counselling against the general public wearing masks, mainstream media outlets did reports suggesting masks could help prevent the spread of the virus. When governments switched course and called on citizens to don masks, the media raised questions about how effective mask-wearing was, Bridgman said.
4 ways to respond to vaccine skeptics on social media – The Next Web
For most of the 20th century, more than 60,000 people died in the US from polio, diphtheria, and small pox each year. In 2016, the American death toll from these diseases was zero. Around the globe, two to three million deaths from these diseases and others, including measles, rubella, and tetanus, are prevented each year.
These remarkable statistics are a triumph of medicine and the single most effective public health measure in history: global vaccination programs.
COVID-19, after the most rapid and sustained vaccine development program in history, now looks set to be joining this list of fatal diseases that can be easily prevented with a jab or two. The disease that has killed an estimated 1.3 million people (and rising), may have had its day. Sadly, there's a lot of misinformation surrounding vaccinations, threatening the success of inoculation programmes.
So what can you do to protect yourself against misinformation and challenge it in conversation with others?
1. Understand who you are talking to
Let's not forget that the majority of people are happy to receive a COVID-19 vaccine (64%, according to a recent study). Only a small minority (9%) have no intention of getting vaccinated. If you enter into a debate about vaccination it may well be with someone who falls into this latter group. You are very unlikely to change the minds of these vaccine refusers, so the main audience for your arguments is actually the rest of any onlooking group – and particularly the 27% who are hesitant about vaccination.
[Read: ]
The point of your discussion is to empower the members of the audience with knowledge and arguments. To do so, it's important to find common ground and "bond" with whoever you are talking to, rather than just lecturing them.
2. Inoculate against misinformation
There are numerous examples of misinformation "sticking" in our individual and social memories, despite repeated attempts to dislodge it – such as the false "fact" that humans have just five senses. Rather than fighting false facts, the better option is to enable people to spot misinformation before it percolates through society and becomes "endemic" as accepted truth.
The Debunking Handbook 2020 advocates triggering a mental "immune response" to fake news. To do so we need pre-emptive exposure to weakened versions of the manipulative strategies used by peddlers of false facts. In so doing we can inoculate against, or "prebunk," the misinformation.
For example, once you realize that some social media users, publications and other bodies can have hidden agendas and may therefore misrepresent studies and cherry-pick information, you are better placed to assess the facts for yourself. Indeed, the tobacco and oil industries rolled out "fake experts" to create doubt that smoking causes cancers and CO₂ emissions affect our climate, respectively.
In my opinion, the excellent BBC Radio 4 program "More or Less" is a particularly good mental vaccine against misinformation.
3. Debunk efficiently
In the midst of a debate it is probably too late to deploy any prebunking tactics. But be careful about launching into a myth-busting monologue. Simply repeating untruths risks making them stick in our memories, so instead focus your talking points on the positive outcomes of vaccinations (like the facts at the top of this article). Don't be the first person to mention the myth.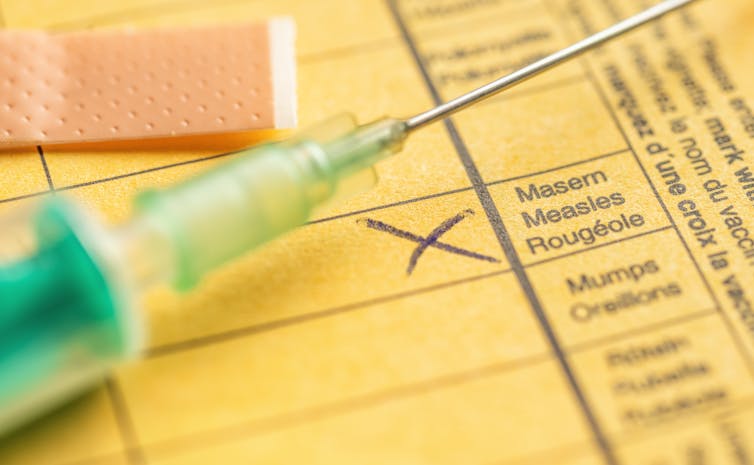 But if in the course of the conversation some misinformation does get a mention you will need to call it out. Let's imagine you are in the midst of a debate about COVID-19 and someone makes the claim that the 5G network is the real cause of the disease. The key to getting this debunking right is limiting how often the lie gets a mention and making the truth more sticky than the myth. Here's how to go about it.
a) Start by stating the truth in a clear, concise way. Don't launch into a long explanation, instead imagine you are writing a headline.
COVID-19 is spread in droplets generated when people exhale, particularly when they cough, sneeze, or shout.
b) Point out the misinformation, and be clear that it is a myth.
The mobile network is basically a series of radio transmitters, and viruses can't travel by radio waves.
c) Explain why the myth is wrong. You might point out some science that refutes the myth, and call out the flaws in the argument.
Besides, the COVID-19 virus has spread throughout countries, like Iran for example, that have no 5G network.
d) Restate the facts.
4. Think beyond facts
That said, facts alone will only go so far. The words we use are also important, they conjure up imagery that affect our response to the information we are being presented with. Consider "herds" and "communities". Which of these would you like to be part of? Most people would say "communities." So if you're encouraging someone to get vaccinated, you may want to talk about their contribution to community immunity, rather than herd immunity.
Another important technique is storytelling, which can be much more effective than facts. Stories link cause and effect, making the conclusions that you want to present seem almost inevitable. For example, you may want to tell anti-vaxxers about a relative whose life was saved by a vaccine at a time when it wasn't available to everyone.
Or you may, like the UK's deputy chief medical officer, Jonathan Van Tam, want to stress that you have encouraged your own mother to take the vaccine, rather than just saying the elderly should take it.
This article is republished from The Conversation by Mark Lorch, Professor of Science Communication and Chemistry, University of Hull under a Creative Commons license. Read the original article.
Read next:

If you want to learn a new tech skill, these training bundles can help. And it's all under $21