Railing against soaring gas prices, Republicans in Congress cite Keystone XL decision
Republicans are doing their best to resurrect the controversy around the long-dead Keystone XL pipeline expansion, using it as an election-year political cudgel against Joe Biden in hopes of convincing voters that soaring gasoline prices are the U.S. president's fault.
Members of the House Committee on Energy and Commerce took turns Wednesday grilling a group of senior oil and gas industry leaders summoned to testify before the committee about the apparent disconnect between crude oil prices and the cost at the pump.
The lines of questioning depended on political affiliation: Democrats excoriated the executives for doing little to help, banking billions in profits without boosting production, while Republicans looked for ways to pin the blame on the White House.
Keystone XL — the cross-border project Biden killed on his first day in office — proved a popular talking point.
"What happened is we denied Canada access to our market," said H.R. McMaster, one of Donald Trump's former national security advisers and the only one of Wednesday's panel of witnesses who wasn't an oil and gas executive.
"What's Canada going to do? They're going to have to sell oil elsewhere — maybe to China, for example, which will give China maybe more power over Canada's economy."
Rep. David McKinley, who has represented his West Virginia district for the Republicans since 2011, brandished a Wall Street Journal report from Tuesday citing anonymous sources who say the U.S. is actively seeking to boost energy imports from Canada.
"Really? Didn't he just cancel the permit for the Keystone pipeline that would have imported 830,000 barrels of crude oil per day from Canada?" McKinley asked.
"Canada's network of pipelines are already running at full capacity, so we'll have to import by rail, which according to analysts is more expensive."
Biden administration officials did not immediately respond Wednesday to questions about Canadian energy imports, which the White House is said to be anxious to increase to ease supply pressures that are largely the result of a North American ban on Russian energy.
The White House has, however, shrugged off the notion that a different outcome on Keystone XL would have had any impact on the current price of gas — a message repeated Wednesday by Virginia Democrat Rep. Donald McEachin.
"The reality is that the Keystone pipeline would not be operational until at least next year, so the notion that somehow that's adversely affecting the price of oil and the price of gas at the pump is to me somewhat mystifying," McEachin said.
"What's more, the Keystone XL was essentially a Canadian export pipeline designed to take Canadian oil to foreign markets, and Canadian officials have said as much."
Neither point, however, has discouraged Republicans from using the project against Biden, especially with Canada and the U.S. both blocking imports of Russian oil, gas and coal as part of a broad and expanding suite of punishing economic sanctions in response to Vladimir Putin's invasion of Ukraine.
Last week, Biden announced plans for the single largest release of oil from the country's extensive strategic reserves — up to a million barrels a day for the next six months — amid Democratic fears that the price of gas is going to cost them dearly in November's midterm elections.
White House press secretary Jen Psaki said Wednesday the administration is doing all it can to soften the blow for U.S. consumers, noting that in addition to U.S. plans, the International Energy Agency's 31 member countries plan to release an additional 60 million barrels.
"What we're trying to do is mitigate those impacts," Psaki said. "All of these (steps) are part of our collective effort to mitigate the impacts on the American people."
The Canadian Embassy in Washington responded to inquiries with a statement confirming only that Canada is hard at work with "international partners in Europe and around the world" to end the dependence of other countries on Russian energy.
Longer term, the goal is "deepening our co-operation on energy security toward a net-zero energy transition," the statement said. Natural Resources Minister Jonathan Wilkinson has already said Canada would be able to increase output by as much as 300,000 barrels a day in 2022.
Meanwhile, stakeholders are waiting for more clarity on the fate of another cross-border pipeline with an uncertain future — Enbridge Inc.'s Line 5, which Michigan Gov. Gretchen Whitmer is trying to shut down for fear of an ecological disaster where the twin line crosses beneath the Great Lakes.
Enbridge has a motion before a federal judge in Grand Rapids, Mich., for a summary judgment in the ongoing legal dispute that would formally prevent the state from unilaterally shutting down what proponents say is a vital energy artery for both Canada and the U.S.
The federal government in Ottawa, the Canadian Chamber of Commerce and a variety of U.S. business institutions have filed briefs with the court supporting Enbridge's argument, while various Indigenous and environmental groups have urged Neff to reject it.
With filings in that case now largely complete, the next significant development is expected to be a decision on Enbridge's motion, which observers say is likely still a number of months away.
This report by The Canadian Press was first published April 6, 2022.
James McCarten, The Canadian Press
US stocks rally as Fed minutes meet expectations – Al Jazeera English
Investors fear that overly aggressive interest rate hikes by the Fed could tip the economy into recession.
Wall Street closed higher Wednesday, boosted after minutes from the Federal Reserve's latest monetary policy meeting showed policymakers unanimously felt the United States economy was very strong as they grappled with reining in inflation without triggering a recession.
The minutes from the Federal Open Market Committee's May meeting, which culminated in a 50-basis-point rise in the Fed funds target rate – the biggest jump in 22 years – showed most of the committee's members judged that further such rate hikes would "likely be appropriate" at its upcoming June and July meetings.
"The uniformity of opinion is a good thing," said Ross Mayfield, investment strategy analyst at Baird in Louisville, Kentucky. "There's a lack of uncertainty of what needs to be done in the near term."
"By the time [the Fed] gets to September, they will have plenty of economic data to make their move from there, so they continue to maintain optionality," Mayfield added.
All three major US stock indexes gyrated earlier in the day amid increasing jitters stemming from business and consumer surveys, economic data and corporate earnings reports suggesting a cooling American economy – even as the Fed prepares to toss a bucket of cold water on it to tackle decades-high inflation.
Fears that overly aggressive interest rate hikes by the Fed could tip the economy into recession despite evidence that inflation peaked in March has driven those concerns.
"There's some credence to the idea that inflation is doing [the Fed's] job for them," Mayfield said. "There's already a cooling occurring, and financial conditions have tightened over the last month because of dollar strength and equity market weakness."
On Thursday, the Department of Commerce is due to release its second take on first-quarter GDP, which analysts are expected to show a slightly shallower contraction than the 1.4 percent quarterly annualised drop originally reported.
The Personal Consumption Expenditures report will follow on Friday, which will provide further clues regarding consumer spending and whether inflation peaked in March, as other indicators have suggested.
The Dow Jones Industrial Average rose 191.66 points, or 0.6 percent, to 32,120.28, the S&P 500 gained 37.25 points, or 0.95 percent, to 3,978.73 and the Nasdaq Composite added 170.29 points, or 1.51 percent, to 11,434.74.
Nine of the 11 major sectors in the S&P 500 rose, with consumer discretionary stocks leading the pack with a gain of 2.8 percent.
Amazon.com Inc and Tesla Inc provided the strongest lift to the S&P 500 and the Nasdaq, rising 2.6 percent and 4.9 percent, respectively.
Department store operator Nordstrom Inc surged 14.0 percent on the heels of its upbeat annual profit and revenue forecasts.
Fast-food chain Wendy's Co jumped 9.8 percent after a regulatory filing revealed that shareholder Nelson Peltz was considering a potential takeover bid for the company.
Shares of Nvidia Corp fell more than 8 percent in after-hours trading after the company's second-quarter revenue forecast missed expectations.
Gas Up Nearly 4 Cents; Price Freeze Lifts in Labrador – VOCM
Despite predictions to the contrary, the regulated price of gas is up in most parts of the province.
Gasoline is up by 3.9 cents a litre, except along the coast of Labrador. Diesel on the island is up by 1.3 cents while diesel in Labrador has dropped by 11.6 cents a litre. Furnace oil costs over a cent a litre more on the island while stove oil on the island up by the same amount. Stove oil in Labrador is down by 23.70 cents a litre.
Propane meanwhile is down by just under 2 cents.
The suspension of maximum price adjustments on the coast of Labrador lifts as of today as fuel deliveries resume for the season—that means significant increases, in some cases by about a dollar a litre, for some fuels.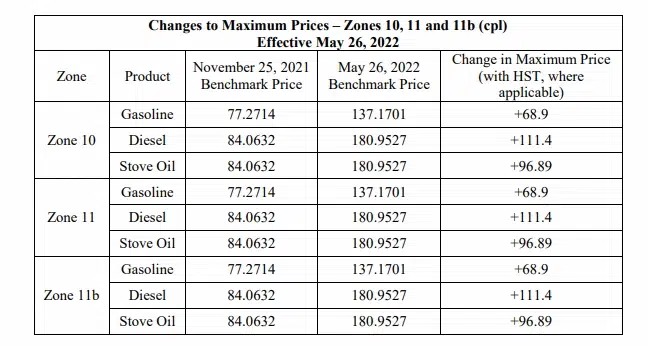 Cheese not on the table in Canada-U.K. trade talks as Britain seeks market access
OTTAWA — The British foreign secretary has often been mocked for her preoccupation with cheese. It started eight years ago when Liz Truss expressed outrage in a speech to her party's annual conference.
"We import two thirds of our cheese," she raged. "That is a disgrace."
Now Truss is facing another battle over cheese, this time with Canada.
Britain wants greater access to Canadian markets for more than 700 varieties of cheese including Stilton, Cheshire, and Wensleydale, a crumbly variety originating from Yorkshire.
But Ottawa has made it clear it does not want to see more British cheddar, let alone artisan varieties such as stinking bishop, renegade monk and Hereford hop, on Canadian fridge shelves.
During the first round of negotiations of the U.K.-Canada trade deal, Canada told Britain that a larger quota for British cheese is not on the negotiating table.
When it was a European Union member, Britain was part of the Comprehensive Economic and Trade Agreement with Canada, giving it some access to Canada's cheese market.
After the U.K. left the EU, a "continuity agreement" with Canada was swiftly put in place to maintain the CETA arrangement until a bilateral trade deal could be struck.
Ralph Goodale, Canada's high commissioner to the U.K., said if Britain wants more access to Canadian markets for its cheese as part of a bilateral free-trade agreement, it will have to knock on Brussels' door and get its part of the dairy quota back.
"The point is we have already provided that volume in the EU deal and the British left it there without taking it with them," he said in an interview. "That's an issue they need to resolve with the Europeans because the Europeans have their quota."
Goodale said the U.K.'s request for extra access for British cheese — on top of the access given to the EU — is "what the Canadian negotiators consider to be pretty much a dead end."
"You are talking about a double concession — one we have already made to the EU and the request is being made by the U.K. for yet another one on top of that," he said.
The high commissioner said Canada values its trading relationship with the U.K., adding that he is confident that a mutually-beneficial trade deal will be reached.
But if Canada allows the British to export more of their cheese it would involve "a major commitment of compensation to dairy producers" in Canada to make up for lost incomes.
In 2018, after the United States-Mexico-Canada Agreement gave the U.S. fresh access to the Canadian dairy market, Prime Minister Justin Trudeau said he would compensate Canadian dairy farmers.
Canada's dairy industry was worth over $7 billion in 2020, according to the Canadian Dairy Commission's annual report.
There are over 10,000 dairy farms in Canada — most of them in Quebec and Ontario — with an average of 92 cows per farm, it said.
Until at least the end of next year, Britain will be able to keep exporting its cheese to Canada under the trade continuity agreement, the U.K.'s trade department said.
This allows U.K. cheese exporters to access the Canadian market tariff-free under the EU portion of Canada's World Trade Organization cheese tariff rate quota.
As part of the 1995 WTO agreement on agriculture, Canada established tariff rate quotas for cheese and other dairy products. The quotas set out quantities of dairy that could enter Canada with little or no duty.
For Britain, a fully fledged free trade deal with Canada is crucial after Brexit left it looking for fresh tariff-free markets.
"We want to negotiate an ambitious and comprehensive new agreement with Canada that will strengthen our close and historic bilateral trade relationship," said a U.K. government trade spokesman in a statement, adding the relationship was worth about $34.5 billion in 2021.
In March, U.K. Trade Secretary Anne-Marie Trevelyan flew to Canada to announce with Canada's Trade Minister Mary Ng that bilateral negotiations had officially begun.
In a speech in the House of Lords in London earlier this month, Goodale reported on progress in the talks, saying that "both sides are optimistic that, as good as CETA and the continuity agreement were, we can do better still when Canada and the U.K. negotiate a deal face-to-face, directly with each other."
Like Goodale, Ng said Canada is confident a free-trade deal with Britain will be reached, enhancing co-operation in a number of areas, including on renewables, sustainability and the digital economy.
"Canada values the relationship with the United Kingdom. They are … an important trading partner and a trade agreement with the U.K. will be very good for Canadian businesses," she said in a phone interview from Thailand last weekend.
But she was also firm about the need to protect Canada's dairy producers, and that means keeping more British cheese out.
"I have been very clear, our government has been very clear, that we will not provide access to our supply-managed sector," she said. "We have been clear about that from the get-go."
The Canadian dairy sector now produces 1,450 varieties of cheese, including ewe, goat and buffalo varieties, as well as the cheese curds used in the Québécois dish poutine.
At least half of Canada's cheese is made in Quebec, which is home to a number of artisan varieties including bleu l'ermite, or blue hermit, and Oka, a popular semi-soft rind cheese.
Pierre Lampron, president of the Dairy Farmers of Canada, has made it clear he will fiercely protect Canadian cheese from British interlopers.
Lampron said he had "validated that the issue of access to the Canadian dairy market was not on the agenda of these trade talks."
Canada's protectionist stance toward its dairy industry may have pleased farmers. But it has caused some tension with close allies.
Earlier this month, New Zealand launched a formal trade dispute against Canada, accusing the federal government of breaking promises to give access for dairy imports under the Trans-Pacific Partnership agreement.
The Biden administration also recently said it was asking for a second dispute settlement panel under the U.S.-Mexico-Canada Agreement to review a trade dispute with Canada over dairy import quotas.
This report by The Canadian Press was first published May 26, 2022.
Marie Woolf, The Canadian Press