RAM hosting 2022 Metal Art Show and Sale – The Spruce Grove Examiner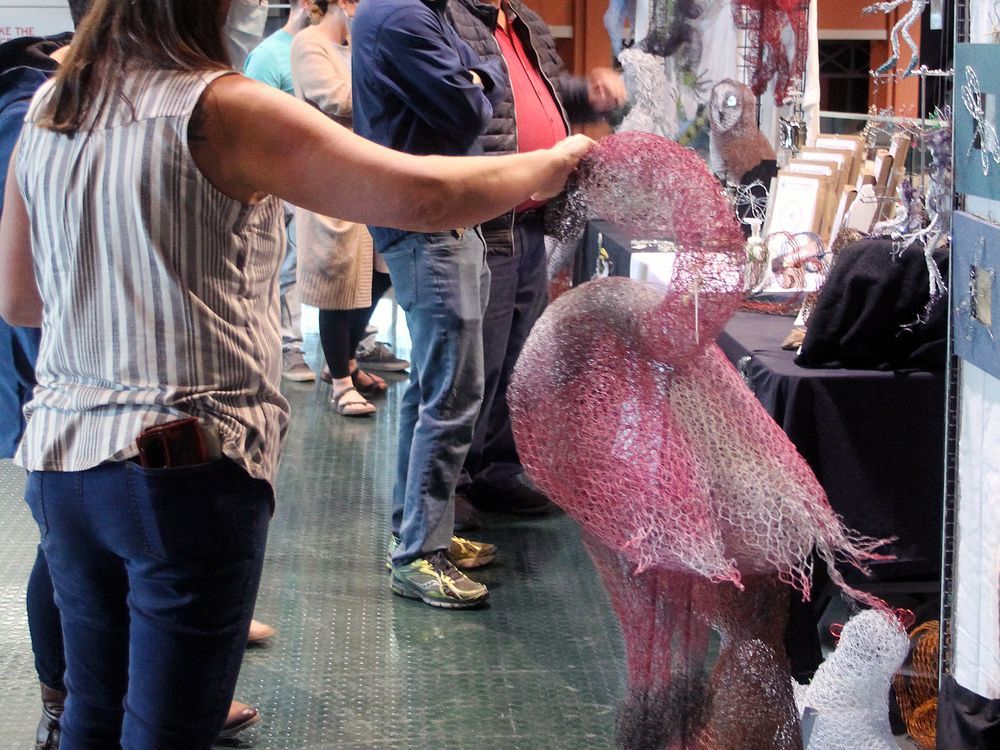 Article content
This amazing display and sale of beautiful, one-of-a-kind metal art creations confirm that "custom is classic". Jewellery makers, custom knife makers, sculptors and blacksmiths converge for this outstanding gathering at Reynolds-Alberta Museum on Saturday and Sunday, Oct 1st and 2nd.
See the creations and meet the creative minds behind these impressive pieces. More than 35 artists will be at the museum to display and sell their art. In this array of shining silver and magnificent metals, there's sure to be something rare and unusual to buy and take home.
Visitors can also explore the museum's feature exhibit Motorbikus Mechanicus…A Love Story, and grab a bite to eat at the cafe.
Admission is $15 for adults, $40 for a family (two adults and their children under the ages of 18), $11 for seniors and $9 for youth (age 7-17). Children six and under are admitted free.
Comox artist presents fabric art workshop
Kate Bridger's foray into fabric art began in the early-1980s when she lived with her husband and two small children in a remote pulp and paper town in Northern Ontario. The winters were long and nasty, and the summers were short and buggy; there was plenty of time to pursue new interests. Having enjoyed working with fabrics, she began making wall hangings for her children's rooms. When their walls were amply covered, she fine-tuned her techniques, tested the marketplace and developed the art form to which she has remained committed ever since.
More than three decades later, Bridger's work has appeared in magazines, won awards and is displayed in homes and businesses around the world. She has created well over 500 original pieces featuring landscapes, wildlife, house portraits, old cars, household objects and abstracts.
"I am as excited about classical architecture and pastoral vistas as I am about unkempt alleys, rusty trucks and crumbling barns," Bridger said in a news release.
She and her family moved to Nelson in 1994, and lived there for 25 years. During that time, she owned a gallery, worked in ad sales and real estate, conducted art workshops, wrote a few books, raised two sons and maintained her fabric art practice. Her work has evolved over the years and, presented professionally framed, is often mistaken for painting.
She moved to Comox in December 2019 — in time for a pandemic, she quips. Fortunately, exploring and stitching her new environs kept her occupied, and introduced her to like-minded people in the Comox Valley. Her work is available at The Old Schoolhouse Arts Centre in Qualicum Beach, The Salish Sea Market in Bowser, and in Comox.
Between her move to Vancouver Island, COVID and a few other interruptions, it's been a long time since Bridger has taught an in-person fabric art workshop. In February, she will conduct a two-day workshop — her second on Vancouver Island and first since moving to the Valley.
She has chosen to present 'Earth, Wind, Fire and Water' because it is a good introduction to all sorts of techniques and processes, and is suitable for most levels of art ability and experience. The only requirements are that participants are comfortably familiar with the workings of their sewing machines and have a rudimentary understanding of freemotion stitching.
The workshop is Feb. 4 and 5 at The Lion's Den (behind and beneath the Pearl Ellis Gallery at 1727 Comox Ave. in Comox). Registration is through the gallery. Contact: igadurand@hotmail.com
Registration deadline is Friday, Jan. 27.
Artists and community members want more art in the northeast. Here's how it could happen
Sumer Singh made his decision to go to architecture school while sitting at the Genesis Centre in Calgary's northeast.
Years later, he's being commissioned to bring more life into the city's most populated and most diverse area, with a sculpture that will be displayed at that same recreation and community centre.
Speaking to community members there on Wednesday, Singh shared his connection to the city, the northeast, and his hope for more art in the quadrant.
"I used to come here, to the YMCA, to the library, and I was lost in life," said Singh, explaining that he was at the time a working engineer, but felt he needed a change.
"This [place] is where I had moments of introspection … and decided that I was going to go into architecture," added Singh, who now has a thriving practice as an artist, architect, designer and engineer.
The artist will be creating a sculpture that will be displayed at the Genesis Centre in Martindale through the City of Calgary's northeast public art initiative.
It will be one of several projects through the initiative. Three initial works  — a bench, a picnic table and a bike rack created by, respectively, Day Pajarillo, Apiow Akwai and Vikram Johal — are expected to be installed early in 2023.
Members of the public were given the opportunity on Wednesday to meet Singh at the recreation centre and discuss and vote on elements of the sculptural design and materials he might incorporate.
In comparison to other quadrants, public art in the northeast is something more of a rare sight. There are murals across the city's downtown core, but one resident who attended the event said it's time his home community gets the same treatment as the rest of Calgary.
"It's not much artistic like, comparatively to downtown, to the southeast, to north, northwest and southwest," said Maninderpreet Singh, who lives in the northeast community of Skyview.
"You know like if even if you go to the southeast there's pictures on the walls, but there's no pictures in the northeast … all the walls are vacant. Those walls need to get painted."
In terms of ideas for his planned sculpture, Sumer Singh said that he's trying not to put too much of his own influence on the art. He said he wants the inspiration and the idea for the final piece to come from those in the community.
The Gensis Centre and the people who frequent the facility, Sumer Singh said, are a reflection of Calgary. With a library, a community gym and a centre for newcomers, it's somewhere that brings together people of all ages and from all walks of life.
He's hopeful that he can give back to the communities and its residents through his art.
"The real core is where the people are at, and the people in northeast are actually the people that are the backbone of the city," said Sumer Singh.
"I think we really need to give the northeast the same treatment that we give to the rest of the city as well."
In photos: Snuneymuxw women teach the art of wool weaving
On a cool November evening, a group of six students are gathered at the Snuneymuxw Learning Academy to learn the art of Coast Salish wool weaving.
The quiet darkness of outside quickly dissipates when entering the bright classroom filled with conversation and laughter. There are looms of varying sizes, and the students eagerly return to their individual weaving projects.
Located on the unceded territory of the Snuneymuxw First Nation, the learning academy was once an elementary school. Now, since reopening earlier this year, it's a hub for engaging with the Snuneymuxw way of life: the Hul'qumi'num language, songs, traditional medicine making, cedar weaving and — tonight — wool weaving.
This is the space that Chenoa Point and her aunt Stephanie Thomas have curated to teach their Snuneymuxw kin and Coast Salish relatives the practice of weaving. This weekly class, which started back in October, is generations in the making. The sessions quickly filled up and Point and Thomas hope it will be the first of many to be hosted at the centre.
Point explains that the practice of traditional weaving was almost lost during colonization. However, revitalization efforts by xʷməθkʷəy̓əm (Musqueam) people in the 1980s kept the practice alive — and crossed the waters to Snuneymuxw by way of the late Margaret Pointe, Stephanie's mother.
The original weaving process included washing, separating, teasing, and carting the wool, followed by spinning. Before European contact, a spindle whorl was used to spin the wool.
Now, Point and Thomas guide their students to spin the wool using a wooden table and spinner, with a foot pedal.
"When we first started weaving, I wanted to see these blankets back in our Big House, " says Thomas, whose traditional name is Naalthwiik.
"The first thing I did was a speaker blanket for someone to use in the Big House. My goal is to have as many of these as I can make for our families."
Thomas now sees her work, and the work of her students, when she enters the Big House. Kin rest on woven sitting blankets, speakers are adorned with woven blankets that sit like sashes over their shoulders. There are also lap blankets, shawls, drum bags, purses, headbands and belted skirts.
Thomas speaks softly about her craft, yet the impact she's made through weaving has created waves all over the world. She has shared her knowledge at conferences in Hawaii and New Zealand. One of her blankets was even gifted to the Dalai Lama during a visit to xʷməθkʷəy̓əm in 2014.
Once used as currency and a signifier of wealth, Coast Salish people once raised woolly dogs, whose wool was utilized for their respective weaving projects.
Snuneymuxw people and surrounding communities raised their own woolly dogs, or used mountain goat hair originally. However the dogs became extinct, and other traditional types of wool are harder to come by, so colourful pieces of yarn are now often used.
When asked how the weaving process makes her feel, Point says it gives her a sense of tranquillity.
"It's an honour to be able to teach our people so that the tradition gets carried on … for the people who are learning today for future generations," says Point.
"Like sitting by the ocean, there's a sense of connection, a sense of calm. I feel like I am at peace with the Ancestors."