Raonic wins, Auger-Aliassime loses in first round of Australian Open – Sportsnet.ca
MELBOURNE, Australia — Canada's Milos Raonic won his first match since October on Tuesday, finishing off a suspended opening-round contest at the Australian Open.
The 32nd-seeded Raonic beat Italian lucky loser Lorenzo Giustino 6-2, 6-1, 6-3.
Raonic, from Thornhill, Ont., was one game away from winning the match on Monday when rain washed out play for the rest of the day.
"To start off in that way, especially not having played a lot of matches, to play a pretty clean match and obviously to come back today and be efficient, all of those things are positive, something I can build off of," said Raonic.
Meanwhile, No. 20 seed Felix Auger-Aliassime of Montreal was ousted in his Australian Open main-draw debut by Latvian qualifier Ernests Gulbis, who won 7-5, 4-6, 7-6 (4), 6-4.
The 29-year-old Raonic was sidelined by various injuries for large portions of the second half of last year, hurting his ranking (which was a career-best No. 3 in 2016), but says he's feeling good in Melbourne.
"I was able to train for about six, seven weeks straight without any hindrances, no setbacks. I was thankful for that," said Raonic. "I came out and I was able to play in Doha and train before Doha, train here without anything.
"It's been fortunate so far."
Raonic will next play No. 36 Cristian Garin of Chile. Garin toppled and No. 82 Stefano Travaglia of Italy 6-4. 6-3, 6-4.
Giustino, ranked 150th in the world, was making his Grand Slam debut. He got in after Radu Albot of Moldova dropped out because of injury.
The Australian Open is the only Grand Slam Raonic hasn't missed at least once since turning pro. He has made the quarterfinals three times, including last year, and the semis once.
Raonic is Canada's first player to advance this year. Top Canadian male Denis Shapovalov, the No. 13 seed from Richmond Hill, Ont., was upset by Hungary's Marton Fucsovics on Sunday.
Also, Vancouver's Vasek Pospisil fell against Croatian veteran Ivo Karlovic 7-6 (4), 6-4, 7-5.
And Leylah Annie Fernandez, the lone Canadian in the women's singles draw, was toppled by American Lauren Davis in a first-round match, 6-4, 6-2.
The 17-year-old from Laval, Que., won three matches last week to qualify for her first Grand Slam.
Top Canadian Bianca Andreescu, the reigning U.S. Open champ, withdrew from the Australian Open because of a knee injury.
Haotong Li's ball disappears – and with it, likely Li's PGA hopes – Golf Channel
Haotong Li's extended practice session didn't lead to better results Saturday at the PGA Championship.
Li was the source of much fascination Friday after he was spotted working on the range more than five hours after posting a second-round 65 and vaulting into the lead at TPC Harding Park. The move suggested he either had 24 hours of nervous energy he was determined to defuse, or perhaps he wasn't totally comfortable with his ball-striking. It seemed like the latter – on Saturday he shot a 3-over 73 to drop into a share of 13th place.
Despite an uneven start to his round, Li took the outright lead once again after a miraculous birdie on the 12th hole, during which he got a favorable carom off a tree back into the first cut of rough, then received another fortuitous kick over the greenside bunker from 242 yards away. Just off the green, he brushed in a 22-footer for birdie on the most difficult hole on the course.
Li's luck appeared to run out on the next hole, however, after another errant tee shot. This time, his ball sailed way right and likely hung up in a cypress tree before being declared lost. Forced to return to the tee, Li made double bogey, then dropped two more shots on Nos. 14 and 16. He's still only four back of Dustin Johnson, a week after beating only two players at the WGC-FedEx St. Jude Invitational.
Johnson emerges from pack to lead PGA Championship – TSN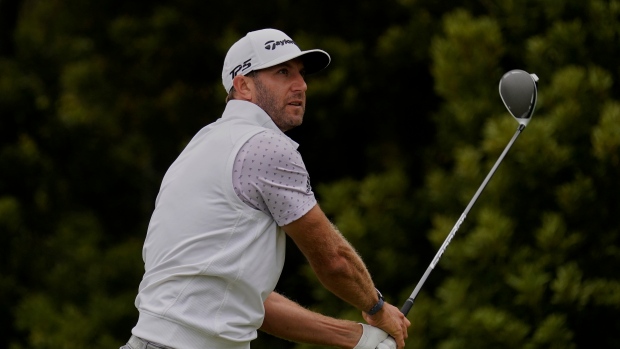 SAN FRANCISCO — Dustin Johnson supplied the birdies, eight of them Saturday at the PGA Championship, the most he has ever made in his 157 rounds of major championship golf for a 5-under 65 and a one-shot lead.
Brooks Koepka supplied the needle.
Koepka recovered from three straight bogeys to salvage a 69 and stay within two shots of a leaderboard more crowded than any of San Francisco's congested highways. At stake is a chance to become only the seventh player to win the same major three straight times. He surveyed the cast of contenders, and focused on the guy at the top.
"I like my chances," Koepka said. "When I've been in this position before, I've capitalized. He's only won one. I'm playing good. I don't know, we'll see."
As he stepped away from the microphone, Koepka smiled and said to Jason Day, "How about that shade?" They laughed.
Too bad this isn't a two-man show.
The final round at Harding Park figures to be wide open, just like it was on a Saturday so wild that eight players had at least a share of the lead during the third round.
Johnson lost his yardage book and still found his way through an enormous crowd of contenders. He made a double bogey on the ninth hole and still bounced back with a 31 on the tough, windy back nine.
He needed all eight of those birdies on a day of low scores, long putts and endless possibilities.
One possibility is Koepka hoisting the Wanamaker Trophy for the third straight year, which hasn't happened since Walter Hagen won four in a row in the 1920s when it was match play. The last player to win any major three straight times was Peter Thomson at the British Open in 1956.
Koepka was two shots behind on a board that features only two major champions among the top six.
Scottie Scheffler, the PGA Tour rookie from Texas, ran off three straight birdies only to miss a 6-foot par putt on the final hole. He still shot a 65 and was one shot behind, in the final group at his first PGA Championship. Cameron Champ, who has the most powerful swing on tour, shot 67 and joined Scheffler one shot behind.
Johnson was at 9-under 201 as he goes for his second major title. For all the chances he has had, this is only the second time he has led going into the final round. The other was down the coast at Pebble Beach, his first chance at winning a major. He had a three-shot lead in the 2010 U.S. Open and shot 82.
Now he is more seasoned with experiences good (21 tour victories) and bad (five close calls in the majors).
"I'm going to have to play good golf if I want to win. It's simple," Johnson said. "I've got to hit a lot of fairways and a lot of greens. If I can do that tomorrow, I'm going to have a good chance coming down the stretch. … I'm just going to have to do what I did today. Just get it done."
Among the cast of contenders are major champions like Koepka, Jason Day and Justin Rose, and fresh faces like Scheffler, Champ and Collin Morikawa. Also right there was Bryson DeChambeau, thanks to a 95-foot putt for birdie on his last hole. Turns out he can hit long putts, too.
Missing from all this action is Tiger Woods, who didn't make a birdie until the 16th hole and is out of the mix for the fourth straight major since his emotional Masters victory last year.
A dozen players were separated by three shots.
Li Haotong, the first player from China to lead after any round at a major, was leading through 12 holes until his tee shot didn't come down from a tree. He made double bogey, dropped two more shots and finished four shots out of the lead.
Johnson didn't have smooth sailing, either, especially when he couldn't find his yardage book.
He thinks it slipped into the bottom of the golf bag, and he didn't feel like dumping his 14 clubs all over the ground to find it. Austin Johnson, his brother and caddie, had a spare yardage book.
Johnson shot 65 even with a double bogey on the ninth hole. Mistakes like that might be more costly on Sunday with so many players in the mix. Even those who struggled — Rose, Daniel Berger, Tommy Fleetwood all settled for 70 — are only three shots behind.
Adding to the drama will be the lack of atmosphere, this being the first major without spectators. Paul Casey said he still didn't feel nerves from the lack of people. Perhaps that helps with younger players in the hunt for the first time. It also could make it difficult for players to know what's happening around them without any cheers.
Then again, Johnson won the U.S. Open in 2016 at Oakmont without knowing the score as the USGA tried to decide whether he should be penalized for a potential rules violation earlier in the round. He had to play the last seven holes without knowing his score.
It's just one example of what Johnson has endured in the majors. There was a penalty that knocked him out of a playoff in the 2010 PGA at Whistling Straits for grounding his club in sand without realizing it was a bunker. He had a 12-foot eagle putt to win the 2015 U.S. Open at Chambers Bay, only to three-putt for par and a silver medal.
But he's back for another shot, and his game looks to be in order. He has the power, and on this day, he had the putting.
"I definitely have experience in this situation that definitely will help tomorrow," Johnson said. "I've been in the hunt a bunch of times in a major. I've got one major. … Still going to have to go out and play really good golf."
Calgary woman gets $600 bill for Oilers 50/50 tickets after website malfunction – Calgary Herald
Article content continued
Under Alberta Gaming, Liquor and Cannabis electronic raffle rules "the draw must be announced to the public and occur before the end of the entertainment event or as soon as is practicable."
The winning numbers were initially to be posted no later than 11:30 p.m. Friday.
Edmonton and the entire province of Alberta has been raffle crazy since the NHL restarted its pandemic-delayed season in the city last week. Monday's raffle reached $3.2 million, followed by a $5.4-million pot Wednesday.
Many Albertans have spent the last two days complaining on social media about the technical difficulties.
Twitter-user Megan Oppel wrote: "We tried buying tickets and it kept timing out and we ended up getting charged six times but we only wanted to buy one set of tickets. Fix this now!!!!! I want my money back."
John Krug wrote: "We kept getting error messages when buying online, and ended up getting charged $340 when we intended to buy $70 worth of tickets. You need to refund this!"
Earlier those eager to get in on the raffle were unable to load the purchasing screen. Some users were denied access because the system did not recognize their computer or other device as being in Alberta.
Connelly isn't sure she'll go through with the refund process.
"I guess I can just keep the $600 tickets and hope I'm the one who spent the most money," she said laughing.
"I'm excited that they were able to get so much money and help the organization… but it's definitely discouraging that this has happened. Now, I think a lot of people are going to want their money back."