Redmi's first gaming phone is coming this year with MediaTek's Dimensity 1200
Xiaomi's Redmi sub-brand is largely known for its stellar Redmi Note series and Redmi series. Spread across the early budget and mid-ranges, these phones are often the epitome of value you can get for every bit of money you spend. Xiaomi reserves the higher end specifications for phones under its Mi branding, but that could change this year, as Redmui's first gaming smartphone is coming with the new MediaTek Dimensity 1200.
Redmi's General Manager in China, Mr. Lu Weibing, has revealed on Weibo (via AndroidAuthority) that the brand will launch its first flagship gaming smartphone. The statements were made within the context of the Dimensity 1200 launch and how Redmi will be the first OEM to ship a phone with the new processor, strongly hinting that this is the chip that could be powering the gaming phone. As is the Redmi philosophy, the pricing is expected to be aggressive, making the entire proposition very enticing. It's unclear if the first phone with Dimensity 1200 would be the gaming smartphone or something within the Redmi K-series lineup.
It's worth keeping in mind that the Dimensity 1200 features the same GPU (ARM Mali-G77MC9) as the Dimensity 1100, Dimensity 1000 Plus, and Dimensity 1000. There are other changes that do benefit a gaming smartphone, such as support for 168Hz refresh rate at FHD+, as well as support for ray tracing through software. There's also MediaTek HyperEngine 3.0 support on the new chip, but the company did not specifically detail what this bump up in versioning brings to the table, and if the same could also make its way to the older Dimensity flagship chips as they bear the same GPU.
One thing that becomes abundantly clear is that OEMs have a lot more faith in MediaTek's Dimensity lineup than ever before, enough to dedicate a few firsts for their brand to the new flagship chips. While it remains to be seen how the Dimensity 1200 measures up to the Qualcomm Snapdragon 888 and Samsung Exynos 2100, it does appear promising as a value performer.
Source: – XDA Developers
Riot unveils Astra, VALORANT's new controller – Dot Esports
Riot Games' latest agent for the tactical shooter VALORANT is on her way.
The developer revealed the agent on Twitter today. Her name is Astra, she originates from Ghana, and she's a new controller agent.
"African Futurism was a huge inspiration for us when it came to designing Astra's thematics," John "Riot MEMEMEMEME" Goscicki, a character producer at Riot, said. "Once that element was brought into her development all the pieces naturally fell in place."
Astra joins Brimstone, Omen, and Viper in the controller category. She's the first controller added to VALORANT since the game released. Duelists Raze, Reyna, Yoru, and sentinel Killjoy were added since the game's release.
Astra's abilities
Before activating the C, Q, and E abilities, you need to hang some of Astra's Stars in the sky with her X ability.
Here are Astra's abilities:
C: Gravity Well
Activates a Star with C to form a Gravity Well. Players in the area are pulled toward the center before it explodes, making all players still trapped inside "fragile."
Q: Nova Pulse
Activates a Star to detonate a Nova Pulse. The Nova Pulse charges briefly then strikes, concussing all players in its area.
E: Nebula
Activates a Star to transform it into a Nebula (smoke).
F: Dissipate
Use F on a Star to Dissipate it, returning the star to your inventory be placed in a new location after a delay.
Dissipate briefly forms a fake smoke (Nebula) at the Star's location before returning.
X: Astral Form, Cosmic Divide
Activate with X to enter Astral Form, where you can place Stars with your primary fire key. Astra will leave her physical body behind in favor of a top-down view of the map. Her physical body will be vulnerable in this form.
When Cosmic Divide is charged, use your secondary fire in Astral Form to begin aiming it, then your primary fire to select two locations. An infinite teleport-esque tunnel connects the two points you select.
---
Make sure to follow us on YouTube for more esports news and analysis.
Samsung Galaxy Xcover 5 gets Bluetooth certified, leaked render reveals rugged design – GSMArena.com news – GSMArena.com
A press render of the Samsung Galaxy Xcover 5 we've been hearing about since late last month has surfaced, revealing its rugged design.
The image was shared by leakster Evan Blass, who claimed the Xcover 5 is not a successor to last year's Xcover Pro, but a follow-up to the Xcover 4s launched back in 2019.
While we are yet to hear anything from Samsung about the Galaxy Xcover 5, the smartphone has moved a step closer to the launch as it bagged Bluetooth SIG certification.
The certifying authority didn't detail the Xcover 5's specs, but it did confirm that it will come with Bluetooth 5.0 and have two models – SM-G525F and SM-G525_DS. The latter is likely a dual-SIM variant, and the former was spotted on Geekbench last month with an Exynos 850 SoC, 4GB RAM, and Android 11.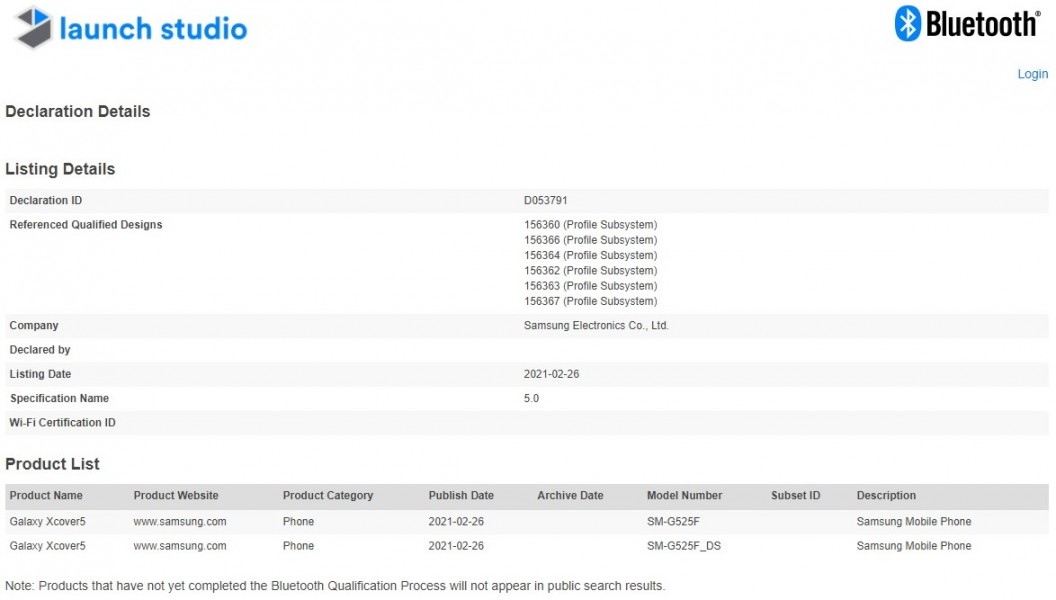 The rest of the rumored specs of Galaxy Xcover 5 include a 5.3″ HD+ LCD, 64GB storage, microSD card slot, and a 3,000 mAh user-replacable battery that will charge through a USB-C port at up to 15W.
The Xcover 5 is said to feature 16MP primary and 5MP selfie cameras, and come with an NFC chip onboard. It will be IP68 dust and water-resistant, carry a MIL-STD-810G certification, and is expected to cost around €300.
I wanted to love foldable phones, but the novelty got old fast – CNET
Let's face it, mobile phones, even the best ones, just aren't that exciting anymore. They're all way more powerful than we really need, they all have nifty multi-lens cameras and they all look essentially the same. I really hoped that folding phones would give a much needed shot of adrenaline to the industry, but well over a year on from their arrival, they've fizzled out like a damp firework and left me feeling disappointed.
I've worked for CNET for a decade and most of that time I've specifically covered mobile phones. I've seen a lot come and go. I've seen the rise and fall of BlackBerry, I've seen weird phone ideas like the Russian Yotaphone with its e-ink second screen and I saw the brief trend of curved phones like the LG G4 and Samsung's Galaxy Round. But in recent years it's seemed that genuine innovation has been put aside, with every company clamoring to make what could easily be revisions of the same product.
Think about these phrases: "A big, vibrant screen," "A great multi-rear camera setup," "An attractive metal and glass design." Can you think of many phones that those sentiments couldn't be applied to? The result is that all the phones are pretty good, but it means that they're also equally boring. Each year's refresh adds a few megapixels onto the camera, or an extra bit of screen size. Or a slight tweak to a design that, fundamentally, remains just a rectangular slab.
I get it. Innovation is expensive and spending millions of dollars researching a new idea means you need a guarantee that it's going to sell well. LG found this out to its cost with phones like the weird, modular G5, which didn't sell well and now the company is reportedly looking to sell off its phone business.
So when folding phones came along my spirits lifted. Here was innovation. Here was this new technology which genuinely took me back when I saw it in person for the first time and left me excited again for the possibilities of what phones could become. I know I'm not the only one who loved that idea of the phone that you wear on your wrist like a watch and unfold it when you need the bigger screen. But where is that?
The foldables we do have are… fine. The Galaxy Z Flip and Moto Razr's clamshell design is neat in that it makes a big-screen phone more pocketable by folding in half, while the Galaxy Fold 2 and Huawei Mate X are essentially tablets that fold in half to become phones, which is fine, too.
But beyond the bending screen, they haven't really pushed any boundaries. They haven't changed the way we use our phones or brought any revolution that's so groundbreaking that it alters the face of mobile altogether. They use the same version of Android, with only a few small tweaks to some apps to give a bit of additional functionality, but little beyond that. Really, they're the same phone as before, but you can fold them in half. I find it very telling that I have the Galaxy Fold and Z Flip in my house, but they're in a drawer among other past phones and I don't have any great desire to get them out again.
And you pay handsomely for that one fold feature as all folding phones cost significantly more than their respective manufacturers regular flagships. This, in turn, means that adoption is low, which gives those companies — or third-party developers — little incentive to think of new and creative ways to use this technology. In time, folding phones may well be cast into the pile of other gimmicks, alongside banana phones, Samsung's camera/phone hybrid and 3D phone displays.
But I hope not. I hope that it sticks around and evolves into something useful and exciting. Frankly I hope that Apple takes up the cause as it does have a tendency of only adopting new technology when they can put it to a genuinely useful use, although perhaps not always (I'm looking at you, 3D Touch).
But most of all I hope that any mobile company isn't afraid to try and innovate and do something a bit different. Phones used to be fun, and phone launch events were genuinely exciting to see what awesome new tech would be unveiled this time.
That excitement isn't where it used to be. It's an ember flickering at the bottom of the fireplace now, with each generic phone launch threatening to be the bucket of sand that could put it out completely. There is a chance that folding phones could yet be the kindling that turns that ember back into a roaring inferno, but I'm not crossing my fingers.