Reporting #AidToo: how social media spaces empowered women in the 2018 charity scandals – The Conversation UK
A recent report from the UK's Charity Commission into allegations of sexual harassment by senior staff at the charity Save the Children UK is incredibly damaging. The report concluded that the charity failed the women who reported abuse as well as its staff and the wider public.
Save the Children's handling of such matters was so poor in some respects that it amounted to mismanagement, the report concluded. The issue the Charity Commission examined related to allegations of inappropriate behaviour and sexual harassment that came to light in 2018 about the charity's former chief executive, Justin Forsyth, and former director of policy, Brendan Cox.
But the complaints against Forsyth went back as far as 2012, and 2015 for Cox. So why the delay in reporting on these and how did the matter finally come to widespread public attention?
Journalists such as Sean O'Neill, chief reporter of The Times, Simon Walters, political editor of the Mail on Sunday, and Manveen Rana of the BBC played a crucial role in bringing these problems to public attention. But also important was the way women working in the aid sector used social media to support each other and ensure justice was done.
Academics Chris Greer and Eugene McLaughlin call this process intermediatisation – "the viral interaction within and between corporate and social media". They describe scandal as a process with stages – latency, activation, reaction, amplification and accountability – to explain how a story can move from being an "open secret" to publication.
Having researched the #AidToo scandals that engulfed Save the Children UK and also Oxfam GB in February 2018, I believe it is clear that the scandal conforms to this model.
When the Oxfam scandal concerning abuse of the charity's beneficiaries in Haiti first came to light in 2011, it received no more than a handful of short news stories. Brendan Cox's departure from Save the Children UK merited a piece in the Mail on Sunday but little follow-up from other nationals.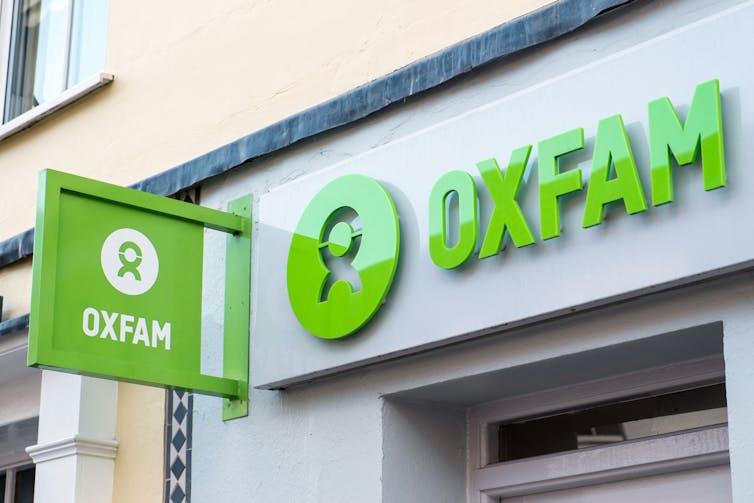 But this did not mean that women were not using different media spaces to support each other. Women from aid agencies used WhatsApp groups to share information and support as well as closed Facebook groups. The "Fifty Shades of Aid" Facebook group launched in 2015 when its founder wrote an article for The Guardian's Secret Aid Worker series about "flaky aid boys and comedy dating stories" in the humanitarian world.
The group was originally full of lighthearted stories until one poster shared a story of being harassed and abused. In solidarity many started to share similar stories – 800 people joined the group in one week.
Meanwhile, the Humanitarian Women's Network was set up by aid workers working on the Ebola response in Guinea in Dec 2015 when they realised they had all experienced some form of discrimination and abuse. They launched an influential survey to which more than 1,000 responded, as well as a closed Facebook group for women. So, while the stories around harassment of aid workers were limited in the mainstream media, online spaces were keenly debating the issue.
Hashtag heroism
The #MeToo campaign was also a very important moment. When that hashtag started circulating in October 2017 as the revelations around Harvey Weinstein emerged, many of those I spoke to said it gave those in the aid world considering whether to tell their stories about abuse more courage to do so. The hashtag #AidToo emerged, and the humanitarian website Devex hosted a tweetchat on Dec 6 2017 to discuss this issue.
But the big revelations came two months later. O'Neill's award-winning investigation about abuse by Oxfam in Haiti was published in The Times in February 2018 and was followed by stories about Save the Children UK from Walters and Rana. These reports were undoubtedly hugely important in influencing the public debate. Donors started to desert the agencies, senior staff resigned and the Charity Commission and UK parliament's international development committee launched investigations.
But, as the Charity Commission outlines in its report, Save the Children UK's attitude to the media reports was "unduly defensive". In fact the charity spent more than £100,000 on lawyers in order to try to shut down media reporting. But the result was that aid workers became more – not less – willing to speak, which meant the story would not go away.
Finding a safe space
In particular, the campaigners Alexia Pepper de Caires and Shaista Aziz led the formation of the intersectional feminist platform NGO Safe Space, which gathered testimonies on sexual harassment, abuse and exploitation, and spoke out in many arenas about the issue. Meanwhile Changing Aid set up an online open letter which was signed by more than 1,500 women aid workers calling for change and reform in the patriarchal structures of the aid world.
Others realised that social media was a potent way to get the message across; as one interviewee told me:
Every time I say something on Twitter … the Charity Commission listen; if I write to them on email, they don't do anything.
So while mainstream media was clearly hugely influential in shining a light on abuse and harassment by Save the Children UK and Oxfam staff, it's likely that the use of social media platforms, such as WhatsApp and closed Facebook groups, allowed women to connect with other women discussing their experiences, form new media spaces and strategise around how to liaise with mainstream media.
This meant that the scandals were not limited to the usual timescale that all mainstream media operate under but the pressure on aid agencies was kept up, and afforded women a voice that they felt they had been denied in previous times.
Kamloops RCMP officer's conduct under review after blackface jokes on social media – Terrace Standard
A Kamloops police officer's conduct is under review after he made black face jokes in a series of posts on his personal Instagram account.
RCMP Const. Rupert Meinke's posts showed him receiving a skin treatment. In one photo, a woman is apparently applying a black cleansing mask to his face; another appears to be a selfie with the cleansing mask on.
The photo of the mask being applied is accompanied by this caption: "Black face session. It's suppose to help my looks. I don't think it's working," followed by a laughing emoji.
The selfie is accompanied by this caption: "Is my skin racist? Micro aggressions matter."
Meinke's Instagram is private and it's unclear when the posts were made, but screenshots of them began circulating on social media late last week.
Kamloops RCMP Supt. Syd Lecky told KTW he cannot speak to specifics regarding Meinke's Instagram posts or duty status, but said making black face jokes on social media would not be smart.
"In this day and age that we're in, that would be a dumb thing to do," Lecky said. "I would certainly look into it."
Lecky said he is unable to discuss Meinke's posts because they were made on a personal Instagram account.
"It's a social media account that is private and it isn't linked to policing or the RCMP," Lecky said. "So, I can't even confirm to you if it's a member."
If he were to be made aware of such posts coming from a constable, Lecky said, an internal code-of-conduct investigation would be launched.
Meinke has also worked as a part-time instructor at Thompson Rivers University. He has taught police and justice studies classes.
University spokeswoman Darshan Lindsay told KTW the institution is "looking into" Meinke's Instagram posts.
"Our commitment is to create a university where everyone belongs, where we show our respect for one another through our actions and in our words," she said. "While we won't be providing further comment on this matter, we can confirm the individual has taught courses part-time at TRU in the past."
Lindsay said Meinke is not currently employed by or teaching at TRU.
Lecky said he was first made aware of the Instagram posts on Sunday, July 5.
CTV News Vancouver also reported on this story and was among media outlets to reach out to Meinke for comment. He replied, saying: "Sorry I cannot comment other than it is a skin care product. Take care."
"Charcoal face masks, no harm, no foul," Vanessa Simon, an activist and organizer for Black Lives Matter, told CTV. "But then you're posting on your social media for the public to see, asking, 'Is this racist? Micro aggression matters,' you're setting yourself up to be ridiculed by the community and he is getting what is coming to him."
Simon told CTV News she was frustrated when she first saw the posts, opining they are insensitive and in poor taste.
"It's concerning to me that there's someone like that in the police department," she said.
---
Like us on Facebook and follow us on Twitter.
Disney teams up with Kaepernick in ex-NFL star's latest media deal – BNN
Walt Disney Co. will produce a series about the life of football player and activist Colin Kaepernick, part of a new overall deal between the media giant and the quarterback.
Disney will get first crack at new projects from Kaepernick's Ra Vision Media, which produces work that explores race and social injustice. That will begin with the project about Kaepernick's own life, that of a star athlete turned civil-rights activist.
Kaepernick was a quarterback for the San Francisco 49ers when he began kneeling during the national anthem to protest racism in the U.S. The move inspired many of his peers, but also angered large swaths of the population –including President Donald Trump — who took it as a sign of disrespect toward the flag. Kaepernick opted out of his contract before the 49ers could release him, and no team has been willing to sign him since then, turning him into the latest sign of what his fans say is systemic racism.
Disney hails the deal as part of a broader effort to develop stories from the perspective of Black and Brown communities. Kaepernick's stance has turned him into a face of the civil-rights movement — and without an NFL career to pursue — he is using his platform to tell stories.
He previously agreed to make a show about his early life for Netflix Inc., and his publishing label has a partnership with blogging platform Medium. He is also joining that company's board.
The Disney agreement ties one of the NFL's biggest media partners to one of its highest-profile critics. Disney, the owner of ABC and ESPN, airs "Monday Night Football" and devotes hours of radio and television time to dissecting every aspect of the league.
"The Walt Disney Co. remains committed to creating diverse and inclusive content that resonates and matters," Executive Chairman Bob Iger said in a statement. "Colin's experience gives him a unique perspective on the intersection of sports, culture and race."
News Media Canada Calls for Local Journalism Initiative Applications for Short-term and Freelance Projects – Financial Post
TORONTO — News Media Canada, the voice of Canada's print and digital news media industry, is calling today for new applications to its Local Journalism Initiative program.
Applications are being sought for short term projects, including freelance and contract positions from Indigenous media across Canada, Quebec French media, and from English media from the rest of the country. All projects in this round should be completed by March 31, 2021.
Print and digital news media are eligible to apply for funding to News Media Canada. Applications are due on Wednesday, July 15, 2020. More specifically, and considering previous grant allocations, the program is looking for approximately 10 to 20 positions, particularly at French media in Quebec, and at Indigenous media—that is, media published by and for Indigenous communities—anywhere in Canada.
Created and funded by the Government of Canada, the Local Journalism Initiative is a five-year program that supports the creation of original civic journalism relevant to the diverse needs of people living in news deserts and areas of news poverty across Canada. Areas of "news poverty" are communities where there is limited access to journalistic content about civic issues and institutions through a daily or community newspaper or public or private broadcaster. Available sources of local news — whether a newspaper, a community radio station or other media — demonstrate significant gaps in coverage due to a lack of capacity. News Media Canada's Local Journalism Initiative program is open to English, French, and Indigenous print and online media across Canada. News media interested in applying can do so at: https://nmc-mic.ca/lji/news-organizations/apply/.
Launched in 2019, the Initiative provides funding for host newsrooms to hire reporters, supporting accurate and reliable civic journalism in underserved communities. Local Journalism Initiative coverage will help ensure the vitality of democracy, better inform citizens, engage community and foster civic debate, to connect Canadians with their local governments, in their councils, courts and other civic institutions. Since December 2019, News Media Canada's program has approved funding for 199 journalists in 162 host newsrooms across Canada, including 31 new projects approved in May 2020. (Click here for the complete list.) Civic journalism produced by LJI reporters is available to all Canadian news media organizations for re-publication via the LJI news portal. For more information, visit www.localjournalisminitiative.ca.
About News Media Canada
News Media Canada is the voice of the print and digital news media industry in Canada and represents hundreds of trusted titles in every province and territory. News Media Canada is an advocate in public policy for daily and community media outlets and contributes to the ongoing evolution of the news media industry by raising awareness and promoting the benefits of news media across all platforms. For more information, visit us at www.newsmediacanada.ca or follow us on Facebook, Twitter, Instagram and LinkedIn.
View source version on businesswire.com: https://www.businesswire.com/news/home/20200706005562/en/
Contacts
Tina Ongkeko, Director, Local Journalism Initiative
tongkeko@newsmediacanada.ca
Christian Dognon, Program Officer, Local Journalism Initiative
lji@newsmediacanada.ca