Reports: Musk plans big Twitter layoffs and $20 monthly charge for verification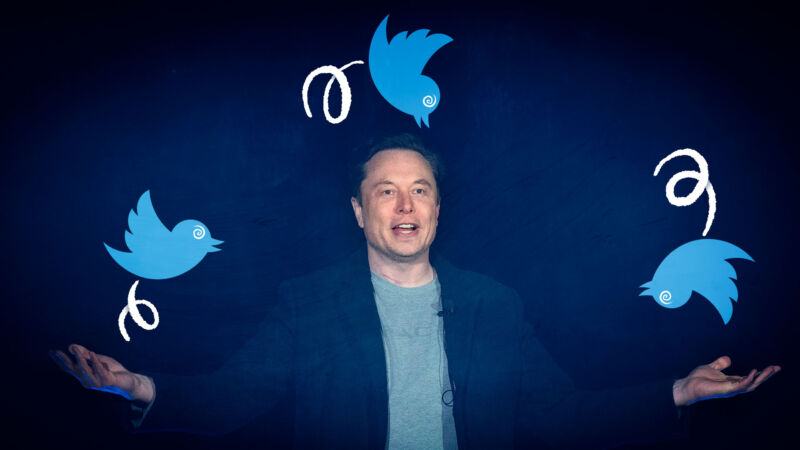 The Elon Musk-led Twitter is reportedly planning big layoffs and a $20 monthly charge for any user who wants to be verified or keep their current account verification.
According to The Verge, Musk ordered employees to raise the price of the Twitter Blue subscription from $4.99 a month to $19.99 and require anyone with a verified account to subscribe in order to keep their blue verification checkmark. Citing "people familiar with the matter and internal correspondence," The Verge article said the plan is that "verified users would have 90 days to subscribe [to Twitter Blue] or lose their blue checkmark. Employees working on the project were told on Sunday that they need to meet a deadline of November 7th to launch the feature or they will be fired."
Turning verification into a paid feature could make it easier for scammers to impersonate real people. As Twitter's website notes, "the blue Verified badge on Twitter lets people know that an account of public interest is authentic. To receive the blue badge, your account must be authentic, notable, and active."
Corporations might see the charge as part of the cost of doing business, but individuals are less likely to pay that much just to keep their blue checks. When a verified person loses their checkmark, a scammer could pretend to be that person, and there would be no verified account to point to to prove the scammer is fake.
When Musk first agreed to buy Twitter in April, he said his goals included "defeating the spam bots, and authenticating all humans." Musk tweeted Sunday that the "whole verification process is being revamped right now" but did not elaborate. We contacted Twitter's public relations department today and will update this article if we get more information on the Twitter Blue and verification plans.
An earlier report on the plan to tie verification to Twitter Blue said the subscription price would remain at $4.99 a month. "Twitter is strongly considering making its users pay to remain verified on the service, Platformer has learned," the report by Casey Newton's Platformer news site said. "If the project [moves] forward, users would have to subscribe to Twitter Blue at $4.99 a month or lose their badges."
Twitter Blue currently provides access to the Undo Tweet option and several other features.
Layoffs reportedly could hit nearly 50% of staff
While Musk reportedly told Twitter staff it isn't true that he plans to eliminate 75 percent of the workforce, several reports say he is drawing up plans for big layoffs. Over the weekend, "Elon Musk's inner circle huddled with Twitter's remaining senior executives," and the group "was deciding on what is expected to be a first round of layoffs, which will target roughly a quarter of the staff totaling more than 7,000," The Washington Post reported.
The Post report said layoffs would affect "almost all departments and are expected to specifically impact sales, product, engineering, legal, and trust and safety in the coming days… After engineers, some of Twitter's highest paid employees work in sales, where several earn more than $300,000, according to documents viewed by The Post."
One of the Post's sources "said the total number of layoffs is likely to be closer to 50 percent." The newspaper previously reported that "Musk told prospective investors in his deal to buy the company that he planned to get rid of nearly 75 percent" of staff.
A New York Times report, citing people with knowledge of the matter. said Musk "has ordered the cuts across the company, with some teams to be trimmed more than others." Bloomberg also cited anonymous sources in a report that said Musk "has asked managers to draw up lists of team members who could be let go."
Musk denied a portion of the New York Times report that said the "layoffs at Twitter would take place before a Nov. 1 date when employees were scheduled to receive stock grants as part of their compensation."
Musk's cost-cutting may be at least partly related to the $13 billion in debt he used to complete the $44 billion purchase. "Last year, Twitter's interest expense was about $50 million," a New York Times report on Twitter's finances said. "With the new debt taken on in the deal, that will now balloon to about $1 billion a year. Yet the company's operations last year generated about $630 million in cash flow to meet its financial obligations."
Musk fired CEO Parag Agrawal and several other top executives right after completing the acquisition on Thursday last week. He reportedly appointed himself CEO but is calling himself the "Chief Twit."
Consumer debt tops $2.36 trillion in third quarter, up 7.3 per cent from last year
Equifax Canada says an increase in borrowers helped push total consumer debt to $2.36 trillion in the third quarter for a 7.3 per cent rise from last year, even as mortgage volumes decline.
It says average non-mortgage debt rose to $21,183 for the highest level since the second quarter of 2020, with early signs of strain starting to show in auto loans and credit cards.
Overall non-mortgage debt came in at $599.9 billion for a 5.3 per cent climb from last year, and up 1.9 per cent from the third quarter of 2019, as the number of borrowers rose by 3.1 per cent.
Rebecca Oakes, Equifax Canada's head of advanced analytics, says the rising debt stems from a combination of growth from immigration, pent-up spending, as well as increased borrowing as consumers feel the strain of higher living costs.
Credit card spending in the quarter was up 17.3 per cent from last year to an all-time high for the time period.
Average spending put on credit cards was almost $2,447, a 21.8 per cent jump from the third quarter of 2019.
There's been an increase in credit card spending and new cards issued across all consumer segments, including the sub-prime segments, said Oakes in a statement.
She said there are some signs that borrowers are starting to have trouble covering the bills, with average payment rates for those who carry a balance down from a year ago, she said.
"Consumers have been making strong payments, but we are starting to see a shift in payment behaviour especially for credit card revolvers — those who carry a balance on their card and don't pay it off in full each month."
Delinquencies on auto loans have also started to trend up, especially those opened since late 2021, she said.
The overall rate of more than 90 day delinquencies for non-mortgage debt was 0.93 per cent, up from 0.87 last year, though insolvencies are still well below pre-pandemic levels.
New mortgage volume dropped 22.7 per cent in the quarter compared with last year and by 14.9 per cent compared with the third quarter of 2019. First-time home buyers are paying over $500 more for almost the same loan amounts as first-time buyers last year.
Overall insolvency rates are up from a year ago but from a relatively low starting point, and there are some areas of concern including a rise in consumer proposals by seniors, said Oakes.
"The true impact of interest rate hikes could be visible by the end of 2023."
 This report by The Canadian Press was first published Dec. 6, 2022.
Trudeau, Ford mark opening of Canada's first full-scale electric vehicle plant
The Canadian Press

Published Monday, December 5, 2022 5:06AM EST


Last Updated Monday, December 5, 2022 1:17PM EST

Prime Minister Justin Trudeau and Ontario Premier Doug Ford are celebrating the opening today of Canada's first full-scale electric vehicle manufacturing plant.
Trudeau says electric delivery vans have started rolling off the line today at the General Motors CAMI production plant in Ingersoll, Ont., which has been retooled to build the company's BrightDrop all-electric vehicle brand.
The prime minister was joined by Ford and the province's Economic Development Minister Vic Fedeli to mark the milestone.
The provincial and federal governments each invested $259 million toward GM's $2-billion plan to transform its Ingersoll plant and overhaul its Oshawa, Ont., plant to make it EV-ready.
The federal government says the Ingersoll plant is expected to manufacture 50,000 electric vehicles by 2025.
Canada intends to bar the sale of new internal-combustion engines in passenger vehicles by 2035.
This report by The Canadian Press was first published Dec. 5, 2022.
Food prices in Canada: Families to pay $1,065 more in 2023
HALIFAX –
Canadians won't escape food inflation any time soon.
Food prices in Canada will continue to escalate in the new year, with grocery costs forecast to rise up to seven per cent in 2023, new research predicts.
For a family of four, the total annual grocery bill is expected to be $16,288 — $1,065 more than it was this year, the 13th edition of Canada's Food Price Report released Monday said.
A single woman in her 40s — the average age in Canada — will pay about $3,740 for groceries next year while a single man the same age would pay $4,168, according to the report and Statistics Canada.
Food inflation is set to remain stubbornly high in the first half of 2023 before it starts to ease, said Sylvain Charlebois, lead author of the report and Dalhousie University professor of food distribution and policy.
"When you look at the current food inflation cycle we're in right now, we're probably in the seventh-inning stretch," he said in an interview. "The first part of 2023 will remain challenging … but we're starting to see the end of this."
Multiple factors could influence food prices next year, including climate change, geopolitical conflicts, rising energy costs and the lingering effects of COVID-19, the report said.
Currency fluctuations could also play a role in food prices. A weaker Canadian dollar could make importing goods like lettuce more expensive, for example.
Earlier this year the loonie was worth more than 80 cents US, but it then dropped to a low of 72.17 cents US in October amid a strengthening U.S. dollar. It has hovered near the 74 cent mark in recent weeks, ending Friday at 74.25 cents US.
"The produce section is going to be the wild card," Charlebois said. "Currency is one of the key things that could throw things off early in the winter and that's why produce is the highest category."
Vegetables could see the biggest price spikes, with estimates pegging cost increases will rise as high as eight per cent, the report said.
In addition to currency risks, much of the produce sold in Canada comes from the United States, which has been struggling with extremely dry conditions.
"The western U.S., particularly California, has seen strong El Nino weather patterns and droughts and bacterial contaminations, and that's impacted our fruit and vegetable suppliers and prices," said Simon Somogyi, campus lead at the University of Guelph and professor at the Gordon S. Lang School of Business and Economics.
"The drought is making the production of lettuce more expensive," he said. "It's reducing the crop size but it's also causing bacterial contamination, which is lessening the supply in the marketplace."
Prices in other key food categories like meat, dairy and bakery are predicted to soar up to seven per cent, the researchers found.
The Canadian Dairy Commission has approved a farm gate milk price increase of about 2.2 per cent, or just under two cents per litre, for Feb. 1, 2023.
"The increase for February is reasonable but it comes after the unprecedented increases in 2022, which are continuing to work their way through the supply chain," Charlebois said of the two price hikes of nearly 11 per cent combined in 2022.
Meanwhile, seafood is expected to increase up to six per cent, while fruit could increase up to five per cent, the report said.
Restaurant costs are expected to increase four to six per cent, less than supermarket prices, the report said.
Rising prices will push food security and affordability even further out of reach of Canadians a year after food bank use reached a record high, the report said.
The increasing reliance on food banks is expected to continue, with 20 per cent of Canadians reporting they will likely turn to community organizations in 2023 for help feeding their families, a survey included in the report found.
Use of weekly flyers, coupons, bulk buying and food rescuing apps also ticked up this year and is expected to continue growing in 2023, the report said.
"We're in the era now of the smart shopper," said Somogyi, also the Arrell Chair in the Business of Food.
"For certain generations, it's the first time that they've had to make a list, not impulse buy, read the weekly flyers, use coupons, buy in volume and freeze what they don't use."
Last year's report predicted food prices would increase five to seven per cent in 2022 — the biggest jump ever predicted by the annual food price report.
Food costs actually far exceeded that forecast. Grocery prices were up 11 per cent in October compared with a year before while overall food costs were up 10.1 per cent, according to Statistics Canada.
"We were called alarmists," Charlebois said of the prediction that food prices could rise seven per cent in 2022. Critics called the report an "exaggeration," he said.
"You're always one crisis away from throwing everything out the window," Charlebois said. "We didn't predict the war in Ukraine, and that really affected markets."
This report by The Canadian Press was first published Dec. 5, 2022.