Rescuing Art in Ukraine with Foam, Crates and Cries for Help – The New York Times
Many cultural institutions were not prepared to protect their collections and buildings before the Russian invasion, so ad hoc groups of arts workers and leaders stepped in to fill the breach.
LVIV, Ukraine — A month after the Russian army invaded Ukraine, the photographer Roman Metelskiy stood on the platform of this western city's domed Art Nouveau railway station, watching trains full of women and children evacuating from the east. But he was waiting for a carriage from the other direction. This one, from the west, was full of Bubble Wrap.
Few Ukrainian cultural institutions had prepared for a full-scale invasion. Museums, churches, castles and libraries had neither materials nor guidance on how to preserve the country's valuable art.
"We had to start from scratch," Mr. Metelskiy said. "We were asking for packaging materials. For financial support. For advice on how to preserve and package things."
So with the government on war footing, he and other arts professionals formed an ad hoc preservation committee, the Center to Rescue Cultural Heritage, over coffee in early March. (In this Hapsburg city, Mr. Metelskiy explained, "everything happens over coffee.")
"We were pretty astonished," Mr. Metelskiy said. "We thought that instructions already existed."
Ivan Shchurko, a member of Lviv's regional parliament who was at the coffee meeting that first day, remembered feeling scared and disoriented as they hunted for help. "We were looking for people with the same interests, the same values," he said.
They contacted a dozen Polish museums and palaces, and on March 27, a train arrived from Warsaw laden with cardboard boxes and bags of Styrofoam beads. Another emergency shipment arrived on April 4, with wrapping materials and protective gloves from Norway and Denmark. Other supplies arrived from libraries in Germany, Latvia and Estonia, and museums in Britain and Slovenia.
Teams in Lviv stuffed the packing materials into vans or the back of their cars, ferrying the supplies cross-country to vulnerable institutions in Chernihiv, Dnipro, Kharkiv and Zaporizhzhia. By June, Mr. Shchurko and Mr. Metelskiy were presiding over mountains of foam core boards and reams of plastic film that filled the lobby of a university library: humanitarian aid of a more cultural kind.
"In times of war, there are two irreversible losses: people and our culture," Mr. Metelskiy said. "The rest can be rebuilt."
As the Ukrainian Army steps up its counteroffensive in the east this summer, heritage specialists in the west are engaged in a related battle: to preserve Ukraine's monuments, museums, historical collections and religious sites. The Russian invasion is a culture war to its core, and heritage sites have been damaged both from errant shelling and targeted destruction. Ukraine has accused Russian-led forces of looting in the occupied cities of Mariupol and Melitopol. Regional museums outside the capital, Kyiv, and the northeastern city of Kharkiv have burned to their foundations.
But where Ukraine's soldiers have relied on a central chain of command, its civilian army of scholars, curators, archivists and architects say they have had precious little guidance.
Officials in Kyiv and in regional administrations have certainly taken steps to keep the country's heritage intact. The national culture ministry has hosted workshops, won commitments from international partners, and kept a public database of damaged and destroyed monuments for future legal claims.
"Before the full-scale war, we were not ready for such a barbaric action, although the ministry was doing our best to protect our cultural sites," said Kateryna Chuyeva, a deputy minister of culture, during a March briefing on the destruction of Ukraine's churches and historical archives. "But what we are witnessing now in western Ukraine is people are very much engaged in defending and protecting cultural sites."
The ministry has been sparing with details on how many collections it has had a hand in evacuating, citing wartime exigencies. Yet interviews with museum directors and other heritage leaders in Lviv and Kyiv had a common refrain: If you wanted practical necessities, you had to find them yourself.
"Our officials who cut us off, and leave the cultural sphere with minimum resources, make us work even more," Mr. Metelskiy said.
So by coordinating via WhatsApp groups and WeTransfer files, and raising funds on crowdfunding platforms they have made significant strides at preserving endangered icons and artworks — and they have done it mostly by themselves.
"It's very hard, but it's a very big chance to help my colleagues," said Olha Honchar, the 29-year-old director of the Territory of Terror Memorial Museum, which documents the city's Nazi and Soviet past. "From the first day of the war, we understood that the Lviv region would start to be a shelter, and Lviv museums would be mediators from donor countries."
In early March, Ms. Honchar set up a nonprofit that has funneled financial support to more than 750 museum workers in eastern and southern Ukraine. The payments, mostly under $100 and delivered via smartphone app, have helped to keep employees of arts institutions above water as their salaries go unpaid.
While Ukrainian refugees were welcomed by European cultural institutions, those who stayed behind needed immediate humanitarian aid that those arts institutions were ill prepared to deliver. Foreign donors were reaching out — but they wanted spending controls that people caught up in war couldn't provide.
"We need packing materials," Ms. Honchar said. "But we also have to help people who work with these packing materials. We must support the human potential of culture in Ukraine."
Lviv, which passed from Austrian to Polish to Soviet control in the 20th century, has had its heritage endangered before. The Nazis looted the city's art collections during World War II; a Dürer drawing now in the collection of the National Gallery of Art in Washington was held in a Lviv library until 1941. After World War II, Soviet authorities suppressed not only abstract art, but also art with Ukrainian nationalist themes, and religious art — including the Baroque statues by Johann Georg Pinsel, the most important artist of the city's Hapsburg era.
Now Pinsel's screw-twist saints on the facade of Lviv's St. George's Cathedral are shrouded in gray plastic bags, wrapped with cordage and duct tape. Asked about those who threatened the cathedral's artworks, Roman Kravchyk, the archpriest, fingered the jeweled crucifix around his neck and muttered, "May God have mercy on their souls."
Ms. Honchar and her Lviv colleagues have helped evacuate collections from a few smaller, regional museums to the relative safety of Ukraine's west. A few institutions in Kharkiv and Chernihiv also managed to move parts of their collections here. At least one museum in Odesa had the foresight to organize a major touring exhibition in January, to get its holdings out of harm's way.
The Lviv National Art Gallery, the country's largest art museum, with more than a dozen branches in the city and the surrounding region, made only perfunctory preparations before the invasion. Few initially thought the war would reach so far west, but one missile landed about 200 meters from one of the institution's castles, with a fragile collection of Chinese and Japanese ceramics on its premises.
Vasyl Mytsko, a senior official at the museum, couched the evacuations in a dark optimism born from Ukraine's tumultuous history. "In the Ukrainian language," he said during an air alert, "we have a saying: We didn't have happiness, so unhappiness helped us."
The museum's holdings are safe for now. The prizes of the painting collection have been moved to several undisclosed locations. But many of Pinsel's gilded statues remain on site, shrouded in simple black tarps.
Transporting art is a hazardous enterprise, and not only because in a war zone it might be more dangerous to move a collection than to let it stay put. Such evacuations require official approval, which was nearly impossible to obtain once the invasion began. Several museums in Kherson, now under assault as Ukraine tries to retake the city from Russian occupation, were ready to relocate their collections to safer grounds but could not get the necessary signatures.
"They were abandoned, I would say," said Mr. Metelskiy, when asked about the dilemmas facing museum directors. "There weren't any orders, any directions of what to do. And they couldn't make a decision by themselves, because if they did, and something went wrong, they would have criminal responsibility. And now these places are either occupied or destroyed."
In the absence of central planning, Ukraine's cultural figures relied on horizontal connections. In Lviv, that meant leveraging contacts with institutions right across the border, in Poland.
Liliya Onyshchenko, head of the Lviv City Council's Department of Historical Environment Protection, reached out to Polish colleagues, seeking hundreds of water-misting fire extinguishers, essential protection for the countless wooden churches of the Lviv region. Flame-retardant blankets were another critical ask; monuments across the city are now wrapped in protective materials sent from Warsaw, Krakow, Lodz and other Polish cities. (Some valuable monuments are also surrounded by cages or scaffolding so that, if a blast wave shatters them, the pieces will remain together.)
"It can't be comprehended that such a thing is possible in the 21st century, especially when the library was burned down in Mariupol," Ms. Onyshchenko said. She has spent her whole life in cultural preservation and takes it all very personally. "You give birth and raise a son," she said, "and then some barbarian comes, who just in one day takes your child away.
"That's the same with cultural heritage. You are working on it, restoring it, doing it in great detail, with love. And then one missile and it's gone."
Others in Lviv have looked to the United States, and to the Ukrainian diaspora. The Center to Rescue Cultural Heritage partnered with a nonprofit in Washington, the Foundation to Preserve Ukraine's Sacral Arts, which provided some of the initial funding to transport boxes and foam.
Two Ukrainian-speaking conservators at the Metropolitan Museum of Art — one Ukrainian, one Polish — recorded videos on how to wrap a painting properly (with cotton tape between the face and the plastic) and how to carry them safely (with your hands on the sides of the frame, never the top).
One commitment of Lviv's on-the-fly preservationists is that no one should be caught as flat-footed as they were. ​​"We also understand that our experience in the field of heritage preservation will be invaluable for the world community," said Mr. Shchurko, standing in front of his organization's amassed cardboard boxes.
"The war crystallized it all, it made everything brighter," Mr. Shchurko went on. "We have always understood and said that our heritage is valuable. But the feeling of how important and valuable it is to us: This feeling comes only with losses."
Oleh Chuprynski contributed reporting from Lviv.
Art collector Myriam Ullens killed outside her home in Belgium, allegedly by her stepson – Art Newspaper
Myriam Ullens, a major collector who, with her husband Guy Ullens, supported and championed Chinese contemporary art, was killed outside the couple's home in the village of Ohain south of Brussels today (29 March) according to multiple reports in the Belgian press. She was 70 years old. The reports claim she was shot by her stepson Nicolas Ullens, who has been detained by police. Her husband, Guy, reportedly survived the incident.
Myriam and Guy were in their car outside their home around 10am when Nicolas fired on his stepmother, who died at the scene, according to La Libre. Myriam and Nicolas had been in a protracted dispute over issues of inheritance, according to multiple reports.
Myriam and Guy Ullens, who married in 1999, have been important and influential art collectors for decades. They started out collecting classical Chinese scroll paintings, but eventually shifted their attention to contemporary art. In 2007, they opened the Ullens Center for Contemporary Art in Beijing—considered at the time to be the first contemporary art museum in China—which showed works from their collection of more than 2,000 works. In 2017 they sold the museum, renamed the UCCA Center for Contemporary Art, to a group of investors; they continued and broadened their collecting activities under the banner of the Swiss-based Fondation Guy & Myriam Ullens.
In 2004 Myriam, who went by Mimi and was a cancer survivor, founded the Mimi Foundation to create centres within hospitals to provide physical and mental therapy for patients undergoing cancer treatment. In 2013 she co-organised an exhibition and benefit auction during Frieze Week in London to support the Mimi Foundation.
"If many of the artists in this project are Chinese that is because of our long and close relationship with them. This is just the tip of our iceberg—that we are continuing to follow and collect intensively with the new generation," Myriam told Ocula at the time. "A collection is like a living breathing body. It evolves in an organic manner."
Myriam was born in Cologne, Germany. Following early success in the food industry, she married Guy, a Belgian businessman and baron, and devoted herself to fashion (launching the brand Maison-Ullens) and philanthropy. The couple's charitable activities also included opening the Ullens School, an educational facility in Nepal.
Nicolas Ullens, a former Belgian state security agent, is one of four children Guy had with his first wife, ​​Micheline Franckx.
The Ullenses' foundation did not immediately respond to a request for further information.
Major Collector and Chinese Art Patron Myriam Ullens Has Been Shot Dead Outside Her Home in Belgium – artnet News
Myriam Ullens de Schooten, a preeminent collector and well-known figure in the art world, was shot dead yesterday in front of the house she shared with her husband, Baron Guy Ullens de Schooten. Both are major collectors of Chinese art and respected in the art world as the founders of UCCA in Beijing, China.
The murder occurred at 10 a.m. on Wednesday, March 29. Local media have reported that Ullens suffered four bullets to the head, and had died by the time emergency services arrived to the family home in the Belgian village of Ohain. The stepson of the 70-year-old German baroness is reportedly a prime suspect.
The 50-year-old Nicolas Ullens de Schooten, a former state security agent and one of four children, is suspected of shooting his stepmother while she was in a car with his father, who survived the attack. He has been taken into custody for questioning. According to some Belgian reports, the victim and suspect were in an open dispute over an inheritance issue. Local authorities did not immediately respond to Artnet News's request for further information.
"The vision and passion of Myriam Ullens—her love for art, belief in cultural exchange, and commitment to helping others—are at the core of UCCA's history and values," said Philip Tinari, UCCA's director, in a statement shared on social media. "We are shocked and saddened by her death, and will remember her strength, style, creativity, and generosity as we carry forward the work of the institution that she and Guy so generously founded and nurtured through its first decade."
Born in Cologne in 1952, Myriam, known to friends as "Mimi" Ullens was an active philanthropist, who initiated an education program and school in Nepal. A cancer survivor, Ullens also launched The Mimi Foundation, which was active in cancer wards at eight hospitals in Belgium, France, and Switzerland, providing support to patients going through treatment.
Myriam and Guy Ullens married in 1999 and built out an evolving collection focused on art from China, beginning at first with classical Chinese scroll painting before focusing on contemporary art from China. Their "universal" collection, as it is described on their foundation's website, includes works by prominent Chinese artists including Huang Yong Ping, Wang Jianwei, Xu Zhen, together with Western art stars like Rashid Johnson, Sterling Ruby, and Tracey Emin; another area of focus in their collection was digital art.
They opened the Ullens Center for Contemporary Art in 2007 to exhibit their collection that numbers around 2,000 artworks; the institution was one of the first of its kind in China. In 2017, the couple sold the museum to a group of patrons and shareholders and it was renamed the UCCA Center for Contemporary Art. They continued to be involved and served on the foundation council, while actively collecting via their Fondation Guy & Myriam Ullens, based in Switzerland. Myriam was also actively involved in luxury brand Maison Ullens, which she founded in 2011. The family is of Belgian nobility; Guy Ullens is a philanthropist as well as a financial services company executive who has been collecting art since the 1960s.
Follow Artnet News on Facebook:
Want to stay ahead of the art world? Subscribe to our newsletter to get the breaking news, eye-opening interviews, and incisive critical takes that drive the conversation forward.
Banksy artwork Brace Yourself! sells for over $2m at auction in US – The Guardian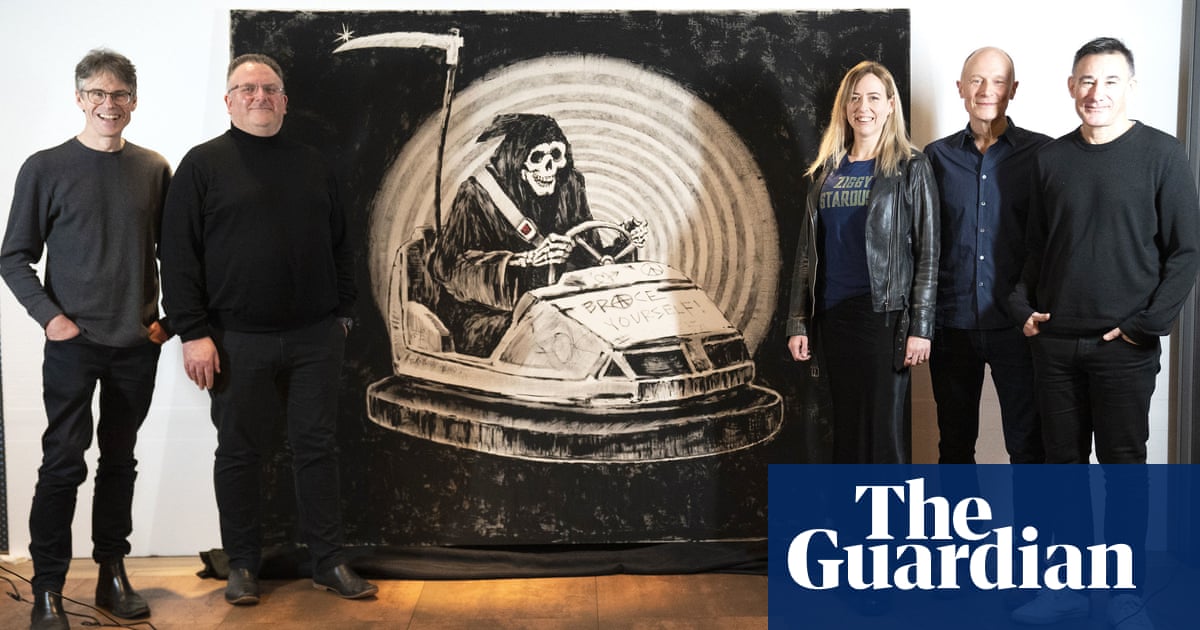 The Banksy artwork Brace Yourself! has sold for $2,032,000 (£1.6m), more than three times its original estimate, during an auction featuring a performance from the band that inspired the piece.
The anonymous artist created the work in 2010 for the British band then known as Exit Through the Gift Shop, who shared the same name he wanted to use for his 2010 documentary film.
To avoid copyright issues, the group agreed to Banksy's offer to create a painting for them on the condition they changed their name.
The artwork, a large-scale painting of a grim reaper figure riding in a carnival bumper car, was sold to Miguel Garcia Larios, the owner of Rcnstrct Studio in Hollywood, during an event hosted by Julien's Auctions in Beverly Hills.
Its original estimate was $600,000 and the sale was preceded by a live performance by Brace Yourself!, fronted by the singer Natalie Zalewska.
Zalewska previously said the sale was about preserving the artwork as a "piece of history".
The Exit Through the Gift Shop documentary tells the story of Thierry Guetta, a Los Angeles-based Frenchman who videotapes underground art escapades and later finds fame with the moniker Mr Brainwash.
A portion of the proceeds from the sale of the artwork will go to the music charity MusiCares, which provides health, financial and rehabilitation support to people working in the sector.
Also featured in the auction was an original print of Banksy's Girl With Balloon, which sold for $195,000, and more than 70 artworks from famous names such as the painter Bob Ross, the actor Jim Carrey and the Jane's Addiction guitarist Dave Navarro.
In early March, Brace Yourself! was displayed in the window of the Hard Rock Cafe in Piccadilly Circus, London.