Rob Vanstone: Disgraced Graham James was a master media manipulator – Regina Leader-Post
Article content continued
Kennedy then encouraged me to delve into my experiences, my regrets, for public consumption.
"I think it's a great piece that I haven't seen too many people write on," he said. "The whole town of Swift Current felt that way.
"If I look at Swift Current, there was so much shame and guilt that we saw from people and that I heard from people, because they saw Sheldon and Graham having breakfast at the Husky truck stop or something.
"They're like, 'I should have known.' Why? Why should you have known? I think it's some of the personal guilt that we carry that makes us believe we should have done something or known something. At the time, nobody talked about this stuff."
I talked to Kennedy for more than an hour, with the conversation eventually branching off into what I saw and shrugged off in 1993.
"I think this story needs to be about your experience and how it makes you feel," reiterated Kennedy, a member of the Order of Canada. "Maybe your interview with Sheldon Kennedy was that he told you to write about your own story."
Which is also his story.
In May of 1993, I was covering the Broncos at the Memorial Cup in Sault Ste. Marie, Ont. Four years earlier, with Kennedy in a starring role, the Broncos had won the CHL's championship tournament.
On an off day for the 1992-93 WHL champions, two other teams were playing at Sault Memorial Gardens. James was pre-scouting the game from up high.
Just as I entered the press box, I saw Kennedy — then a 23-year-old member of the Detroit Red Wings — hurriedly walking toward me. He was visibly upset. I stood to the side so as not to impede his departure.
Montreal boy on autism spectrum becomes, briefly, a social media star – CTV News Montreal
MONTREAL —
For most autistic kids, it hasn't been an easy year. But for one boy at a Montreal special-needs school, it's at least been a great week, after he took the Internet by storm.
If you were to ask his mother, seven-year-old Billy Katsabanis likes to be on camera.
"He feels famous from like a long time ago," his mother, Stella Tzintzis, told CTV News while laughing. Katsabanis is on the autism spectrum, and is a student at Giant Steps, an elementary school for children who have autism.
Recently Katsabanis got his wish, becoming a social media sensation.
"It all started when he won the crew neck (sweatshirt) from the No Better You Foundation," Tzintzis said. The charity was founded by Montreal special needs teacher and former contestant on 'The Bachelor,' Vanessa Grimaldi, who mentioned Katsabanis on her social platforms. She has 710,000 Instagram followers, so that got Katsabanis mots of attention.
"And then the love came pouring in — for over 100,000, close to 200,000 views," Tzintzis said. One of the well-wishers who reached out to Katsabanis was comedian Howie Mandel.
"We know Vanessa," said the school's director general, Thomas Henderson, pointing out that Grimaldi has done a lot of work raising funds for special needs children over the years. "But for Howie Mandel to get involved is pretty special."
It also thrust the school into the spotlight at a time when — like seemingly every institution — it has to adjust to life with the pandemic. For instance, the school had to repurpose its sensory room to another classroom because of distancing rules. A sensory room is a quiet and interactive space often used to stimulate children on the autism spectrum
"It's definitely a hole in our school the children really miss it," said Belinda Solomon, a teacher at Giant Steps. She said she hopes the school can reopen the sensory room next year.
For the time being, Katsabanis is basking in his fame as a social media influencer.
"Everybody is just feeling what our family was going through and encouraging and saying bravo," Tzintzis said.
Candace Cameron Bure defends social media habits after 'disappointed' fans criticize her following – Yahoo Movies Canada
GlobeNewswire
BEYOND / HELLO™ Bloomington to Begin Serving Adult-Use Cannabis Consumers on Jan. 26, 2021BOCA RATON, Fla., Jan. 22, 2021 (GLOBE NEWSWIRE) — Jushi Holdings Inc. ("Jushi" or the "Company") (CSE: JUSH) (OTCMKTS: JUSHF), a vertically integrated, multi-state cannabis operator, announced it will open its 16th dispensary nationally and fourth retail location in Illinois: BEYOND / HELLO™ Bloomington. The new store location will begin serving adult-use cannabis customers on Tuesday, January 26, 2021. "A year after Illinois' adult-use program launched, legal cannabis sales surpassed more than $1 billion," said Jim Cacioppo, Chief Executive Officer, Chairman and Founder of Jushi. "Located in one of the fastest growing metropolitan areas in Illinois that's home to two universities, our second retail location in Bloomington-Normal and fourth in the state will help us meet the unprecedented consumer demand for cannabis products in the Prairie State. As we move into the New Year, we will also continue to broaden access to high-quality cannabis products as well as explore new growth opportunities in Illinois that deliver value to our patients, customers and shareholders." BEYOND / HELLO™ Bloomington, conveniently located near two universities, will begin serving customers on Tuesday, January 26, 2021 from 9:00 a.m. to 10:00 p.m. Customers can shop for adult-use cannabis products in-store and through its online shopping experience at www.beyond-hello.com, which enables consumers to view real-time pricing and product availability, and then reserve products for convenient in-store pickup. BEYOND / HELLO™ Bloomington carries high-quality, adult-use cannabis brands and products, including flower, extracts, edibles, vapes, topicals, tinctures, sublinguals and merchandise. Its expertly trained staff is also available during normal store hours to help adult-use customers identify and select the best cannabis products to meet their various needs and desires. The licensed storefront is ADA accessible, LGBTQ+ friendly and offers a standing 10% discount to seniors and veterans and active military service people with identification. In addition, Illinois medical marijuana patients can continue to shop at BEYOND / HELLO™ Normal during normal store hours. The City of Bloomington is located in the heart of Central Illinois and is the County Seat of McLean County, the largest county in Illinois. Bloomington (pop. 76,610) is a twin city with the Town of Normal (pop. 52,497), located near Interstates 39, 55 and 74 as well as US Route 51 and State Route 9. The twin cities are also serviced by two major railroad lines and Amtrak, as well as air transportation at the Central Illinois Regional Airport, one of the fastest growing airports in the country, which services commuter, corporate and private aircrafts. For more information, visit https://www.jushico.com/ or BEYOND / HELLO™ on Instagram and Facebook. About Jushi Holdings Inc.We are a vertically integrated cannabis company led by an industry leading management team. In the United States, Jushi is focused on building a multi-state portfolio of branded cannabis-derived assets through opportunistic acquisitions, distressed workouts, and competitive applications. Jushi strives to maximize shareholder value while delivering high quality products across all levels of the cannabis ecosystem. For more information, please visit https://www.jushico.com/, https://twitter.com/wearejushi and https://linkedin.com/company/jushi-inc. Forward-Looking Information and Statements This press release contains certain "forward-looking information" within the meaning of applicable Canadian securities legislation and may also contain statements that may constitute "forward-looking statements" within the meaning of the safe harbor provisions of the United States Private Securities Litigation Reform Act of 1995. Such forward-looking information and forward-looking statements are not representative of historical facts or information or current conditions but instead represent only the Company's beliefs regarding future events, plans or objectives, many of which, by their nature, involve estimates, projections, plans, goals, forecasts and assumptions that may prove to be inaccurate. As a result, actual results could differ materially from those expressed by such forward-looking statements and such statements should not be relied upon. Generally, such forward-looking information or forward-looking statements can be identified by the use of forward-looking terminology such as "plans," "expects" or "does not expect," "is expected," "budget," "scheduled," "estimates," "forecasts," "intends," "anticipates" or "does not anticipate," or "believes," or variations of such words and phrases or may contain statements that certain actions, events or results "may," "could," "would," "might" or "will be taken," "will continue," "will occur" or "will be achieved". By identifying such information and statements in this manner, the Company is alerting the reader that such information and statements are subject to known and unknown risks, uncertainties and other factors that may cause the actual results, level of activity, performance or achievements of the Company to be materially different from those expressed or implied by such information and statements. In addition, in connection with the forward-looking information and forward-looking statements contained in this press release, the Company has certain expectations and has made certain assumptions. Among the key factors that could cause actual results to differ materially from those projected in the forward-looking information and statements are the following: the ability of Jushi to successfully achieve business objectives, including with regulatory bodies, employees, suppliers, customers and competitors; changes in general economic, business and political conditions, including changes in the financial markets; changes in applicable laws; and compliance with extensive government regulation, as well as other risks and uncertainties which are more fully described in the Company's Management, Discussion and Analysis for the nine months ended September 30, 2020, and other filings with securities and regulatory authorities which are available at www.sedar.com. Should one or more of these risks, uncertainties or other factors materialize, or should assumptions underlying the forward-looking information or statements prove incorrect, actual results may vary materially from those described herein as intended, planned, anticipated, believed, estimated or expected. The forward-looking information and forward-looking statements contained in this press release are made as of the date of this press release, and the Company does not undertake to update any forward-looking information and/or forward-looking statements that are contained or referenced herein, except in accordance with applicable securities laws. All subsequent written and oral forward-looking information and statements attributable to the Company or persons acting on its behalf is expressly qualified in its entirety by this notice. For further information, please contact: Investor Relations Contact:Michael PerlmanExecutive Vice President of Investor Relations and Treasury561-281-0247Investors@jushico.com Media Contact:Ellen MellodyMATTIO Communications570-209-2947Ellen@Mattio.com
'The US is falling apart': How Russian media is portraying the US Capitol siege – The Conversation US
The storming of the U.S. Capitol on Jan. 6, which was Christmas Eve for Eastern Orthodox Christians, was a perfect holiday gift for Russian politicians and state-controlled Russian media.
While President Vladimir Putin has remained silent so far, reaction from political leaders was instantaneous, and the topic has dominated Russian news coverage ever since.
Maria Zakharova, a spokesperson for the Russian Foreign Ministry, said that while the siege is "an internal affair," it's important to point out that the "electoral system of the U.S. is archaic."
Konstantin Koschev, head of the International Affairs Committee of the Federal Council, the upper chamber of Russian Parliament, proclaimed "the end of the celebration of democracy."
Russian media have been eager to take up these points.
For years, the pro-Kremlin media has exalted stability as the core virtue of Putin's "sovereign democracy" – a term coined by Putin.
As a scholar of post-Soviet politics, I've watched how state-controlled Russian media have portrayed pro-democracy protests in countries surrounding Russia, including my native Ukraine, as CIA-led efforts to destabilize Russia.
The storming of the U.S. Capitol by pro-Trump rioters has allowed Russian media outlets to change the conversation and depict the siege as the final collapse of the U.S. political system and democracy itself.
US 'disorder'
Russian coverage of the Capitol insurrection points out the perceived hypocrisy of Democratic leaders and the U.S. media.
Russian state-controlled media have repeatedly juxtaposed Democratic outrage over former President Donald Trump's role in the siege against the party's support for the "BLM and antifa summer riots" – their term for racial justice protests last summer in the wake of George Floyd's death.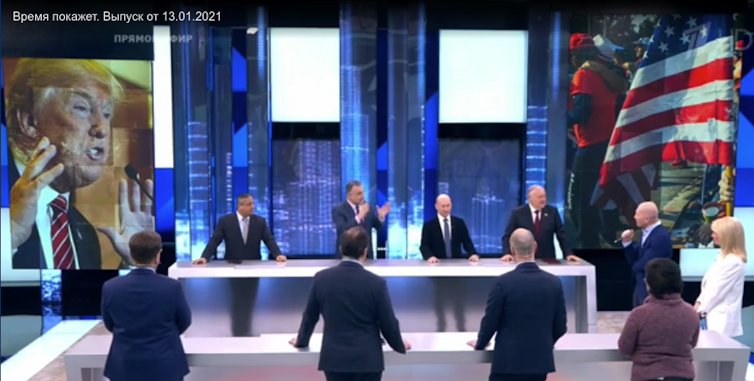 State-controlled media have also highlighted allegations – debunked in the U.S. – that members of antifa, a left-wing protest movement, and Black Lives Matter participated in the storming of the Capitol. "Time Will Tell" and "60 Minutes," two pro-Kremlin news talk shows on the state-run Russia 1 TV channel, have dedicated air time to this allegation.
The upshot of such coverage juxtaposes the disorder in the United States to the order and stability in Russia – a favorite message of Russian propagandists.
'Digital gulag for Trump'
Somewhat surprisingly, members of both the Russian political opposition and the country's pro-Putin political elite assert that the suspension of Trump's social media accounts amounts to censorship and undermines democracy.
Such statements from people like Vladimir Zhirinovsky, the bombastic nationalist leader of the Russian Liberal Democratic Party, come off as hypocritical in a country whose ruler's power is based on censorship and anti-democratic measures, but are not surprising.
But Alexei Navalny, the Russian opposition leader and Putin critic who was poisoned and almost died last August and was recently jailed upon his return to Russia, also criticized Trump's Twitter ban. He is likely worried that the Russian government will mimic companies like Twitter in its own censorship efforts.
Yet, there is also much relish for discussing Trump's Twitter ban among Russian propagandists. That included Vladimir Soloviev, a popular television host, who has dubbed it the "digital gulag for Trump." He has argued that the social media ban is part of an ongoing campaign to silence Trump and his supporters.
On Jan. 13, the hosts of the evening talk show "Time Will Tell" reacted with horror at the "police state" and "repressions" of pro-Trump rioters at the Capitol.
The hosts likened the tips received by the FBI from the public to citizens snitching on each other – a remark that resonates with anyone aware of former Soviet leader Josef Stalin's reign of terror.
They also insisted that Trump supporters have become the "enemies of the people," after Sen. Chuck Schumer urged the FBI to add Capitol rioters to the federal no-fly list.
This portrayal of Trump and his supporters as persecuted political dissidents has been used to further highlight the argument that American democracy is steeped in hypocrisy.
'US is falling apart'
So-called U.S. disintegration has been a favorite topic for the state-controlled network Russia 1. The hosts of "Time Will Tell" have repeatedly reinforced this point by referring to the U.S. as "United, for now, States."
During a recent broadcast, host Anatoly Kuzichev repeatedly said, "the U.S. is falling apart."
RT, another state-controlled media outlet formerly known as Russia Today, reinforced a similar claim by quoting the former Soviet leader Mikhail Gorbachev, who said the Capitol insurrection has "called into question the future fate of the United States as a state."
If Russian media outlets are to be believed, there are no longer any beacons of democracy left in the world. Margarita Simoniyan, chief editor of RT, summed up that view in a tweet: The United States "never were" a model of democracy.
[Deep knowledge, daily. Sign up for The Conversation's newsletter.]