Roy Green: The U.S. political scene is in flux amid Donald Trump's second impeachment trial – Global News
Might U.S. federal politics evolve — or perhaps devolve, depending on your point of view — into the type of multiparty scene that dominates Canadian elections?
Reports circulate that while recently departed U.S. president Donald Trump grapples with a second impeachment trial, more than 100 influential former Republican officials are actively engaged in discussions concerning the possible formation of a new centre-right American political party.
U.S. elections have, through all of our lifetimes, essentially been contested by the Democratic and Republican parties with an occasional disturbance caused by a third-party. The most memorable and impactful challenge came from Texas billionaire Ross Perot. In the 1992 quest for the White House, Perot garnered nearly 20 million votes through a highly populist agenda waged primarily on U.S. cable television, according to an analysis on CNN.
Did Perot's presence cost George H.W. Bush the presidency? Opinions are many and opposing. Try a Google search asking "did Ross Perot cost Bush the 1992 election?" (You'll get about 128,000 results — or at least I did on Friday.)
Almost one of five Americans — 19 per cent — chose to cast their fate with the upstart Perot and his stop NAFTA campaign
Today, a question frequently posed is this: is the United States of 2021 more divided than at any time since that nation's civil war?
Perhaps.
The impeachment effort against Trump, no matter how much the repeat is cheered by his detractors, is sure to infuriate Trump loyalists among the 74.2 million Americans who declared their desire for a second Trump mandate as POTUS during the Nov. 3, 2020 election.
Do Americans who voted for Trump believe they have a political score to settle?
An opportunity will present itself in less than two years during the midterm elections of 2022. Some forecasts project Republicans are on track to regain control of the House of Representatives.
Sure, it may be fashionable and even desirable for some today to support the emergence of a third more centrist political party in America, but to dyed-in-the-wool Republicans still influenced by each Trumpian finger-wag, former government officials turning their backs on the GOP flag will be seen as deserters.

2:28


Democrats say they worry Trump will incite violence again



Democratic party voters, in appreciable numbers, will hardly consider a new right-of-centre option to be worthy of their attention, let alone electoral support.
Even a frequently rumoured Donald Trump-created political party would stumble out of contention at voting time, I would suspect.
Added to the goulash of American uncertainty is the increasingly debated question of whether the U.S. may be headed toward dissolution.
Bottom line?
There are scores to be settled in the United States. Major scores.
The presence of a new occupant in the Oval Office — one with five decades of political baggage — is not likely to significantly affect that reality.
Stand by.
Roy Green is the host of the Roy Green Show on the Global News Radio network.
Listen to the latest from the Roy Green Show
Subscribe to the Roy Green Show Podcast now at Apple Podcast or Google Play
© 2021 Global News, a division of Corus Entertainment Inc.
An American dystopia: QAnon represents perfectly the paranoid streak in US politics that Trump embraced – Economic Times


<!–

Uday Deb

–>
In 1964 Richard Hofstadter, a noted historian from Columbia University, published an essay in Harper's Magazine, The Paranoid Style in American Politics. In this essay, which has become justly famed over time, he argued that a strain existed in American politics that was akin to the clinical diagnosis of paranoia.
This deranged view of politics saw a conspiracy amongst a swath of the country's elite composed of international bankers, Jesuits, Freemasons and others. And this unhinged perspective had a peculiar appeal to those on the fringes of the American political right.
Objectively, those on the right had little to fear in a mostly conservative country where social and political change only occurred in small, incremental steps. Nor, for that matter, barring under exceptional circumstances, such as in the wake of the Great Depression, did the country even contemplate any substantial, let alone radical, transformations. Nevertheless, those on the hard edges of the American right feared dispossession.
Hofstadter attributed these fears, especially in the postwar era, to three pervasive beliefs: that President Roosevelt's New Deal had undermined free market capitalism, that officialdom was infiltrated with Communists and the "whole apparatus of education, religion, the press and the mass media is engaged in a common effort to paralyse the resistance of loyal Americans". It is necessary to include that direct quotation from his essay because it has an eerily contemporary ring to it.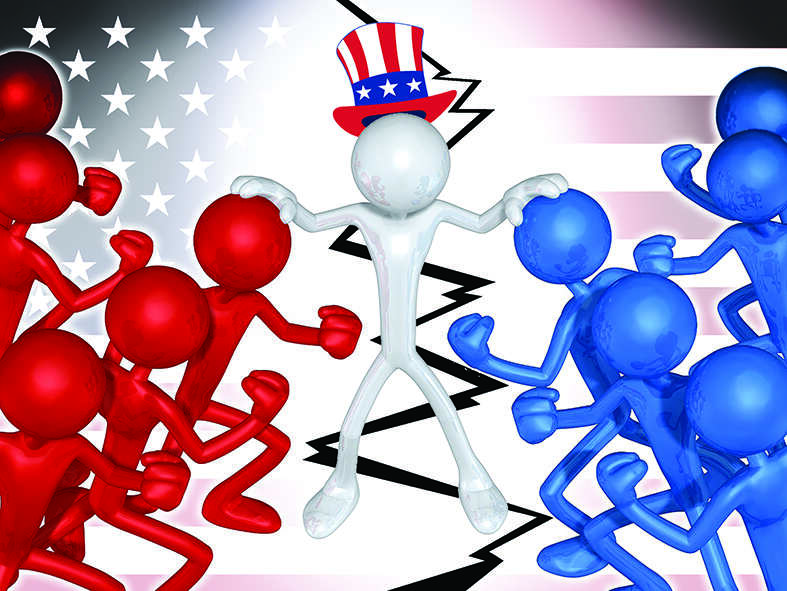 The issues he had highlighted in that sentence came to the fore over the course of the past four years when Donald Trump was at the helm of the presidency. Despite his defeat, and the emergence of a seasoned, centrist Democrat, Joseph Biden, as president, this paranoid style that Hofstadter had identified nearly 60 years ago still remains a significant force in American politics.
Even as a prospective presidential candidate, Trump had started to give currency to this propensity. It started with his so-called "birtherism" when President Obama assumed office. Any number of Trump's followers accepted his ugly and baseless claim that Obama was not a natural-born American (and was also secretly a Muslim according to many of them). In an attempt to quell this growing chorus of distrust Obama released his birth certificate from Hawaii.
Sadly, these bizarre views did not subside as the 2016 election campaign went into gear. Instead, they gained greater steam. One of the more absurd such conspiracies held that Hillary Clinton (and by extension, the Democratic Party) was running a child sex and human trafficking ring from the premises of a pizza restaurant in Washington, DC. Despite acquiring considerable traction amongst members of the right-wing media, this episode, popularly referred to as "pizzagate", was bereft of any substance. Nevertheless, it attracted such a substantial following that a man actually drove up from North Carolina and fired a shot inside the restaurant. The owner of the restaurant was also subjected to death threats.
It's widely believed that this conspiracy theory was the forerunner to another, QAnon. This has acquired an even wider following in American politics. Launched on an internet platform in 2017, it asserted that President Trump was engaged in a concerted effort to end a vast, sprawling network ranging from Hollywood elites to high government officials who are involved in global sex trafficking. The anonymous individual who posted this outlandish claim also stated that he was someone who possessed the highest levels of security clearance in the US government. Astonishingly, this theory quickly gained ground as it coursed through the internet and became the fodder of many chat rooms across the country.
The attraction of this grotesque idea amongst members of the lay public was bad enough. More disturbingly, however, it also started to attract support amongst aspiring politicians who either tacitly or even explicitly endorsed the allegation. Few politicians, however, have acquired as much notoriety for their flirtation with this conspiracy theory as Marjorie Taylor Greene, a newly elected representative from the southern state of Georgia.
During her campaign, when QAnon endorsed her, she made little or no effort to distance herself from it. Even after the brutal assault on the two Houses of Congress on January 6 of this year which, amongst others, involved QAnon believers, she refused to promptly disavow any ties with its adherents. Only when faced with censure from her House colleagues and being voted off all committee assignments did she make a lukewarm effort to distance herself from the movement.
She may be the most prominent case of a politician who has traded in this outrageous conspiracy theory. However, she's hardly alone. A host of Republican Congressional candidates from across the country have either endorsed QAnon or have offered varying degrees of support for its twisted claims. Among them is a first-time House member, Lauren Boebert, a restaurant owner and an unrelenting gun rights advocate from Colorado, who has made only half-hearted attempts to distance herself from her initial attraction to QAnon beliefs.
What's striking about the vast majority of QAnon advocates is that they are overwhelmingly if not exclusively white, they are not especially well-educated and have a decidedly right-wing political orientation. Needless to say, when in office, Trump studiously refused to publicly disavow QAnon, thereby granting it a certain stamp of credibility if not legitimacy. Even with him out of office, many of his more avid followers still remain its faithful adherents.
Hofstadter, decades ago, had accurately unearthed a strain in America's political culture that had no moorings in reality. His views have, tragically, proven to be altogether prescient.
<!–
Disclaimer
Views expressed above are the author's own.
–>


END OF ARTICLE
Tina Fey won't talk politics at Sunday's Golden Globes: 'That doesn't seem like a venue for political jokes' – Yahoo Canada Sports
Tina Fey is ready to co-host Sunday evening's 78th Golden Globe Awards. But that doesn't mean the iconic writer and actress is eager to tackle politics in her jokes.
In an interview with Jill Rappaport on her Rappaport to the Rescue podcast, Fey, 50, shared that she and co-host Amy Poehler aren't looking to discuss politics.
"That doesn't seem like a venue for political jokes, thank God," said Fey, who will be live from New York's Rainbow Room, while Poehler will be live from the Beverly Hilton in Beverly Hills. "Amy and I have talked about how we can just make it a fun hang out for people at home — kind of a stress reliever, so I don't think you can expect much politics at all."
Sunday's broadcast will serve as Fey and Poehler's return to the (virtual) Globes stage after several years off from the awards. She and Poehler co-hosted in 2013, 2014 and 2015, but will be taking on a new challenge thanks to the coronavirus pandemic.
"It's been five years and the places we would go, Jill — couture houses, we would meet with the designers, there were muslins, mock-ups and the jewels!" she joked. "Now it's… like 'Nordstrom Rack, what do ya got?'"
Fey also opened up about her upcoming 20th anniversary with husband Jeff Richmond, with whom she has two daughters, Alice, 15, and Penelope, 9.
"Quarantine is a real test of whether you're functioning together as a unit. I think we're good about letting each other have time if we need it," said Fey. Though she claimed she doesn't know "what the secret is" to a successful marriage, she called her husband "generous and kind of spirit."
"The fussier things, like jewelry or flowers or perfume on Valentine's Day, that doesn't mean anything to me. That's not how we operate," said Fey. "I think people talk about what their love language is, and I think our love language is working together and helping each other in the workplace and around the house. Jeff does a lot of cooking, I get up and walk the dogs while he makes coffee. I think we are together almost all the time, even before this pandemic."
Fey went on to say that the family welcomed a second dog during the pandemic, this time a rescue pup. Now, the family has two poodles, Mabel and Teddy, both of whom she credits for helping the family de-stress during challenging times.
"I think like so many people, during the pandemic, we realized we're home a lot, and this would be an opportune time to take a new member of the family in, and so we have been able to be here for all four children of the family so much more," joked Fey, who went on to thank her dog walker. "Both dogs have been a real calming influence in this dark and stressful time, to just be present and sit in a chair with them. And there have truly been times with every member of the family when they've been anxious about something else… Just go sit with Teddy and Mabel, and it'll calm you down. I think that has really been a blessing for all of us."
Fey also used the opportunity to express how grateful she is for her many blessings.
"Like a lot of people who are going through this time feeling tremendous gratitude for what you have, for your health, your home, when people are losing so much, losing loved ones, but also losing their employment and facing food insecurity and so much stress in the world," said Fey. "We're very, very, very grateful for what we have and have been trying to focus on ways to give back and help other people during this time."
Read more from Yahoo Entertainment:
The politics of naming and renaming public spaces in India – Hindustan Times
The politics of naming and renaming public spaces in India
Modi is the first Indian prime minister in office to get a stadium, or any other public place for that matter, named after themselves. If one looks for examples outside India, he is not in great company either
By Ronojoy Sen
UPDATED ON FEB 28, 2021 07:24 PM IST
The renaming of the Motera cricket stadium as the Narendra Modi stadium created a flutter before the India-England Test match. Some saw it a justifiable tribute to the man who is a Gujarati icon, has contributed immensely to Ahmedabad's infrastructure and also headed the state's cricket administration. Others saw it as the hubris and vanity of a leader who allowed a stadium to be named after him during his lifetime.
Naming and renaming of public spaces are a complicated and political business in most countries, especially so in India. After Independence, we saw a flurry of name changes as India sought to physically erase markers of the colonial legacy. In Delhi, names of landmark roads were changed — Kingsway to Rajpath and Queensway to Janpath, for instance.
This was also true in Kolkata, once the second city of the empire, where, over the years, British names were assiduously dispensed with. So Dalhousie Square, named after Governor General Dalhousie, in the heart of the city, was renamed Binoy Badal Dinesh (or BBD) Bagh (or Bag). Numerous other city landmarks were also peremptorily renamed. For instance, the name of Minto Park, named for a former viceroy, was changed to Shaheed Bhagat Singh Udyan. More interestingly, Auckland Square, named after yet another governor-general, was changed to Benjamin Moloise Square after the South African poet.
The internationalist tenor, prompted by India's leadership of newly independent nations, was most pronounced in Delhi where roads were named after now forgotten figures like Benito Juarez. Perhaps the most amusing of the changes was in Kolkata where Harrington Street, where the American consulate is located, was renamed Ho Chi Minh Sarani during the Vietnam War. Some of these names have not stuck, the best example being Rajiv Chowk that replaced Connaught Place.
A similar impetus, but driven more by nativism, was responsible for the renaming of Bombay, Calcutta, Madras, Bangalore and a host of other cities from the mid-1990s. The Shiv Sena's first stint in power in Maharashtra from 1995 also saw an aggressive championing of Marathi icons, most notably Shivaji. Several Mumbai landmarks, including the Victoria Terminus and Prince of Wales Museum, as well as the airport, were renamed after Shivaji. Since the Modi government came to power in 2014, the renaming impulse has been motivated by the erasure of India's Islamic heritage and Muslim rule. Perhaps, the prime example is the renaming of Allahabad to Prayagraj. Others include the renaming of Faizabad district to Ayodhya and Mughalsarai, a major railway junction, to Deen Dayal Upadhyay Nagar after the BJP ideologue and leader. There are more on the anvil, most notably the renaming of Ahmedabad as Karnavati.
If India has gone through bouts of renaming, the act of naming government buildings, projects and schemes has been queered by the Congress hegemony for much of independent India. While every respectable town has at least one road named after Mahatma Gandhi, the Nehru-Gandhi family has reigned supreme. According to an RTI query in 2013, a staggering 12 central and 52 state schemes, 28 sports tournaments and trophies, 19 stadiums, five airports and ports, 98 educational institutions, 51 awards, 15 fellowships, 15 national sanctuaries and parks, 39 hospitals and medical institutions, 37 other institutions, chairs and festivals and 74 roads, buildings and places were named after Jawaharlal Nehru, Indira Gandhi and Rajiv Gandhi. There are many who insist that the renaming of the Ahmedabad cricket stadium must be seen in the context of pushing back at the Nehru-Gandhi legacy.
However, it is more than that. Modi is the first Indian prime minister in office to get a stadium, or any other public place for that matter, named after themselves. If one looks for examples outside India, he is not in great company either.
Whatever the rationale for the renaming, it is ironical that most stadiums in India are named after politicians and administrators, and rarely sportspersons. The renaming of the Ahmedabad stadium, the largest cricket stadium in the world, perpetuated that trend.
Ronojoy Sen is senior research fellow, ISAS & SASP, National University of Singapore
The views expressed are personal