Russia reports 'non-standard' air leak on Space Station – Space Daily
Russia said Tuesday that astronauts had found an air leak in its section of the International Space Station, with a senior space official calling the air loss beyond expected levels.
The crew on the ISS — Russian cosmonauts Anatoly Ivanishin and Ivan Vagner and NASA astronaut Christopher Cassidy — have been searching for the air leak since August, first checking the US segment.
Russia's space agency, Roscosmos, said in a statement that after analysis and a search for the leak "it was established that the spot is located in the Zvezda (star) service module, which contains scientific equipment."
It said a search was now underfoot to pinpoint the exact location, saying the situation "is not dangerous for the life and health of the ISS crew and does not prevent the ISS continuing manned flight."
"It's not critical in the near future," said Sergei Krikalyov, the executive director of Russia's manned space programmes, in a televised comment.
He said the ISS always has slight air loss due to the air purifying system.
"These leaks are predictable. What's happening now is more than the standard leakage and naturally if it lasts a long time, it will require supplies of extra air to the station," he said.
He said the crew were now resting but hoped to find the precise spot and fix the leak on Wednesday.
"That's not for sure," he added, saying there was quite a large area to search.
"We have time. The leak exists of course. It's not good that it's there, but it's not critical," he said.
NASA said that the leak had appeared to grow in size overnight Monday to Tuesday and the crew were awakened by flight controllers to carry out a search.
It was later found that a temperature change had made the leak seem to grow, while the rate of air escaping was "unchanged," the US space agency said.
Previously, astronauts had searched for the source of the leak in the US segment of the station using an ultrasound detector.
The incident comes after astronauts in 2018 found a hole in the wall of a Russian-made Soyuz space capsule docked onto the ISS.
The cause of the hole has not yet been made public.
Three new crew members, Russians Sergei Ryzhikov and Sergei Kud-Sverchkov and NASA astronaut Kate Rubins, are set to arrive in a Russian Soyuz spacecraft due to launch October 14.
Related Links

Space Tourism, Space Transport and Space Exploration News


Thanks for being there;


We need your help. The SpaceDaily news network continues to grow but revenues have never been harder to maintain.

With the rise of Ad Blockers, and Facebook – our traditional revenue sources via quality network advertising continues to decline. And unlike so many other news sites, we don't have a paywall – with those annoying usernames and passwords.

Our news coverage takes time and effort to publish 365 days a year.

If you find our news sites informative and useful then please consider becoming a regular supporter or for now make a one off contribution.


SpaceDaily Monthly Supporter
$5+ Billed Monthly

SpaceDaily Contributor

$5 Billed Once

credit card or paypal



ISS moves to avoid space debris

Washington (AFP) Sept 23, 2020


Astronauts on the International Space Station carried out an "avoidance maneuver" Tuesday to ensure they would not be hit by a piece of debris, said US space agency NASA, urging better management of objects in Earth's orbit.
Russian and US flight controllers worked together during a two-and-a-half-minute operation to adjust the station's orbit and move further away, avoiding collision.
The debris passed within about 1.4 kilometers (nearly one mile) of the ISS, NASA said.
The three crew memb … read more



Guelph reports 17 new coronavirus cases from weekend, active cases at 42 – Global News
Guelph reported 17 new cases of the novel coronavirus on Monday, bringing the city's total to 406.
Monday's data encompasses the entire weekend as active cases rose by 11 to 42, including two people being treated in the hospital.
The city has now seen 353 people recover from the disease, which is six more than Friday's count. Guelph's death toll of 11 has remained unchanged since June.
In one week, Guelph has added 34 cases of COVID-19 and 19 cases have been resolved.
As of Sunday, Guelph's COVID-19 assessment centre has conducted just under 47,000 tests during the pandemic. Over 94 per cent of tests have come back negative, but 2,162 are still pending.
Wellington County added five cases from the weekend, for a total of 120. Five cases are currently active, 113 have been resolved and two people have died.

4:45


How to prepare your child for a COVID-19 nasal swab



Guelph and Wellington County school boards are reporting 10 cases in five schools.
[ Sign up for our Health IQ newsletter for the latest coronavirus updates ]
There are currently no active COVID-19 outbreaks in any of Guelph's or Wellington County's schools and long-term care facilities.
Ontario reported 851 new cases on Monday and six more deaths. That brings the provincial total to 71,224 cases and 3,099 deaths.
Ontario has 295 people hospitalized due to COVID-19, which up by 17 from Sunday. Meanwhile, 60,839 Ontarians have recovered, which is up by 679 from Sunday.
— With files from Global News' Gabby Rodrigues
© 2020 Global News, a division of Corus Entertainment Inc.
These Tiny, Little-Winged Dinosaurs Were Probably Worse at Flying Than Chickens – ScienceAlert
The discovery of two small dinosaurs with bat-like wings a few years ago was a palaeontologist's dream. Just how flight evolved in birds is something we're still trying to nail down, and looking at this early evolution of bat-like wings in dinosaurs could give us a clue.
But a team of researchers has now pointed out that just because you have wings, it doesn't necessarily mean you're actually any good at flying.
Yi qi and Ambopteryx longibrachium are two species of theropod dinosaurs that lived around 160 million years ago, both of which had unusually elongated fingers, and a skin membrane stretching between them, similar to a bat's wing.
This is an entirely different kind of wing to the one theropod dinosaurs evolved to fly with – the dinosaurs that eventually became birds. And, unlike them, after only a few million years, Yi and Ambopteryx became extinct, which is the first hint that these unusual wings could not match those birds-to-be.
However, weird wings on extinct critters mean it's likely multiple types of wings (and therefore flight) evolved over the years, and that Yi and Ambopteryx's attempts were not the winning strategy.
But before you can write off Yi and Ambopteryx as complete evolutionary flight failures, you have to know how good (or bad, as the case may be) the two species were at flight.
In 2015, when Yi was found, that team of researchers suggested that the size of its wings and other flight characteristics could mean it was a gliding creature – however it's unlike any other glider we know of, and its centre of mass might have made even gliding difficult. We just weren't sure.
A new study, by researchers in the US and China, has now looked into the flight potential of Yi and Ambopteryx in a lot more detail, and come to the conclusion that they really weren't good at getting their little feet off the trees they lived in.
"Using laser-stimulated fluorescence imaging, we re-evaluate their anatomy and perform aerodynamic calculations covering flight potential, other wing-based behaviours, and gliding capabilities," the team writes.
"We find that Yi and Ambopteryx were likely arboreal, highly unlikely to have any form of powered flight, and had significant deficiencies in flapping-based locomotion and limited gliding abilities."
The team's analysis of the fossils (Yi pictured below) was able to pick up tiny details in soft-tissue that you can't see with normal light.
Fossil of Yi qi. Look how fluffy it is! (kmkmks/Flickr/CC BY SA 2.0)
Then the team modelled how the dinosaurs might have flown, adjusting for things such as weight, wingspan, and muscle placement (all stuff we can't tell just from the fossils).
The results were… underwhelming.
"They really can't do powered flight," says first author, biologist Thomas Dececchi from Mount Marty University.
"You have to give them extremely generous assumptions in how they can flap their wings. You basically have to model them as the biggest bat, make them the lightest weight, make them flap as fast as a really fast bird, and give them muscles higher than they were likely to have had to cross that threshold. They could glide, but even their gliding wasn't great."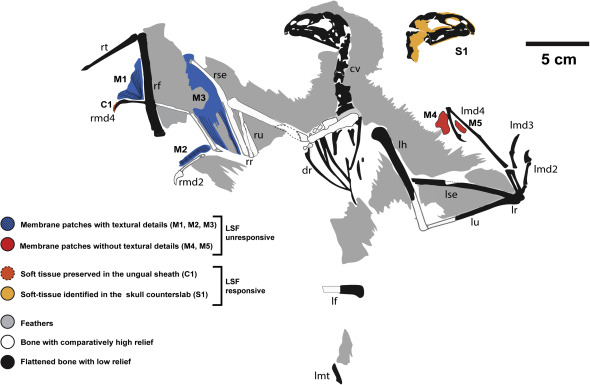 Soft-tissue map of Yi qi. (Dececchi et al., iScience, 2020)
So, according to Dececchi and his team's model, we're looking at flying capabilities considerably worse than a chicken, perhaps worse than the flightless New Zealand parrot, the kakapo, which is also mostly limited to gliding from trees, but can at least flap to control descent.
But although it's a bit sad for the Yi and Ambopteryx, it's good news for us – the findings give even more evidence that dinosaurs evolved flight (or at least tried to) multiple times.
As the team points out, considering all the types of bats, gliders, flying squirrels, and other gliding or flying mammals, maybe it shouldn't be a surprise.
"We propose that this clade was an independent colonisation of the aerial realm for non-avialan theropods. If true, this would represent at least two, but more likely three or more attempts at flight (both powered and gliding) by small pennaraptoran theropods during the Mesozoic," the team writes in their paper.
"Given the large number of independent occurrences of gliding flight within crown mammals, this should perhaps be unsurprising, but it does create a more complex picture of the aerial ecosystem."
Seems like some things don't change much, even in a hundred million years.
The research has been published in iScience.