Russia to host first spacewalk for a tourist outside the ISS – Global News
That's one small step for a billionaire and one giant leap for tourist kind.
Russia is poised to win an unusual leg of the commercial space race after announcing plans to stage the first-ever spacewalk for a tourist outside the International Space Station (ISS).
The Energia space corporation, which is part of Russia's Roscosmos space agency, announced on Thursday that it will conduct the first spacewalk with a private tourist on the ISS in 2023.
The plan is part of a new contract between Energia and Space Adventures, a private U.S. space tourism company with a long track record. The joint venture will send two space tourists to the ISS aboard a Russian Soyuz capsule sometime in 2023.
"We plan that one of the participants of the expedition will do a spacewalk from the Russian segment, together with a professional Russian cosmonaut," Energia said in a statement obtained by the AFP.
Russia and Space Adventures have sent several wealthy tourists into space in the past, including Dennis Tito, the first-ever tourist to visit the ISS. Their newest plan would make someone the first private citizen to set foot outside of the space station.
"A private citizen completing a spacewalk would be another huge step forward in private spaceflight," Eric Anderson, chairman and CEO of Space Adventures, said in a separate statement. "We applaud our colleagues at Energia for working with us to create amazing new adventures in space."
Space Adventures is currently seeking a deep-pocketed adventurer to take this next step in space tourism. The company doesn't list a price tag for the journey on its website, although you probably won't be able to find the necessary cash in your couch.
Tito reportedly paid about US$20 million for his trip into space back in 2001, so it's safe to assume that a spacewalk in 2023 will be somewhere in the eight-figure range.
Space Adventures says the round-trip, orbit-round-the-world experience will include a 16-day stay aboard the ISS with an "unobstructed view of the Earth."
Tourists will have to undergo training in Russia before the flight, with additional time needed for whoever buys the spacewalk experience.
The trip is one of several space tourist missions planned for the next few years. Richard Branson's Virgin Galactic company recently signed a deal with NASA for private space missions, and Elon Musk's SpaceX is preparing to send multiple tourists off-world over the next few years.

1:56


History made as astronauts take private rocket to ISS



Perhaps the most high-profile trip will be SpaceX's plans to send a tourist around the moon on its Big Falcon Rocket in 2023. Japanese billionaire Yusaku Maezawa is slated to make that trip along with several guests for an undisclosed amount.
SpaceX also plans to send three people into space aboard its Crew Dragon craft next year.
The company successfully tested the reusable craft last month, proving that it could be a viable alternative to Russia's Soyuz — the only current way to get to the ISS.
© 2020 Global News, a division of Corus Entertainment Inc.
Here's how to see Comet NEOWISE from anywhere this summer – The Weather Network
Starting in early July, a new comet showed up in the early morning sky, and it looks like it should remain visible in the evening for the rest of the summer.
Comet C/2020 F3 (NEOWISE) was first discovered on March 27, 2020, as it approached the Sun from below the ecliptic plane. Spotted by NASA's NEOWISE space telescope, this comet was found to be on a very long journey. It just spent nearly 3,400 years flying in from the outer edges of our solar system to swing around the Sun!
A computer model of the inner solar system shows the path of Comet C/2020 F3 (NEOWISE). Credit: NASA CNEOS
Now having survived that passage, NEOWISE is flying high above the inner planets on its way back to the outer reaches of the solar system.
Ideally located in space to view from Earth's northern hemisphere, Comet NEOWISE is showing up in the northeastern sky, in the hours just before sunrise.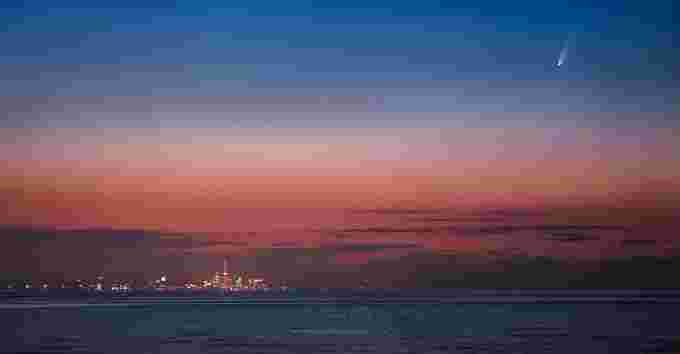 This long-exposure image of Comet C/2020 F3 (NEOWISE) was captured on the morning of July 5, 2020, by Weather Network meteorologist and astrophotographer Kerry-Ann Lecky Hepburn (instagram.com/weatherandsky)
The above image is an idealized view of Comet NEOWISE, of course. According to the astrophotographer who captured it, Weather Network meteorologist Kerry-Ann Lecky Hepburn, the photograph is comprised of several 1-minute exposures. These are all stacked on top of one another using imaging software to enhance the comet's brightness and bring out more of the details of its tail.
According to the Comet Observation Database, C/2020 F3 (NEOWISE) is estimated at being around magnitude 1.2 right now. That is so-called 'naked eye' brightness, and brighter than the stars of the Big Dipper or even Comet Halley during its last pass, back in 1986. Be careful, though. A pinpoint source of light at that brightness, such as a planet or a star, is relatively easy to see, even from light-polluted urban areas. Spotting the diffuse coma and tail of a comet at that brightness is harder, though. This is especially true with light pollution and if the comet is set against the backdrop of a twilit sky.
Responding to a comment on Facebook, Lecky Hepburn said that when she was capturing her long-exposure images, the comet was faint and difficult to see with the unaided eye. She had to use a technique astronomers call 'averted vision'.
If you have ever spotted something out of the corner of your eye in the night sky, but it vanished when you looked directly at it, you have used averted vision.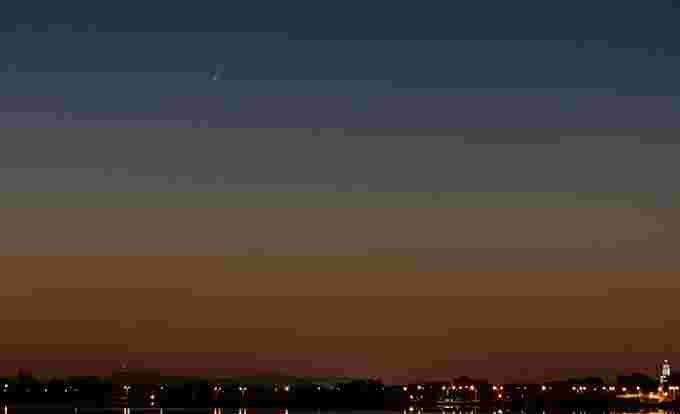 This picture of Comet NEOWISE, from TWN's User Generated Content Gallery, was captured from André-J.-Côté Park, in Candiac, QC, on the morning of July 6. Credit: Stephane Pelletier
Basically, this technique takes advantage of the sensitivity of our peripheral vision to spot objects too dim to see directly. Its effectiveness can vary from person to person, and you may need to take some time for your eyes to adapt to the dark to get the maximum effect. Still, looking off to one side, while keeping your attention focused on the comet's location in the sky, may produce results.
For best viewing, seek out a good rural area to watch from, such as the parking lot of a provincial park. If you have a telescope or binoculars, these will make it easier to see the comet, and using averted vision can still help you to hone in on where it is.
MORNING TO EVENING SHIFT
Although visible in the pre-dawn twilight now, Comet NEOWISE will switch things up a bit in the days and weeks to come.
The location of Comet C/2020 F3 (NEOWISE) in the pre-dawn sky on July 7, 2020. Credit: Stellarium/Scott Sutherland
Starting later this week, as the comet continues to swing up over the inner solar system, it will still be visible in the morning. Evening skywatchers, though, should also see it rise above the northwestern horizon after the Sun has gone down.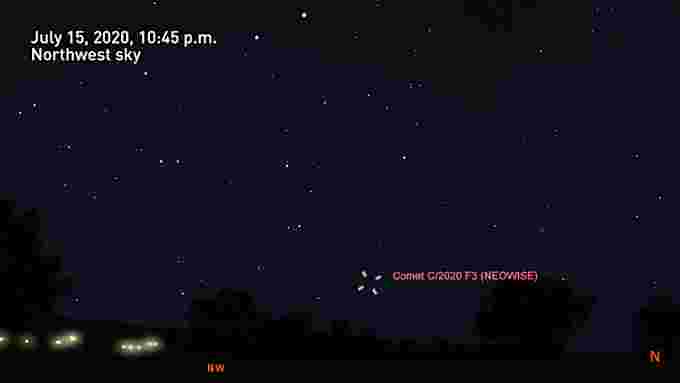 Comet NEOWISE to the north-northwest in the evening sky, around 10:45 p.m. local time. Credit: Stellarium/Scott Sutherland
As an evening comet, NEOWISE should be easier to see against the backdrop of the darker sky. Its brightness will still diminish steadily in the next few weeks, however.
Later this month, and into August and September, the comet will leave the morning behind altogether, and remain visible only during the evening, tracking farther into the western sky, night by night.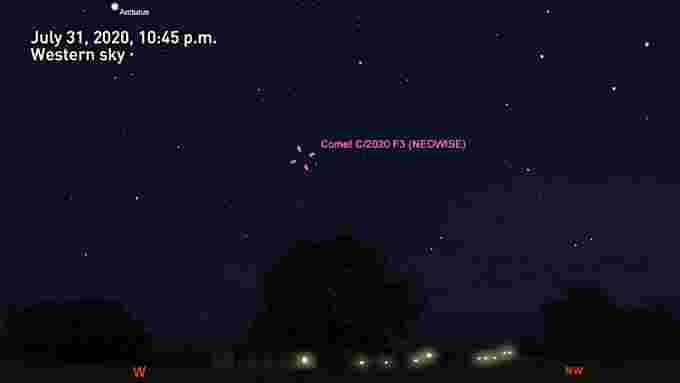 Comet NEOWISE in the western sky, on the night of July 31, 2020. Credit: Stellarium/Scott Sutherland
At the same time, its brightness will continue to dim as it moves farther away. So, a telescope or binoculars are still the best way to view NEOWISE throughout the season.
Sources: weatherandsky | Astronomy | Comet Observation Database | With files from The Weather Network
RELATED: WATCH OVER 3 HOURS OF COMET ATLAS IN UNDER 20 SECONDS
Bears trying to live with people, but it still isn't enough: study – Lethbridge News Now
Grizzly Bear — Canadian Press
By Canadian Press
Jul 07, 2020
EDMONTON — Grizzly bears are doing their best to get along with people, but it still isn't enough.
Newly published research assessing more than 40 years of data concludes that without large wilderness areas to replenish their numbers, the bears would disappear from landscapes they share with humans.
The paper found that bears in populated areas in Alberta and British Columbia have even changed how they hunt, shifting from daytime to more nocturnal activity.
That helps keep more grizzlies alive.
COVID-19: Can London-made preemie treatment help virus patients? Lawson team to find out – London Free Press (Blogs)
Article content
Researchers are testing whether a London-made substance used to treat respiratory distress in preemie babies can help treat lung complications triggered by COVID-19.
Scientists at Lawson Health Research Institute, the medical research arm of London's hospitals, are studying whether London-made bovine lipid extract surfactant suspension (BLES) can improve the outcomes of critically ill COVID-19 patients.
"BLES has been studied in pediatric and adult populations with acute respiratory distress syndrome, and we have found that it improves outcomes in patients with direct lung injury," St. Joseph's Health Care London respirologist Jim Lewis said in a release.
"We have proven this treatment effective in the past, and COVID-19 seems to be another prototypic case that we think will respond well."
Lungs are made up of alveoli, tiny sacs that connect to the blood vessels. The alveoli are where oxygen enters the bloodstream and waste-product carbon dioxide exits.