Russian bombs hit Mariupol art school sheltering civilians, Ukraine says – Global News
Ukrainian authorities said Sunday that Russia's military bombed an art school sheltering some 400 people in the embattled port city of Mariupol, where Ukraine's president said an unrelenting Russian siege would be remembered for centuries to come.
It was the second time in less than a week that city officials reported a public building where residents had taken shelter coming under attack. A bomb hit a Mariupol theater with more than 1,300 believed to be inside on Wednesday, local officials said.
There was no immediate word on casualties from the reported strike on the art school, which The Associated Press could not independently verify. Ukrainian officials have not given an update on the search of the theater since Friday, when they said at least 130 had been rescued.
Mariupol, a strategic port on the Azov Sea, has been under bombardment for at least three weeks and has seen some of the worst horrors of the war in Ukraine. At least 2,300 people have died, some of whom had to be buried in mass graves, and food, water and electricity have run low.
"To do this to a peaceful city, what the occupiers did, is a terror that will be remembered for centuries to come," Ukraine's President Volodymyr Zelenskyy said in his nightly video address to the nation. "The more Russia uses terror against Ukraine, the worse the consequences for it."

3:19


Food supplies shrinking in Ukrainian cities at risk of Russian siege



In recent days, Russian forces have battled their way into the city, cutting it off from the Azov Sea and devastating a massive steel plant. The fall of Mariupol would be an important but costly victory for the Russians, whose advance is largely stalled outside other major cities more than three weeks into the biggest land invasion in Europe since World War II.
In major cities across Ukraine, hundreds of men, women and children have been killed in Russian bombardments, while millions of civilians have raced to underground shelters or fled the country.
In the capital, Kyiv, at least 20 babies carried by Ukrainian surrogate mothers are stuck in a makeshift bomb shelter, waiting for parents to travel into the war zone to pick them up. The infants – some just days old – are being cared for by nurses who cannot leave the shelter because of constant shelling by Russian troops who are trying to encircle the city.
In the hard-hit northeastern city of Sumy, authorities evacuated 71 orphaned babies through a humanitarian corridor, regional governor Dmytro Zhyvytskyy said Sunday. He said the orphans, most of whom need constant medical attention, would be taken to an unspecified foreign country.
Russian shelling killed at least five civilians, including a 9-year-old boy, in Kharkiv, an eastern city that is Ukraine's second-largest.
The British Defense Ministry said Russia's failure to gain control of the skies over Ukraine "has significantly blunted their operational progress," forcing them to rely on stand-off weapons launched from the relative safety of Russian airspace.

2:12


Russia-Ukraine conflict: New fears war could bring global food shortages



A rocket attack on the Black Sea port city of Mykolaiv early Friday killed as many as 40 marines, a Ukrainian military official told The New York Times, making it one of the deadliest single attacks on Ukrainian forces.
In a separate strike, the Russian Defense Ministry said a Kinzhal hypersonic missile hit a Ukrainian fuel depot in Kostiantynivka, a city near Mykolaiv. The Russian military said Saturday that it used a Kinzhal for the first time in combat to destroy an ammunition depot in the Carpathian Mountains in western Ukraine.
Russia has said the Kinzhal, carried by MiG-31 fighter jets, has a range of up to 2,000 kilometers (about 1,250 miles) and flies at 10 times the speed of sound. Pentagon press secretary John Kirby said Saturday that the U.S. couldn't confirm the use of a hypersonic missile in Ukraine.
Konashenkov said Kalibr cruise missiles launched by Russian warships from the Caspian Sea were also involved in the strike on the fuel depot in Kostiantynivka and were used to destroy an armor repair plant in northern Ukraine.
Unexpectedly strong Ukrainian resistance has dashed Russian President Vladimir Putin's hopes for a fast victory after he ordered his troops to invade Ukraine on Feb. 24.
While the Kremlin has said Russia is conducting a "special military operation" aimed at legitimate targets, U.S. Defense Secretary Lloyd Austin said Saturday that "brutal, savage techniques" targeting civilians had allowed Moscow's troops to advance.
U.N. bodies have confirmed more than 847 civilian deaths since the war began, though they concede the actual toll is likely much higher. The U.N. says nearly 3.4 million people have fled Ukraine as refugees.
Estimates of Russian deaths vary widely, but even conservative figures are in the low thousands. The reported battlefield deaths of four Russian generals _ out of an estimated 20 deployed in Ukraine, suggest an impaired command of the fighting, said Dmitry Gorenburg, a researcher on Russia's security at the Virginia-based CNA think tank. Gorenburg said.
Russia would need 800,000 troops – almost equal to its entire active-duty military – to control Ukraine in the face of prolonged armed opposition, according to Michael Clarke, former head of the British-based Royal United Services Institute, a defense think tank.
"Unless the Russians intend to be completely genocidal – they could flatten all the major cities, and Ukrainians will rise up against Russian occupation – there will be just constant guerrilla war," Clarke said.
Ukraine and Russia have held several rounds of negotiations aimed at ending the conflict, but the neighboring countries remain divided over several issues. Zelenskyy has said he is willing to drop Ukraine's bid to join NATO but wants certain security guarantees from Russia. Moscow is pressing for Ukraine's complete demilitarization.
Evacuations from Mariupol and other besieged cities proceeded along eight of 10 humanitarian corridors that Ukraine and Russia agreed to on Saturday, Deputy Prime Minister Iryna Vereshchuk said, and officials said a total of 6,623 people left Kyiv and other cities.
Vereshchuk said planned humanitarian aid for the southern city of Kherson, which Russia seized early in the war, could not be delivered because the trucks were stopped along the way by Russian troops.
Mariupol authorities said Sunday that nearly 40,000 people had left the city in the last week, the vast majority in their own vehicles, despite ongoing air and artillery strikes.
The Mariupol city council claimed Saturday that Russian soldiers had forcibly relocated several thousand city residents, mostly women and children, to Russia. It didn't say where, and AP could not immediately confirm the claim.
Some Russians also have fled their country amid a widespread crackdown on dissent. Since the invasion of Ukraine started, police have arreste
d thousands of antiwar protesters, while government agencies have silenced independent media and cut off access to social media sites like Facebook and Twitter.
In Ukraine, Zelenskyy on Sunday ordered the activities of 11 political parties with links to Russia to be suspended during the period of martial law. The largest of those parties has 44 out of 450 seats in the country's parliament.
"Activities by politicians aimed at discord and collaboration will not succeed," he said in the address.
Associated Press writer Yuras Karmanau in Lviv, Ukraine, and other AP journalists around the world contributed to this report.
© 2022 The Canadian Press
Kapwani Kiwanga To Represent Canada At The 60th International Art Exhibition Of La Biennale di Venezia – Yahoo Canada Finance
OTTAWA, ON, Jan. 26, 2023 /CNW/ – The National Gallery of Canada (NGC) announced today that Kapwani Kiwanga will represent Canada at the 60th International Art Exhibition—La Biennale di Venezia from April 20th to November 24th, 2024. Kiwanga is recognized as one of the country's most acclaimed contemporary artists whose research-driven work is instigated by marginalized or forgotten histories, and articulated across a range of mediums including sculpture, installation, video, and performance. Her presentation in Venice will be curated by Gaëtane Verna, Executive Director, Wexner Center for the Arts.
Angela Cassie, Interim Director & CEO of the National Gallery of Canada, commissioner of the Canada Pavilion in Venice, said: "The NGC is proud to present Kapwani Kiwanga's work for Canada at the 60th International Art Exhibition—La Biennale di Venezia. Widely recognized for her singular approach, Kiwanga's work presents rigorous research in imaginative ways to enable historically excluded narratives to flourish. I would like to congratulate our national jury members in choosing such a timely and provocative voice to represent the vital role and place of Canada in international contemporary art."
The artist was selected by experts in contemporary Canadian art comprised of Daisy Desrosiers, Director and Chief Curator, Gund Gallery at Kenyon College; Heather Igloliorte, Concordia University Research Chair and Co-Director, Indigenous Futures Research Centre; Michelle Jacques, Head of Exhibitions and Collections/Chief Curator, Remai Modern; Adelina Vlas, Head of Curatorial Affairs, The Power Plant Contemporary Art Gallery; and Tania Willard, Assistant Professor of Creative Studies and Visual Arts, University of British Columbia, Okanagan.
The co-chairs for this year's artist selection committee—NGC's Michelle LaVallee, Director, Indigenous Ways and Decolonization, and Jonathan Shaughnessy, Director, Curatorial Initiatives—said: "Kiwanga's interdisciplinary approach to art making has received international attention for its eye-opening investigations into the structures, systems, and narratives underlying today's power asymmetries. The treatment of space for Kiwanga is an artistic gesture. Working across sculpture, mixed-media installation and performance, her projects often pay close attention to the sites in and on which they are exhibited."
Canada Pavilion Curator Gaëtane Verna, Executive Director, Wexner Center for the Arts, added: "Kapwani Kiwanga delves into the archives of the world and conducts in-depth research that is woven elegantly throughout her artworks. She is interested in the role of art as a catalyst for revealing and addressing alternative and often silenced, marginalized socio-political narratives that are part of our shared histories. It is an honour for me to have been invited to curate the Canada Pavilion, in continuous conversation with Kiwanga, and I look forward to supporting her in every aspect of this momentous project in which she will undoubtedly transcend the materials that she will choose to use to transform our own understandings of the world."
The International Art Exhibition of La Biennale di Venezia is the largest and most prestigious contemporary art exhibition in the world with more than 80 participating countries. The exhibitions on view at the Canada Pavilion are commissioned by the National Gallery of Canada and produced in partnership with the Canada Council for the Arts. The Canadian representation in 2024 is made possible through the National Gallery of Canada Foundation.
For more than 60 years, the Canada Pavilion, situated in the Giardini in Venice, has featured the work of the most accomplished Canadian artists, curated by the country's most renowned curators. Canada's representation at the international exhibition has played a part in shaping the role and place of Canadian contemporary art within international circles, helping to launch or elevate the international careers of many of the country's most celebrated artists including Jean-Paul Riopelle, Michael Snow, Geneviève Cadieux, Janet Cardiff & George Bures Miller, Rebecca Belmore, David Altmejd, Shary Boyle, BGL, Geoffrey Farmer, Isuma, and, in 2022, Stan Douglas.
Social Media
Facebook: @nationalgallerycanada

Twitter: @NatGalleryCan | #BiennaleArte2024 | #CanadaPavilion

Instagram: @NatGalleryCan | #CanadaPavilion
About Kapwani Kiwanga

Kapwani Kiwanga (b. 1978, Canada) is a Canadian and French artist based in Paris. Kiwanga studied Anthropology and Comparative Religion at McGill University in Montreal, Art at l'école des Beaux-Arts de Paris and at Le Fresnoy—Studio national des arts contemporains in Tourcoing. In 2022, Kiwanga received the Zurich Art Prize (CH). She was also the winner of the Marcel Duchamp Prize (FR) in 2020, Frieze Artist Award (USA) and the Sobey Art Award (CA) in 2018. Solo exhibitions include Museum Haus Konstruktiv, Zurich (CH); New Museum, New York (USA); State of Concept, Athens (GR); Moody Center for the Arts, Houston (USA); Haus der Kunst, Munich (DE); Kunsthaus Pasquart, Biel/Bienne (CHE); MIT List Visual Arts Center, Cambridge (USA); Esker Foundation, Calgary (CA); Power Plant, Toronto (CA); Logan Center for the Arts, Chicago (USA); South London Gallery, London (UK) and Jeu de Paume, Paris (FR) among others.
About the National Gallery of Canada
Ankosé — Everything is Connected — Tout est relié

The National Gallery of Canada is dedicated to amplifying voices through art and extending the reach and breadth of its collection, exhibitions program, and public activities to represent all Canadians, while centring Indigenous ways of knowing and being. Ankosé—an Anishinaabemowin word that means Everything is Connected—reflects the Gallery's mission to create dynamic experiences that open hearts and minds, and allow for new ways of seeing ourselves, one another, and our diverse histories, through the visual arts. The NGC is home to a rich contemporary Indigenous international art collection, as well as important collections of historical and contemporary Canadian and European Art from the 14th to 21st centuries. Founded in 1880, the National Gallery of Canada has played a key role in Canadian culture for more than a century.
To find out more about the Gallery's programming and activities visit gallery.ca and follow us on Twitter, Facebook, YouTube and Instagram. #Ankose #EverythingIsConnected #ToutEstRelié.
About the National Gallery of Canada Foundation

The National Gallery of Canada Foundation is dedicated to supporting the National Gallery of Canada in fulfilling its mandate. By fostering strong philanthropic partnerships, the Foundation provides the Gallery with the additional financial support required to lead Canada's visual arts community locally, nationally and internationally. The blend of public support and private philanthropy empowers the Gallery to preserve and interpret Canada's visual arts heritage. The Foundation welcomes present and deferred gifts for special projects and endowments. To learn more about the National Gallery of Canada Foundation, visit ngcfoundation.ca and follow us on LinkedIn.
About the Canada Council for the Arts

The Canada Council for the Arts is Canada's public arts funder. The mandate of the Canada Council is to "foster and promote the study and enjoyment of, and the production of works in, the arts." The investments made by the Canada Council contribute to greater engagement in the arts among international audiences and within Canada.
SOURCE National Gallery of Canada
View original content to download multimedia: http://www.newswire.ca/en/releases/archive/January2023/26/c3061.html
Hunter Biden's art dealer praises first son, says his perspective is 'very much needed' as probes heat up – Fox News
FIRST ON FOX: Hunter Biden's art dealer said Thursday that the first son "will become one of the most consequential artists in this century" as House Republicans demand more information from the New York City gallery owner as part of their wider investigation into the Biden family.
"This week the Chairman of the House Committee on Reform & Oversight of the 118th Congress of the United States of America issued a letter to the Georges Bergès Gallery with certain requests," Georges Bergès told Fox News Digital in an email.
"At the moment I cannot comment and I will refer you to my legal counsel, but know that my singular focus has always been, and will continue to be, the integrity of our artists and the privacy of our art collectors," he said.
Fox News Digital reported Wednesday that Rep. James Comer, R-Ky., chairman of the House Committee on Oversight and Accountability, sent a letter to Bergès demanding he turn over all communications between his gallery and the White House related to a reported deal to withhold all records of the prices and final buyers for Biden's art.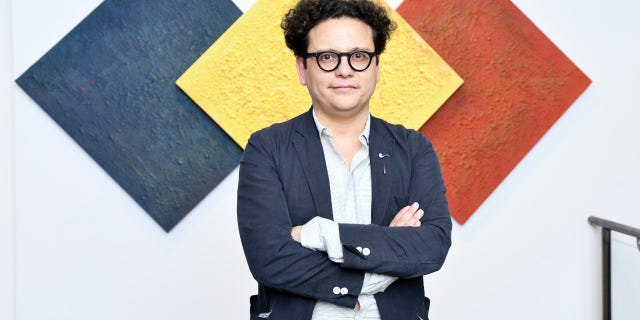 REP. COMER VOWS TO PROBE HUNTER BIDEN'S ART SALES, DEALER'S CHINA CONNECTIONS: 'IT IS DEEPLY CONCERNING'
"You have advertised that Hunter Biden's latest artwork ranges in price from $55,000 to $225,000. It is concerning that President Biden's son is the recipient of anonymous, high-dollar transactions — potentially from foreign buyers — with no accountability or oversight (other than you)," Comer wrote to Bergès. "The American people deserve transparency regarding certain details about Hunter Biden's expensive art transactions. We believe you possess important information related to this investigation."
Bergès defended Hunter Biden's art in a statement to Fox News Digital, saying the embattled first son has a "personal narrative" to tell through his art.
"Almost 10 years ago I opened a gallery that has a global perspective on the human experience and that seeks to find artists who I feel will be consequential not just in the art world but in the broader culture," he said. "Artists that are relevant to the times, not to esoteric circles where art and exhibitions come and go unnoticed by society, by the people, by culture, but relevant innovative artists and exhibitions that challenge us, and engage us."
"I represent Hunter Biden because I feel that not only his art merits my representation, but because his personal narrative, which gives birth to his art, is very much needed in the world," Bergès continued. "His is a story of perseverance; Hunter's story reflects what I believe is the beauty of humanity, judged not by the fall, but by having the strength to rise up, by having the character required to change and the courage to do it. Hunter Biden's art reflects all of that and more. His art gives us hope; it reminds us that tomorrow brings a new day, a new beginning, a new possibility."
"Hunter Biden will become one of the most consequential artists in this century because the world needs his art now more than ever," he added. "In a world that beats us down, we need art in our lives that reminds of the unrelenting divinity within each of us."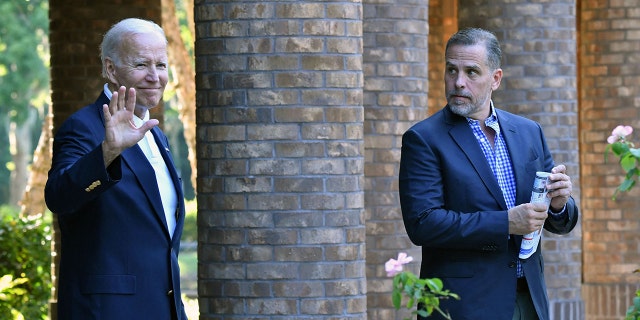 HUNTER BIDEN, CHINA, CLASSIFIED DOCUMENTS: MYSTERY SWIRLS AROUND PENN BIDEN CENTER
Fox News Digital previously reported that Bergès has long-standing ties to China and said in 2015 that he wanted to be the art world's "lead guy in China."
Comer responded to that comment on Wednesday, telling Fox News Digital that "foreign adversaries, including China, have used transactions involving sham art sales to launder money and evade sanctions imposed by the United States."
"For decades, Hunter Biden has peddled influence and access to his father and engaged in shady business dealings with foreign adversaries around the world," Comer said. "Given Hunter's history of suspicious activity, it is deeply concerning that the President's son continues to sell his amateur artwork to anonymous purchasers for sky-high prices."
"Hunter's art dealer, Bergès, has also made it clear that he intends to be the 'lead guy' in China for art," he continued. "Why would anyone pay Hunter top dollar for items that are arguably worthless? He's no Pablo Picasso. As Chairman of the House Oversight Committee, I will continue to push for transparency and answers for the American people to get to the bottom of who is buying Hunter's art."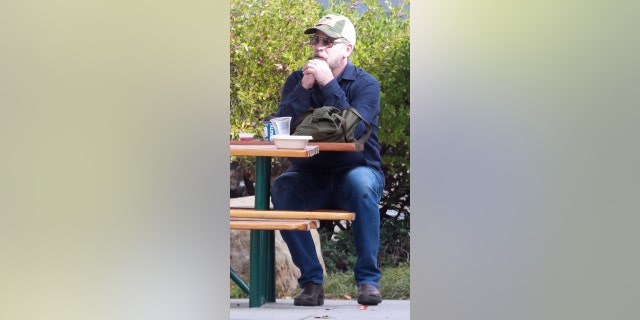 PSAKI DEFENDS HUNTER BIDEN'S PARTICIPATION IN ART SHOWS: 'NO SCENARIO' IN WHICH BUYERS CAN 'PROVIDE INFLUENCE'
Republican Reps. Lauren Boebert of Colorado, Paul Gosar of Arizona and Clay Higgins of Louisiana, all members of the House Oversight Committee, said they strongly support probing Hunter Biden's art sales.
"Hunter Biden's finger paintings clearly aren't worth $500,000 per piece," Boebert told Fox News Digital. "His clients weren't buying art, they were buying access. Who these buyers were and what access they received is something the American people absolutely deserve to know — especially if it turns out the art was being bought from Georges Bergès' friends in the CCP."
HUNTER BIDEN INTERVIEW GOES OFF THE RAILS AS HOST SAYS HIS 'HANDS WERE TIED' FROM ASKING POLITICAL QUESTIONS
"I strongly support investigating what appears to be open and notorious corruption and possible bribery of Joe Biden through transparently thin payments for no show jobs, amateur 'art' and other money laundering tactics," Gosar told Fox News Digital. "The integrity of our government is too important to let Ukraine or China openly bribe our elected officials via a ruse with payments to Biden family members."
"We're going to investigate everyone involved with the Biden crime family," Higgins said. "We are looking into the 148 suspicious activity reports issued by federally insured banks, money laundering, and corrupt interactions with China. Oversight investigations will reveal deep, uncomfortable truths. If someone goes to jail, then so be it."
The gallery's website says it is currently "under maintenance," and Hunter Biden's webpage was deleted in recent days.
CLICK HERE TO GET THE FOX NEWS APP
As recently as Jan. 17, Hunter Biden's page on the gallery's website read, "A lawyer by profession, Hunter Biden now devotes his energies to the creative arts, bringing innumerable experiences to bear. The results are powerful and impactful paintings ranging from photogenic to mixed media to the abstract. His chosen substrates are canvas, YUPO paper, wood, and metal on which he affixes oil, acrylic, ink along with the written word; all of which creates a unique experience that has become his signature."
Now, the page reads, "404 not found."
Kapwani Kiwanga to represent Canada at 60th Venice Biennale
Kapwani Kiwanga, the Ontario-born artist who lives and works in France, will represent Canada at the 60th Venice Biennale, the National Gallery of Canada announced Thursday.
Kiwanga will create work for the Canada Pavilion in the Biennale's Giardini park where the international art exhibition opens April 20, 2024. Her participation will be curated by Gaetane Verna, former director of Toronto's Power Plant and now director the Wexner Center for the Arts at Ohio State University.
Kiwanga, who grew up in Brantford, Ont., and studied anthropology at McGill University before moving to France for graduate studies in art, is based in Paris. Born in Hamilton, she is of Tanzanian and Scottish ancestry.
Starting with social and historical research, she uses video, performance, sculpture and especially installation to look at power structures and colonialism. She has created installations that investigate the manipulative elements of prison architecture; in another major series, she has recreated the floral arrangements that can be seen in the 20th-century photographs of independence ceremonies or military parades in African nations.
In the Giardini, she will be provided with a strong backdrop for her themes: The park features national pavilions for all the traditional colonial powers. The Canada Pavilion, a shell-shaped modernist wood-and-glass structure built in 1958 and renovated in 2018, is a small building sandwiched between the larger German, British and French pavilions.
Kiwanga, who was chosen by a panel of Canadian and U.S. curators assembled by the National Gallery, is already an international star. In 2020, she was awarded the Prix Marcel Duchamp, France's top art prize, and in 2018 she won Canada's Sobey Award for an emerging artist.
She has exhibited widely in Europe and, in February, the Museum of Contemporary Art Toronto will unveil the first major survey of her work in Canada. That exhibition will feature five new commissions as part of her research into the politics of botany.
In Venice, the 60th Biennale will continue to Nov. 24, 2024.