Russia's Economy Set to Face Old Problems in New Year – The Moscow Times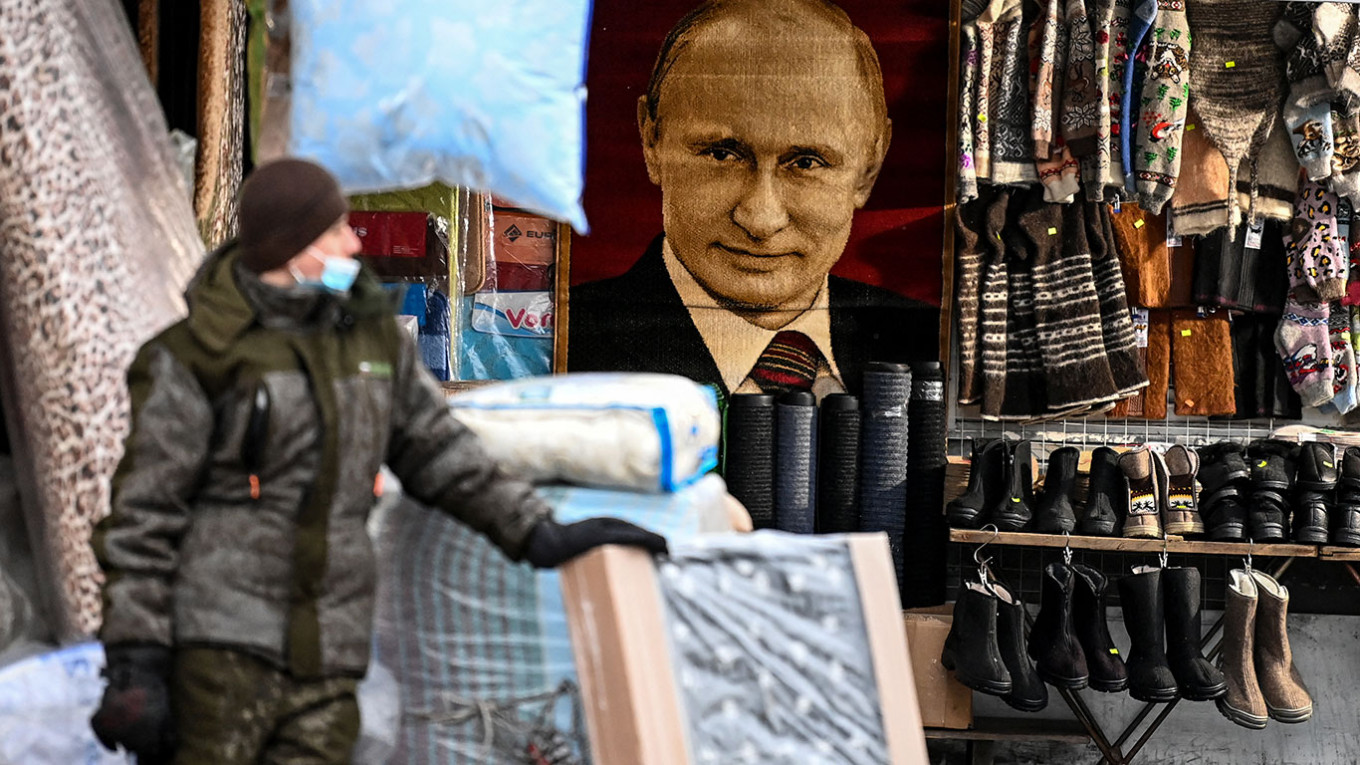 The Russian economy is set to revert to its pre-coronavirus pattern of sluggish growth, weak investment and underwhelming living standards in 2022, economists predict, as the Kremlin re-embraces austerity after the initial impact of the Covid-19 pandemic.
While other countries have used the pandemic to overhaul their economic policies, launch ambitious investment projects or accelerate the green transition, Russia's approach has been to get back to business-as-usual as soon as possible, seeing the fallout from the coronavirus as vindication of its stability-over-growth model, and will now double down on its ultra-conservative policies.
That means strong government finances and more pulling back from the global economy, resulting in lower growth and continued pressure on households, economists say.
"The authorities learned that their policy has worked — as far as they're concerned. The 'Fortress Russia' approach has served them well and they probably can pat themselves on the back for that," said Elina Ribakova, deputy chief economist at the Institute of International Finance (IIF) in Washington, D.C.
"Now, they are very focused on the macroeconomic situation, stability and their conservative policies. In turn, they've somewhat given up on regional policies and the policies of providing better quality services to people," she added.
A return to austerity is reflected most clearly by independent forecasters' predictions for meagre economic growth in the coming years.
The World Bank estimates Russia's growth potential — a key indicator of how fast an economy can expand in normal times and which is seen as the best predictor of long-term prosperity — at below 2% a year.
"Russia still faces the challenge of raising its long-term growth rates … in large part, the constraints that were there prior to the pandemic remain," said David Knight, the World Bank's lead economist for Russia.
The list of those constraints is long. It includes "adverse demographics, structural economic bottlenecks, a lack of far-reaching reform to diversify from the oil and gas sector's dominant role in the economy, weak governance … high vulnerability to geopolitical risk … weak physical infrastructure, high income inequality and inefficient social safety nets," according to Scope Ratings analyst Levon Kameryan.
Budget tightening
The government's official tax and spending plans for the next three years, which passed through parliament in December, are a decent indication of how it looks set to approach the constraints and tackle the "dilemma between supporting higher growth and fiscal stability," according to Sova Capital's Artem Zaigrin.
The government has said it is targeting a significant budget surplus in 2022 of around 1% of GDP — or $15 billion. In other words, a return to savings.
That will further shore up Russia's already impressive macroeconomic fundamentals.
Public debt is extremely low, at around 18% of GDP — and 80% of that is denominated in rubles, a form of protection should Moscow be hit with sanctions blocking its access to international financial markets. The current account — a measure of how much cash is flowing into Russia from the rest of the world — is set to come in at a record $125 billion in 2021.
That has helped the country's international reserves surge by $40 billion over the last 12 months to stand above $620 billion at the Central Bank's last count.
Proponents of a more growth-focused agenda will point to that expansion as yet more cash that could be put to work boosting growth and improving living standards — a criticism also thrown at Russia's conservative economic framework ahead of the pandemic.
But that does not mean nothing has changed in the Kremlin's approach to running the economy, says IIF's Ribakova. She sees a move towards a much more short-term agenda over the last two years, where quick fixes such as higher benefit payments, one-off bonuses, or wage increases for public sector workers have been accepted as the main tool to support the economy, as opposed to the vast public investment programs which were once meant to haul Russia's economy and outdated infrastructure into the modern age.
"I have even less hope that the national projects will boost GDP than before the pandemic," Ribakova said, referring to the government's ambitious $400-billion investment program.
"Some people were adding as much as two percentage points in annual GDP growth to their medium-term outlook — I don't have hope for that anymore," she added.
Ribakova says the government has realised "the limits of how much a centralized system can deliver productivity growth," and could be cooling on the ambitious $400-billion investment program.
The national project plans, which cover everything from new roads, railways and bridges to housing renovation and healthcare improvements, were already falling behind schedule before the coronavirus hit. Now, with labor shortages, rising global commodies prices and a need to focus on more timely problems, like providing hospital beds and encouraging vaccination uptake, such longer-term projects could fall further down the Kremlin's list of priorities.
"The best you can do is preserve macroeconomic stability and not waste money. If you can't control implementation of the national projects from the center — which is very hard to do — then you might as well save the money. Basically, they worry about the fact that the money will be mismanaged, so you might as well save it," Ribakova said.
Inflation risk
Sova Capital's Zaigrin predicted that stricter rules on how much the government can tap into its sovereign wealth fund after years of underspending mean much of the investment obligation is likely to be placed on state-owned firms.
Energy majors like Gazprom and Rosneft will be expected to pour their billions of dollars of profits into building infrastructure around their crucial production sites and self funding ambitious new projects like a possible new gas link to China and Rosneft's vast Arctic oil plans.
That makes Russia's economic fortunes in any given year trickier to predict. A surprise wage increase for public sector workers, or cash handout for pensioners — such as Putin announced ahead of parliamentary elections — could deliver a shot in the arm to a flagging economy and boost growth rates. But it won't do much to address the long list of medium-term problems.
Nor would it help in Russia's ongoing battle with inflation. Despite early warnings in 2021 from governor Elvira Nabiullina that inflation was unlikely to be a passing trend, even the Central Bank has been caught out by how "sticky" inflation has proved to be.
That remains the "key macroeconomic risk," going into 2021, said Ribakova.
Surging prices, too, have highlighted a key flaw in the government's approach of prioritizing stability from international shocks over long-term growth and prosperity — rising public discontent.
High prices are routinely cited by Russians as the number one problem facing the country, and living standards are still down by around 10% compared to 2013. Putin has said the country needs to see real wage increases of at least 2.5% a year.
With inflation above 8% that means significant nominal pay rises across the country — something which raises the prospect of an inflation-wage spiral and could even undermine, or force a rethink of the government's stability-first approach.
"​​Inflationary pressures are likely affecting the government's popularity, which could lead to a revision of the conservative guidance and lead to more funds being used to maintain and improve living standards," said Sova Capital's Zaigrin.
Venezuela Holds Rare Call With Bondholders as Economy Recovers – BNN
(Bloomberg) — Venezuela's government is making a fresh attempt to open channels with international investors, presenting potential deals in the oil and tourism sectors and talking up new economic growth data.
Advisers, led by top economic aide Patricio Rivera, held an hour-long call on Wednesday with at least two dozen bondholders and fund managers from the U.S. and Europe, according to four people with direct knowledge of the conversation. The call was organized by the Venezuela Spain Chamber of Industry and Commerce.
Rivera, a former Ecuadorian Finance minister who is spearheading reforms aimed at liberalizing Venezuela's economy, briefed the investors on policy shifts and the government's commitment to become more market friendly, the people said. He also said the government was open for investments in several sectors, from oil and minerals to tourism, the people said.
Rivera did not respond to a request for comment.
Venezuela has had limited contact with debt holders since it defaulted on bonds in 2017. It owes at least $60 billion plus interest on those defaulted notes. The call comes as the country breaks a seven-year recession, posting economic growth of 7.6% in the third quarter of 2021, according to preliminary data, and as it exits a four-year bout of hyperinflation.
Despite the new outreach, Venezuela remains under U.S. economic sanctions that pose an important roadblock to American bondholders.
©2022 Bloomberg L.P.
Xi resets policy priorities to boost economy – The Tribune India
China's Central Economic Work Conference (CEWC), held at Beijing from December 8 to 10, 2021, decided that all stakeholders should work actively to maintain stability in the macro-economy in view of new challenges as the country holds the Winter Olympics from February 4 to 20, 2022, and the 20th Congress of the Communist Party of China (CPC) later this year. What made the economic planners to rethink the policy direction was the sharp dip in China's GDP growth rate from 18.3% in Quarter 1 of 2021 to 7.9% in Q2, 4.9% in Q3 and 4% in Q4.
Structural changes ordered by President Xi Jinping such as reducing loans to the real estate sector, lower emission targets resulting in power cuts and the zero tolerance to Covid-19 had played an important role in decelerating the economic growth. Xi is personally involved in directing the real estate policies as he considers the unchecked growth of this sector as posing a threat to China's economic stability.
New measures undertaken by the Xi regime included severe restrictions on giving bank loans, allow hugely indebted developers to default to rein in large unproductive expenditure and announcement of a property tax on a trial basis in certain provinces to discourage the purchase of multiple properties to curb speculation. Given that the real estate sector accounts for 29% of the Chinese economy, these measures, according to some economists, may reduce China's GDP growth by about 0.5% in 2022 and thereafter. These restrictions have strained the local government's finances, as selling land is an important source of revenue. Several local governments slashed the salaries of their staff, weakening the consumption.
In the last two years, China has undertaken several measures to reduce its greenhouse emissions, including controlling of its coal-fired power plants to meet its targets of peaking carbon dioxide emissions by 2030, lower the carbon dioxide emissions per unit of GDP by over 65% (from 2005 level) by 2030, increase the share of non-fossil fuels and forest stock. Decrease in power generation by coal-fired plants and rationing since September 2021 disrupted industrial production in many provinces as several industries were forced to cut production and reduce jobs. Recurrent outbreaks of Covid in some areas and China's zero tolerance approach again forced several businesses to close and confined about 20 million people at home. The working of several companies in technology, education and gaming sectors was adversely impacted due to the regulatory actions, resulting in lower earnings and loss of jobs.
At the CEWC, it was felt that new external challenges had arisen as President Biden had not only continued the policies of his predecessor but also taken a harder line with his allies towards China. The Comprehensive Investment Agreement with the EU had remained frozen and China's relations with Australia and Japan had deteriorated. These countries had become more vociferous in criticism of China's human rights record and applied a number of sanctions against the Chinese companies and individuals for investments and exports. Several Chinese leaders appeared nervous about the slowing of economic growth in 2022 as Xi is expected to seek an unprecedented third term as President. They advised him that priority should shift to maintaining growth and stability so that the Chinese economy could convey a picture of strength.
Amid deterioration in China's external environment, the conference identified securing supplies of primary products such as food, soybean, minerals and energy as a priority to prepare for the post-Covid world. "The Chinese people's rice bowl must be firmly held in their own hands at all times," Xi emphasised. He underlined the need to establish a strategic materials reserve to secure minimum needs at critical moments and work on a comprehensive conservation strategy. Other four priorities agreed were "common prosperity, capital regulation, defusing major financial risks and carbon neutrality. Concerns were expressed at the high level of unemployment among the migrants, the youth and possible outflow of foreign exchange as the US dollar strengthened following rise in the interest rates.
In view of these reasons, it was agreed that the government would have to give bigger policy support to the economy. China's central bank had also conveyed dovish signals, cutting the reserve requirement ratio to the banks in a departure from central banks in the developed countries. Though the policymakers remained committed to structural reforms, it was agreed to slow down the regulatory crackdown and provide targeted support to SMEs, first time homebuyers, more funding for technology innovation and green investments.
China's foreign trade made impressive gains in 2021, reaching $6.05 trillion as it functioned as a supply house to the rest of the Covid-stricken world. Trade with the US soared by 28.7% ($755.6 billion) and India by 43.3% (total $125.66 billion, Indian exports $28.14 billion, imports $97.52 billion). The increased global demand was chiefly responsible for 8.1% growth of China's economy in 2021.
Chinese leaders are worried that external demand may not sustain as other major economies come out of Covid and start exporting this year. Consumption in China has not moved beyond 55% of the GDP (54.3% in 2020) in recent years due to the saving habits of the Chinese people for expenditure on health, education and old age. The government is, therefore, forced time and again to resort to big investments to drive up the growth rates.
It is now trying to increase investments in research and innovation (its R&D expenditure reached 2.4% of GDP in 2020), adoption of intelligent technologies and digital economy. While these technologies will yield efficiencies and mitigate to some extent the adverse impact of declining workforce, these will not lessen the latter's adverse impact on lowering consumption. China will, therefore, be forced to accept sub-5% economic growth in the coming years as it rebalances its economy away from non-productive expenditures and starts experiencing the negative effects of population decline.
The so-called 'gig economy' is on the rise — here's what that means for Alberta workers – CBC.ca
They're the people who pick you up in an Uber or deliver groceries to your door — so-called gig workers, referred to as "independent contractors" by the companies for which they work — and across Canada, there's an ongoing debate about the future of their industry.
Last month, a report from the Ontario Workforce Recovery Advisory Committee recommended that those who work in the "gig economy" — for example, working for apps such as Uber and Skip The Dishes — should be guaranteed a minimum wage, along with some other protections.
No exact analog to that committee currently exists in Alberta. A spokesperson for Tyler Shandro, Alberta's minister of labour and immigration, said the provincial government's primary commitment is to support workers as the economy continues to recover.
"Alberta's government continues to monitor the gig economy, as it is an evolving sector with unique needs," said Joseph Dow in an email.
According to a study released by Statistics Canada in 2019, around eight per cent of all workers in Canada participated in gig work in 2016, up from 5.5 per cent in 2005.
Efforts to update laws around how gig workers are paid and what benefits they are entitled to has been a contentious issue over the past few years.
During the last federal election campaign, Conservative Leader Erin O'Toole said that the 1.7 million Canadians working in the gig economy were "left behind" during the pandemic.
An Alberta labour leader says despite the same issues existing for those participating in Alberta's gig economy — low wages, insecurity and lack of benefits — no conversation is being had provincially about the supports available for these workers.
"I'm profoundly concerned about the shift towards gig work," said Gil McGowan, president of the Alberta Federation of Labour.
"It's bad for individual workers. But I would argue that it's just as bad for the economy, because when people are faced with that kind of insecurity, they can't participate in the economy in the same way as workers in other sectors."
Brandon Mundy is a delivery worker with Instacart, a grocery delivery service.
He previously delivered with food delivery platform DoorDash, but said he stopped working for that service due to long periods of delays between orders.
"It can get incredibly competitive these days, because of how saturated the delivery driver industry is right now," he said.
Even though Mundy said he tends to make more working with Instacart, he's noticed smaller payouts recently. Plus, he's been putting significant wear and tear on his vehicle.
"I would sure hope [Alberta] introduces support for gig workers," Mundy said. "Especially with how popular it is now, especially through COVID."
Efforts to unionize and departures of platforms
Those gig workers completing tasks for apps like Uber and Lyft are considered independent contractors by the companies.
Therefore, the company isn't obliged to pay minimum wage or other protections — but that is a "smoke screen," said Jim Stanford, economist and director of the Vancouver-based Centre for Future Work.
"Courts and labour regulators in many countries around the world are recognizing that and saying, no, just because you assign the work over a smartphone doesn't mean they're not your effective employee," Stanford said.
Uber Canada previously referred CBC News to a proposal that would provide a benefit fund to workers, adding that the company attempts to prioritize "what drivers and delivery people want: flexibility plus benefits."
Efforts by workers to secure more benefits have also led to certain app-based platforms reconsidering their availability within Canada.
In 2020, food delivery service Foodora announced it would leave Canada in the wake of workers attempting to unionize.
Stanford said such moves suggested that business models of gig platforms depended on the "exploitation of gig workers."
"That should really be a warning sign for us that this is not a business model that we should encourage in Canada. We have to make sure that they're subject to the same rules and responsibilities as any other employer," he said.
"Otherwise, this cancer, which is spreading through the labour market, will continue to undermine wages and working conditions in all kinds of industries."
Ontario's recent proposal did not include everything the union-backed group Gig Workers United called for, including for gig workers to receive full employee protections.
In early December, the European Union announced draft legislation that would provide employee rights to gig economy workers, a move that would affect millions of workers.