Ryan, Falcons avenge earlier loss to Panthers – TSN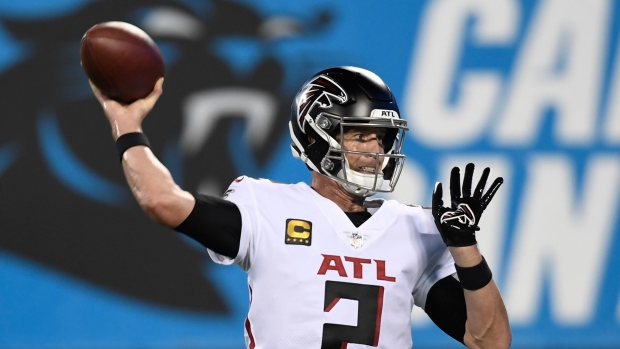 CHARLOTTE, N.C. — This time, the Atlanta Falcons finished.
Matt Ryan threw for 281 yards and ran for a touchdown, Younghoe Koo made four field goals and the Atlanta Falcons held on to beat the Carolina Panthers 25-17 on Thursday night behind a strong defensive performance to avoid a series season sweep.
The Falcons (2-6) have had a penchant for squandering leads, coming into the game 1-3 when leading entering the fourth quarter. Carolina was driving late, but Atlanta stopped the rally when Blidi Wreh-Wilson intercepted Teddy Bridgewater near the Falcons' 10-yard line with 1:04 remaining.
"That's what we've been talking about, ending games with either sacks or interceptions and the guys went out today and did exactly that," Falcons coach Raheem Morris. "The ball went up in the air and Blidi came down with it and it was awesome."
Todd Gurley grinded out 46 yards rushing and a touchdown, Julio Jones added 137 yards receiving against a banged-up Panthers secondary and the Falcons defence limited the Panthers to 2 of 10 on third down conversions to improve to 2-1 since Morris replaced Dan Quinn as head coach.
Panthers coach Matt Rhule said it felt like Bridgewater was constantly under duress.
"We had a hard time blocking their front," Rhule said. "We weren't able to get our receivers involved. We were 2 of 10 on third downs and we can't live like that."
Bridgewater tried to spur Carolina to a comeback in front of a sparse crowd of 5,240 due to COVID-19 after Koo missed an extra point that would have made it a two-possession game.
Bridgewater, who was knocked out of the game for two possessions with a neck injury following a late hit by Charles Harris — one that resulted in him being ejected — took over with the Panthers down by eight points with less than 3 minutes to play. He completed a 35-yard strike to D.J. Moore on third and 18 to move the Panthers into Falcons territory. But his final pass was easily picked.
Bridgewater was limited to 176 yards passing as the Panthers (3-5) lost their third straight game without injured Christian McCaffrey.
"I don't think any of us played real well tonight," Rhule said of Bridgewater's performance.
Said Bridgewater: "Tough loss and we have to find ways to finish the game. That can't be the common thing around here — coming up short."
The Falcons avenged a 23-16 loss to Carolina 18 days ago in which Bridgewater threw for 313 yards and two scores and Mike Davis piled up 149 yards rushing. Davis was held to 77 yards this time on a wet field where players routinely swapped cleats to adapt to the changing conditions.
But Jones didn't play in the first meeting.
He was a huge difference in this one, setting the tone by hauling in catches two catches for 52 yards on the game's first two plays. Playing against a Panthers secondary that was already without two starters and lost another when Donte Jackson reinjured his toe in the first half, proved to be easy pickings for Jones.
"It's fun, no question about it," Ryan said of having Jones in the lineup. "The way we started the game is when we're at our best, play-action pass. I hope it's the start of something. I really feel like, although we're 2-6, we've been in some tight ones."
SAMUEL'S BIG DAY
The Panthers had opened a 14-6 lead in the second quarter when Bridgewater found Curtis Samuel for a 29-yard touchdown pass on a well set up flea flicker. It was Samuel's second TD of the half, scoring earlier on a 12-yard run up the middle to give Carolina its first lead.
The 24-year-old Samuel has three career games with a TD rushing and receiving, which trails only Jerry Rice (5) among wide receivers in the Super Bowl era.
RYAN'S RUN
Ryan said he wasn't sure if he would get to the end zone on a 13-yard TD run in the first half but knew he had a chance when cornerback Troy Pride slipped while trying to chase him down.
"Just fast enough," Ryan said. "I feel like I've always been that way throughout my career, just fast enough to make them pay sometimes on third downs. It was a big score for us there. We really needed it."
When asked about the reactions of his teammates, Ryan said, "I can't tell if they're laughing at me or just having a good time and excited for it."
INJURIES
Falcons: Wide receiver Calvin Ridley left the game in the second quarter with an ankle injury after making a reception in the red zone and did not return. Morris offered no update on his status after the game. … Cornerback Kendall Sheffield left the game early with a head injury, but did return.
Panthers: Cornerback Donte Jackson's lingering toe injury forced him to leave the game early again, and the banged-up Panthers secondary had to finish with rookie Troy Pride and Corn Elder at cornerback spots.
UP NEXT
Falcons: Host the Broncos on Nov. 8
Panthers: Open the second half of the season at the defending Super Bowl champion Chiefs on Nov. 8.
___
More AP NFL coverage: https://apnews.com/NFL and https://twitter.com/AP_NFL
Morning Coffee – Mon, Nov 30 – Raptors Republic
[embedded content]
[embedded content]
[embedded content]
[embedded content]
[embedded content]
[embedded content]
[embedded content]
[embedded content]
Raptors camp invites: Watanabe, Johnson and Ellenson reports – The Athletic
Yuta Watanabe
Contract: Exhibit 10 (no guarantee, can make roster or be converted to two-way, $50K bonus if cut and remains with 905 for 60 days)
G League rights: Unowned (was two-way with Grizzlies)
Basics: 26 years old, forward, 6-foot-8, 6-foot-10 wingspan, 215 pounds, undrafted (2018) out of George Washington
Flier type: 3-and-D Unproven 3

Brief history: The second Japanese player to play in an NBA game, Watanabe has been one of the more exciting G League prospects to watch the past two years. A former Atlantic 10 Defensive Player of the Year and Midseason G League All-Star, Watanabe has used the two seasons primarily on the junior circuit to round out his offensive package that complements a versatile and impactful defensive foundation. Despite being a consistent G League and Summer League standout, Watanabe managed only 279 minutes over two seasons as a Grizzlies two-way player, hardly enough to make a judgment.

Strengths: Excellent defender who can stay with guards on the perimeter and switch as far as power forward on the positional spectrum. Offers defensive playmaking with solid steal rate and weakside rim protection that point to defensive awareness and anticipation. Excellent control closing out to trap shooters. Improved dramatically as a scorer in his second G League season, taking strides inside and outside the 3-point line while cutting down on his turnovers. Knows his role extremely well and stays within it, although he also stepped up when the Memphis Hustle needed it, dropping a hyper-efficient 40 points in January.

Limitations: Despite the improved handle and inside-out scoring instincts, Watanabe hasn't shown much playmaking from the wing, even regressing in that regard statistically last season. That projects him as mostly a catch-and-shoot or transition specialist at the NBA level. That casts his 3-point shooting into question, as he hit only 33.7 percent in college and is at 33.5 percent across both pro levels. That ticked up to 36.4 percent in the G League last season and he's a strong free-throw shooter, but "3-and-D" will require him to shoot well in camp to prove it.

Fit: Long, multi-position defender with great awareness; accepts and thrives within role; team has been in desperate need of a Libra.
Raptors reportedly add trio of journey on training camp deals – Yahoo!
The first signing is Alize Johnson, a 24-year-old forward who went 50th overall in the 2018 draft to the Indiana Pacers. He is light on collegiate experience since he received no Division I offers coming out of high school, but played for Missouri State for two seasons before going pro. It wasn't until his senior year where he finally found traction with NBA executives after receiving an invite to the Adidas Nations camp.

Johnson spent the majority of his NBA career to date in the G-League, where he holds averages of 19.5 points, 13.4 points, and 3.7 assists while shooting 51 percent from the field and 36 percent from deep. His main attribute is that he is an athletically capable wing who consistently gives all-out effort, particularly on the glass. Couple that with a decent handle and enough strength to slash into the paint, and it's not hard to see why the Raptors would like him.

Toronto also added Japanese forward Yuta Watanabe to a training camp deal. The 6-foot-8 lefty went undrafted in 2018, and has been a bench piece for the Memphis Grizzlies over the past two seasons. As with Johnson, Watanabe spent most of his time in the G-League where he averaged 17 points, six rebounds and two assists on 55 percent shooting from the field and 36 percent from three. He is an active wing who can play on the wing, but is more suited to being a smallball power forward.
Raptors training camp roster: What you need to know – The Athletic
The Antetokounmpo trade

Len taking up a chunk of the midlevel exception rather than his minimum means he has a $2.26 million salary for trade matching, not a minimum (which would pay him $2.17 million but only count as $1.62 million in trade). As noted by The Athletic's John Hollinger, the salaries of Powell, Johnson, McCaw and Len are now just enough to make the math work on a trade for a player who makes $25.73 million. Like, say, Antetokounmpo.

Now, the chances of Antetokounmpo being traded this year are tiny, and Len won't be helpful for a sign-and-trade in the offseason. However, there are two things that could be at play. One is keeping open every avenue for Antetokounmpo just in case, which makes sense. And two, if Antetokounmpo is paying attention, this is a fun wink about the Raptors' handling of the salary cap after the Bucks have made multiple missteps with their cap situation in the past year.

Was it worth the $84,000 extra to Len and the lost flexibility to add a third year for someone to leave Antetokounmpo's camp an Easter egg? Probably!
NBA Free Agency 2020: Understanding the hypotheticals for a Giannis-to-the-Toronto Raptors move – Raptors HQ
Is there a way to get Giannis without losing his Bird Rights, allowing him to sign a shorter term deal to get to the supermax on time and then sign him for five years at that elevated salary?

Well, there is one way. Get traded before the deadline. Any team trading for him would still lose the ability to give him a supermax right away, but they would get his Bird Rights. They sign him to his 2+1, then they sign him to the 5-year supermax.

And Giannis (and his agent) likely knows this is the case. If he has a specific destination in mind, and the financial considerations above are significant to him, that's the sort of scenario where he might ask for a trade to his preferred destination.

Enter the following tweet from John Hollinger of the Athletic:

Hollinger is talking there about Alex Len's salary. The Raptors signed Len to barely above his minimum salary with the rest of their Mid-Level Exception. Oh, and the "hypothetical player" who makes exactly that amount that Toronto could then match: Giannis.

Similar to maximum salaries, minimum salaries are different for players with different experience. There is actually a full sliding scale from rookies all the way up to 10-year plus veterans. The league, to discourage teams from going with younger players to save money, reimburses teams for any minimum salary above the two-year veteran value — which is also the value that counts as the cap hit for those players. So Len would have made almost exactly the same amount of money (give or take $0.1 million), but since he did not technically sign for the minimum, his cap hit is the larger salary he is owed ($2.3 million), not that reduced 2-year veteran minimum salary ($1.6 million).

Why would a team ever choose the higher cap hit? The tweet above lays out the answer — bigger cap hit, more salary for matching in a trade.

But Len is on a one-year deal, that means he can only be used to match in a trade between now and the deadline. Which means the Raptors are preparing for a situation where maybe they can trade for Giannis this season, not wait until next off-season for a sign-and-trade or clear cap space to sign him directly.

The suggested trade above is not one I think they would do — in this hypothetical scenario, they know they are getting Giannis the following summer, he has indicated they are his destination of choice to be traded to, etc. So the Raptors would likely not include a piece as valuable as OG Anunoby. The whole point of acquiring Giannis early for the team is to be able to keep their best players around him since they don't need to clear cap. But Stanley Johnson makes essentially the same amount of money and can be substituted in the trade.

The trade then is this: Giannis for Norman Powell, Terence Davis, Patrick McCaw, Stanley Johnson and Alex Len, plus maybe a draft pick or two to provide the Bucks some extra value before Giannis walks for nothing. That just might work. The Bucks get the Bird Rights to Norm, who (a) has always tormented the Bucks in the playoffs and (b) could step into a larger role and perhaps find even more success as a scorer, and they get Davis (who will be a restricted free agent — RFA), plus draft assets to help with life post-Giannis.

The Raptors would be left being able to re-sign Giannis and Lowry next summer, re-up OG as an RFA, and keep Baynes and Boucher on their second years, with Pascal and FVV already locked up.
The Raptors' 20-man training camp will include Terence Davis II while his assault case plays out | The Star
What that investigation bears out — and what becomes of the criminal charges Davis is facing — will ultimately determine whether he plays for Toronto in the 2020-21 season.

Letting the guarantee kick in isn't that significant, financially or from a purely basketball sense. The money is small with a full guarantee of about $1.5 million (U.S.) this season, a drop in the bucket for a team with a payroll approaching $130 million.

While it would send a message to some if the Raptors let Davis go before the deadline, it would certainly prompt a grievance from the players association since the criminal charges have yet to be proved in court — his next court date is scheduled for Dec. 11. It's impossible to argue that Davis, who had a stellar rookie year, should be released for purely basketball reasons.

By bringing him to camp and letting the process unfold, the Raptors assume no risk or liability and still have the option of releasing or disciplining the native of Mississippi in the future.

The Raptors have a long-standing and well-earned reputation for social awareness, fairness and promotion, support and inclusion of women in high-ranking positions. They have not taken the Davis incident lightly and have complied with all of the league's information gathering steps.

Still, they have not publicly addressed the situation other than one statement handing over the investigation to the NBA, as they are compelled to do. The league takes control of any internal probes into cases related to domestic violence, child abuse and sexual assault, and could hand down an array of penalties — anything from a suspension to banishment — on top of any court-imposed sentences.
Toronto Raptors HQ Podcast — That's A Rap #118: Transaction Week Recap – Raptors HQ
Doesn't it feel like the NBA Draft was just a week ago, yet we're already talking about training camp?

The shortest off-season continues at break-neck speed with teams finalizing their respective rosters and bringing in extra bodies for training camp battles. The Toronto Raptors are no different, with Friday's invites/signings of Alize Johnson, Henry Ellenson, Yuta Watanabe, and Oshae Brissett.

Before projecting what the Raptors' final roster will look like, we spent the majority of the latest podcast reminiscing on the past — from the Rogers Centre to Serge Ibaka and Marc Gasol's time in Toronto. Enjoy the latest episode of That's A Rap!
From OG Anunoby to Patrick McCaw, these Raptors have something to prove in training camp. The ball's in their court | The Star
OG Anunoby

Much is expected from the powerful young forward, who is likely to see even more responsibility thrown his way this coming season.

The Raptors are small and the six-foot-seven Anunoby is likely going to play extended time in the frontcourt, where his all-around defensive abilities will be needed. He has to become a better and more consistent rebounder than he's been, but the other facets of his game continue to improve.

If he keeps getting better as a ball-handler, and more active in the offence rather than being satisfied with waiting in the corner to shoot open three-pointers, he will become even more vital to any success the team has.

He's also eligible for a contract extension before the season begins on Dec. 22, but the Raptors went to great lengths to protect their financial flexibility going into next summer, so it may be on hold until a year from now.
Please send me any Raptors related article/video: [email protected]
Diego Maradona death: Police search home, clinic of star's personal doctor, seize files – National Post
Article content continued
In later years, Maradona struggled with substance abuse issues. "Diego was tired, tired of being 'Maradona'," Luque said.
The player's lawyer, Matias Moria, on Thursday said he would ask for a full investigation of the circumstances of the soccer legend's death, saying the health workers caring for the star were negligent.
"It is inexplicable that for 12 hours my friend has not had attention or control from the health personnel," Moria wrote on social media. "The ambulance took more than half an hour to arrive, which was a criminal idiocy." Prosecutors say it took 12 minutes for the ambulance to arrive.
Luque said faster ambulance service would not have saved Maradona's life. "You would have needed medical equipment at his house, including a respirator," he told reporters.
"If I am responsible of something, it is of loving him and taking care of him, extending his life and improving it until the end," Luque said. "I am not responsible for this."
A tearful Luque described Maradona as a difficult patient who often argued with the medical staff.
"Diego needed help," he said. "Diego was hard. Diego kicked me out of his house and then called me again. That was the relationship, the one of a rebellious father with a son."
— with files from the Washington Post
Report: Minor, Royals agree to 2-year deal – TSN
Left-handed starting pitcher Mike Minor is in agreement to sign a two-year deal with the Kansas City Royals, according to The Athletic's Ken Rosenthal and MLB Network's Mark Feinsand.
Free-agent left-hander Mike Minor in agreement with Royals, pending physical, sources tell The Athletic.

— Ken Rosenthal (@Ken_Rosenthal) November 30, 2020
Minor will join the Royals for the second time in his career pending a physical. He signed a two-year deal with the club worth $7.25 million in 2016.
Minor split last season with the Texas Rangers and Oakland Athletics. He has a 1-6 record in 2020 with a 5.56 earned-run average.