Salvation Army needs kettle holders. Badly. – SooToday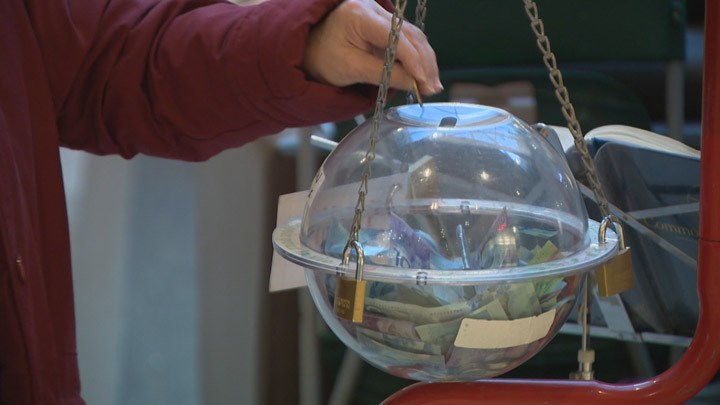 The Salvation Army, apart from being a well known, faith based Christian denomination, is synonymous with helping the hungry and homeless.
This year, with COVID-19 having affected so many people's lives, the Army, both in the Sault and nationwide, needs more people to help it, so it in turn can help people in need.
The organization needs volunteers to step up and participate in its annual Christmas Kettle Campaign.
Red kettles, held by Salvation Army volunteers standing inside or outside malls and other places of business, are found across the country as a way for the public to donate whatever amount of money they can to support the work of The Salvation Army during the Christmas season and throughout the year.
"We need the public's help like we never have in the past. We don't have enough volunteers to run an effective kettle campaign. Our need is at the highest I've seen in my career," said local Salvation Army Major Sean Furey, speaking to SooToday Tuesday.
Without enough kettle holders, there won't be as much money collected. Without enough money collected, the need of the hungry will soar, especially after the economic wreck and ruin caused by the COVID-19 pandemic.
"I've never seen this number of people (at the Sault's Salvation Army Community and Family Services food bank on Elgin Street). Poverty levels right now are through the roof. People are hurting, people are suffering, and those of us who are trying to help are trying to do it with far fewer people to help, and sadly, there are more people out of work than ever before and yet we can't get anybody to help," Furey said.
"It's a scary thought. We're struggling to get our kettle campaign off the ground for Friday (Nov. 20). It's going to happen one way or another, but we need volunteers to help us do it."
Furey said people are wary of venturing outdoors and holding kettles due to the risk of COVID-19 transmission.
"Another problem is, at our food bank, we have a smaller number of people in the building (due to COVID-19 social distancing). We're trying to do twice the work, some days four times the work with half the number of people. We're working really hard. My volunteers are mostly nearly 70 years old, some of them are over 70, and they're trying to keep up at a pace that really they're too old for."
"Two Thursdays ago, we distributed 4,000 pounds of food," Furey said.
"That's 4,000 pounds of food that needs to be carried by senior citizens. It's a struggle to get people to volunteer. Lots of people say they want to volunteer but they don't show up (an issue with many volunteer based organizations). Some of the organizations that would normally help us at Christmas time are not meeting, not working or their governing bodies are telling them 'no, we're going to stay away from any COVID risk.'"
Furey, however, expressed thanks to the Kiwanis Club of Sault Ste. Marie, Knights Of Columbus, the Lions Club of Sault Ste. Marie and companies like the Sutton Group for stepping forward to help with the kettle campaign.
On another positive note, Furey said the Salvation Army Community and Family Services food bank has obtained a needed new freezer for donated food (paid for by Walmart Canada and delivered by Food Banks Canada) and a new walk in fridge (donated by the Toronto Salvation Army).
"(With the freezer) we've cycled through in excess of 50,000 pounds of food. And the first week we had the fridge we distributed 12,000 litres of milk."
"We're getting a lot of food donated. Generally your local grocer is very community minded and very helpful. I'm sometimes just shocked at the level they're helping. We don't have a shortage of food. This is the first time in my career I've had lots of food (donated to the food bank)," Furey said.
But, back to the local kettle campaign.
"(Annually) we need about 150 or 160 (kettle holders). We need 35 per day," Furey said.
Normally, Salvation Army members would cover that need, but many of them are seniors (extra vulnerable for COVID-19), hence the call for others to step forward.
"What the Knights of Columbus will do is take one day, and the Kiwanis will take three or four. They adopt a kettle for a day and they do a good job. People can do it one day a week, two days a week, even once is a help…we have 80 or 90 people right now, but to do it comfortably you need 150," Furey said.
"Not one cent of the money raised leaves our city and it funds the food bank."
Underscoring the current need for food for the city's hungry, Furey said "in a busy week we would serve 60 people. Last week we were serving 200 a day, and we're anticipating December is going to be far worse. We're gearing up for a very busy Christmas season."
Those needing food may call the food bank at (705) 759-4143, provide their names, arrange a time for pickup at 78 Elgin St., show identification at the door (clients prohibited from entering the food bank due to COVID-19) and pick up their food from a table placed outside the building.
People interested in becoming local Salvation Army Christmas Kettle Campaign volunteers may call (705) 945-1877.
Nationally, the Salvation Army is looking to raise $23 million in this year's Christmas Kettle Campaign.
Loonie rises to highest point in 2 years on vaccine optimism, oil prices – CBC.ca
The Canadian dollar hit its highest point in more than two years on Thursday as the U.K. announced it had approved a coronavirus vaccine for emergency use and oil prices were buoyed by an apparent deal among OPEC nations to extend their current production cuts past January.
The loonie at one point touched 77.61 cents US, its highest level since October 2018.
One catalyst for the loonie's uptick was word that members of the Organization of Petroleum Exporting Countries and Russia are reportedly nearing a deal to extend production cuts of more than seven million barrels a day past January.
Some in the oil cartel have pushed for a three month extension to May to the cuts, but given the recent run up in oil prices, the cartel has settled on a compromise of maintaining the cuts into February.
"This is roughly what was expected to come from these talks which will be why oil prices continue to trade around the highs," said Craig Erlam, an analyst with foreign exchange company OANDA.
A barrel of West Texas Intermediate oil was trading above $45 US on Thursday, a level it has not reached and stayed above since early March when the pandemic walloped demand for energy around the world.
Currencies benefit from hope world economy will recover
The loonie is riding the wave of higher oil prices, but is also benefiting from a general weakness in the U.S. dollar.
The Australian dollar, the euro and the Korean won also hit two-year highs against the U.S. dollar on Thursday, as the flight for the perceived safety of America's currency seems to be coming to an end.
Britain announced it has approved Pfizer's COVID-19 vaccine for emergency use, which has spurred expectations that other nations may soon follow suit. That, in turn, is stimulating hopes that the world's economy may soon get back to some semblance of normal.
"The big talk seems to be all about the U.K. getting ready to do the vaccine next week — faster than a lot of people expected and it's having an effect on pretty much everything," said Michael Currie, vice-president and investment adviser at TD Wealth.
Counterintuitively, that's bad news for the U.S. dollar, which has seen its value increase by about 13 per cent during the pandemic because it is a perceived store of value. If things are indeed getting better, there's less need to keep cash stashed in something safe like a U.S. dollar.
Loonie could be headed higher: analyst
Shaun Osborne, chief foreign exchange strategist with Bank of Nova Scotia says the loonie has appreciated by about 10 cents since bottoming out in April, and he thinks a case can be made that the loonie could be headed higher still in the medium term.
"The U.S. economy is likely to perform on par with the rest of the world [and] may underperform Canada," he said in an interview.
"A stronger global economy and higher demand for commodities … that is something I would expect to be positive for the Canadian dollar [but] I think we need to get through the next two or three months just to see just how much this move can extend," Osborne said.
First COVID-19 vaccine could be delivered to distribution points as early as end of December, Fortin says – CBC.ca
Federal officials today explained how they plan to roll out millions of COVID-19 vaccine doses in the coming weeks as Ottawa launches its mass inoculation campaign.
The initial supply of the doses will be limited — just three million Canadians are expected to get a shot in the first three months of 2021. Millions more doses are expected to arrive as the supply chain stabilizes.
One of the principal challenges facing the immunization effort is the distribution of vaccines that must be kept at very low temperatures – well below those that a standard commercial refrigerator can offer.
The Pfizer product, which is expected to get the green light from Health Canada as early as this month, needs to be kept at approximately -80 degrees Celsius to remain stable. The Moderna product, another vaccine that uses groundbreaking messenger RNA (mRNA) technology, must be kept at -20 degrees Celsius.
Maj.-Gen. Dany Fortin, a former NATO commander in Iraq, is leading vaccination logistics and operations at a new national operations centre in the Public Health Agency of Canada. While the country is facing unprecedented "logistical complexities," he said, the military and its partners will be ready to deploy vaccines as soon as they are approved in Canada.
He said the national operations centre isn't waiting for Health Canada's sign-off to begin preparations. The Pfizer product will be delivered by that company directly to provincial and territorial distribution points as early as the end of the month.
The federal government already has secured the cold storage required for this product. All of the provinces have indicated where the Pfizer-specific fridges should be placed and 14 distribution points nationwide will be ready to receive the vaccine starting on Dec. 14, Fortin said.
Eventually, there will be 205 "points of issue" locations across the country where health care professionals can administer the vaccine, the general said. It will be up to the provinces and territories to specify where and when individual Canadians will be inoculated.
Fortin said at least one "dry run" has been executed so far, with more planned in the days ahead, to ensure things run smoothly once this vaccine hits our shores from manufacturing hubs in the U.S. and abroad. These practice runs will ensure officials are comfortable with what Fortin called the "very unique requirements" of this vaccine.
Fortin said he's actively planning for multiple worst-case scenarios, such as bad weather, cyber attacks and fires at distribution hubs.
"We're very much executing a whole-of-nation approach. The size and scope and scale of this problem is unprecedented and there's a number of factors at play," he said. "I like the idea of being ready before the Christmas timeframe, so we are certain to be ready when it comes in January."
The general said his team is in daily contact with Pfizer and the company is "comfortable" with the plan that Canada has crafted. Pfizer has said it won't ship product to a country that isn't ready to receive a vaccine that is so temperature-sensitive.
Dr. Supriya Sharma, the chief medical adviser at Health Canada, said Thursday that the regulatory review of Pfizer's vaccine is "progressing really well" and her department has the "majority of information" it needs from the company to certify that it's safe and effective.
In an interview with CBC's Power & Politics, Sharma said the final approval could come in the next 7 to 10 days. The U.S. Food and Drug Administration is set to meet on Dec. 10 to decide on an emergency use authorization (EUA) for that shot and Sharma said Canada is following a similar timeline.
Canada has placed orders with Pfizer and its German partner BioNTech for 20 million doses of the two-dose vaccine, with options for millions more in the months to follow.
The company has reported its vaccine was 95 per cent effective in preventing COVID-19 among clinical trial participants who had no evidence of prior infection.
Preparing for the worst
The Moderna vaccine, which is expected to secure regulatory approvals after the Pfizer product, will be imported into Canada by the federal government, largely through private shipping companies. Ottawa will in turn divide up the product for the provinces and territories.
The government is now finalizing "end mile" contracts with logistics firms — the companies that will transport the Moderna vaccines to centres where Canadians can go for a shot.
On Monday, the Massachusetts-based company applied to the FDA for its EUA for the American marketplace.
Data from the company's final clinical trial are encouraging, demonstrating the vaccine is 94.1 per cent effective at preventing COVID-19 and 100 per cent effective at preventing severe cases of the disease.
Dr. Howard Njoo, Canada's deputy chief public health officer, said the federal government is now refining who is best suited to get an early dose of a vaccine — early guidance from the National Advisory Committee on Immunization (NACI) suggests seniors in long-term care homes and frontline health care workers will be among the first to get a shot.
Conservative Leader Erin O'Toole and his party's health critic Michelle Rempel Garner held a news conference this morning to discuss an opposition day motion that will call on the government to release its plan by Dec. 16.
O'Toole accused the government of failing to provide Canadians with a plan and a timeframe for vaccine distribution.
"Without a concrete timeline for vaccines, businesses won't have the confidence to reinvest in their operations and rehire Canadians who have been laid off during the pandemic," he said.
"Without a reliable timeline, or details, provinces have the impossible task of establishing complex supply chains with no lead time."
The motion calls for a status update on:
How each type of vaccine will be safely delivered, stored and distributed to Canadians.
The date on which each vaccine type will be first deployed in Canada and the rate of vaccinations anticipated by month.
Any planned federal guidance with respect to the deployment of the vaccine by priority group, such as front-line health workers and seniors.
The plan to distribute the vaccine to Indigenous communities, members of the Canadian Armed Forces and veterans.
Ontario reports 1,824 new COVID-19 cases including record high in Peel – CityNews Toronto
Ontario is reporting 1,824 new cases of COVID-19 on Thursday, an increase from 1,723 cases the day before.
Fourteen new deaths were also reported. This brings the provincial death toll to 3,712.
Due to a data processing error, Thursday's provincial case count includes 127 cases from the Middlesex-London Health Unit that were reported over the previous three days, the government said.
Peel Region set a new record with 592 new cases reported. The City of Toronto reported 396 new cases, followed by York Region with 187.
The province says it has conducted 52,873 tests since the last daily report.
In total, 666 people are hospitalized in Ontario due to COVID-19, including 195 in intensive care.
The province also says 107 people are on ventilators in hospitals.
The latest figures bring the total of COVID-19 cases in Ontario to 121,746 and 103,239 cases resolved.
In the province's long-term care homes, 707 residents currently have COVID-19 and eleven new deaths have been reported today.
The province says 116 of its 626 long-term care homes are experiencing an outbreak.
The province also reported 122 new COVID-19 cases related to schools, including at least 94 among students.
Those bring the number of schools with a reported case to 755 out of Ontario's 4,828 publicly funded schools.
RELATED: Everything you need to know about coronavirus
RELATED: Coronavirus FAQs
With files from the Canadian Press