Samsung Galaxy S21 Thoughts and Impressions | The Startup – Medium
I love phone announcement events.
The fanfare behind the announcement is extravagant, sometimes rightfully so, most of the time, not as rightfully so.
I'm still fascinated yearly by the over the top dramatics that circle around events like CES, and OEM announcements like Samsung's Unpacked events.
2021 has been more virtual with tech events, but the underlying feelings have not changed.
Towards the end of CES tech enthusiasts and die-hard Samsung Fans alike were all wondering about what the next Galaxy S iteration would bring to the table. Considering we're still knee-deep in a pandemic, it's not surprising that events are different this year.
I'm not quite sure what I was expecting when I read about the Galaxy S21. Samsung's Unpacked Event was virtual this year, a testament to our inability to attend events in person.
This year, 2021, the year of calamity, foolishness, and masks, brings a series of devices that have confused me a bit. The devices announced are the Galaxy S21, the Galaxy S21+, and the Galaxy S21 Ultra.
I wonder if this is the company compensating for the mitigating factors surrounding money during the pandemic, or is it innovation instead of compensation?
Confused? Me too. Let's get to the details first.
Wait! let's talk about chargers!
Yep, just like the iPhone, we're having to deal with saying goodbye to another accessory that had a home in the flagship phone packaging.
You aren't going to get a power brick when you purchase the phone. Yes, I was upset about this when I spoke about the iPhone 12, I know. But at this point, we're all going to have to expect the lack of accessories with flagship phones. From iPhone 12 to Xiaomi, and now the S21 family of devices, it's time to let go of the idea of having a charger with your new phone packaging. I mentioned it recently in my smartphone rumors and predictions, and I'm pretty confident that this is the only prediction I'm not wildly off base within 2021.
We went through this moment when the iPhone got rid of the headphone jack; we were alright. We're going to eventually get over the charger not coming with the box too. I'm still not going to forget that Apple called the decision courageous. It's alright.
Now, let's talk about the Galaxy S21. Here are the particulars behind the Galaxy S21 family, available on January 29 all over the place.
Galaxy S21 Series Spec Breakdown
Taking a look at all of the S21 options, we start with the base model Galaxy S21. I pulled the specs from Ars Technica which you can see below if you want the in-depth comparison.
Galaxy S21:
S21 Rear Camera — From Samsung
$799
IP68 Water Resistance
6.2″ / 1080p / 120Hz Display (oh, the speed! the speed of it all!)
8GB RAM (remember, the S20 had 12GB RAM)
Snapdragon 888 / Exynos 2100 (Everywhere Else)
10MP Front Camera / 12MP Main, 12 Wide, 64 Telephoto Rear Camera Combo
128GB/256GB storage options with no expandable storage
4000mAh Battery (the power…Look at all of that power)
USB C charging with Wireless Charging Capabilities
A few step-downs concerning storage not being expandable, the price, the refresh rate, the RAM, whatever. You can consider some of these specs as a reason for the lower price.
In light of some of the cutbacks concerning the S21/S21+, we still have an updated SoC with the Snapdragon 888, updated camera capabilities, and a dynamic refresh rate, which adapts the screen refresh rate to whatever is on the screen.
The dynamic refresh rate can help the display quality when watching Netflix, Facebook-ing (even though that is slowly becoming a pariah in this highly virtual world but we don't want to talk about that now do we?) The display is the main thing that you will experience with the device, and it's important to have the quality that Samsung has planned with its S21 displays.
Galaxy S21+
$999
4800mAh Battery (the "oh the power phrase probably won't read well if I put it here..will it?)
6.7″ display
See Galaxy S21 specs posted above for the rest of the S21+ specs
We have the same general idea of specifications for the S21+ as there were for the base level S21. You can state that the S21+ is a larger version of the S21. You already knew that, that's not what you are here for.
Galaxy S21 Ultra
$1199
5000 mAh Battery (powerful..all-powerful…the power!)
6.8″ 1440p 120Hz display
128 / 256 / 512 GB storage options
Snapdragon 888 (US) Exynos 2100 (everywhere else)
40MP Front Camera / 108 MP Main Camera/12MP Wide Angle, Dual 10MP telephoto Rear Camera combo
12GB or 16GB RAM
USB C charging (wireless charging capable)
S-Pen Compatible (uh…okay)
The S21 Ultra is the best of the best, the cream of the crop when it comes to the S21 options. No compensating factors here, nothing keeping you from greatness when it comes to this phone.
The price of the S20 ultra started at $1400, and the S21 Ultra, with a respectable upgrade of its specifications, is priced lower.
Since the S20 ultra was a bit questionable when it came to camera quality, you can decide on whether the camera is more improved versus last year, or if it's another half-done attempt at a high-end device.
Does Device Pricing Matter Anymore?
A huge blaring question that comes out of the Galaxy S21 announcement is whether Samsung opted for compensation over innovation with this year's phone launch.
I'd like to think that the decision to cut the price with the Galaxy S21 is more on the innovation front versus the compensation front. This was more of an effort to broaden the reach of the flagship offerings to more people across the world.
I've begun to think that pricing with phones has become less of a factor in 2021 than it has in years past. We always knew that the more money you spent on your smartphone upgrade, the better your upgrade. Budget smartphones were light years behind the flagship prices, and you saw people skipping car payments, rent, and medical bills to buy the latest iPhone or Android device on launch day.
While I still believe devices like the Galaxy Fold 2, the Galaxy Fold, and any Vertu device that I've ever seen in my lifetime are insanely priced; I don't know if we can look at prices as much in 2021 as we did in 2017, when the iPhone X broke our pocketbooks.
The Samsung Galaxy S20, with its multiple iterations, was teetering towards overly expensive as well. A 200 dollar price drop is a welcome change that opens the company to a different demographic that might be looking for something a little more than the mid-range Galaxy A-Series devices.
Remember the days when we were appalled at the price of the iPhone X, and the Galaxy Note Series after the Galaxy Note 8? I remember those phones touching $1000 and the world screaming bloody murder. What a difference a few years makes.
I've had a history of complaining about electronics pricing. These days I have more reason to hold off on spending. Just about everything has cost more money in the middle of the pandemic, from toilet paper (quit hoarding toilet paper, yall) to gasoline, to the essentials that you need in your everyday life.
Personally, it has become difficult to find reasoning to splurge on items that I used to enjoy before the pandemic. Phones and other electronics being the main things I'd rather not spend money on.
My beliefs and difficulty in finding items to splurge on was a big reason as to why I had a slightly off reaction to the AirPods Max that launched in December. The headphones launched at $550, and they were expensive. Was I right in being angry about a pair of $550 headphones? Probably not, but here we are.
How can a company that has to have employees that were affected financially by the pandemic launch a device with a high price tag for the holidays? From what I've read, it appears that AirPods Max was well received at a launch. Never mind the price of the device, never mind people who are short on cash this year, there were still people who purchased the device.
So now we have the flipside of the coin. a series of devices that took a $200 price shave at launch for reasons including the current global pandemic. You'll likely see the device launch with a trade-in deal, with the Galaxy Tags, money towards accessories, or whatever being bundled in as a part of the launch package. Take a look at the launch page for the S21 below:
The decision to launch the S21 series of devices lower than the S20 makes me realize that price isn't always going to be a factor in flagship phones. There will be a market for people willing to spend thousands of dollars, and there's going to be a market for people who think it's crazy to spend thousands of dollars on phones.
Samsung's pricing change could also be a decision that could help change the pricing structure of flagship phones across the board as we move through 2021. The pricing change may help more manufacturers realizing the need for a greater range of capable devices in the Android spectrum.
With the prevalence of higher-priced phones and the equal prevalence of more capable budget devices like the Moto G series, the LG Stylo, and OnePlus Nord, there are more options for capable devices for more people across the economic spectrum.
We are now looking at a world with people who need to look at devices as an investment. But at that same token, the investment is going to be at different price points.
I think Samsung made a pretty decent decision making that $200 shave with the S21. They've made an effort to make flagship devices available to more people. Samsung's pricing decision seems innovative in its compensation.
Innovation?
The Galaxy S21 and S21+ aren't very innovative. Save for the dynamic refresh rate, the 120Hz displays, and the different capabilities of the camera, there is not much to write home about with the Galaxy S21.
In 2021, where we are looking at finances as a focus of our everyday lives, Samsung was innovative in pricing their 2021 flagship devices. The innovation is in realizing that the company wants to have more people owning their flagship devices. The company realized that more people have less money as we continue through 2021.
We will always know Apple to be premium devices, with premium prices. The addition of the iPhone 12 Mini, and the revamp of the iPhone SE, is Apple's way to appeal to those looking for a more affordable phone. Pricing the Galaxy S21 series of phones to put them closer to their more affordable options is Samsung's move to market to more people.
Would I buy the S21?
Would I buy the S21? The outer specifications would lead me to want to purchase the device, sure. The camera should be decent and the display refresh rate is decent as well. The specifications previously announced by Samsung for the price are quality.
Having a company decide to lower their MSRP on a device is admirable, having a more affordable device with flagship specs is innovative from a regular consumer perspective.
I am still on the fence as to whether I would upgrade this year, or wait until things begin to ease around the world and the economy. I have held on to my iPhone 7 Plus for almost 4 years, and I'm pleased that my phone has not died yet.
Should You Buy the S21?
The decision to buy the S21 is going to be up to you. Whether the price drop helps with your decision or not, buying this device is going to be up to you. Buying any device is going to be up to you.
Let me know if you buy an S21, I'd be interested in seeing what you think!
Riot unveils Astra, VALORANT's new controller – Dot Esports
Riot Games' latest agent for the tactical shooter VALORANT is on her way.
The developer revealed the agent on Twitter today. Her name is Astra, she originates from Ghana, and she's a new controller agent.
"African Futurism was a huge inspiration for us when it came to designing Astra's thematics," John "Riot MEMEMEMEME" Goscicki, a character producer at Riot, said. "Once that element was brought into her development all the pieces naturally fell in place."
Astra joins Brimstone, Omen, and Viper in the controller category. She's the first controller added to VALORANT since the game released. Duelists Raze, Reyna, Yoru, and sentinel Killjoy were added since the game's release.
Astra's abilities
Before activating the C, Q, and E abilities, you need to hang some of Astra's Stars in the sky with her X ability.
Here are Astra's abilities:
C: Gravity Well
Activates a Star with C to form a Gravity Well. Players in the area are pulled toward the center before it explodes, making all players still trapped inside "fragile."
Q: Nova Pulse
Activates a Star to detonate a Nova Pulse. The Nova Pulse charges briefly then strikes, concussing all players in its area.
E: Nebula
Activates a Star to transform it into a Nebula (smoke).
F: Dissipate
Use F on a Star to Dissipate it, returning the star to your inventory be placed in a new location after a delay.
Dissipate briefly forms a fake smoke (Nebula) at the Star's location before returning.
X: Astral Form, Cosmic Divide
Activate with X to enter Astral Form, where you can place Stars with your primary fire key. Astra will leave her physical body behind in favor of a top-down view of the map. Her physical body will be vulnerable in this form.
When Cosmic Divide is charged, use your secondary fire in Astral Form to begin aiming it, then your primary fire to select two locations. An infinite teleport-esque tunnel connects the two points you select.
---
Make sure to follow us on YouTube for more esports news and analysis.
Samsung Galaxy Xcover 5 gets Bluetooth certified, leaked render reveals rugged design – GSMArena.com news – GSMArena.com
A press render of the Samsung Galaxy Xcover 5 we've been hearing about since late last month has surfaced, revealing its rugged design.
The image was shared by leakster Evan Blass, who claimed the Xcover 5 is not a successor to last year's Xcover Pro, but a follow-up to the Xcover 4s launched back in 2019.
While we are yet to hear anything from Samsung about the Galaxy Xcover 5, the smartphone has moved a step closer to the launch as it bagged Bluetooth SIG certification.
The certifying authority didn't detail the Xcover 5's specs, but it did confirm that it will come with Bluetooth 5.0 and have two models – SM-G525F and SM-G525_DS. The latter is likely a dual-SIM variant, and the former was spotted on Geekbench last month with an Exynos 850 SoC, 4GB RAM, and Android 11.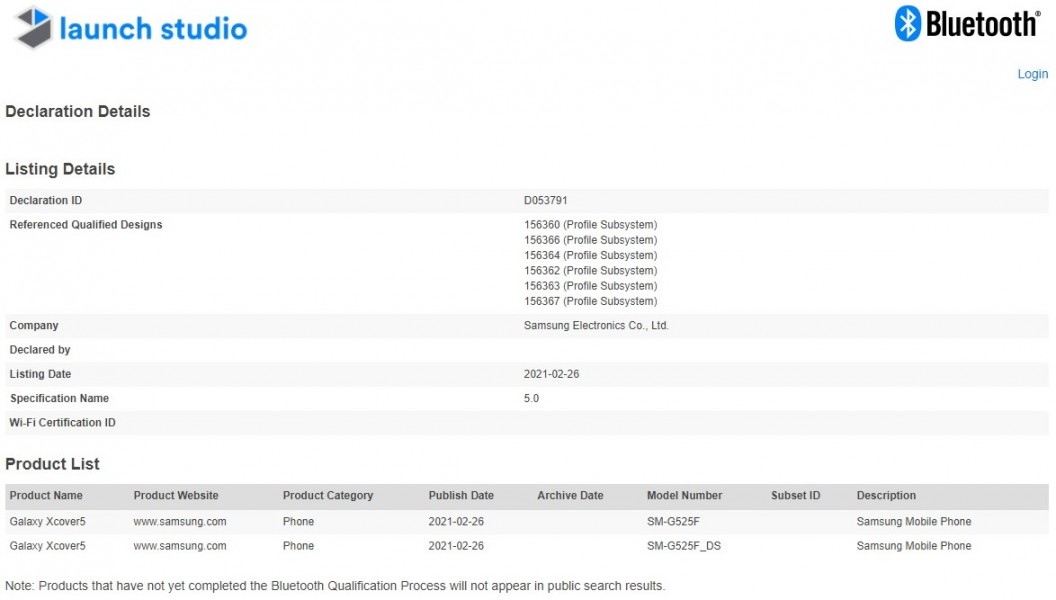 The rest of the rumored specs of Galaxy Xcover 5 include a 5.3″ HD+ LCD, 64GB storage, microSD card slot, and a 3,000 mAh user-replacable battery that will charge through a USB-C port at up to 15W.
The Xcover 5 is said to feature 16MP primary and 5MP selfie cameras, and come with an NFC chip onboard. It will be IP68 dust and water-resistant, carry a MIL-STD-810G certification, and is expected to cost around €300.
I wanted to love foldable phones, but the novelty got old fast – CNET
Let's face it, mobile phones, even the best ones, just aren't that exciting anymore. They're all way more powerful than we really need, they all have nifty multi-lens cameras and they all look essentially the same. I really hoped that folding phones would give a much needed shot of adrenaline to the industry, but well over a year on from their arrival, they've fizzled out like a damp firework and left me feeling disappointed.
I've worked for CNET for a decade and most of that time I've specifically covered mobile phones. I've seen a lot come and go. I've seen the rise and fall of BlackBerry, I've seen weird phone ideas like the Russian Yotaphone with its e-ink second screen and I saw the brief trend of curved phones like the LG G4 and Samsung's Galaxy Round. But in recent years it's seemed that genuine innovation has been put aside, with every company clamoring to make what could easily be revisions of the same product.
Think about these phrases: "A big, vibrant screen," "A great multi-rear camera setup," "An attractive metal and glass design." Can you think of many phones that those sentiments couldn't be applied to? The result is that all the phones are pretty good, but it means that they're also equally boring. Each year's refresh adds a few megapixels onto the camera, or an extra bit of screen size. Or a slight tweak to a design that, fundamentally, remains just a rectangular slab.
I get it. Innovation is expensive and spending millions of dollars researching a new idea means you need a guarantee that it's going to sell well. LG found this out to its cost with phones like the weird, modular G5, which didn't sell well and now the company is reportedly looking to sell off its phone business.
So when folding phones came along my spirits lifted. Here was innovation. Here was this new technology which genuinely took me back when I saw it in person for the first time and left me excited again for the possibilities of what phones could become. I know I'm not the only one who loved that idea of the phone that you wear on your wrist like a watch and unfold it when you need the bigger screen. But where is that?
The foldables we do have are… fine. The Galaxy Z Flip and Moto Razr's clamshell design is neat in that it makes a big-screen phone more pocketable by folding in half, while the Galaxy Fold 2 and Huawei Mate X are essentially tablets that fold in half to become phones, which is fine, too.
But beyond the bending screen, they haven't really pushed any boundaries. They haven't changed the way we use our phones or brought any revolution that's so groundbreaking that it alters the face of mobile altogether. They use the same version of Android, with only a few small tweaks to some apps to give a bit of additional functionality, but little beyond that. Really, they're the same phone as before, but you can fold them in half. I find it very telling that I have the Galaxy Fold and Z Flip in my house, but they're in a drawer among other past phones and I don't have any great desire to get them out again.
And you pay handsomely for that one fold feature as all folding phones cost significantly more than their respective manufacturers regular flagships. This, in turn, means that adoption is low, which gives those companies — or third-party developers — little incentive to think of new and creative ways to use this technology. In time, folding phones may well be cast into the pile of other gimmicks, alongside banana phones, Samsung's camera/phone hybrid and 3D phone displays.
But I hope not. I hope that it sticks around and evolves into something useful and exciting. Frankly I hope that Apple takes up the cause as it does have a tendency of only adopting new technology when they can put it to a genuinely useful use, although perhaps not always (I'm looking at you, 3D Touch).
But most of all I hope that any mobile company isn't afraid to try and innovate and do something a bit different. Phones used to be fun, and phone launch events were genuinely exciting to see what awesome new tech would be unveiled this time.
That excitement isn't where it used to be. It's an ember flickering at the bottom of the fireplace now, with each generic phone launch threatening to be the bucket of sand that could put it out completely. There is a chance that folding phones could yet be the kindling that turns that ember back into a roaring inferno, but I'm not crossing my fingers.