Samsung Galaxy Watch 4: My favorite (and least favorite) Wear OS features – Tom's Guide
The Samsung Galaxy Watch 4's fundamental feature is its new software, a unified version of Google's Wear OS called Wear OS 3.
Unlike the Tizen-powered Galaxy watches of the past, the Galaxy Watch 4 series is outfitted with a suite of Google programs. As much as the Apple Watch is made for iOS folks, Samsung's latest device is looking to become the premier smartwatch for all Android users.
By folding into Tizen into Wear OS, Samsung and Google took a major step in merging the market of smartwatch platforms. Similar to how smartphone companies can customize Android to better fit their brand, Wear OS allows augmentation for wearable makers. That's why I'm finding the Galaxy Watch 4 maintains familiar aspects of Tizen, while supporting greater Samsung ecosystem integration thanks to One UI Watch.
Getting to know Wear OS on the Galaxy Watch 4 is a fresh experience, even if it's technically a reintroduction. Some features are great right out of the gate, improving what was already one of the best smartwatches you could buy.
Others aren't as impressive, at least in my testing so far. Here are my favorite and least favorite Wear OS features on the Galaxy Watch 4.
Great Google Maps app
Google Maps on the Samsung Galaxy Watch 4 is a revelation. As someone who relies on Google Maps to get everywhere, it's been a drag dealing with a fickle Apple Watch version of the app. But now, when I start a route from my Samsung Galaxy Note 20 Ultra, it automatically launches on my wrist with turn-by-turn directions.
When I'm on foot or driving my car, my Galaxy Watch 4 will buzz when it's time for the next step. Since it's more interesting (and safer) to walk looking up, I appreciated the cues. With the LTE version of the Galaxy Watch 4, you can search for destinations when your phone isn't nearby, too.
Keyboard for messages
The Samsung Galaxy Watch 3 had a T9 keyboard, which I relied for texting more often than I thought I would. I know, typing on such a small screen sounds ridiculous, but I appreciated the ability to send messages in cases when I couldn't use talk to text or didn't want to draw my letters. It's one of the features I wished Apple would copy in watchOS 8.
But it didn't, giving Google's software a leg up in the ongoing Wear OS vs. watchOS face-off. When you send messages on Wear OS, you have the option to type them out using the T9 keyboard. All you have to do is click on a number, and the corresponding letters appear in a pop-up for you to choose from.
No Google Assistant… yet
Now we're onto the not-so-great stuff about Wear OS on the Galaxy Watch 4. The Samsung Galaxy Watch 4 is missing a killer feature at launch: Google Assistant. Samsung confirmed to Android Central that Google Assistant is not on the Galaxy Watch 4 series yet. Apparently the assistant will make it to the new smartwatches eventually, but no word on when that might be. For now, I'm stuck talking to Bixby.
With Google's voice butler built into the Galaxy Watch 4, users would gain access to the best Google Assistant commands, including control of the best Google Home compatible devices in your smart home and all the other perks that come with knowing how to use Google Assistant. Can Bixby do all that? I think not.
One thing I'll note here is the Galaxy Watch isn't launching until August 27. That gives some wiggle room for updates before the greater population gets a new smartwatch on their wrist.
No battery life improvement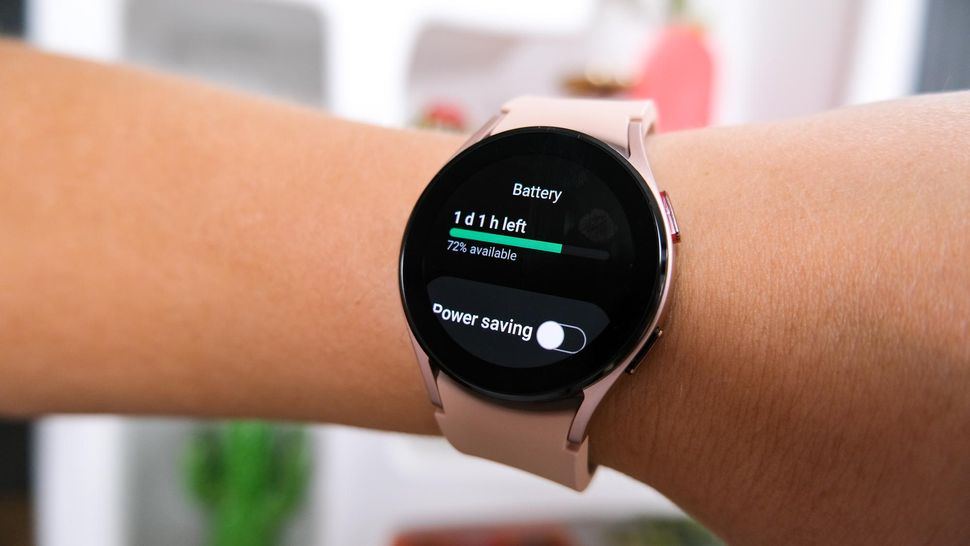 I'm not necessarily disappointed about the Samsung Galaxy Watch 4's battery life. I'm just confused. During Google I/O, Wear OS developers promised the new software would bring better battery life efficiency to smartwatches running the unified platform.
Instead, the Galaxy Watch 4's battery life might be slightly worse than the Galaxy Watch 3's. In the first few days of testing, the smartwatch has lasted about 20 hours before needing a charge. That's with the always-on display enabled, overnight blood oxygen readings and activity tracking, though. Sure, I might be challenging the battery life, but those are all Galaxy Watch 4 features the average person would want to use.
Samsung Galaxy Watch 4 with Wear OS outlook
I need to spend more time with Wear OS on the Galaxy Watch 4. Getting to know a new software requires many hours of testing, especially in real-world applications. I will say my short time toying with the Samsung Galaxy Watch 4's software is the best experience I've ever had using Google's wearable platform, though.
'Genshin Impact' Sumeru Gift Codes For Free Primogems, 3.0 Character Banners, Release Date – Forbes
At long, long last, Genshin Impact just wrapped up its new 3.0 special program, revealing a whole lot of new information about the new region, the new element, Dendro, new characters and of course, there are free goodies if you hung out and wached the stream. Or even if you didn't, I have them right here.
We'll just get these out of the way first, here are the three gift codes for free primogems and other materials that you can redeem here. These ones are only good for 24 hours, I believe, so you better hurry.
8ANCKTWYVRD5 – 100 Primogems and 10 Mystic Ore
EA7VKTFHU9VR – 100 Primogems and 5 Hero's Wit
KT7DKSFGCRWD – 100 Primogems and 50,000 Mora
Past that, the most pressing information is probably the release date for Genshin Impact's Sumeru update, which is August 24, 2022.
We also were told about the first two character banners for 3.0, which will include three total Sumeru characters with only one five star. Those are:
Phase 1 – Tighnari (5 star), Zhongli (5 star), Collei (4 star)
Phase 2 – Ganyu (5 star), Kokomi (5 star), Dori (4 star)
While other Sumeru characters were shown or teased onscreen, it will be deeper into the 3.0 patch series before we get to those, which is not unexpected, given that's how Inazuma worked, and we ended up getting new Inazuma characters for essentially an entire year. And we're probably still not done.
Sumeru is probably going to end up being the most significant addition to the game to date, because unlike Inazuma, it's not just a new region, it also has an entirely new element being added to the game for the first time, Dendro. While Dendro has cropped up here and there among a few enemy types, this is the first time we as players can wield it ourselves, and these new characters will be our first introduction to the concept. Like all the elements, you can probably have attack/defense/support focused teammates using the element, and we'll have to spend some time digging deep into all the new characters to find out exactly how best to use them in their new roles with this new elemental type supporting your team.
Genshin Impact continues to generate massive amounts of revenue, and I have to imagine the Sumeru region is going to boost that even further, even in the face of new rivals like Tower of Fantasy that has just arrived this month. Genshin is the gold standard at the moment and it's going to be hard to compete with it as it expands to seven massive regions over the next few years.
Follow me on Twitter, YouTube, Facebook and Instagram. Subscribe to my free weekly content round-up newsletter, God Rolls.
Pick up my sci-fi novels the Herokiller series and The Earthborn Trilogy.
Poll: Galaxy Z Fold 4, Z Flip 4, Watch 5, Buds 2 Pro — what are you most interested in buying? – Android Central
Samsung's latest Galaxy devices were just announced, and they're already making waves. The company's latest foldables offer plenty of refinements on last year's models, the smartwatches bring bigger batteries for a new target audience, and the earbuds promise to take active noise cancellation to another level.
Now that Samsung's devices are finally out there, we want to know which device you're most looking forward to getting your hands on.
Which new Galaxy device are you most interested in buying?
If you've been holding out on Samsung's foldable smartphones, now might be the time to consider them. For instance, the new Galaxy Z Fold 4 is thinner (and wider) than ever, packs a fast new processor, and gets an upgraded camera array.
Be sure to check out Nick Sutrich's Galaxy Z Fold 4 camera review to find out how it stacks up to the best foldable phone of 2021.
Meanwhile, the Galaxy Z Flip 4 has the same new processor, a bigger battery, and many color combinations to choose from, letting buyers design their phones to match their style.
For anyone looking for a smartwatch, the new Galaxy Watch 5 series gets a boost in battery life, with Samsung claiming up to 50 hours for its standard watches and a whipping 80 hours for the new Pro. In fact, Samsung says the new Galaxy Watch 5 Pro is ideal for anyone with a love for the outdoors, thanks to its tough titanium chassis and Sapphire Crystal display.
Read up on why our Andrew Myrick decided to trade his Galaxy Watch 4 Classic for the new Watch 5 Pro.
Lastly, Samsung announced the latest Galaxy Buds 2 Pro with a new design and improved ANC, enough to block out most outside noise.
All Samsungs devices are currently available for preorder and will hit store shelves later this month on August 26. Please drop a comment on our Twitter and Facebook accounts and let us know which device you're most interested in buying and why.
Samsung's new foldable is better than ever, with an improved hinge design, much better cameras, and wider displays to better handle your media. Preorder this folding beast today for some awesome deals.
Samsung's new Galaxy Z Flip 4 is here, and you can make it your own with more than 70 color combinations to choose from. Plus, get more out of your phone with improved battery life and a much faster chip.
(opens in new tab)
Samsung Galaxy Watch 5/Pro
The new Watch 5 Pro series is here, with bigger batteries to help you get through your day. And the new Watch 5 Pro takes it to another level with its rugged build to help it withstand the elements.
(opens in new tab)
Samsung Galaxy Buds 2 Pro
Samsung's new earbuds offer a sleek design that lets you block out most noise so you can focus on the task at hand or just immerse yourself into your movies or music.
How to Enable Encryption in Facebook Messenger – OSXDaily
By default, communications through Facebook Messenger are not end-to-end encrypted, which means that theoretically another party could retrieve sensitive information from the chat if they were nefariously minded. It also means that the conversations are basically wide open for reading by Facebook and whoever has access to Facebook data.
If you're a privacy buff (then why are you using Facebook, which is the antithesis of privacy?) you may be interested in enabling end-to-end encryption on your Facebook Messenger chats. End-to-end encryption makes it so that nobody, including Facebook, can read the content of your messenger conversations.
Curiously, Facebook does not have a global end-to-end encrypted messaging setting, which probably demonstrates how enthusiastic they are to not be able to read your messages, so you have to enable this one by one on a per conversation basis.
How to Enable End-to-End Encryption in Facebook Messenger for iPhone
Open the Messenger app if you haven't done so already, then tap on the conversation you want to encrypt
In the messenger thread, now tap on the persons profile at the very top of the screen
Look for "Go to secret conversation" under the More actions section
Tap back, then repeat with other conversations you want to end-to-end encrypt as desired
Now that you have end-to-end encryption enabled for a particular Facebook Messenger conversation, you can be somewhat more confident that nobody is going to be creeping in on your conversation. But it's still Facebook, which is not exactly a bastion of privacy given that you and your information are their product, so how much you trust them as a secure platform for communication is entirely up to you.
If you're serious about having secure conversations that are encrypted and less likely to be snooped upon by who knows what and who, you might consider using something like Signal, which is always end-to-end encrypted, and offers other nice features like disappearing messages too. Given that Signal's entire business model is focused on security, privacy, and encryption, it's probably more reasonable to trust something like that, compared to a company like Meta/Facebook whose entire business model is gathering details about you and selling your information.
Don't forget to check out more Facebook Messenger tips if this strikes your fancy!
Related