Samsung needs a splashy product for its splashy product launch – The Verge
The last big tech event I attended in person was Samsung's launch of the Galaxy S20 line of smartphones. Now Samsung will join everybody else in tech by trying to capture some semblance of that experience and hype in a purely online event with the upcoming Unpacked event scheduled for August 5th.
We are, of course, expecting to see the Galaxy Note 20 lineup announced that day. Though the rumors initially waffled a bit on what exactly that lineup would entail, more recent leaks point to a Note 20, a Note 20 Plus (which will be bigger), and a Note 20 Ultra (which will be… "Ultra," whatever that means).
In addition to the Note 20 line, there are plenty of other Samsung devices that are due for an imminent release. There's the 5G version of the Galaxy Z Flip folding phone, the Galaxy Z Fold 2 (rumors point to "Z" being Samsung's brand for screens that bend), the Galaxy Watch 3 smartwatch, and also new earbuds that are bean-shaped (yes really).
If all of these devices get announced, then it will be obvious that Samsung is hoping to make a splash with this event. Not to put too fine a point on it, but the company is broadcasting that intention quite clearly with a literal metallic paint splash on the invite.
As is Tradition, I will now proceed to overanalyze the image provided in a tech invitation. But while the normal rules require me to guess what products this image portends, instead I think it speaks to the psychology behind those products. Is it a halo? The drooping crown of a deposed king? I'm just going to with saying it is what it looks like: a splash. Here's what it means: if the rumors hold true, this summer's Unpacked event will see Samsung throw a bunch of ideas into the water to see what floats.
I get the feeling that Samsung is casting about for a halo device (something else that image could resemble, maybe). A halo device needs to impress everybody and draw people to the store, but not necessarily be the thing those people buy and walk out with. Will that be the Note 20, the Z Flip, or the Z Fold 2? I doubt Samsung itself knows the answer to that.
Me neither — but my pessimistic take is "Fold 2 or bust." Let's just review the contenders.
The Note 20 will surely be fine, but it will be laden with two problems. First, the spec-chasers will know that it's just a Galaxy S20 with a stylus. Second, Samsung's big bet this year was on a new camera sensor that has been …fine at best and problematic at worst.
Samsung was hoping for a generational leap, but instead tripped and has been trying to recover ever since. Reportedly, the Note 20 won't try to recreate the so-called 100X zoom but it will keep using that problematic 108-megapixel sensor. Even though Samsung has done much to improve it since the launch of the Galaxy S20 Ultra, it's still worrisome.
The Galaxy Z Flip is genuinely better than any other clamshell folding phone (the main competitor being the new Razr), but the big issue I have with it is that it costs too much. I don't know who's clamoring for it to cost more. A 5G variant isn't the splash Samsung needs.
The Galaxy Watch? It'll be the best smartwatch for Android phones, which given the state of the competition means bupkis. As for the earbuds, all I want is for Samsung to have the self-confidence to actually call them "beans." Tech is too self-serious these days. Give me Ear Beans.
But Ear Beans aren't it either. Which leaves us with the Galaxy Z Fold 2 (or whatever it will be called. I'm sure Samsung will throw a 5G in the name there in exchange for a carrier kickback).
I had a front-row seat to the disastrous Galaxy Fold launch in April of last year — anytime your phone breaks spontaneously in the hands of several reviewers, that's bad. Samsung did eventually re-release the Fold (at its sky-high $1,980 price), but you wouldn't blame the company if it decided to just pull back on that whole folding tablet thing for a year or two.
Nope. If the rumors are true, the Fold 2 is coming. Now that is confidence. Rumors on what it will or won't be are a little more sparse than I'd normally expect for a Samsung phone at this stage — a larger outer screen, no stylus, and 5G. I also assume it'll have that ultra-thin glass screen from the Z Flip. There will be more to the story, but that phone has a better shot at being a halo device than anything else.
Why does Samsung need a halo device? Because Chinese phone makers are nipping at its heels for marketshare (if not outright winning in lots of regions) and Samsung has staked its reputation on innovation. You can find a phone with 90 percent of what you get in a flagship Samsung phone while spending hundreds less — so Samsung really needs to wow you with the other 10 percent.
Reviews and how-to
┏ The best wireless earbuds to buy right now. I'm with Chris Welch on this one. After bouncing between five different BT headphones (AirPods Pro, Pixel Buds, Sony 1000XM3, OnePlus neckbuds, and the Galaxy Buds) for the past month, the Galaxy Buds are the ones I use the most now — and notably, I use them with my Mac, iPhone, and Android phone. Would I like noise cancellation? Sure, but it's not as much of a priority for me now that I don't commute by train. I'd also like these headphones to switch between devices more seamlessly, but at least they're better than Sony (nearly everybody is better than Sony in that regard).
There's no one set of earbuds that is perfect at everything. For general everyday listening, the Samsung Galaxy Buds Plus are the best wireless earbuds. Got an iPhone? Nothing beats the AirPods Pro.
┏ How I hosted my first charity stream, and how you can host one, too. Great walkthrough from Bijan Stephen:
If you're planning for your stream to be slightly more elaborate, I think the most important features to consider are length, guests, and a donation thermometer.
┏ A portable display can make working from your dining room table easier. Dan Seifert:
Right now, the Ananta is available through a Kickstarter campaign, with deliveries promised for September of this year. As of this writing, the lowest price you can get the display for is $359, and it is expected to retail for a rather steep $599 when it hits general availability. If you go for the Kickstarter deal, the price is reasonable for how large, versatile, and well the Ananta works. But at full price, it may cost nearly as much as the laptop you're plugging it into, at which point you have to wonder if it's worth it.
┏ LG Gram 17 review: lighter than it looks. Monica Chin:
It's very unusual to see a 17-inch laptop under four pounds — let alone under three. Couple that with a $1,499 starting price (our model currently goes for $1,699), and you're looking at a pretty niche target demographic. For that niche, though, this laptop tracks.
┏ I built my own camera with a Raspberry Pi 4. This video from Becca Farsace is a treat. And it will encourage you to go try something weird and new during lockdown. Watch!
┏ How to convert a PDF file for your Kindle.
Covid-19
┏ This isn't a COVID-19 wave — it's a tsunami. Mary Beth Griggs has a much better metaphor for what's happening in the US right now.
┏ Sports bubbles are good places to study COVID-19. Nicole Wetsman:
If the virus starts to spread within the isolation zones, though, it should be relatively easy to trace the path it traveled. In the outside world, it's hard for people to remember where they go and who they interact with, says Angela Rasmussen, a research scientist at the Center for Infection and Immunity at the Columbia University Mailman School of Public Health. If you're on a tight schedule and living in a central location, like athletes in these environments are, that information is easy to access. "You can work out, not only the number of contacts you've had, but the types of interactions you have with those people."
┏ Tracing the link between your phone and the next pandemic. Justine Calma on how everything is connected. Mining for the minerals needed to make your phone puts people in situations that may cause "spill over" of viruses from animals to humans:
Ultimately, the way humans interact with animals and the environment can have grave consequences for our own well-being. That's why scientists and public health experts have developed a strategy for addressing the ways in which the health of the environment and all of the people and wildlife living in it are connected. It's an approach called "one health."
Tech News
┏ Microsoft announces new Windows 10 Start menu design and updated Alt-Tab. Tom Warren:
Essentially, the reduction in the color of the blocky tiled interface on the Start menu will simplify it slightly and make it easier to scan for the apps you use on a daily basis. It's a subtle change, but it certainly makes the Start menu look a little less chaotic and avoids many tiles sharing a similar blue color.
┏ Microsoft announces Xbox Series X games event for July 23rd. How many times can you announce a new console?
┏ Mmhmm turns your boring Zoom call into a Weekend Update-style TV show. If, like me, you briefly thought "Oh I could probably pull all this off with OBS and a little work," you're missing the point. The whole key to this software is the ease of the UI, which could democratize different ways of presenting and having video conversations. I can't wait to try it out.
┏ Google discontinues the Pixel 3A and 3A XL.
┏ BMW is going all-in on in-car microtransactions. Well, I hate this! Sean O'Kane:
BMW now wants to take this to a far more specific level. The German automaker announced on Wednesday that all cars equipped with its newest "Operating System 7" software will soon receive an update that makes it possible for the company to tinker with all sorts of functions in the car, like access to heated seats and driving assist features like automatic high beams or adaptive cruise control. And the company unsurprisingly plans to use this ability to make money.
┏ Uber acquires meal delivery service Postmates for $2.65 billion.
More from The Verge
┏ Fading Light: the story of Magic Leap's lost mixed reality magnum opus. Adi Robertson:
Inside the company, though, a few dozen developers were building what they describe as one of Magic Leap's most exciting projects. It's called The Last Light: an interactive story about a young woman dealing with the death of her grandmother, designed to show the storytelling potential of mixed reality. And crucially, its creators say it's finished — but they aren't sure if anyone will ever see it.
┏ There's no quick fix for climate change. We're so bad at understanding delayed results, as Justine Calma explains:
"There is this fundamental misunderstanding of the climate system by non climate scientists trying to use trends on a 10 year time scale for climate change, when [with] climate change a 100 or 200-year timescale is relevant," explains Natalie Mahowald, a climate scientist at Cornell University who was not involved in the study. "All our hard work today, we will not be able to see for 20 or 30 years — this is the crux of the problem," Mahowald says. "Humans have a really hard time doing something for future generations."
┏ Quibi is flailing because no one at Quibi understands what Quibi is. Julia Alexander looks at the moves Quibi could make to survive as everybody's free trial runs out.
Samsung Galaxy S21 and Galaxy A8 2018 receive new updates with March 2021 security patches – XDA Developers
When it comes to pushing monthly security updates, Samsung as an Android OEM has been doing a terrific job over the last few months. The company's update schedule has improved to the extent that it's now pushing the latest Android security patches to some of its devices even before Google officially publishes the corresponding Android Security Bulletin. Look no further: The shortest month of the year isn't over yet, but the Galaxy S10, Galaxy Note 10, Galaxy Fold, and the Galaxy Tab S7 have already received the March 2021 patches. Well, it doesn't seem like Samsung is stopping anytime soon, as the Korean OEM has now started rolling out similar updates for the Galaxy S21 and the Galaxy A8 2018.
Tagged with the version number G99x0ZHU1AUB7, the update for the Galaxy S21 series is intended for the Qualcomm Snapdragon 888-powered China/Hong Kong variants. As reported by SamMobile, the size of the incremental update package is about 387MB. Apart from bumping the security patch level, the new firmware also brings overall performance improvements as well as camera improvements.
Galaxy S21 Forums ||| Galaxy S21 Plus Forums ||| Galaxy S21 Ultra Forums
Similarly, the company has started rolling out the March 2021 Android security patches for the Galaxy A8 2018 (model number SM-A530F) in the form of software version A530FXXSICUC1. The update is currently available in the XSG region, which is the Korean OEM's internal code for the United Arab emirates.
Interestingly, the new build increments the underlying bootloader version from "H" to "I". As a consequence, end-users can't perform a downgrade and revert back to an older build after installing this update on their Galaxy A8 units.
As always, the updates are rolling out in batches. You might have to wait a couple of days before the update notification pops up on your device. However, if you are no stranger to manual flashing, you can just skip the waiting queue and use one of our community-developed tools to download the appropriate firmware for your device variant right now from Samsung's update server.
At the time of writing this article, Samsung's Mobile Security portal has not been updated with the details of the March 2021 security bulletin.
Here Are All The Free PlayStation Plus Games For March 2021 On PS4, PS5 And PSVR – Forbes
Next month's PlayStation Plus games are rock solid offerings from Sony. Every single one of the games the PS5 manufacturer is giving away to its PS Plus subscribers is great.
Well, I can't speak to the new PS5 game yet, as I haven't played it—as it hasn't released yet—but the rest are all top-notch freebies that everyone in their right mind will happily download (assuming you haven't already)
Here's what to expect when these go live next week.
PS5
PS4
Final Fantasy VII: Remake
Remnant: From the Ashes
PSVR
First off, I included Maquette in my predictions post so I'm going to count that as a win. I probably should have included Final Fantasy VII Remake in that post as well, but hindsight is 20/20 as they say.
It's nice to see Sony giving away a VR game—Farpoint, a cool sci-fi VR shooter—especially with the news of a brand new next-gen virtual reality headset coming to PS5.
Remnant: From the Ashes is a very fun online co-op action game that took the gaming world by storm when it released and has been somewhat quiet ever since. Maybe this will give it a resurgence.
Alas, the Final Fantasy VII Remake you get with PS Plus is not eligible for the free PS5 upgrade coming this June. We saw that announcement during yesterday's somewhat lackluster State of Play with some handy side-by-side footage of the graphical improvements in the PS5 version. C'est la vie.
Finally, the PS5 exclusive car-combat game Destruction Allstars remains free throughout March so you still have plenty of time to download and play that one. You have a few days left to download the other February freebies as well, but the window is closing fast.
Luxurious residences are setting a new standard of living in Langley – The Record (New Westminster)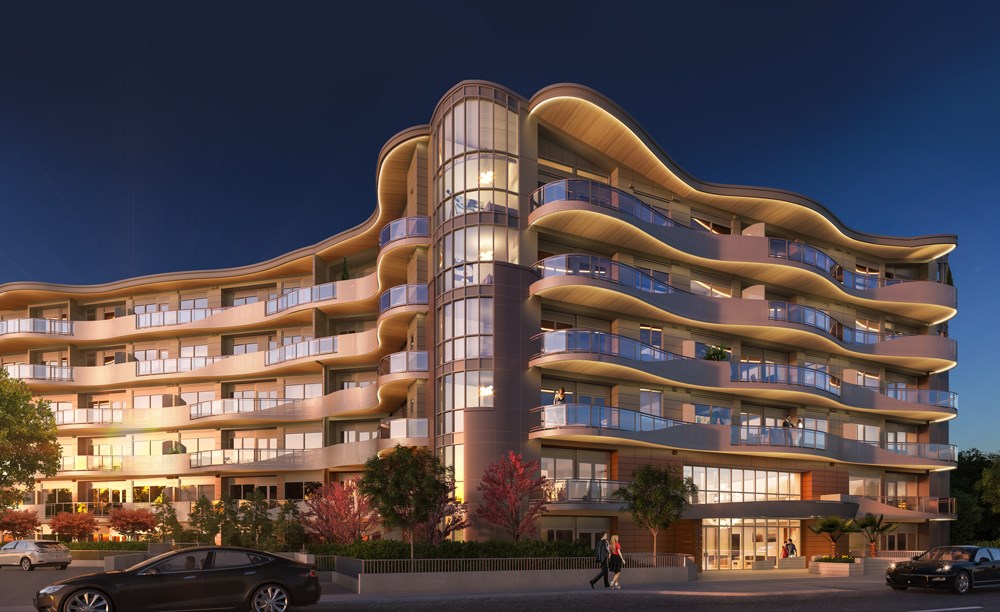 Once in a while, a new building is raised that forever changes the landscape of a city—setting a new bar for quality, luxury and striking architecture.
Welcome to JMC Properties' Legacy on Park Avenue, a six-storey boutique CLT building in Langley unlike anything the city has ever experienced before. Designed with multiple award-winning Keystone Architecture, the structure is arguably going to become an iconic landmark.
Retirees Pam and Brian Doyle hadn't expected to downsize for another three years—that is until they saw Legacy on Park Avenue.
"We were driving in downtown Langley and saw the building," says Brian. "First off, we were incredibly impressed with the unique design of it. Then, when we saw the high-end quality finishes and the construction elements they put into it, such as extra sound proofing, expansive unique shaped decks and drains in the bathroom floors, that sealed the deal for us."
The long-time Langley residents sold their 4,000 square foot rancher and purchased a three-bedroom and den home on the sixth floor with sweeping views of Mount Baker.
"When you find something of such high caliber like Legacy in a prime location, we knew we couldn't pass this up," says Pam. "We both believe Legacy on Park Avenue will forever transform the flavour of the downtown core and we couldn't be more excited to be part of it."
Legacy on Park Avenue is a sophisticated collection of 69 contemporary two- and three-bedroom plus den condominiums, ranging from 1,179 to 1,681 square feet of timeless beauty.
"This is totally different than anything in the Lower Mainland," says Ben Gauer, marketing and sales manager, Legacy on Park Avenue. "This is a passion project for the builder Erich Jaeger, a man with nearly 50 years of construction excellence. He wants this to be a lasting legacy for the city."
What you don't see is what counts. So says Jaeger, who is rooted in the European standards of construction he was raised on in Germany.
"Purchasers are not aware that this is a once in a lifetime building," says Jaeger. "The idea was to build something different. No cost has been spared; everything is way above and beyond what is required by the building code. In 100 or 200 years from now, I want people to say this is a stunning building. Legacy on Park Avenue will still be standing, solid and look like it was built yesterday."
And indeed, Legacy on Park Avenue is set to do just that. With its eye-catching curved architecture and soaring balconies, it will be the first residential CLT (Cross Laminated Timber) cutting edge sustainable building in the Fraser Valley and the first of its kind in Canada to utilize CLT in the firewall.
It doesn't stop there. This eco-friendly building features a private heating and cooling system in each residence, floor-to-ceiling energy efficient insulated UV rated German engineered sound-rated windows, which results in significantly reduced heating/cooling costs, and more.
As soon as you enter through a double height glass lobby showcased by a dramatic fireplace, a designer green wall art installation with preserved green plants and concierge services, you instantly know you are in for timeless elegance and refinement throughout.
Legacy on Park Avenue is showcased by sprawling ceilings, wide-plank engineered white oak hardwood floors and spacious outdoor decks and patios to enjoy sweeping cityscape and mountain views. Chef-inspired kitchens feature Fisher & Paykel appliances, Caesarstone countertops and full-height solid backsplash, spacious islands, and Brizo Matte Black and Luxe Gold Faucet with sprayer.
Homeowners will also have access to unparalleled private amenities; sitting rooms on each floor, a Grand Lounge with striking seating areas, work stations, and an entertainment area featuring a television, fireplace, kitchen and deluxe washrooms. A folding acoustic wall can accommodate two simultaneous events. Meet neighbours on the beautifully landscaped outdoor terrace, or head to the fully equipped fitness gym with washroom/change room for a great workout.
Getting in and out of Langley has never been easier. Legacy on Park Avenue is within walking distance to a planned SkyTrain station, and close to Highway 1, which is ideal for conventional commuting. It is also in close proximity to Timms Community Centre, steps from Douglas Park and miles of walking trails through the Nicomekl parklands, as well as schools and the historic Fort Langley.