Samsung's Galaxy S21 proves the time is right for iPhone 13 to get in-screen Touch ID – TechRadar
It's not new for Apple to sit out newer technologies for a few generations to wait and watch the rest of the market experiment and get stuff wrong, then come in at a later date with a solution to those problems.
Next up, it'll probably be the in-screen fingerprint scanner. The first phone to feature the technology was the Vivo X20 Plus UD that was unveiled at the start of 2018, and by the end of 2021 I think we'll see Apple include the tech in the iPhone 13.
That almost four year stretch has seen a variety of implementations of in-screen fingerprint scanner tech, and now the iPhone's greatest rival – that's the Samsung Galaxy S21 series – proves the technology is ready for the mainstream.
A long time coming
The Samsung Galaxy S21 series features both strengths and weaknesses, but it undeniably provides the best in-screen fingerprint sensor we've seen on a Samsung phone to date.
In my opinion, this is the best in-screen fingerprint scanner I've used on any smartphone. A whole host of manufacturers including OnePlus, Oppo, Xiaomi, and many more have fiddled with the technology, and some were often including better implemented tech than Samsung until now.
Samsung has made big strides in 2021 that make this a far better option. Well, Qualcomm technically had a big hand in the newer technology, but Samsung's new phones are the first time we've seen it available on a smartphone.
I've never come across an in-screen fingerprint scanner that meant I would stop using that phone, but until now the technology has always been noticeably weaker than physical fingerprint scanners.
We grew accustomed to capactive sensors on the bottom half of our smartphones over the last decade, and switching to in-screen technology hasn't been without bumps in the road.
So why do I think it's the right time for Apple to jump in and include the first Touch ID fingerprint scanner that you'll find embedded under the display?
Samsung's latest series of phones feature a 70% larger sensor than the one we saw in 2020's Galaxy S20, and that's notably easier to use. It means you don't have to be as specific with your finger, as a lot more of the bottom half of the phone's display has a scanner underneath it.
It's a relatively minor adjustment, but it makes the technology far more usable than we've experienced in the past. It's also notably faster too, which means you won't be waiting around for the phone to unlock like we've had to with some previous iterations.
A bad year for Face ID
I'm sure Apple has been considering under display fingerprint scanners for a while, but the Covid-19 pandemic may have also exacerbated the need to return to a fingerprint sensor.
The last 12 months have seen Face ID – Apple's success story of a switch from fingerprint scanners to facial recognition software built into the selfie camera – begin to struggle as we strap on face masks and hide our identities from our phones in an attempt to stop the spread of Covid-19.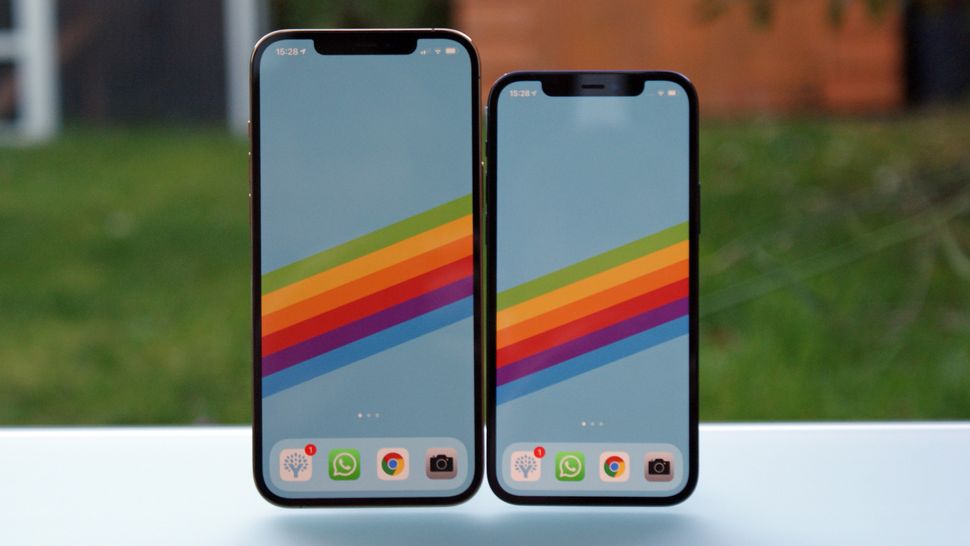 A new report this week has suggested Apple is eyeing Touch ID to go under the screen for the first time in whatever it calls its next smartphone series, and while I would have preferred Apple to include this technology in its 2020 iPhone 12 series, the Galaxy S21 proves the technology is good enough for the masses now.
I hope by the time the next iPhone debuts – we're expecting September 2021, but it may come later in the year – we won't need to be wearing face masks as often, but introducing a new technology that allows us to use a fingerprint to unlock our phone will give us another option to quickly authenticate our identities alongside Face ID.
It may be we only see one Apple handset feature the new technology when it debuts later this year – often Apple will keep its most innovative tech for one model – but I think Samsung's success is a clear sign of where the iPhone is headed.
B.C. woman's anxiety app featured in Apple's International Women's Day promotion – CTV News Vancouver
VANCOUVER —
This International Women's Day, a Vancouver Island woman is being recognized for a smartphone app she developed to help people who experience anxiety and panic attacks.
Ania Wysocka's app Rootd will be featured in Apple's App Store on International Women's Day as part of a celebration of app developers who are women.
The Victoria resident told CTV News Vancouver she developed the app, which has been downloaded more than 600,000 times, in response to her own struggles with anxiety.
Wysocka had her first panic attack during her fourth year as an undergraduate student at the University of British Columbia.
"I really had no idea what (panic attacks) were beforehand, and I was really caught off guard," Wysocka said. "I was far away from home, I had no family doctor, I was on a student loan budget, so I really relied on things I could find in textbooks and different resources online to figure out what was happening."
Years later, she would look back on the experience and think about how much better it could have gone if she had known what to expect.
"That's what inspired me to start Rootd," she said.
The app has everything from guided meditations to an actual panic button, and Wysocka said users tend to embrace the features that help them with their specific needs.
"People really use it differently depending on what they are experiencing," she said.
At the centre of all the app's features is Ron, a little monster who serves as Rootd's mascot. He's a visual representation of anxiety, but he's also friendly and supportive, Wysocka said.
"He was really a representation of how I felt at the time," she said. "Through learning cognitive behavioural therapy, you kind of realize that you have to befriend some of these emotions that are otherwise really overwhelming, and so Ron became the symbol for that."
Some of Rootd's users really relate to Ron, Wysocka said.
"They talk about him like he is a person," she said. "There's reviews that come in along the lines of, you know, 'Ron is the only one there for me,' 'I feel so alone, but then I have Ron and Ron gets me through the night.'"
Wysocka said she's happy that the app has been a success and that Apple has decided to feature it for International Women's Day.
That said, the stories of everyday people who use the app are more important to her than how many downloads it gets.
"(People) use Rootd to go back to school, they use Rootd to go back to work, they use Rootd to rebuild confidence that panic attacks and anxiety have taken away from them," Wysocka said.
The app is available in the App Store and on Google Play, and more information is available on the Rootd website.
With files from CTV News Vancouver's Nafeesa Karim
Japanese billionaire Yusaku Maezawa looks for volunteers for SpaceX flight around the moon – Time Bulletin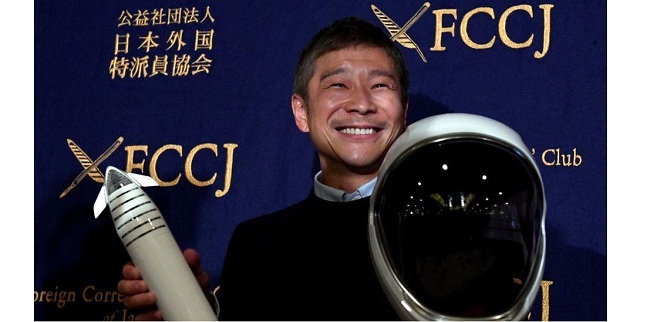 Eccentric Japanese billionaire Yusaku Maezawa is searching for eight civilian volunteers to take off to the Moon with him on the first-ever private commercial space trip.
The week-long journey, at first declared in 2018 and named "dearMoon" is set for 2023 onboard Elon Musk's SpaceX Starship and Super Heavy Rocket, once known as the SpaceX Big Falcon Rocket.
Albeit the next-generation Starship is as yet in testing, a few runs finishing off with fiery crashes, Musk has guaranteed it will be prepared to leave two years and has said he accepts the mission will "make a real difference."
It will require three days to get to the lunar planet. The Starship will loop behind it and afterward start its three-day journey back home, making it the farthest distance any human has at any point gone from Earth.
In a video posted on Tuesday, the Zozo originator clarified that the full traveler list will incorporate 10 to 12 group individuals. The 45-year-old will bankroll the expedition, however, how stays unclear.
Even though Maezawa had initially indicated that candidates be specialists, that arrangement has since "evolved."
"Every single person who is doing something creative could be called an artist…and that is why I wanted to reach out to a wider, more diverse audience," he said.
Presently, the Start Today Co. Chief has only two necessities: to have the option to push the envelope to help the "greater society" somehow or another and a have the willingness to help other team individuals who "share similar aspirations."
Each picked member will wear an especially custom-tailored SpaceX suit that is made to give a compressed climate to all individuals and route communications and cooling systems to the astronauts during regular flight.
Outstandingly, in January of a year ago, Maezawa additionally launched a weird campaign to locate a "female partner" who might go with him, accepting 27,722 applications from single women older than 20 years of age.
The selectee would co-star in a reality show about the interaction on Japanese streaming service AbemaTV.
Nonetheless, following analysis, he immediately canceled the search and issued an apology.
At this moment, pre-applications for the selection process are expected by March 14 at 6:59 p.m. PT and beginning screening will start a week later. The last interviews and medical checks are planned for late May.
Inspiration4, another civilian mission in support of St. Jude's Children's Research Hospital, means to take off in SpaceX's Dragon – which is now affirmed for human flight – when the year's end.
iPhone 11 Fished Out of B.C. Lake, Still Works After 6 Months Underwater – iPhone in Canada
An Apple iPhone 11 was recently fished out of British Columbia's Harrison Lake by free divers Clayton Helkenberg and his wife Heather, with the phone remaining in fully-working condition and returned to its owner, reports CBC News.
[embedded content]
Clayton and Heather are free divers from Chilliwack who spend their spare time cleaning up the 279m deep Harrison Lake in British Columbia, and document their progress on their YouTube channel 'Aquatic Monkey'.
The free diving couple's adventures often include the odd smartphone or GoPro find at the bottom of the lake, but on this rare occasion, the phone simply worked as soon as Clayton tried turning it on at home.
"I took it home, cleaned the dirt off of it and it just turned right on, so it was pretty amazing", said the free diver.
The iPhone performs beautifully in drop tests and even though iPhones are inherently well-waterproofed, the iPhone 11 and iPhone 12 are known to simply excel at underwater endurance. Even so, just turning on after spending 6 months at the bottom of a lake is just something else.
This particular iPhone 11 belonged to Vancouver resident Fatemeh Ghodsi, who was understandably skeptical when Clayton texted her to inform her that he is in possession of the phone she lost in Harrison Lake six months ago.
Ghodsi originally dropped the phone in the water back in September while riding bumper boats in Lake Harrison. "I was in a situation where I kind of lost balance and dropped it in the water", she said.
One flabbergasted trip to Chilliwack later, however, Ghodsi now has the iPhone 11 she had already made peace with losing back, and that too in full working condition. She was able to get back full access to your photos, contacts and more.
"I was in complete shock, initially to start with. It was kind of like a zombie phone coming back to me, because I'd totally made peace with it being gone", she added.
Again, this goes to show the awesome waterproofing of Apple's iPhones, which we've already seen in underwater tests. It's also a good reminder to have some sort of backup plan in place, specifically with iCloud, so you can rest assured if you lose your phone, you won't lose all your precious photos and data.