Sask. art gallery reviewing 2,000 pieces following return of stolen Indian statue – CBC.ca
A Saskatchewan art gallery is investigating 2,000 pieces in its collection following the return of a stolen statue to India.
CBC News was recently granted access to the basement vault of Regina's MacKenzie Art Gallery, where namesake Norman MacKenzie's journals and records are stored. They detail MacKenzie's theft of the Indian statue, but also raise questions about other pieces he acquired from China, Syria and elsewhere.
Galleries and museums across North America and Europe are facing demands to return pieces looted from other countries. Some say it's also time to debate whether names like MacKenzie should remain on those buildings.
"Institutions — whether they're local, provincial, national — all created a colonial narrative. The narrative was one of defeat. It's a colonial story," said Gerald McMaster, a Canada research chair at the Ontario College of Art and Design (OCAD) and director at the Wapatah Centre for Indigenous Visual Knowledge.
"I think the reckoning is coming."
The MacKenzie gallery's CEO John Hampton recently escorted CBC News to a basement door marked "Vault," keying in a series of security codes before entering. After donning blue latex gloves, Hampton opened a drawer containing MacKenzie's original dictated ledgers from his 1913 world trips.
MacKenzie had moved to Regina from Ontario years earlier and established a thriving law practice. His growing art collection was almost totally destroyed during the 1912 Regina Cyclone, the deadliest tornado in Canadian history, which killed 28 people.
MacKenzie and his wife then embarked on the first of two world tours to replace and enhance his decimated collection.
The story of the statue
Hampton opened the large, black leather-bound book and flipped through page after page of photos and descriptions of each piece. It included the story of the Indian statue.
MacKenzie had apparently dictated the story at some point after returning: He and his guide were rowing down the Ganges River in the holy city of Varanasi, then called Benares, when they came upon a Hindu temple.
He saw three stone statues at the edge of a pool filled with red liquid. MacKenzie assumed it was sacrificial blood, but gallery officials say it was most likely coloured with "sindoor," a red powder used in ceremonies.
MacKenzie talked to a man there who agreed to steal one of the statues. Later that night, the man brought all three to MacKenzie's hotel room.
MacKenzie said he'd only buy one, because he knew it was "a most serious offence" and he could have "gotten into trouble" with the British colonial government if he tried to smuggle out all three. MacKenzie told the man to return to the scene and put back the other two statues.
But he took the third statue — depicting goddess Annapurna — back home to Saskatchewan, where it remained for the past 108 years.
In the ledger entry, as with others, MacKenzie appears proud to have spirited out the rare religious artifact.
"This is the idol that I saw the people worshipping … and is a good sample of the type of idol which is used by the poorer classes," MacKenzie said.
Two years ago, visiting Winnipeg artist Divya Mehra raised questions about the statue, initially because it was mislabeled. Gallery officials investigated, concluded it belonged to the people of Varanasi and voluntarily returned it.
Upon its return last month, the Annapurna statue was draped in colourful robes and flowers and taken on a multi-city tour. Hindu faithful lined the streets to catch a glimpse of the procession to Varanasi.
Indian Prime Minister Narendra Modi, who represents Varanasi in parliament, lauded its return. He also thanked gallery officials and the University of Regina, which was bequeathed MacKenzie's collection after his death in 1936.
'Mixed emotions'
It was important for Annapurna to return home, said Hampton.
"There's definitely mixed emotions that we're all feeling here now; proud that we could take these steps, but also regret and shame, thinking that for over 100 years, she's been gone from that territory and stewarded at the MacKenzie for so long without the same sense of care that she receives in that home community," he said.
There are now questions over other works in the MacKenzie collection.
MacKenzie's tours took him across Asia; he amassed a particularly large collection from China. At the time, many desperate, starving Chinese people were selling anything they had to survive.
According to MacKenzie's own notes — which are also chronicled in a 2010 journal article by University of Regina professor emeritus Gail Chin — he talked to a Japanese diplomat about his desire to possess a "valuable Chinese idol."
The man directed MacKenzie to two temples in the city of Soochow, now called Suzhou, where MacKenzie would find a monk "so hungry that he would trade food for an icon."
That's exactly what MacKenzie did. He placed the icon in his hand luggage and brought it back to Canada. That bronze, seated Buddha is still sitting in the MacKenzie Art Gallery's basement.
Chin has researched MacKenzie's Chinese collection, including the Buddha statue. In the 2010 article, she said MacKenzie's goal of bringing the world's art to the Canadian Prairies was noble on one level. But looking closer, she wrote, MacKenzie "wished for others to stand in awe of his taste, wealth and social position."
In an interview with CBC News this week, Chin was asked how she feels about Norman MacKenzie today. She paused for several seconds before answering.
"Well, I suspect that Norman MacKenzie would probably ask me to shine his shoes," said Chin, a third-generation Chinese Canadian.
"That was the social order back then, and I accept that. Society has changed, evolved. At least I hope so. Because along with Indigenous people, we all hope and pray for reconciliation."
There are also questions about MacKenzie's acquisitions of sacred religious items from other countries.
In 1930, MacKenzie bought a sculpture used in a funeral service in the Syrian region of Palmyra from controversial dealer Edgar Banks.
According to the journal Syria Archeology, Art and History, Banks looted dozens of sites across the Middle East and had been fired by the University of Chicago and other institutions for his unscrupulous practices in the years before that sale to MacKenzie.
Reconciliation as a central goal
The MacKenzie collection also contains scores of North American Indigenous art. Much of that was purchased directly from First Nations artists, but it will all be part of the 2,000-piece review now underway, Hampton said, who grew up in Regina and is a citizen of the Chickasaw Nation in the southern U.S.
Not all First Nations or international art was stolen or obtained unethically, said McMaster, a citizen of the Siksika Nation in Alberta, who grew up on the Red Pheasant Cree Nation near North Battleford, Sask.
But much of it was, he said, and the truth must come out.
The "colonial mentality" that allowed MacKenzie to steal art is the same mentality that allowed powerful white men to create the residential school system, McMaster said.
McMaster said three things need to happen at the MacKenzie and other galleries after the truth is exposed.
First, the talents and rights of these artists and cultures must be acknowledged.
Second, items must be returned to their rightful owners and communities, wherever possible.
Third, it's time to debate whether to keep names like MacKenzie on galleries and museums.
Floyd Favel, the curator of the Chief Poundmaker Museum, a new gallery and museum on the Poundmaker Cree Nation near North Battleford, Sask., agreed. His main goal is to repatriate any items stolen from his First Nation.
"One of the root causes of major institutions being in possession of stolen art or artifacts is due to racism; those institutions feeling that those people or that artist or that group is not worthy of that very beautiful work of art, whereas we are, because we're colonialists and we have a big museum," said Favel.
It's unclear how long the MacKenzie investigation will take. The gallery hopes to hire someone dedicated to that work and is searching for funding sources, Hampton said.
While some of MacKenzie's actions were deplorable, Hampton said, any discussion should balance these "very glaring blind spots" with the positive aspects. For example, MacKenzie was a firm believer that art should be seen by all, even hosting exhibitions for the general public in his own home.
As for the gallery itself — which opened two decades after MacKenzie's death — it was the first in Canada to host a show by Indigenous artists. Many of its curators and senior staff in recent years are Indigenous and from other diverse backgrounds. And reconciliation through art is now one of the gallery's central goals, said Hampton.
"I think that there's still a lot to admire about Norman MacKenzie and how he went about building his collection and thinking about the community here," he said. "There's a lot to be celebrated, and then there's these elements that he needs to be held accountable."
Mystery black diamond called 'The Enigma' goes up for auction
A black diamond weighing a staggering 555.55 carats is going up for auction at Sotheby's and living up to its name "The Enigma."
Bidding opens on Feb. 3 at 6 a.m. PST (1400 GMT) and closes on Feb. 9, Sotheby's said, adding cryptocurrency will be accepted for payment of the diamond.
Sotheby's said it is the largest faceted Fancy Black Diamond known to ever appear at auction and was listed as the largest cut diamond in the world in the 2006 Guinness Book of World Records.
Also known as a carbonado diamond, it is possible the black diamond came from outer space. Carbonados of this structure have only been found in Brazil and the Central African Republic, and scientists have long theorized about their origins.
"They are shrouded in mystery as to the origin or formation because there's not that many of them found on Earth," geologist Aaron Celestian, the curator of mineral sciences at the Natural History Museum of Los Angeles, told Reuters on Wednesday.
Celestian said most carbonados are about 2.6 to 3.2 billion years old. As Earth itself dates back to 4.65 billion years ago, carbonados were formed when Earth's plates were still moving and the oxygenation of the atmosphere was taking place, he said.
"We think that they could have formed super deep within the Earth's interior, far deeper than what we know already of diamonds. There's hypotheses that suggest that they formed at impact sites where a large asteroid hit Earth," Celestian said.
"There's also interstellar hypotheses that suggest that they grew in space and then later fell on the surface of Earth."
The Enigma has not been exhibited before and is expected to sell for between $4 million and $7 million. Its owner has had it for two decades, but little is known about its history before that.
Celestian believes research into the diamond would tell us a lot about deep-Earth mineralogy or the evolution of our solar system.
The diamond, which was exhibited in Dubai last week, was shown in Beverly Hills this week before heading back to London for the auction.
(Reporting by Rollo Ross; Editing by Karishma Singh and Sandra Maler)
Picasso heirs launch digital art piece to ride 'crypto' wave – Coast Reporter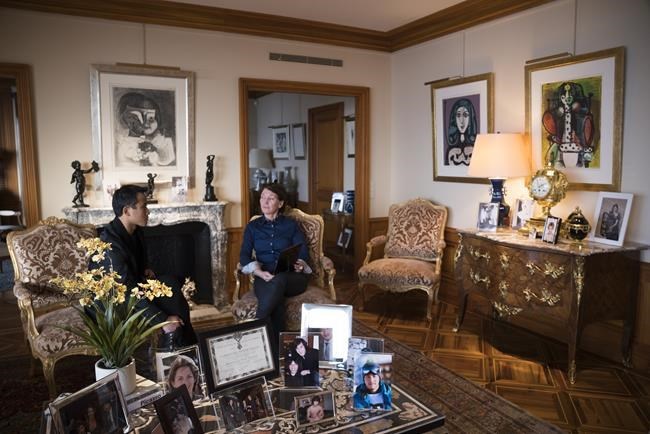 GENEVA (AP) — Pablo, meet Crypto.
Heirs of Pablo Picasso, the famed 20th-century Spanish artist, are vaulting into 21st-century commerce by selling 1,010 digital art pieces of one of his ceramic works that has never before been seen publicly — riding a fad for "crypto" assets that have taken the art and financial worlds by storm.
For an exclusive interview before the formal launch this week, Picasso's granddaughter, Marina Picasso, and her son Florian Picasso opened up their apartment — which is swimming in works from their illustrious ancestor — in an upscale Geneva neighborhood. There they offered up a glimpse, however tantalizingly slim, of the piece behind what they're billing as an unprecedented fusion of old-school fine art and digital assets.
They're looking to cash in on and ride a wave of interest in non-fungible tokens, or NFTs, which have netted millions for far-less-known artists and been criticized by some as environmentally costly get rich schemes.
A Picasso, his family's promoters say, would mark the entry of a Grand Master into the game.
In economics jargon, a fungible token is an asset that can be exchanged on a one-for-one basis. Think of dollars or bitcoins — each one has the exact same value and can be traded freely. A non-fungible object, by contrast, has its own distinct value, like an old house or a classic car.
Cross this notion with cryptocurrency technology known as the blockchain and you get NFTs. They are effectively digital certificates of authenticity that can be attached to digital art or, well, pretty much anything else that comes in digital form — audio files, video clips, animated stickers, even a news article read online.
"We're trying to build a bridge between the NFT world and the fine art world," said Florian Picasso, the artist's great-grandson.
The artist's descendants are playing close to the vest, to drum up interest and protect — for now — a family heirloom. They're showing only a sliver of the underside of the work linked to the NFTs, a ceramic piece about the size of a large salad bowl. The exposed parts show forms like a thick yellow line, a dribbling green splotch, and a brushed-on number "58" at the base.
Marina Picasso says the cherished pottery piece dates to October 1958, when she was a child.
"It's a work that represents a face, and it's very expressive," she said. "It's joyful, happy. It represents life … It's one of those objects that have been part of our life, our intimate lives — my life with my children."
Sotheby's is hosting an auction in March that will include a unique NFT as well as the actual ceramic bowl. A first-phase, online sale of more than 1,000 other NFTs starts Friday through the Nifty Gateway and Origin Protocol platforms.
Florian Picasso said they agreed on the colorful ceramic piece because it was "a fun one" to start.
An NFT Picasso brings with it almost epochal symbolism, something like when the Beatles collection was finally put up on iTunes. The family and its business managers say the aim is to create a younger community of Picasso fans.
"Everything is evolving," said Florian Picasso, insisting that the NFT honors the great artist.
"I think it fits within Picasso's legacies because we are paying tribute to him and his way of working, which was always being creative," he said.
How quaint seem those days of yore when Picasso, as the legend has it, would simply doodle on a napkin as payment for a restaurant meal — his handiwork supposedly carrying a value far in excess of the cost of the food and drinks he had enjoyed.
Some of the proceeds will be donated — one portion to a charity that aims to help overcome a shortage of nurses, and another to a nongovernmental organization that wants to help reduce carbon in the atmosphere. The NFTs will also come with music put together by Florian Picasso, who is a DJ and music producer, along with songwriter John Legend and rapper Nas.
Even a full rendering of that track isn't being publicly released just yet: Florian Picasso played a snippet for a reporter, then turned it off.
"And to hear more, you gotta purchase the NFT," he quipped.
___
AP video journalist Boris Heger contributed to this report.
Jamey Keaten, The Associated Press
Art Basel to Run New Paris Art Fair. Just Don't Call it 'Art Basel Paris.' – The New York Times
Art Basel already runs glamour-filled art fairs in Switzerland, Miami Beach and Hong Kong. Now, it's heading to Paris.
In an announcement likely to stun the art world, the organization that runs the glittering Grand Palais in Paris announced on Wednesday that MCH Group, the owner of the Art Basel brand, would set up a new contemporary art fair to run in the venue each October.
MCH Group will take over the slot previously held by the FIAC contemporary art fair, the organization, the Réunion des Musées Nationaux-Grand Palais, added.
The news will surprise many in the art world, as FIAC was a venerable French institution that has held fairs there for decades. Last year, President Emmanuel Macron of France held a reception for the fair, calling it the "nerve center of the art world."
But a president's backing was not enough to stop the change.
Chris Dercon, president of the Réunion des Musées Nationaux-Grand Palais, said in a telephone interview that he hoped Art Basel would set up an event that was more than an art fair, something he hoped would be "immersive."
"That means art plus fashion, art plus design," he said. "The plus is very important."
He said that he wanted to see an art fair that engaged with the wider culture of Paris. Dercon, previously director of the Tate Modern art museum in London and the Volksbühne theater in Berlin, has long been known for pushing an interdisciplinary approach to art.
Although Art Basel was "the mother" of art fairs, Dercon said, he did not want the new art fair to simply be another outpost for the brand. The new event will not be called Art Basel Paris, he said, adding that its name would be unveiled soon.
Marc Spiegler, Art Basel's global director, said in a telephone interview that the company only had "a short runway" to the first event, but that he hoped to work with Paris's whole "creative class," not just its art galleries, museums and dealers. Much of that work would occur "outside the halls."
The fair will have "a French touch," he added. "People coming to Paris will expect to see the various French movements of the last 12 decades well reflected at high-level quality from strong galleries."
The number of French galleries appearing in the fair will not be below the number seen at FIAC, he said, and the new fair will be organized by a largely French team.
RX Group, the organizers of FIAC, did not respond to a request for comment. Last December, they challenged the decision to call for bidders to host a new art fair at the Grand Palais.
Spiegler wouldn't comment on how the fair would be an improvement on FIAC, but said his cellphone had been "blowing up with text messages and DMs all day long" from galleries hoping to work with the fair given "the type of promotion we can do for them all over the world."
The first two events will take place at the Grand Palais Éphémère, a temporary venue on the Champ-de-Mars in Paris, as the Grand Palais itself is undergoing renovations.