Scotland needs 'Google-sized' changes on economy – BBC News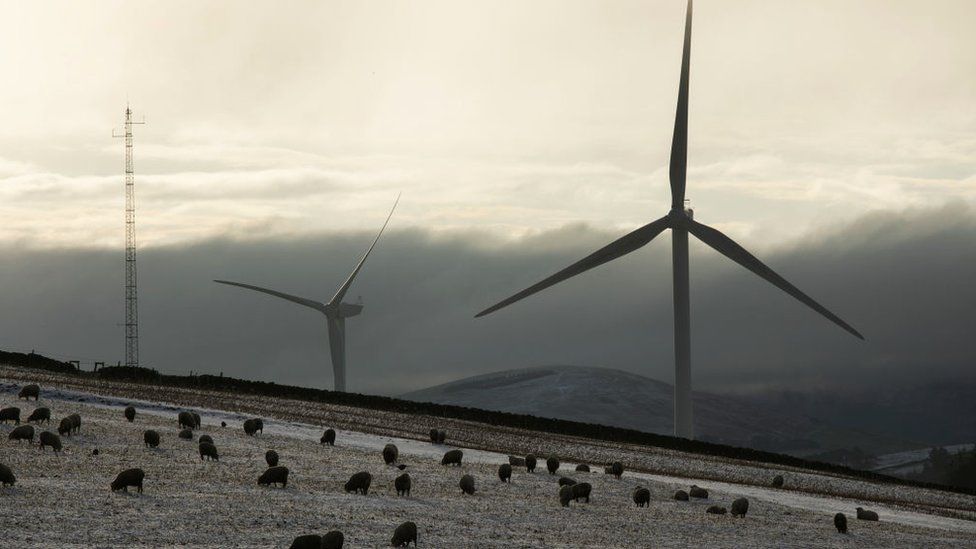 Scottish politicians should focus their attention on the transition to renewable energy if they are to raise the nation's growth rate.
A study of low growth in output and productivity has found economic policy lacks focus and can be too complex.
It forecasts Scotland is on course to see a widening gap with countries such as Norway, the scale of which compares to the entire global output of Google.
However renewable energy is an area where there could be an advantage.
It says government could focus its industrial policy to supporting the renewable sector, though at a cost to other priorities.
The report, by Oxford Economics consultancy, states: "It is not implausible to suggest that there are business opportunities that resemble those that generated Silicon Valley, several decades ago".
The study says that tax policy – controlled at both Westminster and Holyrood – fails to encourage work, savings or investment.
It suggests major changes to the way the tax system is structured, using a broader range of taxes to spread the burden, saying "fundamental rather than piecemeal reform is needed".
The report was commissioned from Oxford Economics by the foundation set up by Sir Tom Hunter, the Ayrshire-based entrepreneur and philanthropist.
He commented that the current election campaign features good ideas for spending more, but little focus on how to make more money.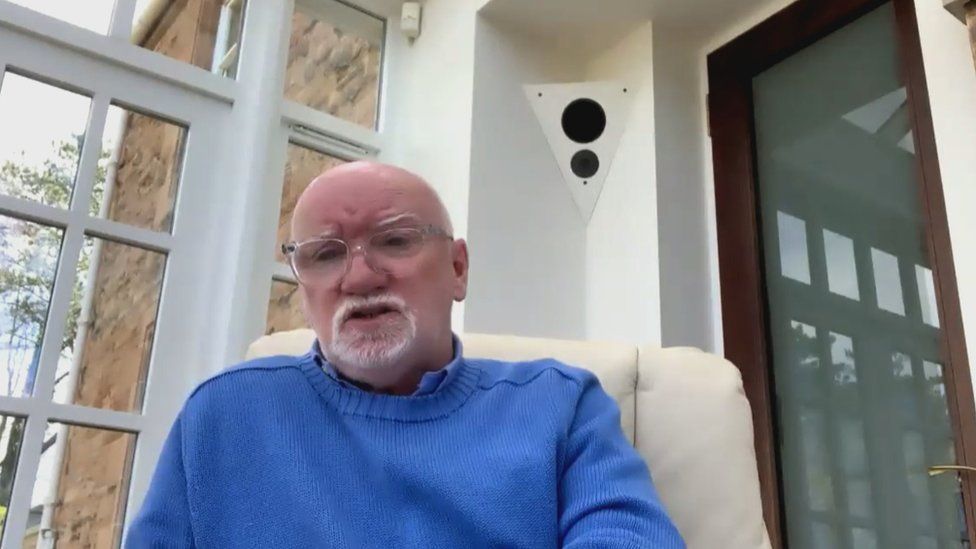 His report is intended to stimulate more discussion of that, and to draw other leaders into the discussion, from business, politics and elsewhere.
The report highlights the lower level of economic output per head in Scotland compared with similar-sized Denmark (Scotland has 75% of its output) and Norway (68%).
New Zealand has output per head only slightly lower than Scotland, partly explained by its geographic isolation.
Singapore and Ireland are also held up unfavourably as comparisons, though they have significant differences that would be hard to repeat in Scotland.

SCOTLAND'S ELECTION: THE BASICS
What elections are happening? On 6 May, people across Scotland will vote to elect 129 Members of the Scottish Parliament (MSPs). The party that wins the most seats will form the Scottish government. Find out more here.
What powers does the Scottish Parliament have? MSPs pass laws on most aspects of day-to-day life in Scotland, such as health, education and transport. They also have control over some taxes and welfare benefits. Defence, foreign policy and immigration are decided by the UK Parliament.
How do I vote? Anyone who lives in Scotland and is registered to vote is eligible, so long as they are aged 16 or over on the day of the election. You can register to vote online.

It forecasts that Scotland is on course to see a widening income gap with these countries over the next 14 years, with the exception of Norway. The scale of the existing gap with Norway is comparable to the entire global output from Google.
To match Denmark and Norway for output per head, it is claimed Scotland would have to treble its recent productivity growth rate, to 3.5% per year, and to match Singapore, it would have to reach 6.5% per year.
The analysis of Scotland's private sector finds several factors that have long been a concern, but which remain weaknesses for the economy:
The number of businesses being created, per 10,000 people, is relatively low
The number of smaller firms that are scaling up to become bigger ones is also lower than comparable countries and regions. The number fell between 2015 and 2018
The number of companies classified as 'innovation active' fell between 2016 and 2018
The report identifies a problem with graduate skills going under-used, or poorly matched with jobs. It cites evidence that a fifth of graduates in Scotland work in non-graduate roles, and 35% of employers say they employ graduates who are over-qualified for their roles
Scotland has strength in higher education research, but too few companies have links to it
Scotland does relatively well at attracting foreign inward investment, but does not seem to gain the benefits of doing so in higher productivity.
Among its findings, it recommends more intensive government intervention. It also urges some deregulation where that can ease the burden for business, but says Scotland already has relatively light regulation.
It considers the case for further government borrowing to improve the chances for the economy to grow. It concludes that could be part of the solution while borrowing costs are low, but borrowing has its limits, and would likely cost more if Scotland were doing it alone.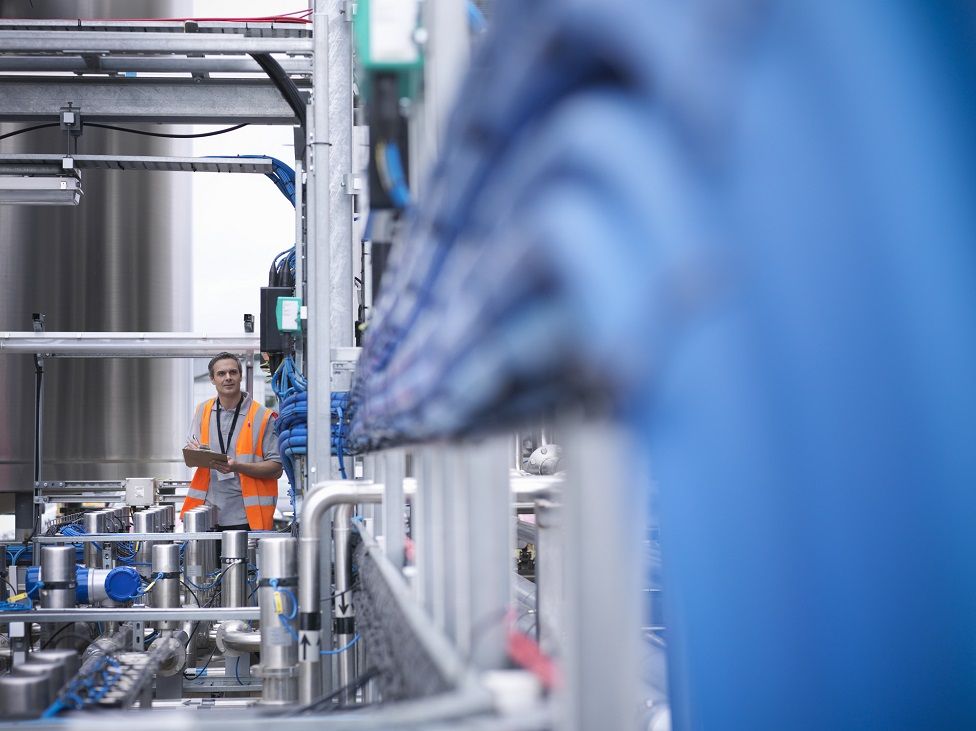 Sir Tom Hunter said: "It is for everyone in Scotland, from governments, policy makers and businesses to help solve the problem of poor economic growth that Scotland has faced for too many years.
"The report tells us Scotland would need to make changes equivalent in their impact to creating a business comparable in size with Google's total global output to bring its GDP per head up to the level of Norway's.
"We need far more focus in our economic investments not only to make significantly better gains but also to understand what's working and what's not.
"But that is only half the picture. We need to embed innovation in health and education and poverty reduction to free up finance to invest in growing our economy.
"I hope the calls made in the report for more, and different, economic stimulation from governments, tax cuts and deregulation, and appropriate and targeted state interventions, for example in renewables, will be listened to and acted upon.
"I'm calling on governments, politicians of all parties, industry and interested parties to work together to pave the way for transformational measures that will give the Scottish economy the significant boost it needs.


Oxford Economics' take on the Scottish economy makes awkward reading for many: the shortcomings and short-term focus of the private sector, as well as the poor results from government policies at Holyrood and Westminster.
Its most striking contribution to the election campaign is to ask fundamental questions about the purpose and roles of government in the economy, which are rarely opened up in Scotland's current political debate.
The report risks confusing people by pointing in apparently conflicting directions: more borrowing, lower tax, less regulation, more government intervention. But it selects each carefully as possible elements of pick 'n' mix policy.
The message is that something radical and ambitious is needed, but that doesn't mean that we have to go haring off in only one direction, in pursuit of an over-simplified solution.
What it doesn't consider is the radical option of pursuing goals other than conventional economic growth. There is no longer a political consensus around that, as some look to target improved wellbeing instead.
Inevitably, the report will be seen through the prism of the constitutional question. The report highlights the relative success of small independent nations, such as Denmark and Norway.
But even if this shows how a small, nimble nation can get on to a faster growth path, it does not prove that constitutional change is a necessary condition, and nor does it present that as a sure winner.
What matters to growth is what policy choices are made, in or out of the United Kingdom, and it is clear from this that they are neither simple nor easy.

The SNP said it agreed that "radical and ambitious" policies were needed to secure a green economic recovery.
"We have set out a National Infrastructure Mission, which will see capital investment increase dramatically in the coming years, as well as the Scottish National Investment Bank, to invest in growth businesses, increase support for business research and development, for entrepreneurs and to set out ambitious plans to transform Scotland's tech sector," the SNP's Kate Forbes said.
But she said Scotland's borrowing powers and ability to invest were restricted by Westminster and the SNP would continue to argue for independence.
The Scottish Conservatives have said they oppose any tax rises that damage growth and they want a "sector deal" for the North Sea oil and gas industry to help as the UK moves to a net zero economy.
An economic recovery plan has been outlined by Scottish Labour, which includes a national training fund guaranteeing job or training opportunities.
Meanwhile the Scottish Greens want to see investment in a "green economic recovery" to create 100,000 jobs in low-carbon industries like renewable energy.
And the Scottish Lib Dems say they will focus on helping small businesses grow and create more jobs in clean-tech and green energy.


Canada's budget to include pandemic and childcare supports, luxury tax
By Steve Scherer
OTTAWA (Reuters) – Canada will present a budget on Monday with billions of dollars for pandemic recovery measures as COVID-19 infections skyrocket, C$2 billion ($1.6 billion) toward national childcare, and new taxes on luxury goods.
Liberal Prime Minister Justin Trudeau's first budget in two years will also set aside C$12 billion ($9.6 billion) to extend wage and rent subsidy programs to the autumn, the Toronto Star reported on Sunday.
Finance Minister Chrystia Freeland is due to present the budget at about 4 p.m. (2000 GMT).
The document promises in excess of C$2 billion as a "starting point" for a national childcare program, the Canadian Broadcasting Corp said, adding that the 2020-2021 federal deficit had come in under C$400 billion.
In November, the government forecast a deficit of C$381.6 billion, which would be its highest level since World War Two. [https://tmsnrt.rs/3wSJPcm]
The budget will also include a luxury tax effective from 2022 on new cars and private aircraft valued at more than C$100,000 ($79,970), and boats worth over C$250,000, government sources familiar with the document told Reuters.
There will be a sales tax for online platforms and e-commerce warehouses from July, and a digital services tax for Web giants like Alphabet Inc's Google and Facebook Inc from 2022.
Freeland promised in November up to C$100 billion in stimulus over three years to "jump-start" an economic recovery during what is likely to be an election year, and the government so far not backed away from that commitment.
Environment Minister Jonathan Wilkinson, speaking to the CBC, confirmed that the budget would be "ambitious" and that the government would "invest for jobs and growth to rebuild this economy," although he added there would be "fiscal guardrails" to put spending on a "sustainable track."
Amid a spiking third wave of infections, Ontario, Canada's most-populous province, announced new public health restrictions on Friday, including closing the province's borders to non-essential domestic travel.
Canada has been ramping up its vaccination campaign but still has a smaller percentage of its population inoculated than dozens of other countries, including the United States and Britain.
($1 = 1.2514 Canadian dollars)
(Reporting by Steve Scherer; Editing by Nick Zieminski and Peter Cooney)
TSX extends gains as gold prices rise, set to rise for third week
(Reuters) -Canada's main stock index extended its rise on Friday after hitting a record high a day earlier as gold prices advanced, and was set to gain for a third straight week.
* At 9:40 a.m. ET (13:38 GMT), the Toronto Stock Exchange's S&P/TSX composite index was up 24.24 points, or 0.1%, at 19,326.16.
* The Canadian economy is likely to grow at a slower pace in this quarter and the next than previously expected, but tighter lockdown restrictions from another wave of coronavirus were unlikely to derail the economic recovery, a Reuters poll showed.
* The energy sector climbed 0.6% even as U.S. crude prices slipped 0.1% a barrel. Brent crude added 0.1%. [O/R]
* The materials sector, which includes precious and base metals miners and fertilizer companies, added 0.3% as gold futures rose 0.7% to $1,777.9 an ounce. [GOL/] [MET/L]
* The financials sector gained 0.2%. The industrials sector rose 0.1%.
* On the TSX, 117 issues advanced, while 102 issues declined in a 1.15-to-1 ratio favoring gainers, with 14.26 million shares traded.
* The largest percentage gainers on the TSX were Cascades Inc, which jumped 4.2%, and Ballard Power Systems, which rose 2.9%.
* Lghtspeed POS fell 5.6%, the most on the TSX, while the second biggest decliner was goeasy, down 4.9%.
* The most heavily traded shares by volume were Zenabis Global Inc, Bombardier and Royal Bank of Canada.
* The TSX posted 23 new 52-week highs and no new low.
* Across Canadian issues, there were 160 new 52-week highs and 12 new lows, with total volume of 29.68 million shares.
(Reporting by Shashank Nayar in Bengaluru;Editing by Vinay Dwivedi)
Canadian economy likely to slow, but COVID-19 threat to growth low
By Indradip Ghosh and Mumal Rathore
BENGALURU (Reuters) – The Canadian economy is likely to grow at a slower pace this quarter and next than previously expected, but tighter lockdown restrictions from another wave of coronavirus were unlikely to derail the economic recovery, a Reuters poll showed.
Restrictions have been renewed in some provinces as they struggle with a rapid spread of the virus, which has already infected over 1 million people in the country.
After an expected 5.6% growth in the first quarter, the economy was forecast to expand 3.6% this quarter, a sharp downgrade from 6.7% predicted in January.
It was then forecast to grow 6.0% in the third quarter and 5.5% in the fourth, compared with 6.8% and 5.0% forecast previously.
But over three-quarters of economists, or 16 of 21, in response to an additional question said tighter curbs from another COVID-19 wave were unlikely to derail the economic recovery, including one respondent who said "very unlikely".
"Canada is undergoing a third wave of the virus and while case loads are accelerating, the resiliency the economy has shown in the face of the second wave suggests it can ride out the third wave as well, without considerable economic consequences," said Sri Thanabalasingam, senior economist at TD Economics.
The April 12-16 poll of 40 economists forecast the commodity-driven economy would grow on average 5.8% this year, the fastest pace of annual expansion in 13 years and the highest prediction since polling began in April 2019.
For next year, the consensus was upgraded to 4.0% from 3.6% growth predicted in January.
What is likely to help is the promise of a fiscal package by Prime Minister Justin Trudeau late last year, which the Canadian government was expected to outline, at least partly, in its first federal budget in two years, on April 19.
When asked what impact that would have, over half, or 11 of 20 economists, said it would boost the economy significantly. Eight respondents said it would have little impact and one said it would have an adverse impact.
"The economic impact of the federal government's promised C$100 billion fiscal stimulus will depend most importantly on its make up," said Tony Stillo, director of Canada economics at Oxford Economics.
"A stimulus package that enhances the economy's potential could provide a material boost to growth without stoking price pressures."
All but two of 17 economists expected the Bank of Canada to announce a taper to the amount of its weekly bond purchases at its April 21 meeting. The consensus showed interest rates left unchanged at 0.25% until 2023 at least.
"The BoC is set to cut the pace of its asset purchases next week," noted Stephen Brown, senior Canada economist at Capital Economics.
"While it will also upgrade its GDP forecasts, we expect it to make an offsetting change to its estimate of the economy's potential, implying the Bank will not materially alter its assessment of when interest rates need to rise."
(Reporting and polling by Indradip Ghosh and Mumal Rathore; editing by Rahul Karunakar, Larry King)