Secrecy surrounds major new public art piece in downtown Kelowna – The Daily Courier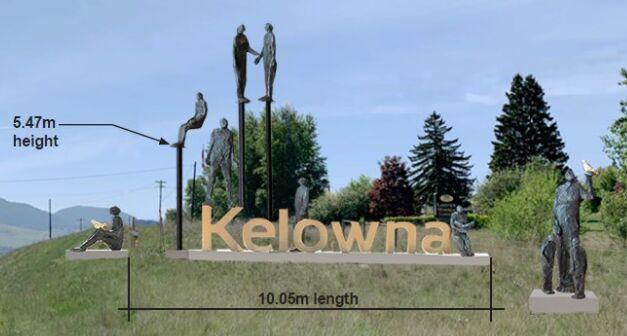 A major piece of public art once planned for Highway 97 North disappeared last year after criticism from city councillors.
One main complaint about the proposed $250,000 sculpture, which featured 10 human figures perched atop tall poles, was that its beauty and grace would be lost by being placed next to the busy highway with all its speeding cars.
Coun. Gail Given suggested last November that artist Ted Fullerton's proposed sculpture should have been located in pedestrian-friendly City Park where people could better relate to its scale and take pictures of themselves beside it.
Fast forward to Wednesday, when much secrecy was woven into a press release issued by the Kelowna Art Gallery about a "large new outdoor public art sculpture" about to be unveiled next to the building on Water Street.
"No announcements will have been made via any Gallery communications before the media preview event," art gallery spokesman Joshua Desnoyers wrote in an email invitation to attend the event.
Feverish media minds, or one of them anyway, wondered if the about-to-unveiled sculpture was a revival of Fullerton's ill-fated piece, which was conceived as a new 'Welcome to Kelowna' sign.
"I can confirm that it is not a sculpture by Ted Fullerton, although that is a very astute guess," Desnoyers wrote in an email.
So media, and all of Kelowna, will have to wait until 9:30 a.m. on Oct. 27 to get a look at the sculpture, described as having been made by "an established artist whose work has been shown throughout North America and who has received major commissions in Canada and the U.S."
Kelowna currently has more than 70 pieces of public art. The newest, whatever it is, will be located between two of the most photographed sculptures, 'Rhapsody', a representation of playful dolphins at the entrance to Waterfront Park, and 'Bear' , a representation of a bear, in Stuart Park.
The look of 'Bear' was such a closely guarded secret before its unveiling in 2010 that it was wrapped in plastic and a security guard was hired to watch over it the night before, lest anyone try to get a sneak peek.
Whatever happened to plans for a new Welcome to Kelowna sign on Highway 97 North also remains a bit of a mystery as calls to relevant authorities at City Hall were unreturned Wednesday.
Black British painting, gay New York photography and Dr Eno will see you now – the week in art – The Guardian
Vancouver Island Symphony seeking art inspired by music inspired by art – Parksville Qualicum Beach News – Parksville Qualicum Beach News
The Vancouver Island Symphony is appealing to Island artists to help put together an art exhibition inspired by a piece of classical music inspired by an art exhibition.
In April the VIS is performing Pictures at an Exhibition by 19th-century Russian composer Modest Mussorgsky. It's a suite of 10 pieces inspired by an exhibition of paintings by a friend of the composer. Along with the performance, the VIS is also presenting a documentary, an education series and an art exhibition, all under the name the Pictures Project.
Vancouver Island artists have until Jan. 16 to listen to recordings of Pictures at an Exhibition and submit two-dimensional works inspired by the 10 movements. A panel of jurors will select the 10 works they feel best represent the pieces to be displayed throughout April and shown during the concert. The jury's favourite artist wins a $1,000 prize and the nine other finalists get $300 each.
VIS development officer Rebecca Woytiuk is overseeing the call for entries. She said what makes the VIS distinct is that many of its members live outside of Nanaimo and must travel to the Island or across the Island each month to perform. She therefore suggested that the landscape could be a source of inspiration as well.
"If you're a Vancouver Island artist you maybe look out your window every day and think, 'This is an inspirational subject,'" she said. "So as you listen to the music, as you look outside your window, enjoy the weather, whatever it is, how does living on Vancouver Island influence the art that you make?"
Woytiuk said she hopes the Pictures Project introduces people to symphonic music and helps them develop an appreciation for it through repeat listening. She said people listen to pieces they recognize because "they're layered and they're complex and you don't get all the enjoyment out of it the first time you listen to it."
"If you're going to sit there and listen to something over and over again, then you start to hear the instrumentation, you start to hear the nuances, you start to hear the complexity of that music," Woytiuk said. "And if you're just sitting there studying it in order to be inspired by it, then every time you listen to it you get a deeper experience of that music."
For more information and to submit, click here.
---

arts@nanaimobulletin.com
Like us on Facebook and follow us on Twitter
Art Beat: Inspirato shares its pandemic journey in weekend concerts – Coast Reporter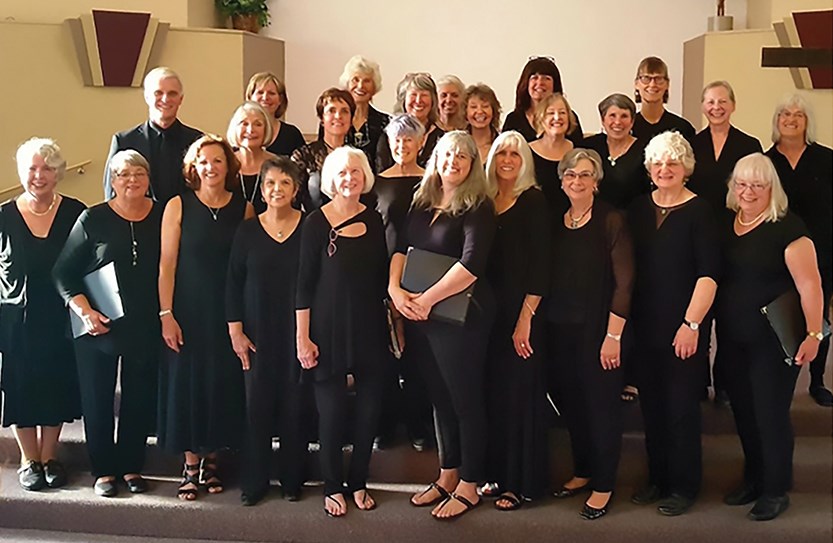 The Sunshine Coast's Inspirito Vocal Ensemble, with conductor Sarona Mynhardt and accompanist Toby Aldren, present two performances of Stars I Shall Find, at Calvary Baptist Church in Gibsons on Saturday, Nov. 27 at 6 p.m. and Sunday, Nov. 28 at 3 p.m. The concerts will feature internationally acclaimed flutist Bernard Blary, the ensemble's own Gwen Gingerich on percussion, and the debut of 10-year-old soloist Evy Fuller, of Gibsons. The narrative of the program will share the ensemble's journey over the past 20 months, "how our voices were suddenly silenced, how we faced the challenges, and how we grew closer together even though we were apart," said Mynhardt. Tickets are available at inspiritovocalensemble.ca.
Shari Ulrich
Singer-songwriter, multi-instrumentalist, Juno winner, and one of the Coast's favourite Bowen Island residents, Shari Ulrich, performs an afternoon concert at the Heritage Playhouse in Gibsons on Sunday Nov. 28 at 2 p.m. She will be joined by Cindy Fairbank on piano and accordion. Get tickets through the Playhouse website.
GG honours
Alberta author Norma Dunning has been awarded the 2021 Governor General's Literary Award for fiction for her book, Tainna: The Unseen Ones, published by Madeira Park's Douglas & McIntyre, (one of Howard and Mary White's publishing companies). Tainna, pronounced da-e-nn-a, is a collection of short stories about modern-day Inuit characters. The book "is both vivid and raw but infused with a sparkling poetry and the wisdom of the old ways," wrote the award program's peer assessment committee.
Audiobook release
Coast performer and writer Caitlin Hicks has just released an audiobook version of her 2015 debut novel, A Theory of Expanded Love. The book was selected as a Best New Fiction pick for iBooks just after it was released. Filmmaker and artist Gordon Halloran edited Hicks's reading of the audio version, curated the music, and produced the soundtrack. The audiobook is distributed by Findaway Voices.
Christmas craft shows
The 52nd Annual Roberts Creek Christmas Craft Fair runs this weekend, featuring local artisans, door prizes, gift-basket raffle, and goodies. Friday, Nov. 26, 5 to 9 p.m., Saturday, Nov. 27 and Sunday, Nov. 28, 10 a.m. to 5 p.m. Admission is $2.
Gibsons' St. Bart's Church Annual Holiday Food and Gift Bazaar will be held Saturday, Nov. 27, 9:30 a.m. to 1 p.m. Holiday baking, jams, and preserves, local arts and crafts, collectibles, chocolates by Hooray.
Potter Clair Wilkening and chocolatier Christabel Watson are having a Pottery and Chocolate Pop-Up Holiday sale at Wilkening's home studio at 1244 Roberts Creek Rd., Saturday and Sunday, Nov. 27 and 28, from 10 a.m. to 5 p.m.
On Sunday, Nov. 28, St. Hilda's Church in Sechelt is holding a fundraising Pre-Christmas & Mini-Bake Sale. Handmade items, gifts for all ages, lots of Christmas ornaments, toques, shawls, Christmas baking. It runs from 9 to 10 a.m. only, just prior to Sunday services.
More live music
The Sofa Kings play the Roberts Creek Legion on Friday, Nov. 26 at 8 p.m.
Charlotte Wrinch will play some originals and covers at Persephone in Gibsons on Saturday, Nov. 27 from 4 to 6 p.m.
The Billy Hillpicker Band kicks some bluegrass butt at the 101 Brewhouse in Gibsons on Saturday, Nov. 27 starting at 8 p.m. Reserved table seating. Tickets at eventbrite.ca.
The Topher Trick offers up original hip-hop, folk, pop and storytelling at Batch 44 in Sechelt on Saturday, Nov. 27, 8 to 11 p.m.
Poppa Greg plays the Pender Harbour Legion in Madeira Park on Sunday, Nov. 28 at 2 p.m.