Security guard, schoolgirl, Snow White … the artist who films herself undercover
What to do if a new colleague is over touchy feely when they greet you in the office? Or if a trainee sits staring into space all day doing "brain work"? Finnish artist Pilvi Takala specialises in orchestrating such awkward situations, in a mission to test how we navigate social conventions. "I think discomfort is a very productive space," she says when we speak on Zoom before a show of her video installations, aptly titled On Discomfort. "It's where we reassess and negotiate norms."
Wearing a disguise and an assumed identity, Takala has upset the workings of theme parks, corporations, shopping malls and even the European parliament, exposing the tacit rules that govern our capitalist system. The videos of her in action are often funny. In Real Snow White, she tries and fails to get into Disneyland Paris dressed as the cartoon character. A guard says: "You cannot go to the park like this because the children will think you are Snow White. There's a real Snow White in the park." Takala replies: "I thought the real Snow White was a drawing."
But Takala's performances, videos and installations are underpinned by serious social inquiry. Her practice explores the shifting fault lines of what is considered acceptable behaviour and why, from the perspective of insider and outsider. In 2018's The Stroker, where she pretended to be a wellness consultant at Second Home, a hip Hackney co-workplace for entrepreneurs, people were clearly conflicted about whether they were entitled to find her touchy greetings invasive; they increasingly gave her a wide berth as she passed. For 2008's The Trainee, Takala was an intern for a month at the consulting firm Deloitte, where her apparent inaction – spending entire days either "thinking" or just going up and down in the lift – made her co-workers angry and frustrated, even though they themselves were frequently going through the motions of working while in fact browsing the internet. Both films reveal a progression of behavioural responses by workers who soon find non-conformity threatening and "weird". "It's very human to create these strict normative systems that we all follow and we feel in a way good when we're inside," says Takala, "but of course it's mega oppressive."
The artist's performative interventions have become more complex over the past two decades. Where her early works often consisted of films of one-off performances, she has subsequently experimented with hidden cameras and re-enactment of actions that have taken place over days or weeks. Last year's ambitious multi-channel video installation Close Watch was the result of six months working under cover as a security guard for Securitas at one of Finland's biggest shopping malls. Presented at the Finnish pavilion for the 2022 Venice Biennale, it reflected on the opaque parameters of authority exercised by private companies over citizens. The films are presented in two rooms separated by a one-way police mirror, emphasising the unequal power dynamic of our surveilled existence.
Takala's role at Securitas required four weeks of training. She was eventually outed two weeks before the end of her stint by colleagues who had Googled her. After she finished at the firm, Takala invited her former workmates to join her in workshops with specialised actors to role play problematic issues she had encountered on the job. The films of these workshops form the gripping centrepiece of the installation, showing the guards acting out and debating scenarios involving the use of excessive force by a colleague, toxic masculinity in the control room and the casual ubiquity of racist jokes.
In one particularly disturbing sequence, the group watches three actors re-enact a situation in which a guard manhandles a drunk member of public. In a lively discussion afterward, the guards are pretty much unanimous that loyalty to colleagues would take precedence over pursuing justice for a victim. But as they rationalise and wrestle with these dilemmas and their own accountability, they take on board different views. "We're allowed to interfere with other people's basic rights," concedes one guard, adding, "It's frighteningly easy to abuse. I've seen people work in this field only to hurt others."
Observing this open dialogue within the safe space of the workshops is partly what makes Close Watch so powerful and moving; it feels like a constructive template for addressing similar problems in society at large, rather than simply rehashing well-worn criticisms of the underpaid and under-regulated security industry. That said, Takala hopes her work will have an impact on guarding at Securitas. "It's not like we change everything and it's happy ever after," she says. "But I wanted to engage with this industry from a hopeful place." The company has since instituted diversity and unconscious bias training for all employees, which may or may not be a result of suggestions she made after working there.
Takala's infiltration of social communities began in 2004 while on an exchange at the Glasgow School of Art. She was struck by the coexistence of two self-contained groups – that of the Glasgow art students and that of the nearby Catholic girls' school – whose different attire created a glass wall between them. She decided to investigate what would happen if she donned the school uniform, effectively switching tribes. "There's a lot of heavy taboos hanging over this uniform, even though I wasn't doing anything illegal or, to me, ethically problematic," she says. Suddenly she found she was accepted by the pupils and ignored by her fellow art students. "I had the wrong dress code, I was invisible," she explains. Her ruse was discovered when a teacher told her off for wearing the wrong scarf. The Glasgow School of Art was furious and failed her paper, but Takala remained adamant that the strong response to her action proved its success.
Since then Takala has put numerous social groupings under the microscope: she has played an overdressed wallflower at a traditional dance event in Estonia; carried a transparent bag full of cash around a shopping mall – to the consternation of shoppers and shopkeepers alike – and wandered around the European parliament in T-shirts printed with texts highlighting the institution's inconsistent dress policy.
Does she ever get embarrassed? "I have those same feelings as anybody would in those situations, but they're actually information for me that it's working," Takala says. Her social experiments involve intense emotional labour – "I get a lot of rejection," she notes. But it's exhilarating when she senses that something is working: "I feel like it's very awkward. These people don't like what I'm doing now. Great!"
Art therapy space gutted in 'terrible' Montreal heritage building fire – Montreal Gazette
Article content
The mission of Les Impatients, established in 1992, is to help people with mental health problems through the vehicle of artistic expression. The Monastère du Bon-Pasteur building, a multi-purpose building on Sherbrooke St. E., had been home to Les Impatients since 1999.
"A lot of people are in shock," Frédéric Palardy said of participants. "It's almost like a home for them. Some come twice a week."
They participate in art workshops and, as well, some are in music and dance workshops and a choir — all organized by Les Impatients.
"The main thing is that everyone is safe and no one was hurt," Palardy said. "My thoughts are for our neighbours."
The multi-purpose building housed a seniors' residence and a housing co-operative, Heritage Montreal, a daycare centre, condos and a chapel that served as a concert hall.
"I know a lot of people in the residence and the co-op," he said.
But the fire "is terrible for us, too."
Les Impatients was on the top floor and among the building's most severely affected by the blaze, said Palardy. Although it is not yet known for sure, the fire is believed to have started in the roof.
Article content
The space the organization occupied included its downtown workshop space, offices, gallery space and a boutique. Also lost in the fire were the organization's archives, its musical instruments and about 10 per cent of its artworks.
With about 30,000 works, Les Impatients has what is believed to be North America's largest collection of outsider art, Palardy said. The term describes art that has a naïve quality and was often produced by people without formal training as artists.
Les Impatients had insurance, but it was primarily for theft, Palardy said.
"We have to start from scratch," he said, adding that the organization is working on an appeal.
Meanwhile, Palardy said the organization has received countless emails and messages of support, including a text Sunday from deputy health minister Lionel Carmant and messages from representatives of the City of Montreal's culture department.
Article content
"A part of the soul of Les Impatients has gone up in smoke," the organization said in a communiqué. "The emotion and the sadness are vivid but the priority for the organization is to continue its mission, through this chaos, to serve its community well."

An interim location for Les Impatients administrative offices has been found, Palardy said Sunday, but the activities of the downtown section, which were held in the former monastery building, are suspended for now. That location normally serves about 130 people five days and three evenings every week through its workshops and the organization is already at work to find a new location, Palardy said.
The former monastery location is the largest and most well-established of Les Impatients' 25 locations elsewhere in Montreal and across Quebec which, together, serve more than 900 people. The other locations will continue to function, he said.
The Parle-moi d'Amour event, the biggest fundraiser of the year for Les Impatients, is set for September. Sadly, Palardy said, some of the works that were to be included were lost in the fire.
Remembering a pioneer of local Indigenous art – Sault Ste. Marie News – SooToday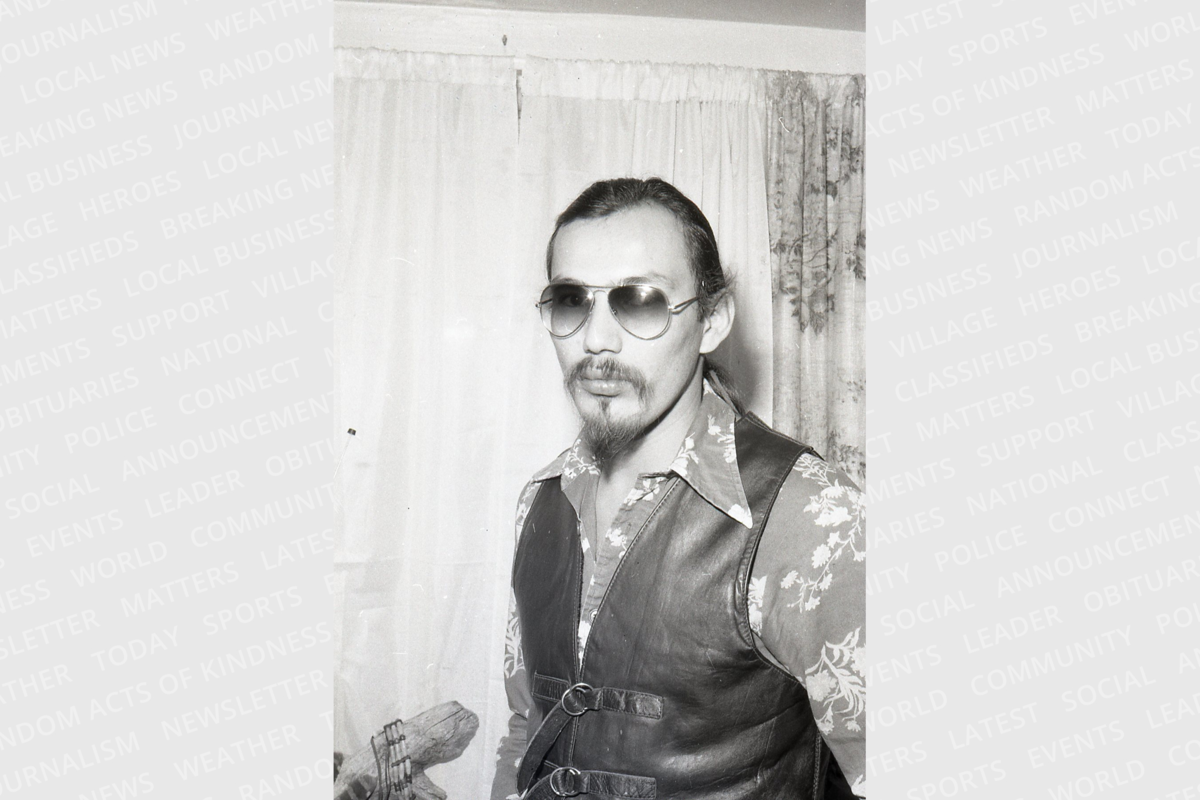 From the archives of the Sault Ste. Marie Public Library:
John Laford was a prominent Sault Ste. Marie artist, who was born in 1955 on an Indigenous reserve in the West Bay area of Manitoulin Island.
Leaving his home at the age of 15, he eventually made his way to Sault Ste. Marie by his early 20s.
He felt that he had been painting for as long as he could remember. He always enjoyed art, design and doodling after he finished school but with no formal training, he was largely self-taught.
Laford travelled throughout Europe, Canada and the United States, studying and learning from various artists along the way.
"I would only paint to get enough money to continue along the way," he said.
By 1969, Laford began painting full-time. In 1977, at the age of 22, he had his work exhibited at the Centennial Room at the Sault Ste. Marie Public Library. He used his work to show his Ojibway legends and spiritual beliefs. His spiritual beliefs and Ojibway legends were central not just to his artistic career but to his personal life as well.
Laford went on to be a vocal critic of the Children's Aid Society (CAS).
As a child, he played with a young boy who lived next to him. In a 1978 Sault Star article he explained, it was not until he was 12 that he realized that the boy was his older brother.
When he was one year old, his father died. His mother took his four sisters and two brothers and moved back to her reserve. She did not receive any financial assistance to care for her children and CAS took over.
"CAS saw my mother had too many kids and just took them away," Laford said. "To me, it seemed they just wanted to scatter the family. I wasn't adopted into a native family and the Children's Aid paid for my care but no one ever bothered to tell me about my real parents and brothers and sisters."
The foster family cared for four of them for a while which he described as very strict but fairly good people which he says helped him.
At the age of 15, he ran away from home with his older brother and travelled to Toronto in an attempt to find their mother.
"I quit school. Things weren't too good on the reserve. I was drinking a lot," he said.
When they arrived in Toronto it took them a week to find their mother. He spent three years with her getting to know her and the rest of his family.
"What I'm saying is my opinion, just my own ideas about the things I went through with Children's Aid. I would have liked to have grown up with my mother, stayed with my real mother, but it didn't happen that way. You could look at it (CAS) as destroying Indian families but they're trying to do something good," he said near the end of the Sault Star article.
Laford and two other Indigenous artists Cecil Youngfox and Peter Migwans formed a group called "Artists of the Northern Sun." They hoped it would "form the nucleus of the Indian community in Sault Ste. Marie."
The three artists created the group around 1977 when Laford moved to Sault Ste. Marie. They planned on organizing events that would bring Indigenous and Non-Indigenous Canadians together. The three wanted to create a higher profile and take on a leadership role in the community.
By 1980 Laford had become a well-established artist in his own right whose work was included in the McMichael Canadian Art Collection. His work had been exhibited in Hamilton, Toronto, and Montreal and in 1980 his work was part of the Manitoulin Island artist's show at the Royal Ontario Museum (ROM). In 1990 his work was once again featured in Sault Ste. Marie at the Art Gallery of Algoma.
Laford passed away in 2021 at the age of 67. He left a lasting mark and legacy in the
Indigenous community. He used his spirituality and culture's legends to create works of art that are enjoyed and viewed by Canadians and the world alike.
Each week, the Sault Ste. Marie Public Library and its Archives provide SooToday readers with a glimpse of the city's past.
Find out more of what the Public Library has to offer at www.ssmpl.ca and look for more "Remember This?" columns here.
Indigenous art market comes to downtown Kitchener – CTV News Kitchener
A celebration of Indigenous culture is in downtown Kitchener for the weekend.
The "I Am Kitchener: Indigenous Art Market" has taken over the Gaukel block, with everything from clothes, to art, to beadwork.
The two-day event is a showcase for artists across Southwestern Ontario, but also a welcoming to the wider community.
"I think it's really important for folks in the region to really come out and support events like this," said co-organizers Maddie Resmer. "It's a huge step forwards. What it means to connect with Indigenous community members in the region, in Kitchener, and for folks in the area to get to know some of the Indigenous artists that live here and are close to these territories, that's how we celebrate ourselves, right?
"We highlight the positive and brilliant people who come from our culture."
The Indigenous art market wraps up Sunday.