'Short-handed every day:' Businesses face widespread labour shortages – CP24 Toronto's Breaking News
Brett Bundale, The Canadian Press

Published Wednesday, January 5, 2022 4:36PM EST

An intensifying labour shortage is rippling through the economy, forcing businesses to curtail operations, reduce hours and in some cases, euthanize livestock.
The situation is a result of a chronic worker shortage worsened by the crush of new COVID-19 cases forcing many into isolation.
School closures have also left some workers scrambling for child care and unable to go into work.
The result is rising employee shortages, prompting airlines to cancel flights, drugstores to close early, restaurants to shutter or move to takeout only and municipalities to warn of delayed waste collection.
At a slaughterhouse in Quebec, the worker shortage became so extreme in recent days it opted to euthanize thousands of chickens that couldn't be processed.
Exceldor Co-operative said in a statement that rising COVID-19 infections and a significant shortage of personnel have forced the company to resort to "humane euthanasia."
It blamed the protracted worker shortage on federal delays processing temporary foreign worker applications.
Meanwhile, some provinces have tried to ease staffing woes by shortening isolation periods, allowing people to return to work sooner.
Yet the sheer number of new daily cases caused by the highly transmissible Omicron variant continues to leave many confined to their homes and businesses struggling to remain open.
Even those that remain open are facing a scheduling nightmare as mounting unplanned absences – on top of shifting public health restrictions – make operating difficult.
"Omicron has resulted in more unplanned absences, not to mention complications from sudden government restrictions," Retail Council of Canada spokeswoman Michelle Wasylyshen said.
A surge of people unable to work and changing public health measures "throw schedules that were often planned weeks in advance upside down," she added.
Some businesses have responded to the disruption by drafting new plans for how to operate during the latest wave, while some must alter hours or close altogether.
The Ballroom, a large entertainment venue in downtown Toronto, opted to shutter even before Ontario's government-mandated closure.
"People were calling in sick and it certainly made it challenging to schedule," said director of operations Barry Taylor. "We were short-handed every day."
After previous lockdowns, he said he was only able to hire back about 40 per cent of the venue's staff.
"We never fully recovered," he said. "People won't come back to this industry."
The current COVID-19 wave is also causing staffing shortages at essential retailers and services.
Halifax Regional Municipality, for example, warned of delayed waste collection in some areas due to "resourcing challenges as a result of COVID-19."
Drugstore chain Jean Coutu said on its website some of its stores may need to modify hours to ensure essential services are maintained.
Marie-Claude Bacon, a spokeswoman for Jean Coutu's parent company Metro Inc., said the health and safety of employees and customers has been the company's priority since the beginning of the pandemic.
"As absenteeism has been fluctuating over the course of the last 20 months, we continue to make the necessary staffing adjustments as need be at store and (distribution centre) levels to minimize impact on our operations," she wrote in an email.
Finance Minister Chrystia Freeland said businesses that must close or cut back opening hours due to labour shortages may be eligible for support through various federal government lockdown programs, including the Hardest-Hit Business Recovery Program
"If they have a revenue fall, for whatever reason – and a shortage of workers could be that reason – they could be covered," she told reporters Wednesday.
This report by The Canadian Press was first published Jan. 5, 2022.
COVID-19 antiviral: Canada authorizes Pfizer pill – CTV News
OTTAWA —
Health Canada has authorized the use of Pfizer's COVID-19 antiviral treatment Paxlovid.
The federal health agency says the prescription-only medication can be given to adults ages 18 and older to treat mild to moderate cases of COVID-19, if they have a confirmed positive viral test and are at a high risk of becoming seriously ill.
The authorization comes with specific instructions on scenarios in which the regime cannot be used, including to prevent COVID-19 infections or to treat patients who are already hospitalized due to severe COVID-19 cases.
The medication— two antiviral medicines co-packaged together— cannot be taken for longer than five days in a row, nor can it be given to teens or children.
More details about the authorization are being provided by Health Canada's Chief Medical Adviser Dr. Supriya Sharma, in a technical briefing in Ottawa.
Pfizer submitted clinical data for the oral medication, on Dec. 1, 2021.
The government has a deal in place with the pharmaceutical giant securing access to an initial one million doses of the therapeutic drug.
Responding to recent calls from the provinces for a swift rollout of this medication in the face of an expected surge in Omicron hospitalizations, the federal government has vowed that delivery of the drug will happen in short order.
Health Minister Jean-Yves Duclos and Procurement Minister Filomena Tassi will be holding a press conference to discuss the rollout of this treatment at 1:30 p.m. EST.
In November 2021, Pfizer released the results of their Phase 2/3 trials for the drug, stating that they had found the pills to significantly reduce hospitalization and death in COVID-19 patients.
Pfizer said that in a randomized, double-blind study of more than 380 patients, there was an 89 per cent reduction in the risk of being hospitalized or dying of COVID-19 in patients that received Pfizer's pill within three days of displaying COVID-19 symptoms, compared to the study group that received a placebo.
According to Pfizer, Paxlovid is designed to block the activity of an enzyme in SARS-CoV-2 that is essential for the virus to replicate itself, and also help to slow the breakdown of the pill's ingredients in order to help combat the virus for longer.
"PAXLOVID stops the virus from multiplying. This can help your body to overcome the virus infection and may help you get better faster," reads Health Canada's authorization.
Paxlovid contains two medicines co-packaged together, a 150mg pink tablet of Nirmatrelvir and a 100mg white tablet of Ritonavir, which has been used in combination with other antiviral medications before.
The regime is meant to be taken consistently twice a day, for five days in a row. The agency has outlined on their website the detailed instructions for taking this medication, as well as a list of potential contraindications.
For example, Health Canada has issued warnings for patients with kidney or liver problems; patients with a human immunodeficiency virus (HIV) infection; patients who are pregnant, breastfeeding, or are planning to become pregnant; and patients who take a series of other medicines which may interact with Paxlovid.
Side effects can include an altered sense of taste, diarrhea, muscle pain, vomiting, high blood pressure, and headache. Though, given the limited use of this medication to date, the agency cautions that it is possible not all side effects are known at this time and advise speaking with a healthcare professional if other side "troublesome" effects arise.
The medication is what is called a "protease inhibitor antiviral therapy", a type of medication that has largely been used before to treat HIV/AIDS and hepatitis C.
Health Canada has also been reviewing an experimental pill from drugmaker Merck, called molnupiravir, since mid August. The federal government also has a contract to purchase 500,000 of Merck's antiviral medication, with an option for 500,000 more pending regulatory approval.
In late December, the U.S. Food and Drug Administration issued an emergency use authorization for both Pfizer and Merck's drugs.
With files from CTV News' Alexandra Mae Jones and Sarah Turnbull
China cuts rates on policy loans for first time since April 2020 – CNBC
A woman walks past the headquarters of the People's Bank of China in Beijing, China.
Jason Lee | Reuters
China's central bank on Monday cut the borrowing costs of its medium-term loans for the first time since April 2020, defying market expectations, to cushion any economic slowdown.
The People's Bank of China (PBOC) said it was lowering the interest rate on 700 billion yuan ($110.19 billion) worth of one-year medium-term lending facility (MLF) loans to some financial institutions by 10 basis points to 2.85% from 2.95% in previous operations.
Thirty-four out of the 48 traders and analysts, or 70% of all participants, polled by Reuters last week predicted no change to the MLF rates, although a rising number of market participants start to forecast a rate cut.
With 500 billion yuan worth of MLF loans maturing on Monday, the operation resulted a net 200 billion yuan of fresh fund injections into the banking system.
The central bank also lowered the borrowing costs of seven-day reverse repurchase agreements, or repos, by the same margin to 2.10% from 2.20%, when it offered another 100 billion yuan worth of reverse repos into the banking system on the day, compared with 10 billion worth of such short-term liquidity tool due on Monday.
Credit Suisse chairman resigns after company probe – BBC News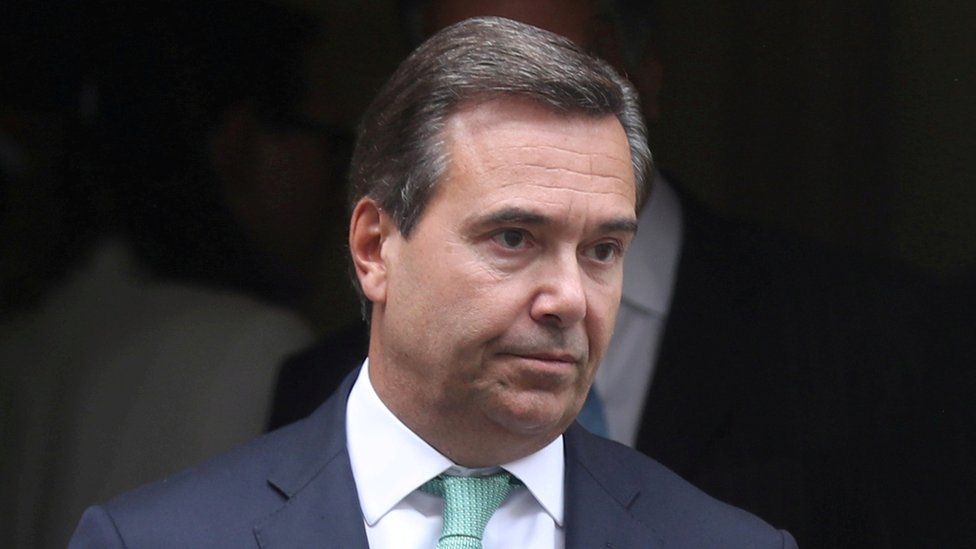 The chairman of global banking giant Credit Suisse, Antonio Horta-Osorio, has resigned with immediate effect after an internal company probe.
He was reportedly found to have broken the UK's Covid-19 quarantine rules.
The former boss of Lloyds Banking Group joined Credit Suisse after a series of scandals at the Swiss bank.
Now, Mr Horta-Osorio, who was the chairman of Credit Suisse for less than a year, has been replaced by board member Axel Lehmann.
"I regret that a number of my personal actions have led to difficulties for the bank and compromised my ability to represent the bank internally and externally," Horta-Osorio said in a statement issued by the bank.
"I therefore believe that my resignation is in the interest of the bank and its stakeholders at this crucial time," he added.
Last month, it was reported by the Reuters news agency that a preliminary investigation by Credit Suisse had found that Mr Horta-Osorio had breached Covid-19 rules.
He reportedly attended the Wimbledon tennis finals in July at a time when the UK's Covid-19 rules required him to be in quarantine.
Speaking to the BBC, a spokesperson for Credit Suisse said that the bank would give no further details on Mr Horta-Osorio's resignation other than those in its statement.
They also said that there were no plans to release the findings of the investigation.
Before joining Credit Suisse Mr Horta-Osorio was chief executive of British lender Lloyds Banking Group.
He was brought in to lead Switzerland's second-largest bank to help clean up a corporate culture marred by its involvement with collapsed investment company Archegos and insolvent supply chain finance firm Greensill Capital.
In February 2020, then-Credit Suisse chief executive Tidjane Thiam resigned after a scandal revealed the bank had spied on senior employees.

You may also be interested in: