Should social media face-altering tech be regulated?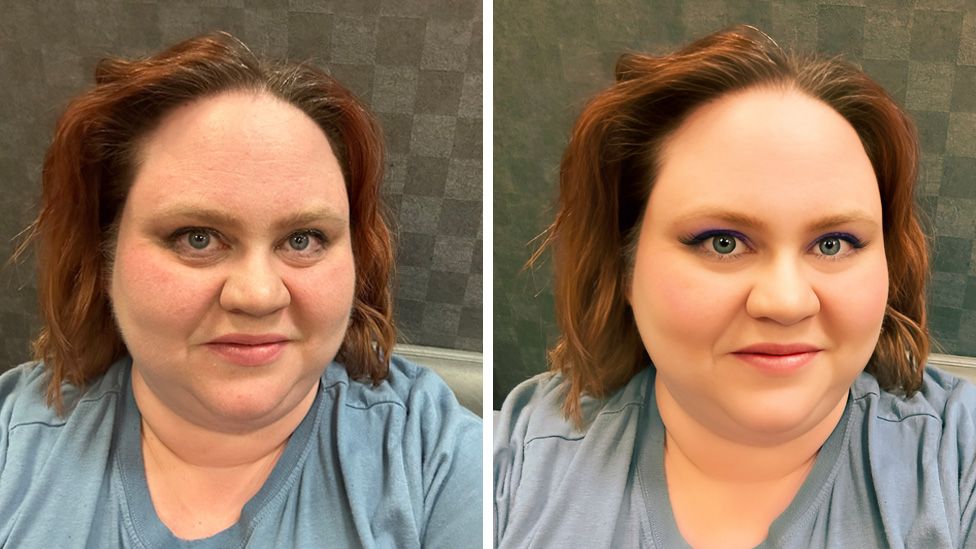 The issue of photo manipulation on social media has long been a concern for many, but with the technology now increasingly extending to videos, should authorities intervene?
Krystle Berger insists that she is "not drastically changing my features" when she posts photos and videos across Instagram, TikTok and Facebook. "I'm really just digitally giving myself the perfect make-up and lighting," she says.
A young mother from the US state of Indiana, Ms Berger pays to subscribe to an app called FaceTune that has been downloaded more than 200 million times around the world.
Originally only able to work on photos, two years ago FaceTune launched a version for short selfie videos that has increasingly grown in its effectiveness since then.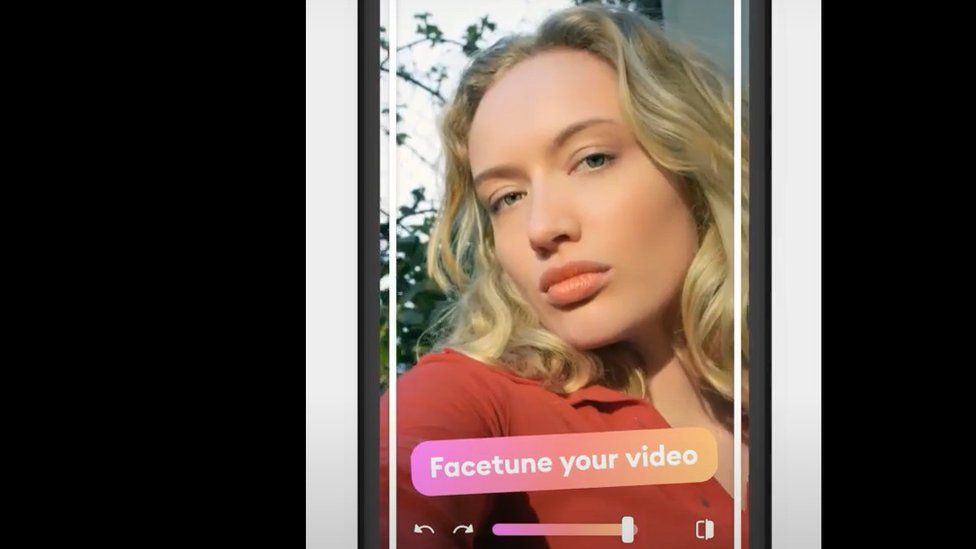 Meanwhile, another popular app that allows users to alter their social media photos – Perfect365 – is due to launch its video version later this year.
Lightricks' founder Zeev Farbman says that "the name of the game" is making the app work as easily as possible. "You want to give people 80% of the power, with 20% of the complexity of professional software. That's the game we are trying to play."
But it has long been argued that such tools are unhealthy, in that they promote an unrealistic view of beauty that can be dangerous, particularly for impressionable children and young adults. For example, 80% of teenage girls said they had charged their appearance in an online photo by the age of 13, according to a 2021 survey by skincare brand Dove.
While no-one is calling for the tech to be banned, there have been increasing moves to force social media advertisers and influencers – people who are often being paid to promote products in a more informal way – to admit when they have altered their physical image.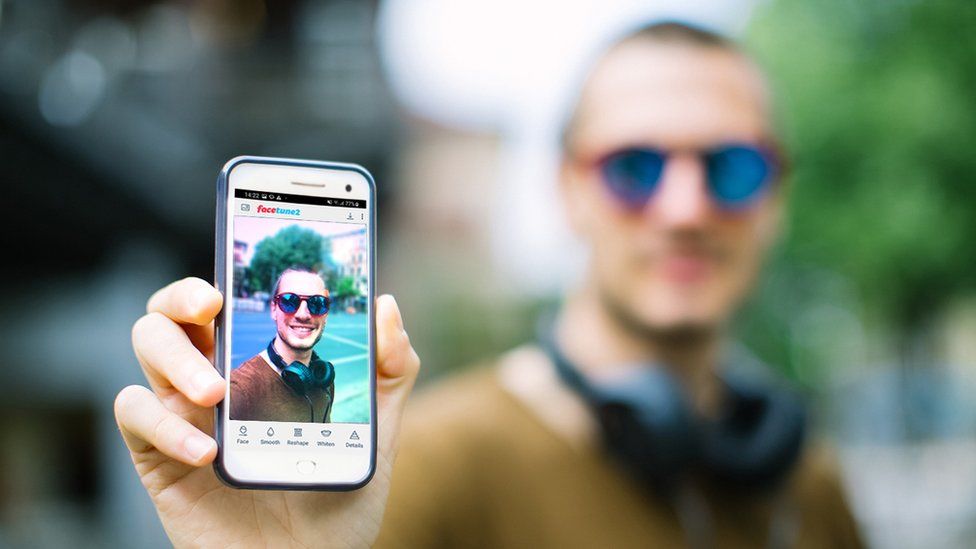 Norway introduced a law in 2021 that requires these two social media groups to indicate whether a photograph has been retouched. France is now going one stage further, and is in the process of demanding the same requirement, but for both photos and videos.
Meanwhile, the UK is now looking at the same issue, as the government's Online Safety Bill continues to make its way through Parliament. However, it remains to be seen whether the law will target just adverts on social media, or influencers as well.
A spokesperson for the new Department for Science, Innovation and Technology said: "The government recognises the threat that digitally manipulated content can pose, and takes the issue very seriously."
Conservative MP Luke Evans has long campaigned for advertisers and influencers to admit when they have altered an image on social media.
He wants to see the new law "contain future proofed regulation", so it also requires the same admission for altered videos, and any other tech developments.
"It's imperative that we have wider awareness and increased transparency surrounding these new technologies," he says. "For me this is all about honesty."
Mr Farbman's response is that while "this conversation was always there… over time the acceptance of these tools just grows". He adds that it is a free speech issue. "It's always kind of weird to me that a company will decide to limit the expressive freedom of its users, because of aesthetic or ethical sensibilities."
Sean Mao, the chief executive of San Francisco-based Perfect365, urges people to use its app "in a safe and ethical way". He adds: "We encourage people to use the app to express their creativity and not to use the app with malicious intent to deceive others or misrepresent themselves."
Psychologist Stuart Duff, a partner at UK practice Pearn Kandola, says that some social media influencers will always be tempted to use tricks to improve their online appearance – because being good-looking sells.
"Physical attraction has a very strong but often unconscious influence on our decisions when it comes to buying products and services from others," he says.
"When asked what matters most, we consciously talk down the importance of physical appearance and talk up qualities such as intelligence, values and personality, yet psychological research consistently reveals a strong positive relationship between a person's attractiveness and their ability to sell to us."
One social media influencer who goes by the name of Brandon B has 5.6 million owners on YouTube. He takes the view that photo and video manipulation apps should be seen in a positive light.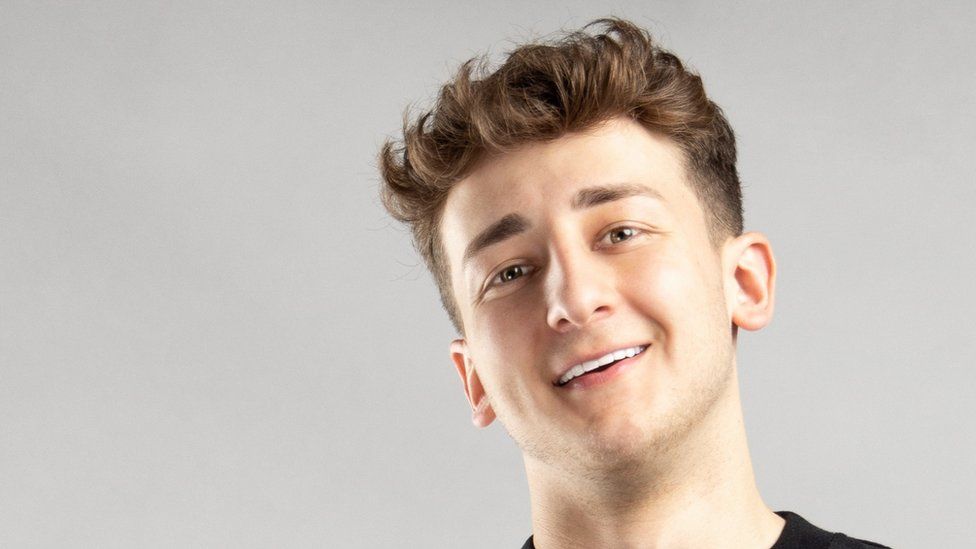 "I'm glad these apps exist, because I think there are a lot of people who are not body positive enough to present on social media, so they might feel left out," he says. "These tools help them get on social media."
However, Dr Shira Brown, an emergency physician at South Niagara Hospital, in Ontario, Canada, says that "distorted perceptions of body image" appear to be being "exacerbated by common social media practices".
She adds: "We see the urgent mental health consequences of social media in our departments on a daily basis, such as anxiety, suicidal thoughts, and depression."
How to Grow Your Business With Social Media – Entrepreneur
Opinions expressed by Entrepreneur contributors are their own.
Personal trainer Miriam Fried built her business, MF Strong, primarily by posting how-to videos on her social media channels, like Instagram, TikTok, and Facebook. But when it was time to expand from a virtual presence to a brick-and-mortar location, she realized there was more heavy lifting to do. She needed a way to advertise her business locally and attract in-person clients.
As a one- or two-person company working in the virtual space until this year, Miriam wasn't sure she was a big enough business to justify creating a Yelp Page. Once she sat down with Yelp's Small Business Expert Emily Washcovick, however, Miriam saw the benefits immediately.
"I'd love to have a Yelp Page. I just had never sat down to do it," she said. "[Emily] gave me that accountability of yeah, this is a good thing. We should have this, especially since we opened our own brick-and-mortar studio this year. A lot of people in the neighborhood don't know we exist. If anybody lives in the area and they're searching for personal trainers, I always want to be the first one that shows up for people, and Yelp is a really good way to do that."
As Miriam discovered, setting up and claiming her Yelp Business Page was easy since she already had all the information she needed on hand. In addition to adding basic business information, like contact details and location, she was able to add high-quality photos and a business description that tells potential customers who she is, what she believes in, and what she offers—something Miriam learned is more important than telling people what she doesn't do.
"Sometimes when I talk about my business, I'll say we don't do diet culture. We don't do the shame and the blame and the guilt," she said. "So it was very important for me to edit and say what we do offer versus what we don't offer. If someone's searching, I want the stuff we offer to pop up."
Within a short period of time, Miriam started to notice an uptick in search results and new clients. By changing the way she thought about her messaging, she could better convey MF Strong's unique stance on fitness, focusing on health and happiness rather than weight loss.
Miriam also asks each new client how they heard about MF Strong when they sign up so she has an accurate picture of how, and if, her marketing efforts (and dollars) are working. Because it's free to be on Yelp, Miriam didn't have to spend anything to get set up and going.
Before setting up her Yelp Page, she said, "Most of our clientele come through social media. That's our biggest funnel of clients. So I definitely take note when I see them coming from elsewhere.."
Now that the business has taken off, Miriam has handed MF Strong's social media channels to a social media manager, an important delegation strategy that shows how robust the business has become.
"It's so important to be able to delegate and be able to say, 'I could do this, but it's just a thing I don't need to do.'" she said. "As a business owner, making those distinctions is so vital for the business but also for your own mental health to say, 'Where am I needed and where is it non-essential for me to be controlling the situation?'"
There are more lessons from Miriam and Emily that could help your small business on this episode of Behind the Review, including:
List your business categories and specific services on your Yelp Page. There are more than 1,500 categories on Yelp to choose from, and you can choose up to three. Displaying your niche is key to helping potential customers find you, so be sure to select your specific services and describe the outstanding ones in your Specialties section.
Be yourself. On social media and your Yelp Page, showing up with an authentic voice goes a long way with potential and current customers.
Get ahead with artificial intelligence (AI). AI can help you draft content like polite and professional communications to customers or social media captions. The key is using it sparingly and always maintaining a personal touch in every correspondence.
Listen to the episode below to hear directly from Miriam and Emily, and subscribe to Behind the Review for more from new business owners and reviewers every Thursday.
Available on: Spotify, Apple Podcasts, Google Podcasts, Stitcher, and Soundcloud.
Russia to Build State Media Ecosystem in Occupied Ukraine – The Moscow Times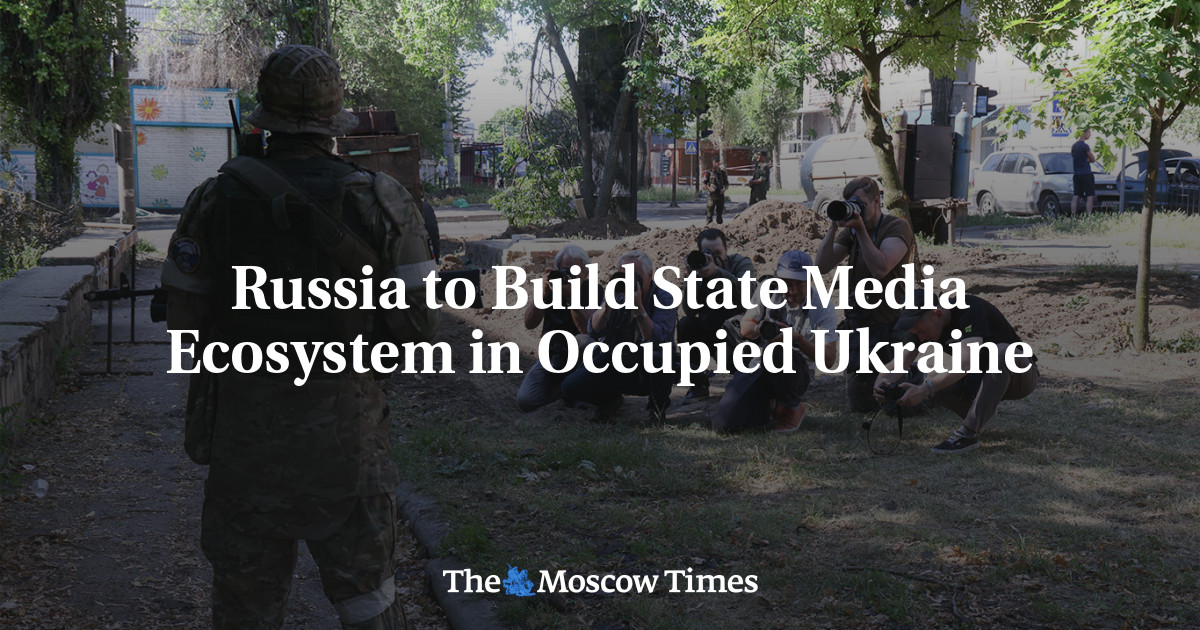 Russian-installed authorities in occupied Ukraine are developing a centralized "information space" for pro-Russian mass media and outreach, the Vedomosti business daily reported Friday.
Russia claims to have annexed four regions of Ukraine — Donetsk, Luhansk, Zaporizhzhia and Kherson — in September 2022 following widely disputed referendums, despite failing to fully control any of them.
Moscow-installed authorities in these regions now seek "to create a channel of verified information in each region," Vedomosti said, citing sources in the regions' Russian administrations.
These channels' main focus should be on news about the "socio-economic agenda" and the "agenda of creation" — in other words, positive news.
Like the rest of Russia, the occupied regions have faced censorship of information that contradicts the Kremlin's narrative of the war since its invasion began in February 2022.
Currently, the only local pro-Russian media sources in the Zaporizhzhia and Kherson regions are the social media pages of Kremlin-appointed officials and military bloggers.
The Donetsk and Luhansk regions' "news agencies" were first created in 2014 — when pro-Moscow separatists went to war with Kyiv — with the support of Russian state agencies.
The creation of similar agencies in the Zaporizhzhia and Kherson regions was announced earlier this month, with Russian officials and state journalists again playing an advisory role.
According to Vedomosti, one of these consultants will be Lana Samarina, the former first deputy editor-in-chief of the state-run TASS news agency.
Russia launched efforts to "Russify" the Ukrainian territories under its control shortly after invading Ukraine, implementing the Russian currency, issuing passports and installing Kremlin-appointed "governors."
The occupied regions have also faced censorship of information that contradicts the Kremlin's narrative of the war.
Russia last month announced plans to hold local parliamentary elections in the occupied Ukrainian regions in September.
Judge in FTX bankruptcy rejects media challenge, says customer names can remain secret – Yahoo Canada Finance
DOVER, Del. (AP) — The names of individual customers of collapsed cryptocurrency exchange FTX Trading can be permanently shielded from public disclosure, a Delaware bankruptcy judge ruled Friday.
Following a two-day hearing, Judge John Dorsey rejected arguments from lawyers for several media outlets and for the U.S. bankruptcy trustee, which serves as a government watchdog in Chapter 11 reorganization cases, challenging FTX's request to keep the names of customers and creditors secret.
Dorsey ruled that customer identities constitute a trade secret. He also said FTX customers need to be protected from bad actors who might target them by scouring the internet and the "dark web" for their personal information.
"It's the customers that are the most important issue here," he said. "I want to make sure that they are protected and they don't fall victim to any types of scams that might be happening out there."
Katie Townsend, an attorney for the media outlets, had argued that the press and the public have a "compelling and legitimate interest" in knowing the names of those affected by the stunning collapse of FTX.
"That collapse sent shock waves not just through the cryptocurrency industry, but the entire financial industry," Townsend said. "And at this point, we don't even know where the shock waves, both individually and institutionally, have hit the hardest, and what institutions may have the largest, or no, exposure as a result."
But lawyers for FTX and its official committee of unsecured creditors argued that its customer list is both a valuable asset and confidential commercial information. They contend that secrecy is needed to protect FTX customers from theft and potential scams, and to ensure that potential competitors do not "poach" FTX customers. FTX believes its customer list could prove valuable as part of any sale of assets, or as part of a reorganization.
"The debtors are in a position to realize value from these customer lists," said FTX attorney Brian Glueckstein.
FTX entered bankruptcy in November when the global exchange ran out of money after the equivalent of a bank run. Founder Sam Bankman-Fried has pleaded not guilty to charges that he cheated investors and looted customer deposits to make lavish real estate purchases, campaign contributions to politicians, and risky trades at Alameda Research, his cryptocurrency hedge fund trading firm. Three former FTX executives have pleaded guilty to fraud charges and are cooperating with investigators.
In January, Dorsey ruled that FTX could redact the names of all customers, and the addresses and email addresses of non-individual customers, from court filings for 90 days. He also authorized FTX to permanently keep secret the addresses and email addresses of individual creditors and equity holders.
On Friday, the judge approved the permanent sealing of individual customer names and extended the secrecy regarding the names of institutional customers for another 90 days.
Dorsey refused, however, to continue to allow FTX to shield the names of individual creditors or equity holders who are citizens of the United Kingdom or European Union nations and covered under a consumer protection program known as the General Data Protection Regulation, or GDPR. FTX sought similar treatment for individuals covered under Japanese data privacy laws.
Dorsey said that, in response to an objection from the U.S. trustee, FTX had presented no evidence to show that those foreign individuals might be harmed, or that FTX might be sanctioned, if their names are disclosed.
Dorsey also rejected a request by attorneys for an ad hoc committee of non-U.S. customers to keep the names of its members secret. If the committee wants to participate in the case, then the names of its members must be disclosed, he said.
According to redacted court filings, the ad hoc committee currently has 35 members, with estimated economic interests in FTX ranging from $64,434 to $1.5 billion. Dorsey noted that some members may decide to drop out based on his ruling.
Randall Chase, The Associated Press