Shrinking economy bad news for both Liberals and Conservatives: Nanos – CTV News
TORONTO —
As affordability becomes a key topic during the federal election campaign for all major parties, the news that the Canadian economy contracted in the second quarter is bad for both the Liberals and the Conservatives, according to pollster Nik Nanos.
On Tuesday, Statistics Canada reported that the economy contracted at an annualized rate of 1.1 per cent between April and June – the first quarterly contraction since the first COVID-19 wave lockdowns in 2020. To make matters worse, the agency also estimated another drop in real gross domestic product in July.
"The news yesterday that the economy had shrank would not be good for any incumbent government," Nanos said on Wednesday's edition of CTV's Trend Line podcast. "The last thing that you want is for the numbers to come out and to suggest that the economy is shrinking."
Nanos said the Liberals called the election when they did because they were hoping to capitalize on good will from the Canadian public for their handling of the pandemic and the supply of COVID-19 vaccines they procured while getting ahead of future concerns about the economy related to the pandemic.
"This GDP number is bad for the Liberals," he said. "It undermines one of the key pillars that they were hoping would be in place."
This latest news also won't help to restore Canadians' faith in the economy, according to Nanos, who said the population is already feeling "grumpy" about it. He said the latest weekly Bloomberg-Nanos tracking on consumer confidence shows that.
According to the data, 37 per cent of Canadians believe the economy will get stronger (down seven percentage points from four weeks earlier), while 30 per cent believe the economy will get weaker, and about 20 per cent believe there will be no change.
"The trend in terms of consumer confidence has been dropping over the last couple of weeks and couple that with a drop or shrinking of the economy and the GDP, it is basically a one-two punch in terms of creating negativity, anxiety and concern among Canadians when it comes to the economy," Nanos said.
And while the shrinking economy spells trouble for the Liberals, Nanos said the Conservatives won't fare much better thanks to their dependence on economic growth in their platform. According to the plan, the Conservatives would be able to balance the budget without any cuts within 10 years.
However, the plan hinges on the assumption that there will be an annual GDP growth of roughly three per cent, which some economists believe is unrealistic, Nanos said.
"These GDP numbers don't help [Conservative Leader] Erin O'Toole because if the economy is shrinking, and your fiscal plan is based on the economy growing, it's hard to reconcile those two things, at least for average voters," Nanos said.
O'Toole will need to defend his platform in order to maintain the "mini advantage" he has over Liberal Leader Justin Trudeau in Nanos Research's latest nightly tracking conducted for CTV News and the Globe and Mail, which was released on Wednesday morning.
According to the data, the Conservatives are leading with 33.7 per cent support, followed by the Liberals with 31 per cent, and the NDP with 20.3 per cent. The other parties trail significantly behind with the Bloc Quebecois at 6.8 per cent, the People's Party of Canada at 4.1 per cent, and the Greens at 3.5 per cent.
In terms of who Canadians prefer for their next prime minister, Trudeau has a slight lead with 29.2 per cent support, followed by O'Toole with 28.4 per cent, and NDP Leader Jagmeet Singh at 19.2 per cent. PPC Leader Maxime Bernier has 4.9 per cent support, just ahead of BQ Leader Yves-Francois Blanchet, and Green Leader Annamie Paul.
'IT'S HOUSING, STUPID'
The economy, and more specifically housing affordability, is also a main topic of concern for Canadians living in the vote-rich Greater Toronto Area, Nanos said.
According to polling data commissioned by CTV News and CP24 that was released on Tuesday, housing is the number one priority for voters living in Toronto and the surrounding area and one that all parties will have to address if they want to win votes there.
"More than four out of every 10 residents in the GTA unprompted, which means when they could say whatever they wanted, identify housing as their as their top concern," Nanos said.
"What was it that one American strategist said, 'It's the economy, stupid'?" Nanos said. "That's probably what GTA residents want to say to any politician from any stripe, 'It's housing, stupid.'"
And although Toronto and the GTA are traditionally a Liberal stronghold, Nanos said it was interesting that when residents were asked who best understands the issues in their area, it was a three-way tie between Trudeau, O'Toole, and Singh.
"That means that there's also opportunity not just for Erin O'Toole, but for Jagmeet Singh. He's got a good brand. His brand is exceptionally strong among under 35s in the in the GTA and if he can get young people to get out and vote, it can be a bit of a game changer for him," he said.
NANOS' METHODOLOGY
A national random telephone survey (land- and cellular-line sample using live agents) of 1,200 Canadians is conducted by Nanos Research throughout the campaign over a three-day period. Each evening a new group of 400 eligible voters are interviewed. The daily tracking figures are based on a three-day rolling sample comprising 1,200 interviews. To update the tracking a new day of interviewing Is added and the oldest day dropped. The margin of error for a survey of 1,200 respondents is ± 2.8 percentage points, 19 times out of 20.
The respondent sample is stratified geographically and by gender. The data may be weighted by age according to data from the 2016 Canadian Census administered by Statistics Canada. Percentages reported may not add up to 100 due to rounding.
Five Lessons Evergrande Taught Us About The Chinese Economy – NPR
Last week, global markets shook after a Chinese company named Evergrande fell into what looks like a downward spiral into oblivion. Evergrande is — or was — the second-largest real estate company in China. A couple years ago, it was the world's most valuable real estate stock. It's also been involved in an eclectic mix of other businesses, from mineral water to electric cars to pig farming. It even owns a professional soccer team. But recently it's been having a really hard time repaying a mammoth amount of debt, a whopping $300 billion worth.
The Evergrande story is bigger than just one company. It's about China's unsustainable model of economic growth, which has relied on endless investment and a mad, debt-fueled development frenzy in recent years. That model helped China soar, but the country is now experiencing some turbulence. Last week, some alarmist observers were calling this China's "Lehman moment" — a reference to the collapse of Lehman Brothers that preceded the 2008 financial crisis — but China-focused economists argue that's overblown.
Nonetheless, given how interconnected the global economy is, investors remain worried about the future of the Chinese economy. It's been a nuclear reactor powering the globe's economic growth. Troubles there could have ripple effects around the world.
[Editor's note: This is an excerpt of Planet Money's newsletter. You can sign up here.]
We decided to put together a little listicle about what we've learned from the Evergrande story so far.
1) Real estate has been a huge part of China's economic growth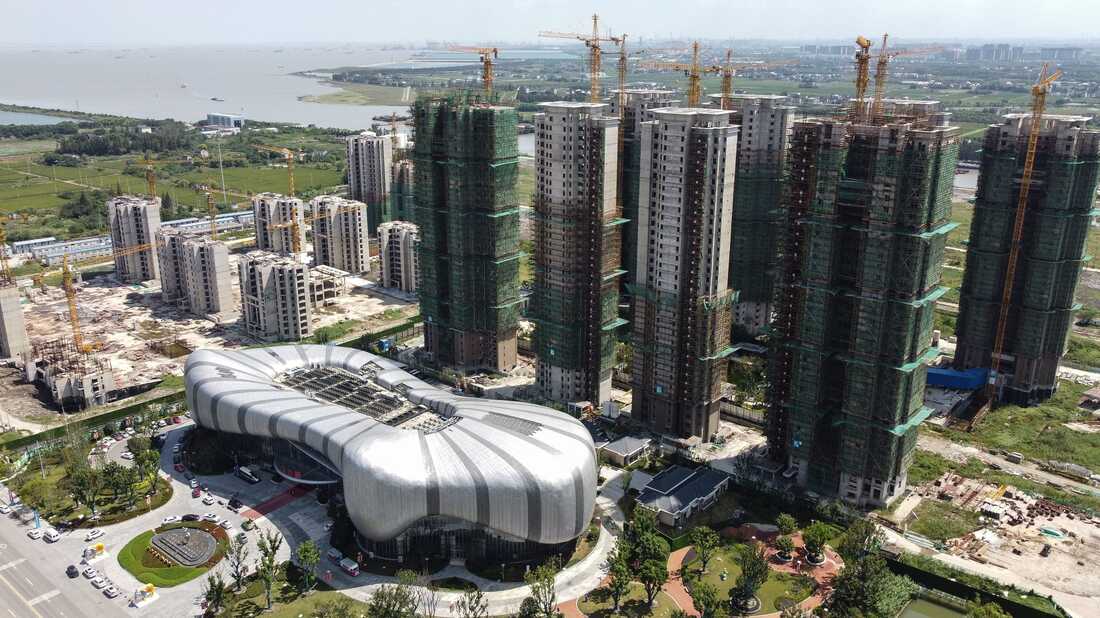 China's economic growth in recent years has been powered in large part by its roaring real estate market. The real estate industry, directly and indirectly, accounts for as much as 29 percent of China's entire GDP. This growth has been fueled by a ginormous property bubble and mounting amounts of debt. For a while, China's national and local governments used their massive powers of command-and-control over the economy to keep the bubble inflating. As is commonly the case in bubbles, investors and companies have taken on massive amounts of debt to capitalize on surging real estate prices. Evergrande itself amassed more than $300 billion in debt, to its banks, its bondholders, its suppliers, and its customers, many of whom pre-bought homes months, even years, before they were built.
2) China's property bubble has created spooky "ghost cities" and "ghost apartments" throughout the nation
The Chinese property bubble, which observers have been talking about for years, has encouraged more and more speculation, with investors buying up properties with no intention of living in them. Unfinished and vacant buildings and apartments litter the provinces of China. Estimates vary, but around 20%of China's total housing stock now sits unoccupied. The Financial Times saysthere is now enough vacant property in the nation to house more than 90 million people. That's enough empty homes to fit the entire population of Canada. Or France. Or Germany.
In some cases, entire urban areas lie empty. These so-called "ghost cities" include replicas of Paris, Venice, and even Jackson Hole, Wyoming.
3) The Communist Party of China is now working to reduce financial risks and change its model for economic growth
One of the main differences between Evergrande's debt crunch and the collapse of Lehman Brothers is that this crunch was brought about on purpose. The Communist Party of China (CPC) has been aware of the dangers posed by its wild real estate market for some time. In 2017, President Xi Jinping began signaling he wanted to do something about it with a speech to the 19th Party Congress. He said, "Houses are built to be inhabited, not for speculation."
Last year, the government followed up with a policy known as "three red lines," which aims to reduce debt in the property market, crack down on reckless borrowing, and prevent a market correction from turning into a cataclysm. The historian Adam Tooze calls it "controlled demolition" of the real estate bubble.
More broadly, Xi has been pursuing radical new policies in the name of "common prosperity," an effort to fight growing inequality in China and intervene more forcefully in private industries.
In July, Xi released an essay outlining his ambitions for China. He said he wants the country to focus on "pursuing genuine rather than inflated GDP growth and achieving high-quality, efficient, and sustainable development." Evergrande, a poster child for excesses of the real estate market, apparently does not represent genuine economic growth. And government policies, which once boosted the company, are now strangling it.
4) Cronyism May Have Lulled Investors and Creditors Into Overconfidence In Evergrande
Evergrande was founded by Xu Jiayin, who not that long ago was the richest man in China. Jiayin is well connected. He is a member of the Chinese People's Political Consultative Conference, an elite group of advisers to the government. He's also politically shrewd. For example, he reportedly got Evergrande to buy Guangzhou Football Club after President Xi Jinping said he wanted China to have a great soccer team. The company then sank millions buying some of the best soccer players in the world.
The New York Times suggests that Xu Jiayin's connections gave investors and creditors confidence that the company could keep borrowing and get bailed out by the government if things went bad. They thought Evergrande was too big and too connected to fail. In August, however, as the company began to wobble, Xu resigned as chairman of Evergrande's real estate arm, sending it tumbling further.
5) Evergrande may be just the tip of the iceberg
China's growth in recent years has depended heavily on a gargantuan expansion of real estate and all its accoutrements — trains, bridges and sewers. China has been building and building and building, creating lots of economic activity in the country. With Evergrande, that type of growth is finally showing itself to be unsustainable — and the Chinese economy is in for a period of turbulence. The weird part is this seems to be, in part, by design. We still have questions. How forcefully will China act to contain the damage done by Evergrande? Will China be able to successfully shift its economic model away from real estate and endless development? How will this shift affect the broader global economy? We'll be paying attention in future weeks.
Did you enjoy this newsletter segment? Well, it looks even better in your inbox! You can sign up here.
U.S. Commerce chief to push investment in domestic economy – Reuters
WASHINGTON, Sept 28 (Reuters) – U.S. Commerce Secretary Gina Raimondo plans to outline her vision for U.S. investment in its domestic economy and doing more to compete with China, in a speech on Tuesday.
"For America to compete globally, we must invest domestically − in American workers, American businesses, and American innovation," Raimondo will say at the Washington Economic Club, according to excerpts from the speech.
Congress is considering awarding the Department of Commerce tens of billions of dollars to extend broadband services to areas lacking high-speed internet and $52 billion to boost U.S. semiconductor chip production.
Raimondo's prepared excerpts say she will argue China's R&D spending requires a response: "We must expand R&D investments and move innovations from the lab to the marketplace at 21st century speed."
In a roundtable media interview Friday, Raimondo singled out China, saying it was dumping cheap steal and aluminum and not living up to a 2020 trade agreement to buy U.S. products.
"We are going to look to work with our allies to counteract China's anticompetitive behavior," Raimondo said. "That's a big difference between the last administration's approach and our administration's approach."
She said tariffs on steel and aluminum imposed by the Trump administration "worked" to increase U.S. production but said the national security tariffs imposed on allies was not "necessarily the right way to go…It was really irritating to Europeans and now we've got to, like, clean that up… The enemy of course isn't Europeans. The enemy is excess supply of cheap steel being dumped by China into Europe."
EU trade chief Valdis Dombrovskis said on Monday he was "moderately optimistic" that the U.S. and European Union could resolve their dispute over steel and aluminum tariffs.
Raimondo called efforts by the Trump administration to address data security issues surrounding TikTok "hamhanded and ineffective."
In June, President Joe Biden withdrew executive orders issued by former President Donald Trump that unsuccessfully sought to ban new downloads of WeChat, TikTok and other Chinese-owned apps and directed the Commerce Department to make recommendations by early October on how to protect U.S. data accessible by companies controlled by foreign adversaries.
Raimondo said "we're in the middle of the TikTok review" and added she was limited about what she could say.
She said the Biden administration is "very serious about protecting Americans' data" and is working with allies. "That's really hard work," Raimondo said. "Doing some executive order that's meaningless on TikTok is not the way to do it."
Reporting by David Shepardson; Editing by Raju Gopalakrishnan
Our Standards: The Thomson Reuters Trust Principles.
Slow pace of vaccinations is largest drag on the economy in survey of business leaders – NBC News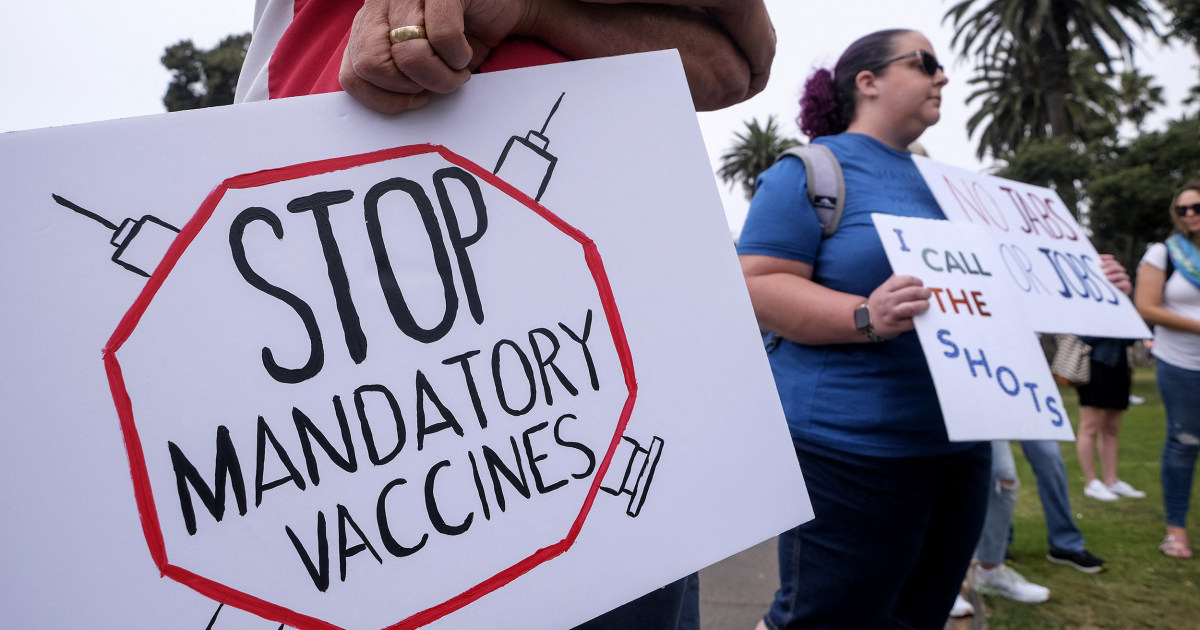 Corporate leaders are far less bullish about the economic recovery than they were back in the spring — and they fear that vaccination holdouts could stall or even reverse the progress that has been made.
A new survey by the National Association for Business Economics, or NABE, found a marked pullback in expectations for economic growth and output, especially in the near term. Survey respondents expect real growth in gross domestic product for this year to come in at 5.6 percent at the median — a significant drop from the median 6.7 percent growth expected in May, when the survey was last conducted.
"The erosion of forecasts and confidence has really mirrored what our economists have been saying, because we brought down our Q3 GDP forecast from 7.0 to 5.6 percent," said Sam Stovall, chief investment strategist at CFRA Research. "We just feel that things don't look as rosy as they did before."
Nearly 2 in 5 NABE survey respondents said downside economic risk outweighs upside risk for the year, and just 16 percent said conditions are weighted toward the upside. The figures were reversed in May, when 56 percent ranked upside risk as a higher probability and just 15 percent said saw greater downside risk to the outlook.
The key difference, and the factor that is weighing on hopes for the recovery, is the resurgence of Covid-19 fueled by the highly contagious delta variant of the coronavirus. Everybody who was banking on the pandemic's receding over the summer has had to modify their expectations in the face of a public health crisis that shows no sign of abating.
"We all believed we were through the pandemic five months ago, and I believe that the variant has caught many people by surprise," said Joseph Heider, president of Cirrus Wealth Management. "As this lingers on, executives are becoming more concerned and asking, 'Are we going to have this under control?'"
NABE survey chair Holly Wade, executive director of the NFIB Research Center, said in the survey outlook report, "Panelists point to a variant of the coronavirus, against which the vaccines may be ineffective as the main downside risk." Nearly two-thirds of respondents identified that as the greatest downside risk to the economy, and 9 percent more cited slowing vaccine uptake as the most worrisome hurdle. A plurality of 44 percent said a faster vaccine rollout is the best chance for higher-than-expected economic gain.
Heider said: "Vaccine resistance is, I think, larger than many people anticipated. I think it's creating real concerns as to our ability to reach herd immunity. And when we don't have herd immunity, the unvaccinated are human petri dishes for the virus to mutate."
Although the virus represents the biggest threat to near-term business recovery, analysts said it is far from the only headwind corporations face. "There's just many more variables and unknowns than there were six months ago," said Dick Pfister, CEO of AlphaCore Wealth Advisory.
In addition to the threat of Covid and potential variants, Pfister said, companies and investors are monitoring other unfolding circumstances. The Federal Reserve is edging closer to ending its bond buying, and more policymakers have expressed openness to raising interest rates sooner. The financial peril faced by the heavily indebted Chinese real estate giant Evergrande is making investors nervous, he said, as they try to gauge whether the company's teetering on the brink of collapse was an isolated incident.
"There's probably more than just one, and there are some fears from economists that this could be more systematic inside of China," he said.
A globally connected economy poses other sorts of risks, as well: A cascading series of bottlenecks in the global supply chain affecting semiconductors to energy has triggered much of the growing worry about rapidly increasing prices. The NABE survey found that 17 percent of respondents said supply chain disruptions were having a "significant impact" on business, while 27 percent more cited mild or moderate impacts.
"Inflation expectations have moved up significantly from those in the May 2021 survey," Wade said. On average, NABE respondents expect inflation to rise by 5.1 percent in the fourth quarter year over year, a jump from an expected 2.8 percent increase in the May survey.
David Wagner, portfolio manager at Aptus Capital Advisors, said the duration and the breadth of global supply disruption have triggered a re-evaluation in corner offices in the U.S. and around the world. In the spring, "it seemed like the supply chain problem was transitory," but the assumptions were dashed as the summer went on, he said, adding: "Supply chain problems are persisting for much longer than originally expected.
"Now that you're starting to see some kind of tangible supply chain backlog, I think that's got more people pessimistic. It caught people by surprise," Wagner said.
Rob Haworth, senior investment strategist at U.S. Bank Wealth Management, said, "Supply concerns are weighing on the mind of the market and economists because it has limited the amount of output we can get from certain industries."
Along with the supply shortages that are hindering production and driving up costs, the unbalanced labor market continues to constrain growth, as well — but there also are glimpses within those distortions of potential normalization. Although about one-third of survey respondents said they were facing a surfeit of workers, a larger proportion, 44 percent, said they were not experiencing a labor shortage. Respondents predict wage growth of 4 percent for the year, followed by a 3.5 percent increase next year — rates broadly in line with what many economists consider to be indicative of a well-functioning labor market.
"The labor market is not fully recovered — we're seeing that across other surveys, as well, and even the Fed's own Beige Book indicates that hiring has been challenging," Haworth said. "There's a lot of room for improvement, but it's really slow going."