Signal app goes down amid peak user traffic – Gulf News
New Delhi: The users of highly-encrypted Signal app faced trouble sending messages and the company said on Saturday that it was still working to bring additional capacity online to handle peak traffic levels.
The problem started late Friday and the company first acknowledged it may be due to technical difficulties.
Signal allows for secure and encrypted video, voice and text communication, but users were unable to send any messages.
"We have been adding new servers and extra capacity at a record pace every single day this week nonstop, but today exceeded even our most optimistic projections. Millions upon millions of new users are sending a message that privacy matters. We appreciate your patience," it said in a series of tweets.
As WhatsApp started sending notifications to its users asking them to either accept its new policy or see their accounts removed from February 8, it came as a blessing in disguise for its rivals as Signal as it saw a massive flow of new users.
The rush led to extra burden on Signal servers.
"We are making progress towards getting the service back online. Privacy is our top priority, but adding capacity is a close second right now," it said.
"We are still working as quickly as possible to bring additional capacity online to handle peak traffic levels".
The encrypted messaging service has climbed to the top spot in the free apps category of the App Store in multiple countries, including India.
Samsung Galaxy Xcover 5 gets Bluetooth certified, leaked render reveals rugged design – GSMArena.com news – GSMArena.com
A press render of the Samsung Galaxy Xcover 5 we've been hearing about since late last month has surfaced, revealing its rugged design.
The image was shared by leakster Evan Blass, who claimed the Xcover 5 is not a successor to last year's Xcover Pro, but a follow-up to the Xcover 4s launched back in 2019.
While we are yet to hear anything from Samsung about the Galaxy Xcover 5, the smartphone has moved a step closer to the launch as it bagged Bluetooth SIG certification.
The certifying authority didn't detail the Xcover 5's specs, but it did confirm that it will come with Bluetooth 5.0 and have two models – SM-G525F and SM-G525_DS. The latter is likely a dual-SIM variant, and the former was spotted on Geekbench last month with an Exynos 850 SoC, 4GB RAM, and Android 11.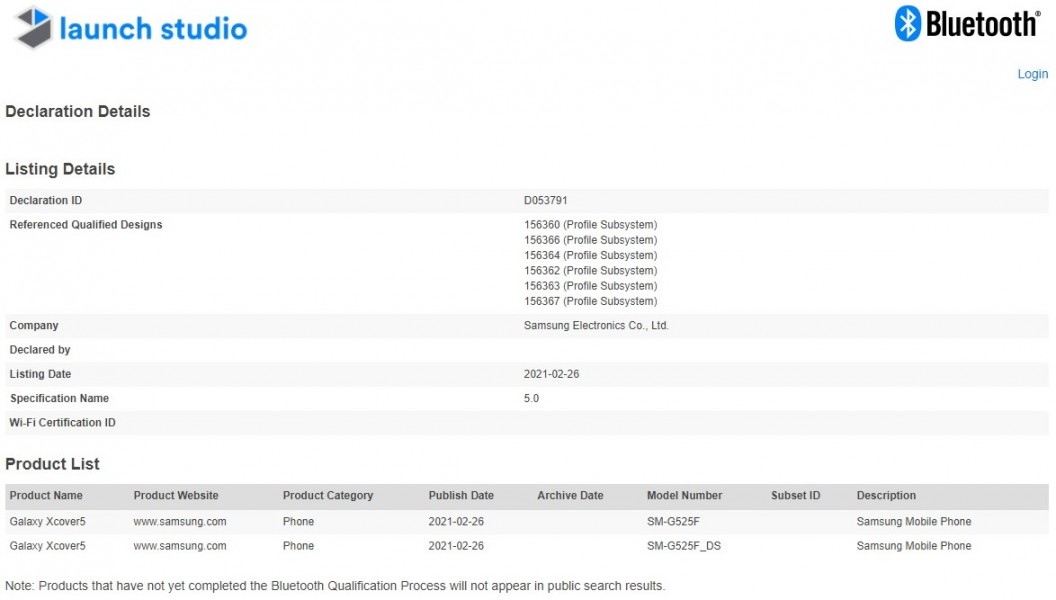 The rest of the rumored specs of Galaxy Xcover 5 include a 5.3″ HD+ LCD, 64GB storage, microSD card slot, and a 3,000 mAh user-replacable battery that will charge through a USB-C port at up to 15W.
The Xcover 5 is said to feature 16MP primary and 5MP selfie cameras, and come with an NFC chip onboard. It will be IP68 dust and water-resistant, carry a MIL-STD-810G certification, and is expected to cost around €300.
I wanted to love foldable phones, but the novelty got old fast – CNET
Let's face it, mobile phones, even the best ones, just aren't that exciting anymore. They're all way more powerful than we really need, they all have nifty multi-lens cameras and they all look essentially the same. I really hoped that folding phones would give a much needed shot of adrenaline to the industry, but well over a year on from their arrival, they've fizzled out like a damp firework and left me feeling disappointed.
I've worked for CNET for a decade and most of that time I've specifically covered mobile phones. I've seen a lot come and go. I've seen the rise and fall of BlackBerry, I've seen weird phone ideas like the Russian Yotaphone with its e-ink second screen and I saw the brief trend of curved phones like the LG G4 and Samsung's Galaxy Round. But in recent years it's seemed that genuine innovation has been put aside, with every company clamoring to make what could easily be revisions of the same product.
Think about these phrases: "A big, vibrant screen," "A great multi-rear camera setup," "An attractive metal and glass design." Can you think of many phones that those sentiments couldn't be applied to? The result is that all the phones are pretty good, but it means that they're also equally boring. Each year's refresh adds a few megapixels onto the camera, or an extra bit of screen size. Or a slight tweak to a design that, fundamentally, remains just a rectangular slab.
I get it. Innovation is expensive and spending millions of dollars researching a new idea means you need a guarantee that it's going to sell well. LG found this out to its cost with phones like the weird, modular G5, which didn't sell well and now the company is reportedly looking to sell off its phone business.
So when folding phones came along my spirits lifted. Here was innovation. Here was this new technology which genuinely took me back when I saw it in person for the first time and left me excited again for the possibilities of what phones could become. I know I'm not the only one who loved that idea of the phone that you wear on your wrist like a watch and unfold it when you need the bigger screen. But where is that?
The foldables we do have are… fine. The Galaxy Z Flip and Moto Razr's clamshell design is neat in that it makes a big-screen phone more pocketable by folding in half, while the Galaxy Fold 2 and Huawei Mate X are essentially tablets that fold in half to become phones, which is fine, too.
But beyond the bending screen, they haven't really pushed any boundaries. They haven't changed the way we use our phones or brought any revolution that's so groundbreaking that it alters the face of mobile altogether. They use the same version of Android, with only a few small tweaks to some apps to give a bit of additional functionality, but little beyond that. Really, they're the same phone as before, but you can fold them in half. I find it very telling that I have the Galaxy Fold and Z Flip in my house, but they're in a drawer among other past phones and I don't have any great desire to get them out again.
And you pay handsomely for that one fold feature as all folding phones cost significantly more than their respective manufacturers regular flagships. This, in turn, means that adoption is low, which gives those companies — or third-party developers — little incentive to think of new and creative ways to use this technology. In time, folding phones may well be cast into the pile of other gimmicks, alongside banana phones, Samsung's camera/phone hybrid and 3D phone displays.
But I hope not. I hope that it sticks around and evolves into something useful and exciting. Frankly I hope that Apple takes up the cause as it does have a tendency of only adopting new technology when they can put it to a genuinely useful use, although perhaps not always (I'm looking at you, 3D Touch).
But most of all I hope that any mobile company isn't afraid to try and innovate and do something a bit different. Phones used to be fun, and phone launch events were genuinely exciting to see what awesome new tech would be unveiled this time.
That excitement isn't where it used to be. It's an ember flickering at the bottom of the fireplace now, with each generic phone launch threatening to be the bucket of sand that could put it out completely. There is a chance that folding phones could yet be the kindling that turns that ember back into a roaring inferno, but I'm not crossing my fingers.
This week's best deals: $200 off the Samsung Galaxy S21 Ultra and more – Yahoo News Canada
As February comes to a close, we saw a number of solid devices go on sale this week — including brand new smartphones. While Nintendo's Mario Kart Live: Home Circuit is $10 off, Amazon knocked the prices of all of Samsung's Galaxy S21 smartphones down by hundreds. Those handsets just came out last month, making now a good time to grab one if you've been meaning to upgrade. Here are the best tech deals we found this week that you can still get today.
Samsung Galaxy S21
All of Samsung's latest smartphones are on sale at Amazon, with a couple seeing $200 discounts. The regular Galaxy S21 is $100 off while both the Galaxy S21+ and the S21 Ultra are $200 off. While the S21 is the best value Android phone you can get at the moment, the S21 Ultra is a substantial upgrade that will serve power-users and creatives well.
Buy Galaxy S21 at Amazon – $700 Buy Galaxy S21+ at Amazon – $800 Buy Galaxy S21 Ultra at Amazon – $1,000
Samsung Galaxy Watch 3
The Galaxy Watch 3 is down to a record low price of $249 at Amazon, which is $150 off its normal price. You'll pay $30 more for the 44mm model, but that, too, is an all-time low. We gave the Galaxy Watch 3 a score of 86 for its spinning bezel and solid activity and sleep tracking.
Buy Galaxy Watch 3 41mm at Amazon – $249 Buy Galaxy Watch 3 44mm at Amazon – $279
Mario Kart Live: Home Circuit
Nintendo's Mario Kart Live: Home Circuit racing kit is just about $10 off at Amazon, bringing it down to just about $90. It's a small discount but a decent one for a Nintendo Switch accessory that rarely goes on sale. The kit gives you the Luigi racing cart and "gates" with which to make your own track around your home. With it and the free software downloaded to your Switch, you can move your racing endeavors (partially) off the screen and into your living room.
Buy Mario Kart: Home Circuit Luigi pack at Amazon – $90.12
LG CX OLED TVs
The 55-inch LG CX OLED TV is down to a record low of $1,350 at Amazon and Best Buy. Newegg recently joined this sale by knocking $800 off the 65-inch CX OLED model, and you'll get a free $200 Newegg gift card when you buy. While new 2021 models will be coming out soon, this 2020 TV remains a good pick if you don't want to shell out around $2,000 or more for the latest versions. The CX lineup uses LG's a9 Gen 3 AI Processor 4K and it supports 120Hz refresh rates, NVIDIA G-SYNC, AMD FreeSync, Dolby Vision IQ, Dolby Atmos and more.
Buy 55-inch LG CX OLED at Amazon – $1,350 Buy 55-inch LG CX OLED at Best Buy – $1,350 Buy 65-inch LG CX OLED + $200 gift card at Newegg – $1,997
New tech deals
Roku Streambar
Roku's Streambar is down to $109 on Amazon, which is $20 off its normal price. We've seen it $10 less than this before, but if you want a solid, compact soundbar with the power of a Roku streaming device inside, this is a great pick. We gave it a score of 86 for its solid sound quality, Dolby Audio support and its ability to work as a Bluetooth speaker.
Buy Roku Streambar at Amazon – $109
Roomba i7+ + Braava M6 bundle
If you want a robot combo that can handle vacuuming and mopping, this one on sale at Wellbots is a good pick. Now you can get the Roomba i7+ vacuum and the Braava M6 mop for $1,099, which is $150 off its normal price. We like the i7+ for its cleaning power and included base, into which it empties debris so you don't have to handle its bin after every cleaning. The Braava M6 uses its water reservoir to handle hardwood, tile and other types of flooring. These two devices also work together now to separately map your home for more efficient cleaning.
Buy Roomba bundle at Wellbots – $1,099
Twelve South HiRise Pro
Twelve South's iMac stand, the HiRise Pro, is down to $109 on Amazon, which is more than $60 off its normal price. It's a more elegant accessory for those what want to lift their iMac or monitor to a more comfortable viewing position. It also provides extra storage space with its interior, adjustable shelves, giving you a place to put hard drives and other trinkets that you need to access regularly.
Buy HiRise Pro at Amazon – $109
Logitech G203 Lightsync gaming mouse
Logitech's G203 Lightsync gaming mouse is down to an all-time low of $30. In addition to coming in a few fun colors, this mouse also has customizable RGB lighting so you can make it your own in that way, too. It also has an 8,000 DPI sensor and six buttons that you can program using Logitech's G Hub software.
Buy Logitech G203 at Amazon – $30
ThermoWorks Thermapen Mk4
One of our favorite grilling gadgets, the ThermoWorks Thermapen Mk4 in gray is on sale for $69, or $30 off its normal price. It's one of the best instant-read thermometers for cooking that we've tried and we like its rotating, backlit display and its automatic on/off function that's triggered by movement. Just pick it up when you need to use it and, when you're done, it will shut off after you've set it down.
Buy Thermapen Mk4 at ThermoWorks – $69
Follow @EngadgetDeals on Twitter for the latest tech deals and buying advice.