Signature Bank closed by New York regulators in fallout from implosion of SVB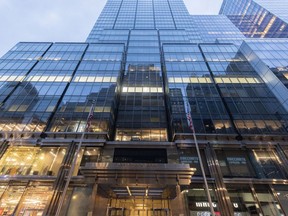 (Bloomberg) — Signature Bank was closed by New York state financial regulators on Sunday as the fallout from last week's implosion of SVB Financial Group's Silicon Valley Bank spreads to other lenders.
Depositors at the New York-based bank will have access to their money under "a similar systemic risk exception" to one that will allow Silicon Valley Bank clients to get their money on Monday, the Treasury Department, the Federal Reserve and the Federal Insurance Deposit Corp. said in a joint statement Sunday.
"All depositors of this institution will be made whole," the regulators said. "As with the resolution of Silicon Valley Bank, no losses will be borne by the taxpayer."
The decision to put Signature into receivership came as a surprise to its managers, who found out shortly before the public announcement, said a person familiar with the company's operations. The bank faced a torrent of deposit outflows on Friday, but the situation had stabilized by Sunday, the person said, asking not to be identified discussing a private matter.
A Signature Bank representative declined to comment.

Signature Bank, a New York state-chartered commercial bank that's FDIC-insured, had total assets of about $110.36 billion and total deposits of roughly $88.59 billion as of Dec. 31, the New York Department of Financial Services said in a separate statement.

Silicon Valley Bank abruptly became the biggest U.S. lender to fail in more than a decade on Friday, unraveling in less than 48 hours after outlining a plan to shore up capital. The bank took a huge loss on sales of its securities amid rising interest rates, spooking investors and depositors who rapidly began pulling their money. On Thursday alone, investors and depositors tried to yank about $42 billion.
U.S. regulators are racing against the clock to find solutions for failed Silicon Valley Bank and stop a potential contagion from spreading to other lenders. Treasury Secretary Janet Yellen said Sunday that she approved a resolution for Silicon Valley Bank "that fully protects all depositors." Concern about the health of other smaller banks focused on the venture capital and startup communities is prompting regulators to consider extraordinary measures to protect financial institutions and their depositors.

New York's Department of Financial Services is in "close contact with all regulated entities in light of market events, monitoring market trends and collaborating closely with other state and federal regulators to protect consumers, ensure the health of the entities we regulate and preserve the stability of the global financial system," Superintendent Adrienne A. Harris said in her agency's statement.
Signature Bank came under the spotlight with the collapse of the FTX crypto exchange late last year.

FTX had accounts with Signature Bank, which the company said represented less than 0.1% of its overall deposits. In December, after FTX's collapse, Signature said it planned to shed as much as $10 billion in deposits from digital-asset clients. That would bring crypto-related deposits to around 15% to 20% of its total, and the bank said it would cap the share of deposits from any single digital-asset client.

Silvergate Capital Corp., another bank hit hard by FTX's implosion that spent recent weeks bombarded by short sellers, deserted by depositors and shunned by business partners, said last week it was closing its doors, just days before Silicon Valley Bank's seizure.
Food inflation in Canada shows signs of easing, but grocery prices to remain high
Food inflation appears to be easing in Canada, but experts say shoppers shouldn't expect lower prices at the grocery store.
Statistics Canada said Tuesday the cost of groceries in February rose 10.6 per cent compared with a year before, down from an 11.4 per cent year-over-year increase in January.
Yet a falling food inflation rate doesn't mean the price of food is coming down.
Instead, it means prices are rising less quickly, signalling the worst of the grocery price hikes could be behind us.
"Consumers may still feel sticker shock at the grocery store because the products they buy are up closer to 15 or 20 per cent," said Sylvain Charlebois, director of the Agri-Food Analytics Lab at Dalhousie University.
In the month of February, multiple pantry staples increased by nearly double the overall inflation rate for food purchased from stores.
Pasta prices rose 23.1 per cent last month compared with a year earlier, flour jumped 22.9 per cent and butter increased 19.7 per cent, according to Statistics Canada.
Fats and oils also climbed significantly higher than the food basket average, up 18.8 per cent year over year. Sugar and syrup prices rose 15 per cent, cereal was up 14.8 per cent and eggs increased 13.6 per cent.
Still, the overall pace of food price increases eased in February and is expected to abate further in the coming months, Charlebois said.
"We expect the food inflation rate to continue to drop as we head into spring and early summer," he said.
Fraser Johnson, a professor of operations management at Ivey Business School, said he expects a "steady progression to more normalized price increases" by the end of the calendar year.
"What I'm seeing is a shift in power between the suppliers and the buyers," he said.
"A year or 18 months ago, certainly there was more supplier power in terms of pricing, but now things are starting to stabilize in terms of wait times, in terms of supply chain disruptions. Buyers are starting to exert more force and prices are … not rising as quickly as they were."
But factors such as high costs for delivery, packing and labour, coupled with historically high commodity prices, are still contributing to rising grocery bills.
Johnson noted that while the price of oil has fallen in the last month, there is a lag until the effects are seen on the price of food.
"It's easier for prices to go up than to go down," he said.
"It takes time for contracts and pricing to work their way through the system. If you take a look at grocery chains like Loblaw or Sobeys, you've got multiple suppliers and multiple products which means that you've got to negotiate with your suppliers to be able to bring the pricing back in line, and that all takes time."
Meanwhile, restaurant prices eased even more than grocery prices in February.
Statistics Canada said food purchased from restaurants rose 7.7 per cent last month compared with a year before, down from 8.2 per cent price growth in January.
"People are being extra careful with their budget these days and restaurant operators are being very prudent with menu prices," Charlebois said.
– With files from Sammy Hudes
This report by The Canadian Press was first published March 21, 2023.
Nordstrom liquidation sales underwhelm Canadians as most items marked down 5 per cent
The first day of Nordstrom's liquidation sale began on Tuesday, but some shoppers walked away underwhelmed by the discounts.
Many locations saw shoppers lining up outside of stores, anticipating deep discounts, only to find that most items were only marked down a measly five per cent off.
A Nordstrom spokesperson told CTV News Toronto "select categories and products" have also been marked down up to 20 per cent.
Nordstrom announced earlier this month it would be exiting the Canadian market, closing all six of its Canadian department stores and seven Nordstrom Rack locations. The upscale retailer opened its first Canadian store in 2014, but after eight years, CEO Erik Nordstrom said the company couldn't see "a realistic path to profitability" in the country.
The liquidation efforts only got underway after the company got approval from the Ontario Superior Court of Justice on Monday. Under the Companies' Creditors Arrangement Act, the company is required to get court approval before it can liquidate.
In addition to merchandise, the company will also be liquidating all of the furniture, fixtures and equipment from its stores, while goods from third-party sellers were already removed last weekend.
The company had already closed down its Canadian online store earlier this month.
Around 2,500 employees are being affected by the closure.
Nordstrom's liquidation efforts are set to wrap up by late June.
With files from CTV News Toronto and The Canadian Press
5 Digital Marketing Strategies For NGOs
In this digital age, digital marketing is the way to go if you are looking at business growth for any size business. Nothing works as efficiently with a generation that uses digital devices for more than half of their day. With multiple techniques like email marketing campaigns, social media campaigns, content marketing, SEOs, and more, you are in for a drastic boost in your brand awareness, engagement, and global reach, provided you use these techniques correctly.
Since the main aim of nonprofits is not financial gain but working towards a social cause, digital marketing proves to be a better option for them. It is cost-effective and requires less energy than most traditional methods. Since it saves costs, NGOs do not need to worry about spending a ridiculous amount of money on marketing.
There are multiple budget-friendly marketing softwares available that are specially designed for use by nonprofits, helping them spread their cause without the concern of a heavy expense. Try to check out Constant Contact pricing, for instance.
While the rest might get sorted, what strategies would you implement for digital marketing as an NGO? Let's discuss a few in this article.
Video Campaigns
Strong and structured video campaigns have the capability to make a huge difference in your digital space, where the video strategy is king.
You can utilize video in direct marketing campaigns in addition to using it as a vlog or a permanent post on your home page. They are a great way to communicate the cause you are working for and make your audience connect with it. Plus, utilizing video in your emails can increase landing page conversion rates and double or triple click-through rates tremendously.
Build Your Blogs
For NGOs, blogging sites are a fantastic narrative medium. They are a fundamental tool for presenting stories that spread campaign social media postings for fundraising and other causes.
Your blogs need to tell gripping tales and interact with potential donors. It is a crucial component of the content marketing strategy and one of the adaptable digital marketing tools. Using a blog may increase the impact of your efforts to spread the news about your worthwhile cause without having to rely on other people or organizations to do it for you.
Spend time and energy creating a blog that will serve as a strong platform for drawing the critical attention that your NGO merits in order to produce work of the highest caliber.
Retargeting
Retargeting encourages visitors to return to your website and engage with your business more frequently than before.
Some visitors might leave a contribution, while others might exit the page without adding anything. But retargeting will increase your website's conversion rate.
Some nonprofit organizations use Facebook Exchange, a tailored ad service that accesses preferences via third-party demand-side providers like Adroll, for retargeting. You may reach Facebook users who have already expressed interest in your brand with Adroll. The user will learn more about your nonprofit organization and cause from their feed and advertisements.
Make An SEO Strategy
Search engine optimization, or SEO, is the most authentic way of increasing ranking. With a good SEO strategy in place, your users can find your business easily on the index. It would help if you strived to adopt the following practices:
Make your NGO website optimized for mobile devices for a useful user experience.
Improve website load time to improve user experience
Have a good website architecture to make it easier to navigate. Donors should be able to locate donation forms and register for events using them.
Invest In Social Media Advertisements
To connect with the desired community or demographics, you can make locally relevant posts. Based on your target profiles, you can build targeted adverts. These advertisements attract new donations and increase awareness of the organization's goal and vision statements. With more captivating visual content, these advertisements serve as an extra engagement tool. These advertisements can be used to network with various audiences and create supporters for the cause. Utilizing successful social media methods can aid in boosting donations and awareness.
Conclusion
These strategies will help you improve and build your online presence and connect more audience with your organization, contributing positively to your organization's growth. Strategically place them in your marketing schedule and enjoy the benefits of each.