Six space missions to look forward to in 2021 – The Conversation UK
Space exploration achieved several notable firsts in 2020 despite the COVID-19 pandemic, including commercial human spaceflight and returning samples of an asteroid to Earth.
The coming year is shaping up to be just as interesting. Here are some of the missions to keep an eye out for.
Artemis 1
Artemis 1 is the first flight of the Nasa-led, international Artemis program to return astronauts to the Moon by 2024. This will consist of an uncrewed Orion spacecraft which will be sent on a three-week flight around the Moon. IT will reach a maximum distance from Earth of 450,000km – the farthest into space that any spacecraft that can transport humans will have ever flown.
Artemis 1 will be launched into Earth orbit on the first Nasa Space Launch System, which will be the most powerful rocket in operation. From Earth orbit, the Orion will be propelled onto a different path towards the Moon by the rocket's interim cryogenic propulsion stage. The Orion capsule will then travel to the Moon under the power provided by a service module supplied by the European Space Agency (Esa).
The mission will provide engineers back on Earth with a chance to evaluate how the spacecraft performs in deep space and serve as a prelude to later crewed lunar missions. The launch of Artemis 1 is currently scheduled for late in 2021.
Mars missions
In February, Mars will receive a flotilla of terrestrial robotic guests from several countries. The United Arab Emirates' Al Amal (Hope) spacecraft is the Arab world's first interplanetary mission. It is scheduled to arrive in Mars orbit on February 9, where it will spend two years monitoring the Martian weather and disappearing atmosphere.
Arriving within a couple of weeks after Al Amal will be the China National Space Administration's Tianwen-1, consisting of an orbiter and a surface rover. The spacecraft will enter Martian orbit for several months before deploying the rover to the surface. If it succeeds, China will become the third country to land anything on Mars. The mission has several objectives including mapping the mineral composition of the surface and searching for sub-surface water deposits.
Nasa's Perseverance rover will land at Jezero Crater on February 18 and search for any signs of ancient life which may have been preserved in the clay deposits there. Critically, it will also store a cache of Martian surface samples on board as the first part in a highly ambitious international program to return samples of Mars to Earth.
Chandrayaan-3
In March 2021, the Indian Space Research Organisation (ISRO) is planning to launch its third lunar mission: Chandrayaan-3. Chandrayaan-1 launched in 2008 and was one of the first major missions in the Indian space programme. Comprising an orbiter and a surface penetrator probe, the mission was one of the first to confirm evidence of lunar water.
Unfortunately, contact with the satellite was lost less than a year later. Sadly, there was a similar mishap with its successor, Chandrayaan-2, which consisted of an orbiter, a lander (Vikram) and a lunar rover (Pragyan).
Chandrayaan-3 was announced a few months later. It will consist of only a lander and rover, as the previous mission's orbiter is still functioning and providing data.
If all goes well the Chandrayaan-3 rover will touch down in the lunar south pole's Aitken basin. It's of particular interest as it is thought to host numerous deposits of subsurface water ice – a vital component for any future sustainable lunar habitation.
James Webb Space Telescope
The James Webb Space Telescope is the successor to the Hubble Space Telescope, but has had a rocky path to being launched. Initially planned for a 2007 launch, the Webb telescope is almost 14 years late and has cost roughly US$10 billion (£7.4 billion) after apparent underestimates and overruns similar to those experienced by Hubble.
Whereas Hubble has provided some amazing views of the universe in visible and ultraviolet region of light, Webb is planning to focus observations in the infrared wavelength band. The reason for this is that when observing really distant objects there will probably be gas clouds in the way.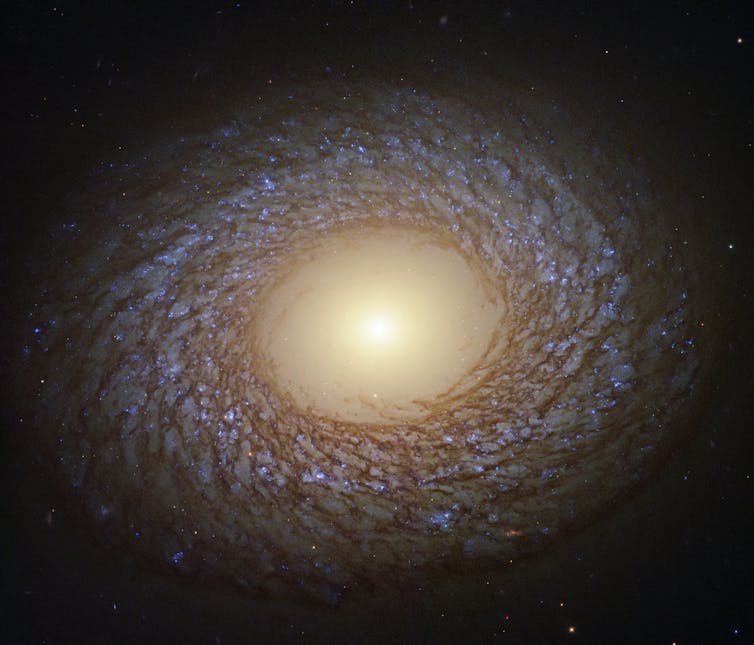 These gas clouds block really small wavelengths of light, such as X-rays and ultra violet light, while longer wavelengths like infra-red, microwave and radio can get through more easily. So by observing in these longer wavelengths we should see more of the universe.
Webb also has a much bigger mirror of 6.5-metre diameter compared to Hubble's 2.4-metre diameter mirror – essential for improving image resolution and seeing finer detail.
The primary mission of Webb is look at light from galaxies at the edge of the universe which can tell us about how the first stars, galaxies and planetary systems formed. Potentially this could include some information about the origin of life as well, as Webb is planning on imaging exoplanet atmospheres in high detail, searching for the building blocks of life. Do they exist on other planets, and if so, how did they get there?
We are also likely to be treated to some stunning images similar to those produced by Hubble. Webb is currently scheduled to launch on an Ariane 5 rocket on October 31.
Global Ice Loss Is Speeding Up: the Risks of Melting Ice Sheets – Green Matters
Melting ice sheets is one of the most cliché signifiers of global warming and the climate crisis — but clichés originate in the truth, after all, and ice sheets are still melting. In fact, new research has found that the rate of global ice loss — aka melting ice sheets — is higher than ever before.
Article continues below advertisement
On Monday, Jan. 25, 2021, researchers from the University of Leeds, the University of Edinburgh, University College London, and Earthwave published their findings in European Geosciences Union's journal The Cryosphere.
Article continues below advertisement
According to the study, ice melt over the past three decades has steadily increased — in the 1990s, there was an average global ice melt of 0.8 trillion tonnes per year; by 2017, there was an average of 1.3 trillion tonnes per year. In total, the rate of ice loss has increased by 65 percent between 1994 and 2017.
Overall, between 1994 and 2017, planet Earth lost 28 trillion tonnes of ice. To put that in perspective, that would be equivalent to a 100-meter-thick sheet of ice the size of the U.K.
Article continues below advertisement
This melting ice has been the most concerning in two polar climates: Antarctica and Greenland. 58 percent of the ice loss happened in the northern hemisphere, while the other 42 percent happened in the southern hemisphere.
"Although every region we studied lost ice, losses from the Antarctic and Greenland ice sheets have accelerated the most," lead author Dr. Thomas Slater said in a statement for the University of Leeds. "The ice sheets are now following the worst-case climate warming scenarios set out by the Intergovernmental Panel on Climate Change. Sea-level rise on this scale will have very serious impacts on coastal communities this century."
Article continues below advertisement
"The melting of ice across the planet is accelerating at a record rate /…/ The rate of loss is now in line with the worst-case scenarios of the Intergovernmental Panel on Climate Change." https://t.co/Xn9wpWSgfF

— Greta Thunberg (@GretaThunberg) January 25, 2021
Article continues below advertisement
This rapid ice melt poses a series of significant issues for Antarctica, Greenland, and other cold climates. For one thing, it has a strong correlation with sea level rise.
"Sea ice loss doesn't contribute directly to sea level rise but it does have an indirect influence. One of the key roles of Arctic sea ice is to reflect solar radiation back into space which helps keep the Arctic cool," co-author Dr. Isobel Lawrence explained in a statement.
Article continues below advertisement
"As the sea ice shrinks, more solar energy is being absorbed by the oceans and atmosphere, causing the Arctic to warm faster than anywhere else on the planet," she continued. "Not only is this speeding up sea ice melt, it's also exacerbating the melting of glaciers and ice sheets which causes sea levels to rise."
As these ice sheets melt and glaciers retreat, people and animals around the world "at both local and global scales" are at risk, according to report co-author Inès Otosaka.
The rate at which Earth's ice is vanishing is speeding up.

* Over 28 trillion tonnes of ice (equivalent to a sheet of ice 100 metres thick covering the whole of the UK) lost since 1994

* For every centimetre of sea level rise, a million people are in danger of being displaced pic.twitter.com/TSyNCXLZT6

— Ben See (@ClimateBen) January 25, 2021
Article continues below advertisement
On a global scale, when sea level rise gets out of hand, coastal areas experience high flood risks. Cities like Miami, New York City, and New Orleans could wind up underwater by the end of this century if we don't take action, as reported by Business Insider.
On a local scale, "mountain glaciers are also critical as a freshwater resource for local communities," as per Otosaka. With fewer mountain glaciers, people who depend on these for a source of water could suffer. Not to mention, animals who rely on or live on glaciers and ice sheets may suffer; according to GlacierHub, this long list of animals includes polar bears, penguins, seals, snow leopards, bison, and reindeer.
Scientists find a cloudless 'hot Jupiter' exoplanet with a four-day year – Yahoo Movies Canada
The Canadian Press
BRUSSELS — The European Union's executive body proposed Monday that the bloc's 27 nations impose more travel restrictions to counter the worrying spread of new coronavirus variants but make sure to keep goods and workers moving across EU borders. Amid concerns related to the production and delivery of COVID-19 vaccines, the European Commission urged EU nations to reinforce testing and quarantine measures for travellers as virus mutations that are more transmissible threaten to overwhelm European hospitals with new cases. More than 400,000 EU citizens have already died from the virus since the pandemic first hit Europe last year. "The start of the EU vaccination campaign kicked off the beginning of the end of the pandemic," EU Justice commissioner Didier Reynders said. "At the same time, new, more transmissible variants of the virus have surfaced. There is currently a very high number of new infections across many member states. And there is an urgent need to reduce the risk of travel-related infections to lessen the burden on overstretched healthcare systems." Among the new measures, which need to be approved by EU nations before taking effect, is the addition of a new "dark red" colour to the EU's weekly map of infections. Reynders said this new colour highlights areas where the rate of new confirmed infections in the last 14 days is 500 or more per 100,000 inhabitants. He said between 10 and 20 EU countries would already see that colour on all or part of their territory if it was in effect now. "We also think it is necessary for essential travellers arriving from dark red areas to get tested before travelling and to undergo quarantine, unless these measures would have a disproportionate impact on the exercise of their essential function," Reynders said. Since the discovery of the new virus variants, several EU countries have already reinforced their lockdown measures. Belgium has introduced a ban on all nonessential travels for its residents until March, while France could soon start a third lockdown if a stringent 12-hour daily curfew already in place can't slow down the spread of new infections. "We are suggesting stricter measures for dark red areas, because we must recognize the high level of cases," Reynders said. Insisting that all non-essential travel is "strongly discouraged," the commission repeated the need to keep the single market functioning so workers and goods can continue to cross borders smoothly, "Border closures will not help, common measures will," Reynders said. The commission also proposed that travellers from outside the EU should face mandatory coronavirus testing before they depart, tests once they arrive, mandatory quarantines for up to 14 days and hand over data for contact tracing. It suggested EU citizens and residents take a coronavirus test upon arrival and could face further restrictions if they coming in from a country where a variant has been detected. ___ Follow AP coverage of the virus outbreak at: https://apnews.com/hub/coronavirus-pandemic https://apnews.com/hub/coronavirus-vaccine https://apnews.com/UnderstandingtheOutbreak Samuel Petrequin, The Associated Press
Astronomers discover huge exoplanet has the density of cotton candy – CBC.ca
Roughly 212 light years away in the Virgo constellation lies a super-large exoplanet that has astronomers revising their theory of how giant gas planets form.
The exoplanet, called WASP-107b, was discovered in 2017. At the time, it was difficult to accurately pinpoint its mass. But what astronomers did know is that it was already unusual.
It is a particularly large planet, roughly the size of Jupiter, but with an orbit that is just a mere nine million kilometres away from its host star, WASP-107, which is estimated to be about three billion years old.
To put that in perspective, Mercury, the closest planet to our sun, sits at 60 million kilometres. One year on WASP-107b takes roughly 5.7 days.
However, now, after years of observations using the W.M. Keck Observatory in Hawaii, a team of international astronomers have uncovered something else: WASP-107b is oddly light. In fact, it's much lighter than what was thought was needed to build gas giants such as Saturn and Jupiter.
"What was really surprising about this planet is that people have known … that it's about the size of Jupiter, so it's a gas giant," said Eve Lee, co-author of the study published in the Astrophysical Journal and an assistant professor in the department of physics at McGill University and McGill Space Institute in Montreal. "So if it's a gas giant, then the usual expectation is that it would weigh just as [much] as gas giants. Except it didn't."
Jupiter is about 300 times the mass of Earth. But WASP-107b — while roughly the same size as our solar system's biggest and most massive planet — is only 30 times that of Earth. That's 1/10th the mass.
The international team of astronomers inferred from their observations that the core of the planet was just four times that of Earth. But in theory, it was believed that these giant planets with such a gaseous atmosphere would require a core that was at least 10 times that of Earth's.
After a star forms, the remaining gas and dust — called a protoplanetary disk — come together to build planets. When it comes to the gas giants, it's believed that a core that is 10 times more massive than Earth's is required to build — or accrete — and hold on to the gas envelopes.
So what's the deal with WASP-107b?
Lead author Caroline Piaulet of the Université de Montréal said there are two key elements in the theory of how this might have happened.
First, it's believed that WASP-107b formed much farther out from its current location, likely around one astronomical unit, or the average distance between the sun and Earth, roughly 150 million kilometres. There, it began to accrete gas and dust relatively quickly.
Secondly, it began to cool rather quickly.
"When it cools down efficiently, it's able to accrete efficiently because if it cools down, it's going to shrink," said Piaulet. "So it's going to have more space to accrete more gas."
Eventually, the planet migrated inward to its current position.
Yet another surprise
WASP-107b isn't the only "super puff" planet, as they are often called. Lee said there are four others known, though WASP-107b is the puffiest.
So just how puffy is it?
"It's usually compared to cotton candy, because it's about the right density," Lee said. "But it's not the kind that you find at carnivals. It's more like the kind that you buy at stores."
And, as surprising as this super-puff planet was, there was yet another surprise in store: a second planet orbiting the star, WASP-107c.
The planet was detected because of the longer observation time and was found to be roughly one-third the mass of Jupiter. Its orbit around the star takes about three years, significantly longer than WASP-107b.
The discovery is just a reminder that, while we may think we have an understanding of how planets form, we still have a lot to learn about what lies beyond our own solar system. Even then, Piaulet said, we still don't even know much about the cores of our own giant gas planets, such as Jupiter.
"What I found really exciting is that it's kind of pushing our understanding of planet formation to its limits."