Slow pace of vaccinations is largest drag on the economy in survey of business leaders – NBC News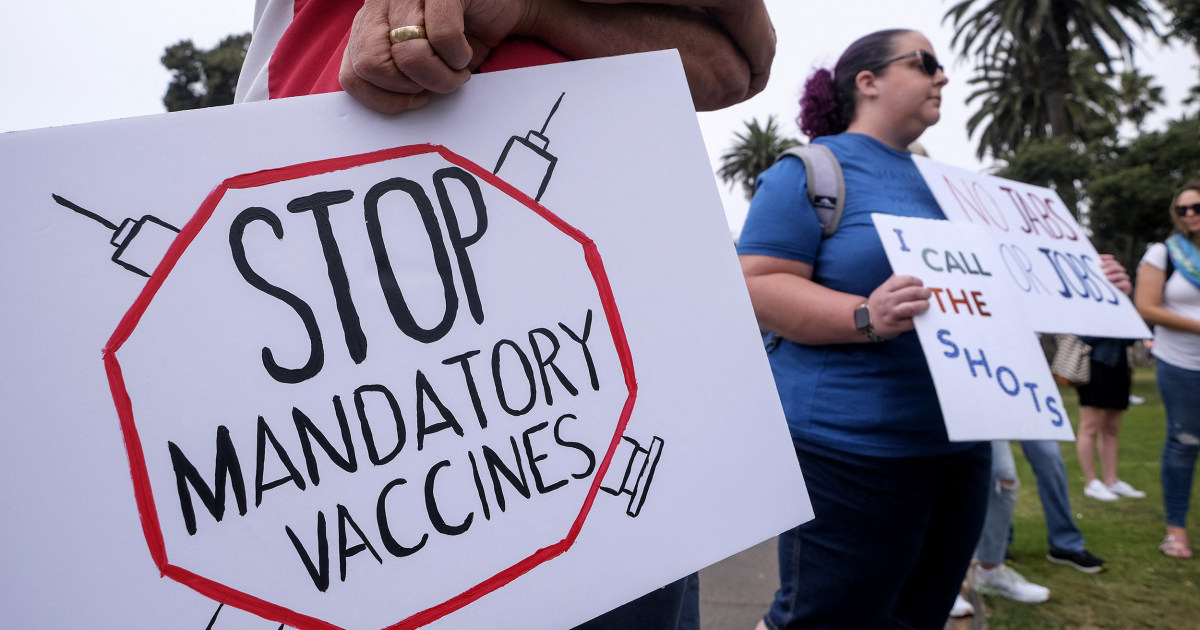 Corporate leaders are far less bullish about the economic recovery than they were back in the spring — and they fear that vaccination holdouts could stall or even reverse the progress that has been made.
A new survey by the National Association for Business Economics, or NABE, found a marked pullback in expectations for economic growth and output, especially in the near term. Survey respondents expect real growth in gross domestic product for this year to come in at 5.6 percent at the median — a significant drop from the median 6.7 percent growth expected in May, when the survey was last conducted.
"The erosion of forecasts and confidence has really mirrored what our economists have been saying, because we brought down our Q3 GDP forecast from 7.0 to 5.6 percent," said Sam Stovall, chief investment strategist at CFRA Research. "We just feel that things don't look as rosy as they did before."
Nearly 2 in 5 NABE survey respondents said downside economic risk outweighs upside risk for the year, and just 16 percent said conditions are weighted toward the upside. The figures were reversed in May, when 56 percent ranked upside risk as a higher probability and just 15 percent said saw greater downside risk to the outlook.
The key difference, and the factor that is weighing on hopes for the recovery, is the resurgence of Covid-19 fueled by the highly contagious delta variant of the coronavirus. Everybody who was banking on the pandemic's receding over the summer has had to modify their expectations in the face of a public health crisis that shows no sign of abating.
"We all believed we were through the pandemic five months ago, and I believe that the variant has caught many people by surprise," said Joseph Heider, president of Cirrus Wealth Management. "As this lingers on, executives are becoming more concerned and asking, 'Are we going to have this under control?'"
NABE survey chair Holly Wade, executive director of the NFIB Research Center, said in the survey outlook report, "Panelists point to a variant of the coronavirus, against which the vaccines may be ineffective as the main downside risk." Nearly two-thirds of respondents identified that as the greatest downside risk to the economy, and 9 percent more cited slowing vaccine uptake as the most worrisome hurdle. A plurality of 44 percent said a faster vaccine rollout is the best chance for higher-than-expected economic gain.
Heider said: "Vaccine resistance is, I think, larger than many people anticipated. I think it's creating real concerns as to our ability to reach herd immunity. And when we don't have herd immunity, the unvaccinated are human petri dishes for the virus to mutate."
Although the virus represents the biggest threat to near-term business recovery, analysts said it is far from the only headwind corporations face. "There's just many more variables and unknowns than there were six months ago," said Dick Pfister, CEO of AlphaCore Wealth Advisory.
In addition to the threat of Covid and potential variants, Pfister said, companies and investors are monitoring other unfolding circumstances. The Federal Reserve is edging closer to ending its bond buying, and more policymakers have expressed openness to raising interest rates sooner. The financial peril faced by the heavily indebted Chinese real estate giant Evergrande is making investors nervous, he said, as they try to gauge whether the company's teetering on the brink of collapse was an isolated incident.
"There's probably more than just one, and there are some fears from economists that this could be more systematic inside of China," he said.
A globally connected economy poses other sorts of risks, as well: A cascading series of bottlenecks in the global supply chain affecting semiconductors to energy has triggered much of the growing worry about rapidly increasing prices. The NABE survey found that 17 percent of respondents said supply chain disruptions were having a "significant impact" on business, while 27 percent more cited mild or moderate impacts.
"Inflation expectations have moved up significantly from those in the May 2021 survey," Wade said. On average, NABE respondents expect inflation to rise by 5.1 percent in the fourth quarter year over year, a jump from an expected 2.8 percent increase in the May survey.
David Wagner, portfolio manager at Aptus Capital Advisors, said the duration and the breadth of global supply disruption have triggered a re-evaluation in corner offices in the U.S. and around the world. In the spring, "it seemed like the supply chain problem was transitory," but the assumptions were dashed as the summer went on, he said, adding: "Supply chain problems are persisting for much longer than originally expected.
"Now that you're starting to see some kind of tangible supply chain backlog, I think that's got more people pessimistic. It caught people by surprise," Wagner said.
Rob Haworth, senior investment strategist at U.S. Bank Wealth Management, said, "Supply concerns are weighing on the mind of the market and economists because it has limited the amount of output we can get from certain industries."
Along with the supply shortages that are hindering production and driving up costs, the unbalanced labor market continues to constrain growth, as well — but there also are glimpses within those distortions of potential normalization. Although about one-third of survey respondents said they were facing a surfeit of workers, a larger proportion, 44 percent, said they were not experiencing a labor shortage. Respondents predict wage growth of 4 percent for the year, followed by a 3.5 percent increase next year — rates broadly in line with what many economists consider to be indicative of a well-functioning labor market.
"The labor market is not fully recovered — we're seeing that across other surveys, as well, and even the Fed's own Beige Book indicates that hiring has been challenging," Haworth said. "There's a lot of room for improvement, but it's really slow going."
Shekel surplus weighs down Palestinian economy – FRANCE 24
Issued on: 17/10/2021 – 05:06Modified: 17/10/2021 – 05:04
Ramallah (Palestinian Territories) (AFP)
Palestinian businesses flush with too much Israeli cash: it may not be the most talked about aspect of the occupation, but experts warn it is a growing concern for the Palestinian economy.
Palestinians in the West Bank use the Israeli shekel but, beyond that commonality, the two financial systems are dramatically different.
In Israel, as in many advanced economies, digital payments are rapidly growing, taking the place of transactions once done with bills and coins.
But in the West Bank, a territory under Israeli military occupation since 1967, cash is still king.
Tasir Freij, who owns a hardware store in Ramallah, told AFP he now has to pay a two percent commission to deposit paper money because his bank is reluctant to receive it.
"This is a crisis… and we are feeling its effects," Freij told AFP.
Much of the paper money is brought in by the tens of thousands of Palestinians who work inside Israel or Jewish settlements in the West Bank, and who get their wages in cash.
Experts and business people say the buildup of hard currency risks stifling the Palestinian financial system.
Freij fretted that buying goods from abroad typically requires converting shekels into foreign currencies, especially dollars or euros, but the abundance of shekels in the market has forced him to accept painfully unfavourable rates.
– 'Dumping ground' –
The Palestinian Monetary Authority, which functions as the central bank in the West Bank, has warned that paper shekels are building up because it has no way to return the hard currency to Israel.
PMA governor Firas Melhem told AFP that the cash buildup was "a very worrying problem," causing headaches for banks and businesses.
"If the problem is not resolved quickly, the Palestinian market will turn into a dumping ground for the shekel," he added.
The shekel was established as the official currency in the Palestinian territories as a result of economic protocols known as the Paris agreements that followed the Oslo Accords between Israel and the Palestinian Territories.
Much has changed since those 1994 agreements.
As they lean more on digital transactions, Israel's banks no longer want to reabsorb paper cash that accumulates in the West Bank but does not circulate rapidly through the Israeli economy.
The Bank of Israel cited security as another reason.
"We stress that uncontrolled cash transfers could be misused, especially for money laundering and terror funding, and would not be in compliance with international standards on the prohibition of money laundering and terror funding," the bank told AFP in a statement.
– Solutions? –
Palestinian banks have tried to encourage customers to moderate their cash deposits, but that risks limiting the capital available to banks, which would lower their ability to offer loans.
The cash surplus predicament has fuelled renewed calls from some Palestinian experts in favour of ditching the shekel, either in favour of a unique Palestinian currency or that of another nation, including the Jordanian dinar, which also circulates in the West Bank.
The Palestinian Monetary Authority is also pushing the Bank of Israel to take back more hard currency.
But Melhem stressed that Palestinians also needed to "keep up with developments in financial technologies," and move towards more cashless payments.
© 2021 AFP
Saudi Arabia's PIF launches offshore platform tourism project
Saudi Arabia's sovereign wealth fund, the Public Investment Fund, announced on Saturday the launch of "THE RIG", which it said would be the world's first tourism destination on offshore platforms.
The fund, the engine of Crown Prince Mohammed Bin Salman's economic transformation plans for Saudi Arabia, manages a portfolio worth $400 billion.
It added in a statement that the project was located in the gulf and spanned an area of more than 150,000 square metres.
It said the project would feature a number of attractions, including three hotels, restaurants, helipads, and a range of adventurous activities including extreme sports.
The funds did not disclose the value of the project.
(Reported by Saeed Azhar; Writing by Moataz Abdelrahiem; Editing by Alex Richardson)
The World Needs 16 Billion Covid Shots: New Economy Saturday – Bloomberg
Wanted: 16.5 billion vaccine doses.
That's the number urgently needed to inoculate the world against Covid-19—on top of the roughly 6.5 billion doses already administered. This according to Chad P. Bown, a trade specialist at the Peterson Institute of International Economics, and Thomas J. Bollyky, the Director of the Global Health Program at the Council on Foreign Relations.
Vaccinating the planet's entire population is a moral imperative. The fact that only 3% of adults in low-income countries have been immunized is catastrophic. Putting more needles into arms is also a broader public health priority: the longer it takes to immunize everyone, the greater the risk deadlier variants will emerge.
As a result, full vaccination is clearly an economic necessity, too. But 19 months into a horrific pandemic that's killed millions, impediments remain.

This Week in the New Economy
The International Chamber of Commerce estimates the global economy stands to lose as much as $9.2 trillion as a result of unequal vaccine access.
But vaccines are also a trade issue. Like cars, laptops and smartphones, their production relies on intricate networks of cross-border supply chains. This system of dispersed manufacturing has worked remarkably well for places where global vaccine production is concentrated: India, the U.S., the European Union, the U.K. and China.
But these countries have prioritized their own people over the global good.
So-called "vaccine nationalism" was perhaps understandable when the first shots arrived. Producer countries naturally scrambled to protect their own hospital workers and the elderly.
The practice became less defensible when these countries started vaccinating low-risk populations. And that inequity is arguably intolerable now that those same rich nations are offering boosters while millions of healthcare workers in poorer countries haven't received their first shot.
Tedros Adhanom Ghebreyesus, director-general of the World Health Organization, denounces this state of affairs as "vaccine apartheid."

If producer countries won't share their existing output, then they must ramp up production, argue Bollyky and Bown (a member of the Bloomberg New Economy Trade Council).
"The mathematics are simple but stunning," they write. Apart from Johnson & Johnson, available vaccines require a two-dose regimen. That adds up to 14 billion doses for a global population of seven billion. Taking into consideration third doses, stockpiling and inevitable waste, and the world needs a total of 23 billion doses for full vaccination. Given that 6.5 billion have already been delivered, that means an extra 16.5 billion are required.
To achieve the additional output, Bown and Bollyky are calling for a "Covid-19 Vaccine Investment and Trade Agreement" among countries in the vaccine supply chain.
Members would set a framework to subsidize the full supply chain and work with COVAX, the nonprofit that distributes vaccines to mostly poor countries. Countries that restricted exports would be penalized through limits on their vaccine inputs. Transparency would keep the system honest.
"Trade ministers should do their part to ensure that everyone everywhere has access to Covid-19 vaccines," Bown and Bollyky warned. "The threat that new and more devastating virus variants could emerge—against which existing Covid-19 vaccines would be ineffective—means that no one is safe until the pandemic is under control."
__________________________________________________________
The fourth annual Bloomberg New Economy Forum will convene the world's most influential leaders in Singapore on Nov. 16-19 to mobilize behind the effort to build a sustainable and inclusive global economy. Learn more here.
Download the Bloomberg app: It's available for iOS and Android.
Before it's here, it's on the Bloomberg Terminal. Find out more about how the Terminal delivers information and analysis that financial professionals can't find anywhere else. Learn more.