SmartCentres unveils the PXL Gallery, Canada's largest low-resolution LED public art installation The PXL Gallery is a permanent 10000 square foot art installation, reinforcing SmartCentres' ongoing focus on art and culture in SmartVMC, the New – Financial Post
TORONTO, Aug. 17, 2021 (GLOBE NEWSWIRE) — SmartCentres Real Estate Investment Trust ("SmartCentres") (TSX:SRU.UN) officially unveils the PXL Gallery, a 10,000 square foot low resolution LED permanent art installation in SmartVMC, its flagship 100-acre master-planned city centre in Vaughan. This modern art installation features rotating exhibits of curated moving artwork created by acclaimed digital artists.
The PXL Gallery, which adorns the façade of one of the SmartVMC residential towers, is integrated into the area's architecture and building design, reinforcing that art and culture are a forethought in SmartCentres' developments. It is a beacon for the area, overlooking the on-site SmartVMC regional bus terminal and the Vaughan Metropolitan Centre TTC subway station; a bona fide light at the end of the tunnel. The PXL Gallery is only one of many high-impact art installations that have debuted in Vaughan's new city centre this summer.
"The PXL Gallery at SmartVMC introduces digital art, a progressive contemporary art form that is on the rise," says Mitchell Goldhar, Executive Chairman, SmartCentres. "The PXL Gallery is a 10,000 square foot LED canvas, integrated into the building's design, at the nexus of three 55-storey residential towers, the TTC subway station and the new regional bus terminal. The PXL Gallery brings new meaning to hanging art on the wall."
Digital art, an art form created by software, on a computer platform, has begun to gain global attention over the past decade, with unlimited opportunity for impact and practicality. The more technology evolves, the more digital art blossoms. The versatility of this technology as a medium marries well with the scale of SmartVMC's PXL Gallery. Just as a traditional art gallery showcases featured artists, the PXL Gallery's digital flexibility enables artists' exhibits to rotate on-demand.
The PXL Gallery's inaugural artwork was curated in collaboration with the City of Vaughan's Senior Art Curator, Sharon Gaum-Kuchar. An open call for submissions invited artists to submit proposals of their vision. Acclaimed artists Jim Campbell, Rafaël Rozendaal and Rob King were awarded commissions, and their artwork will be the PXL Gallery's first three rotational features.
"Public art is an urban design mechanism that brings vibrancy to the forefront, and gives a personality to the city," says Ms. Gaum-Kuchar. "The PXL Gallery is theatrical and dynamic. It is not a static entity. The artist's work is constantly morphing and evolving, and the resulting effect is a sense of transformation that really aligns with the vision for SmartVMC."
Along with creating artwork for an upcoming PXL Gallery exhibit, San Francisco-based artist and digital pioneer, Jim Campbell, was instrumental in the design and development of the PXL Gallery. Known for his contemporary, low-resolution LED lightworks, Campbell worked alongside SmartCentres, Diamond Schmitt, Studio F Minus and Mulvey & Banani Lighting to investigate LED technology, glass, frit patterns and input standards while conducting substantial testing on the infrastructure supporting the gallery.
ON DISPLAY NOW:
Silence, Rafaël Rozendaal
Based in New York, Rafaël Rozendaal is a Dutch-Brazilian artist who uses the internet as his canvas. Silence is a digital artwork consisting of three ambient moving images. The works are almost abstract, but a suggestion of space and movement hint at experiences of landscape and travel. With restrained, minimal elements of color and rhythm, a maximal experience is created of immersion and contemplation.
Jim Campbell's work will debut this fall, followed by digital art by Rob King.
Best viewed after sundown, the PXL Gallery's summer hours are daily between 9:00pm and 12:00am. It is located on the west side of Millway Avenue between Portage Parkway and Apple Mill Road in SmartVMC.
ArtWalk at SmartVMC
The official launch of the PXL Gallery comes only weeks after the debut of ArtWalk, SmartVMC's new art district. ArtWalk was launched with a collection of accessible and experiential activations, including 30,000 square feet of Instagrammable art murals, painted by acclaimed artists, Ricardo Cavalo, birdO, Ben Johnston and Jeremy Shantz. The murals are the backdrop for ArtWalk's daily food market and a series of free drive-in movies, running every Thursday and Saturday through to September 30th. For more information on the ArtWalk activations, including movie listings, showtimes and registration, visit: smartvmc.com/events
The current ArtWalk activations set the tone for the new district's art-inspired mixed-use development, inclusive of Hariri Pontarini-designed condominiums, commercial, retail and coworking space, open greenspace, and public amenities. This development will overlook SmartVMC's nine-acre central park, which is scheduled to break ground later this year.
SmartVMC
With five sold-out condos, two fully occupied office towers, and both the TTC subway station and regional bus terminal on site, SmartVMC is one of Canada's fastest growing communities. This new city centre at Highways 400 and 7 in the Vaughan Metropolitan Centre is emerging just as Canadians move out of downtown cores. It offers the benefits of life north of the city, with the energy and vibrancy of a city centre, making the prospect of 'the best of both worlds' a reality.
For more information and to coordinate interviews, please contact publicists.
kg&a
Vakis Boutsalis
416-578-1741
vakis@kga-inc.com
Kali Madej
kali.madej@kga-inc.com
647-223-4108
About SmartCentres REIT
SmartCentres was started over thirty years ago because we believed that Canadians deserved products they could afford, at convenient times, in stores that were close to home. By fulfilling those needs, SmartCentres has grown and expanded into communities across every province across Canada.
Today, Canadians need transit-connected rental apartments, condos, townhomes and seniors' residences with access to retail, offices and storage facilities — as well as open, green spaces and places to gather. So, SmartCentres is evolving, and SmartLiving has emerged, with a $13.1B plan to transform our properties from shopping centres to city centres. We plan, develop, build and manage holistic communities coast-to-coast.
SmartCentres has 3,500 acres of land across 168 prime locations where we've consistently provided a best-in-class retail experience. Now, because we've always respected Canadians' needs, we're creating communities that Canadians can be proud to call home. Visit smartcentres.com for more information.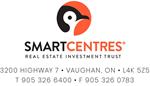 Humboldt Public School collaborative art project complete – DiscoverHumboldt.com
The Humboldt Public school recently finished an art project that utilized every student in the school and now has a colourful fibre art display on the fence along highway 5.
The school is a pre-k to grade 8 school and has approximately 330 students.
The project began when a teacher wanted to do a large scale project with the entire student body.
Teacher Michelle Lafayette applied for a SK Art grant and began contacting the artist who would help lead the school through the project.
Lafayette explains how it all got started.
"Well, when COVID happened we had to rethink how we did everything. I wanted to do a school-wide project that we could do around arts. So, I did a quilting project because I am a quilter. Then the kids made a quilt piece out of construction paper and made a huge collaborative quilt. It was a great project. So, I wanted to do something again this year but I didn't want to do it all by myself so I searched for grants so that I could hire an artist to come in and do this for us. I knew that Monika had done school projects before and community projects. I had seen the work that she did on Broadway (Saskatoon) when they had construction and she had woven fabric onto the fence. I thought it was amazing and something that we could do here also."
Every student regardless of abilities was able to contribute to the project.
The project consisted of many different types of fabric and fibres, from old sheets to yarn, with different patterns and colours, it has a wide range of sizes and textures.
To begin with, the fabric had to be broken down into small manageable sizes.
"So, what we did was we got donated sheets and materials and the kids came in and ripped the fabric. They loved it! A little cut and then the sound when they ripped it, and some got really physical and used all their strength and showed me how they could rip it. It was amazing," said Lafayette.
The fabric was then wrapped around circular things, hula-hoops, ice cream pail lids, plant trays, and even cut-up corrugated plastic signs. Everything was recycled materials as after it has been out in the weather it will likely be trash.
The artist Monika Kinner, who is from Saskatoon, was so happy with the results.
"The end result is what we hoped for, how we got there was completely not what I had expected it was far beyond what I expected. I am really appreciative of my own creativity and ideas because of all the rain we had to completely change what we were doing. That was fun for me, so I have to say I appreciate the opportunity to be so creative and fly by the seat of my pants."
The display will likely be up until sometime in October, however with the weather it could change.
The students involved really enjoyed the time and effort that was put in and now can be proud of their work displayed outside the school.
SK Art was also impressed by the project and encouraged all schools to bring in artists and allow them to work with students on different projects.
"Bring artists into schools!" stated SK Art program consultant for Art in Schools Projects, Jody Greenman-Barber.
Winners announced for BC-wide art, writing contest for Indigenous youth – Trail Daily Times – Trail Times
The winners have been announced in a provincewide children's art/writing contest where youth were asked what being Indigenous means to them.
In honour of National Indigenous Peoples Day and hosted by Xyólheméylh (Fraser Valley Aboriginal Children and Family Services Society) the contest was open to all Indigenous people age five to 24.
The entries were judged by a panel consisting of Xyólheméylh's board of directors and elders advisory committee. There were three categories – ages five to 10, ages 11 to 14, and ages 15 to 24.
The children and youth expressed their connection to the land, nature, animals, and their families. They also expressed their hopes and dreams as well as their sadness with discrimination and racism.
"Many artists have painted or drawn pictures of wolves howling at a full moon. In my artwork, I have used the dream catcher as my moon because I want the dream catcher to catch and protect all my hopes and dreams of being a person who is known to protect friends, freedom, family, loyalty, and teamwork," said 10-year-old Emiley of her artwork.
Kyan won first place in the ages 15 to 24 category.
"Stereotypes often take over how First Nations are seen, and when someone looks at you and automatically thinks that what you are isn't something to be proud of it makes you feel bad no matter how proud you are," Kyan wrote.
"Thank you to all the children and youth who submitted their heartfelt art. It is truly inspiring to see the talent, creativity and the pride expressed in being Indigenous," said board president Dr. Wenona Hall.
---
Do you have something else we should report on?
Email: jenna.hauck@theprogress.com
Twitter: @PhotoJennalism
ARTS AROUND: New art exhibit showcases 'Women's Work' in Port Alberni – Alberni Valley News
A new art exhibit is opening at the Rollin Art Centre, featuring a group of four local female artists.
Sue Thomas, Jillian Mayne, Colleen Clancy and Ann McIvor will display their artwork in an exhibit titled "Women's Work" that opens on June 21 and runs until July 22. The diversity of the work reflects each woman's unique creative process and artistic expression.
Join us in the gallery this Saturday, June 25 from 1-3 p.m. for refreshments and an opportunity to meet these incredible and accomplished artists.
CALL TO ARTISTS
The Rollin Art Centre will be holding a summer-inspired art exhibit from July 27 to Aug. 26 and we are inviting all local artists to submit up to three pieces (size depending) that depicts your own rendition of the season of summer.
All mediums are welcome. Application forms are available at the Rollin Art Centre. The fee is $10 per submission. Deadline for submissions is July 15.
LANDSCAPES MADE EASY
Join us on the terrace at the Rollin Art Centre on Saturday, July 16 for an acrylic painting workshop with Susan Schaefer. Bring a friend and be creative!
From 10 a.m. to 3 p.m., Susan will guide you through what makes a good composition while simplifying your landscape.
The workshop fee is $115 +GST. A supply list is available. Register at the Rollin Art Centre at 250-724-3412.
CHAIR RAFFLE
This summer, the Community Arts Council will be raffling a chair designed by Leave Her Wild Container Design. The chair has been planted and is on display at the Rollin Art Centre (corner of Eighth Avenue and Argyle Street). Tickets are $2 each or three for $5.
SUMMER TEAS
Teas on the Terrace are back at the Rollin Art Centre this summer and tickets are now on sale.
Choose from our high tea (served on a two-tiered plate) for $25 and our strawberry tea (served with decadent strawberry shortcake) for $20 and join us on the terrace under the canopy of the trees, sipping tea, listening to local musicians and sampling a selection of snacks.
July 7 – Strawberry Tea – Folk Song Circle
July 21 – High Tea – Dennis Olsen
August 4 – Strawberry Tea – Dennis Olsen & Guy Langlois
August 18 – High Tea – Doug Gretsinger
CHILDREN'S ART CAMPS
Here's a chance to have your kids do something creative and fun and make new friends this summer. The Rollin Art Centre is offering eight weeks of creative summer art programs for children between the ages of 7 -13.
Call 250-724-3412 to register.
POTTERY SALE
The Sunshine Club will be holding a pottery sale at the Harbour Quay on Saturday, June 25 from 9 a.m. to noon.
Melissa Martin is the Arts Administrator for the Community Arts Council, at the Rollin Art Centre and writes for the Alberni Valley News. Call 250-724-3412. Email: communityarts@shawcable.com.