Soaring fuel prices dig into Transat earnings despite travel rebound – Yahoo Canada Finance
MONTREAL — Skyrocketing jet fuel prices and the COVID-19 pandemic ate into the profits of Transat A.T. Inc. in its second quarter, despite higher revenues as air travel began to rebound, sparking hopes of a turbocharged summer.
The tour operator saw its net loss attributable to shareholders swell 41 per cent for the quarter ended April 30, even as revenues were more than 47 times higher than a year earlier.
"The cost of fuel rose sharply, without which we would have reported positive adjusted operating results in April," chief executive Annick Guérard said in a statement Thursday.
She said consumers are ready to accept price hikes while the company has implemented a fuel hedging program to protect against significant increases during the summer.
The arrival of two new fuel-efficient Airbus A321neo jetliners this summer will also cut fuel costs.
North American jet fuel prices rose 124 per cent year over year to US$174 per barrel as of June 3, according to the International Air Transport Association. Spiking in March amid Russia's invasion of Ukraine, the price has fallen 14 per cent over the past month.
Months earlier, the highly infectious Omicron strain prompted further border restrictions and another drop in travel bookings.
Transat cancelled nearly 30 per cent of its scheduled flights in January and February as a result.
However, the CEO said a recovery is now fully underway, with sales for summer trips now topping 2019 levels after trailing them between mid-December and the beginning of March.
In April, seating capacity hit two-thirds of pre-pandemic levels, with more than 80 per cent of those seats filled, Guérard said on a conference call with analysts.
"Our capacity for the summer is at about 90 per cent of 2019 levels" — only 75 per cent for its key transatlantic program, but nearly 100 per cent for sun destinations. "If this trend holds, we expect to see good volumes in the months ahead."
There may be more bumps ahead as endless security queues and more flight delays at airports threaten to throw a wrench in plans ahead of peak travel season.
"We've had the delays at Pearson among other places — there are challenges in Europe as well. As demand for travel ramps up, Canada's border policies and resources in airports … need to reflect this new reality," Guérard told analysts.
She said it is "very difficult" for normal travel volumes to mesh with ongoing restrictions, such as random COVID-19 testing of international arrivals — a policy Ottawa has said will stay in place until at least June 30.
Foreign visitors must also continue to provide proof of at least two vaccine doses — unvaccinated Canadians who don't can return home but must quarantine for 14 days. All travellers must also keep submitting their health information via the ArriveCAN app before their return.
Public health protocols mean customs agents now take two to four times longer than the typical 30-second processing time for international passengers, according to Canadian Airports Council interim president Monette Pasher.
The Canadian Air Transport Security Authority, which manages airport security screening, aims to boost the number of screening officers, with 400 more personnel in various phases of training to be deployed by the end of the month, Transport Minister Omar Alghabra has said.
Transat's debt load is another obstacle after finishing the second quarter owing $1.78 billion, 11 per cent more than six months earlier.
"We are still carrying significant debt linked to the restarting of our operation," Guérard said.
On Thursday, the company reported a net loss attributable to shareholders of $98.3 million or $2.60 per diluted share for the quarter. The result compared with a loss of $69.6 million or $1.84 per diluted share a year earlier.
Revenue totalled $358.2 million compared with $7.6 million in the same quarter last year when Air Transat, the company's airline, suspended operations after Ottawa requested a suspension of travel to Mexico and the Caribbean as well as the adoption of new quarantine measures and testing requirements.
On an adjusted basis, Transat said it lost $2.95 per diluted share compared with an adjusted loss of $2.74 per diluted share in the same quarter last year.
The first figure fell 22 per cent below analysts' expectations of $2.42 in losses per diluted share, according to market data firm Refinitiv.
This report by The Canadian Press was first published June 9, 2022.
Companies in this story: (TSX:TRZ)
Christopher Reynolds, The Canadian Press
'How are people surviving?': Gas spike detrimental for rural mail carriers, residents – CP24 Toronto's Breaking News
Fakiha Baig, The Canadian Press

Published Friday, June 24, 2022 5:50AM EDT


Last Updated Friday, June 24, 2022 5:50AM EDT

A mail carrier says her out-of-pocket costs for delivering packages along her rural route have doubled because of the steep hike in gas prices and cost of living being experienced by many Canadians.
"The stress is exhausting," said Jennifer Henson, a Calgary mother of two boys and one of 11,000 rural and suburban mail carriers delivering letters for Canada Post across the country.
"It's not just gas. The cost of living has skyrocketed," Henson said. "I'm always wondering how to pay this bill and that bill and I'm no different than any working-class Canadian across the country."
The 38-year-old said it used to cost her $60 to the fill the tank of her Ford Flex.
"Now it's costing me $125 to fill my tank every two days, so it's completely doubled."
Canada Post's rural and suburban mail carriers don't get a red and white corporate truck and a gas card like their urban counterparts. So, along with being required to use a personal vehicle with a minimum cargo capacity of 1,415 litres, the rural carriers also cover the cost of gas, maintenance and insurance of their vehicle.
"I drive over 200 kilometres a day. We go through tires, oil change, a set of brakes a lot quicker than the average person," Henson said,
She said the Crown corporation provides her with a $720 biweekly allowance with the help of the Canadian Revenue Agency to pay for those bills, but she said it hasn't been enough.
"I don't want to slam Canada Post, because if you talk to most carriers, whether they're urban or rural, we do love our jobs. I love my route. The countryside is relaxing. I've met amazing people," said Henson, who has been a carrier for 16 years.
"But Canada Post has also increased their fuel surcharge, so when you go to the post office to mail something, you're paying more as a customer because of the fuel. That's not trickling down to us at all."
She also said the CRA raised carriers' allowance by five cents a litre this year, but she "a few cents isn't doing a whole lot when a year ago gas was about $1 less."
Statistics Canada said this week the annual inflation rate has skyrocketed to its highest level in nearly 40 years in May, fuelled by soaring gas prices.
The agency says its consumer price index in May rose 7.7 per cent compared to a year ago. It's the largest increase since January 1983.
Food prices for nearly everything in a grocery cart also grew by 9.7 per cent compared to a year ago.
Henson said the bill at the grocery store has also been a strain on her finances.
"My oldest son is 14 years old and my youngest will be 12 years old next month. They're growing and they eat more than most of my friends," she said.
"When you go to the grocery store, it just blows my mind. How are people surviving?"
Anna Beale, president of the Calgary Local of the Canadian Union of Postal Workers, said Canada Post needs to increase the allowance for its rural workers.
"Canada Post is able to provide all kinds of things like Tim Hortons gift cards (to their workers)," said Beale. "Why not take that money instead and make it work somehow for rural drivers so that they can afford these gas prices?"
A spokesperson for Canada Post said in a email the mail carrier is adapting to increased costs across many of its operations.
"Fuel prices are in unprecedented territory and have impacted the entire industry," said Phil Legault.
He said to address any additional or unforeseen expenses, rural and suburban mail carriers are entitled to a cost-of-living allowance.
"This is reviewed throughout the year and paid out as per the collective agreements," Legault said.
"The Canadian Union of Postal Workers has requested that we discuss the matter, and we will continue to engage them on this issue."
Along with the carriers, a vice president of the Canadian Federation of Agriculture said any spike in inflation, as well as the cost of gas and diesel, hits rural Canadians the hardest.
"We don't have access to public transit so we certainly pay disproportionately more for fuel because we have to drive everywhere," Keith Currie said.
This report by The Canadian Press was first published June 24, 2022.
This story was produced with the financial assistance of the Meta and Canadian Press News Fellowship.
Canadians are dispirited, cutting back on costs amid inflation highs: study – CBC News
With inflation at a 39-year high — and banks hiking interest rates to avoid economic recession — many Canadians are said to be distressed and dispirited as they cut back to manage the rising cost of living.
A new study from the polling non-profit Angus Reid Institute shows that 45 per cent of Canadians believe they are worse off now than they were at this time last year. Inflation is now at 7.7 per cent, the highest it has been since 1983.
With grocery and gas prices skyrocketing, Canadians are trying to spend less as their personal costs go up. Almost half say they are now seeking out alternative modes of transport to avoid filling up their gas tanks.
"A lot of people are concerned," said David Chilton, author of financial self-help book The Wealthy Barber, in an interview with CBC News Network.
Chilton noted that low-income people are particularly impacted by the price hikes because they spend a disproportionate percentage on essentials like food and gas.
According to the study, half of Canadians say it's been challenging to afford their typical grocery bills.
"I would argue the inflation numbers, as high as they are being reported today, are probably higher, frankly," Chilton said.
"Anybody that goes to the grocery store I think would agree with that."
'They will raise rates until they break something'
The Bank of Canada has been aggressively raising interest rates in efforts to calm inflation, with a hike in March to 0.5 per cent (the first since 2018) followed by another in April to one per cent.
In June, the bank raised its benchmark interest rate a third time this year to 1.5 per cent and indicated that several more hikes are coming. The increases are meant to encourage saving and discourage borrowing in an overheated economy.
WATCH | 45% of Canadians say they're worse off financially than last year: study
A study from the Angus Reid Institute suggests nearly half of Canadians say they're worse off financially now than a year ago, and 34 per cent think they'll be worse off next year.
As a result, 22 per cent of Canadians with a mortgage say their payments have increased; more than half say that they fully expect theirs to go up, according to the report.
An increase of $150 per month would be difficult for over a third of homeowners — but raising that number to $300 would be downright unaffordable, 66 per cent said, forcing them to seriously consider a change of plans.
Renters are also feeling stretched thin, with over half saying that affording monthly rent is difficult.
WATCH | The Wealthy Barber author discusses how rising inflation is impacting Canadians:
David Chilton, author of The Wealthy Barber, looks at how high gas prices and grocery bills amid stagnant wages have hit low-income Canadians the hardest.
"I think that you are going to see central banks throughout the world continue to raise rates" to contain inflation, Chilton said.
"It's impacting people and I think they will raise rates until they break something."
When it comes to placing their trust in the Bank of Canada, Canadians are split: just under half (46 per cent) say that they believe the bank adequately fulfils its mandate, while slightly fewer (41 per cent) say they believe otherwise.
Three quarters of Canadians are dissatisfied with the way that provinces have handled rising inflation.
The study, conducted online, surveyed 5,032 Canadian adults who are members of the Angus Reid Forum, between June 7 and 13. For comparison purposes, a probability sample of this size carries a margin of error of +/- 2 percentage points, the non-profit said.
In April, while announcing a rate hike, Bank of Canada governor Tiff Macklem told reporters that the bank is trying to anchor inflation expectations.
"The longer inflation remains well above our target, the greater is the risk that Canadians begin to think that this higher inflation is going to persist, and that becomes embedded in their inflation expectations."
"The need to make sure that inflation expectations remain moored on our two per cent target was reflected in our decision today."
About two in five Canadians have credit card debt, as well, with that number increasing to 62 per cent among those who qualified as "struggling" on the Angus Reid Institute's economic stress index.
Within this group, about 58 per cent say it will take over a year to pay off those debts.
It's a very "unusual time," Chilton says.
"I think everybody has to approach it from their individual perspective … I always believe you've got to watch your costs, but that's more true now than ever."
"Inflation Forecasts Aren't Worth the Paper They're Written on": This Is about the Bank of Canada's Reaction to Inflation, But it's the Same in the US and Everywhere – WOLF STREET
"Why the current tightening cycle is unlike anything we've observed in the past."

When Canada's Consumer Price Index for May was released a couple of days ago, it was – "as expected," I would say – a lot lot worse than expected, and exceeded once again by a huge margin the inflation forecasts by the Bank of Canada. According to the exasperated economists at the National Bank of Canada, CPI inflation runs 1.5 percentage points above the BoC forecasts of CPI, outrunning those forecasts at every step along the way. May was "the biggest miss yet in what has been a systematic underestimation of inflation," they wrote in a note.
"So if May's CPI report doesn't set alarm bells ringing at Governing Council [of the Bank of Canada], someone should check their collective pulse," they noted.
The headline CPI for Canada spiked by 7.7% in May compared to a year ago, the worst inflation rate since 1983, according to Statistics Canada: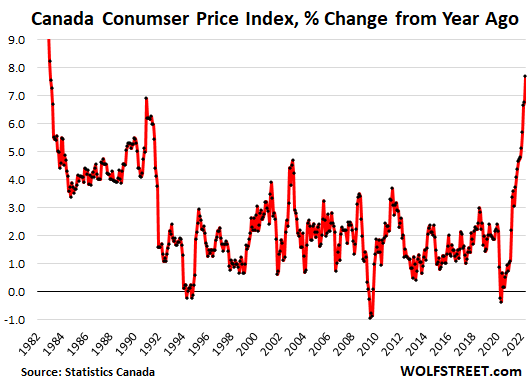 The BoC has already hiked its policy rates by 125 basis points, to 1.50%. At its last meeting, it included hawkish language of more and bigger hikes than expected, such as a 75- basis point hike at the July meeting. The BoC has also embarked on QT, and its balance sheet has been shrinking since March 2021. But the rate hikes and the hawkish language of future rate hikes were based on the BoC's inflation forecasts which have been "a systematic underestimation of inflation." So this rate-hike cycle is going to get interesting.
On a month-to-month basis, CPI jumped by a stunning 1.4% in May from April, not seasonally adjusted; and by 1.1% seasonally adjusted. As expected, I would say, those spikes totally blew away the expectations.
The month-to-month CPI rates of March, April, and May, annualized, spiked to an annual rate of 12.5%.
The red-hot month-to-month increases came across the board, and not just in a few commodities-linked items. It gave the BoC more than enough reasons to pull the trigger on a 75-basis point hike at its meeting on July 13.
"Inflation forecasts aren't worth the paper they're written on."
The BoC's inflation forecasts that it released at each of its prior meetings going back to April 2021 are depicted in different colors in the chart below from National Bank of Canada's Financial Markets shop. The red line is the actual CPI rate for each quarter. The BoC's estimates start at each meeting with the then current CPI rate.
So at its April 2021 meeting (light blue, first line from the bottom), as inflation had begun to surge, the BoC estimated that CPI would peak at just under 3% by mid-2021 and then decline to 2% by March 2022, hahahaha.
Then at its July 2021 meeting, the BoC forecast that inflation would top out at 3.8% by Q3 2021, then drop to 3% by about right now, hahahaha, and to 2% by Q3.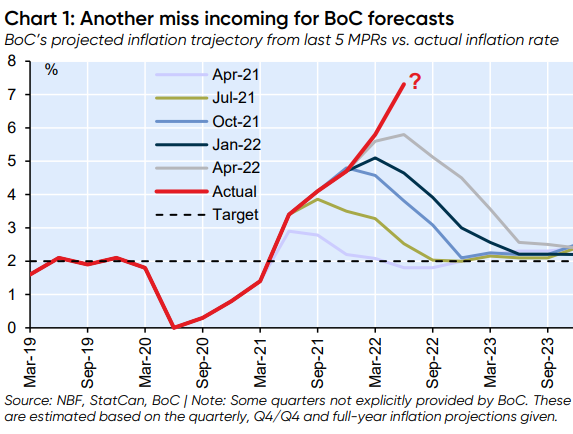 The above chart shows how ridiculously far off these inflation forecasts were, and how this inflation is a big wild card that just keeps getting worse, even as commodities prices have started to come down.
"For BoC watchers trying to compare today's inflation trajectory with earlier monetary tightening episodes, give up. There's simply no comparison in the overnight rate target era (that started in the mid-1990s). That's why the current tightening cycle is unlike anything we've observed in the past," said National Bank of Canada's Warren Lovely and Taylor Schleich in their note.
"As aggressive as the past couple of BoC actions may have seemed at the time, it's time to turn the screws even tighter," they said.
"A 75 bp rate hike on July 13th won't fix Canada's inflation problem, not with labour markets as tight as they are. As an aside, job vacancy data are clearly worrying, and Canada's acute labour shortage won't be remedied quickly despite a resumption of healthy population growth [through immigration]," they wrote.
And they added – sprinkled with stark inflation humor:
"To summarize: We have out-of-control inflation. Simply sending more money to households like some governments have done (or intend to do) is just like adding gasoline (itself already expensive) to the fire.

"Inflation demands an uber-forceful BoC reaction, including a 75 bp hike in three weeks' time.

"Exceptional rate hikes have done little to control prices (so far) but have turned housing markets upside down. Consumer psyches bear watching and recession risks have mounted.

"Indeed, with inflation data like this, securing a 'soft landing' might be like threading the eye of a needle. We haven't totally abandoned hope, but today's CPI report should sober up even the most enthusiastic among us."
The Fed was also ridiculously off with its inflation forecast every step along the way and by now has gotten burned at the stake for its use of "temporary" and transitory." The ECB too has been ridiculously far off with its inflation forecasts. And their monetary policies – their refusal to hike rates starting in early 2021, and their refusal to end QE and start QT at the same time – were driven by this ridiculous underestimation of inflation. But now they've gotten the memo.
It is an interesting turn of events that economists at the big banks in Canada as well as the US and everywhere are exhorting their respective central banks to crack down on inflation by raising rates further and harder as this inflation is threatening to spiral out of control, after which the economic and financial damage from runaway inflation is going to be huge.
Stock and bond markets have already reacted sharply to this tightening scenario, and in Canada, housing markets have already "turned upside down," and central banks have just started to tighten, and nothing central banks did in recent decades can be compared to what comes next, and if a recession is part of the deal of getting this runaway inflation under control, so be it.
Enjoy reading WOLF STREET and want to support it? Using ad blockers – I totally get why – but want to support the site? You can donate. I appreciate it immensely. Click on the beer and iced-tea mug to find out how:

Would you like to be notified via email when WOLF STREET publishes a new article? Sign up here.