Sobey Art Award powers back with tough competition – The Globe and Mail
After a pandemic hiatus that distributed the prize money evenly among all 25 finalists, the Sobey Art Award returns to its winning ways. This Saturday, the Sobey jury will announce a single winner of the $100,000 first prize, one of the richest visual arts awards in the world.
Competition will be stiff for the top honour among five short-listed finalists – to judge from the exhibition of their work now showing at the National Gallery of Canada in Ottawa.
Front and centre – and intriguing and vivid – is the work of Toronto artist Rajni Perera, the finalist from the Ontario region. Perera invents her own exotic multicultural sci-fi vocabulary, heavily influenced by the strong colours and clear lines of South Asian miniature painting, but executed on a bold scale. In hot pinks and saturated blues, she paints costumed and masked figures from a mythic world of her own invention, and also makes her vision three dimensional with a spectacular sculpted bust wearing a fabric headdress.
New Brunswick native Rémi Belliveau, representing Atlantic Canada but now resident in Montreal, also turns to fiction to craft cultural identity, but in this case, it's a project of reclamation rather than invention. Belliveau has created a 55-minute film and archival material about the recording of an Acadian folk song, Viens voir l'Acadie (Come see Acadia) by a largely fictional Jean Dularge. The catchy song features bitterly satirical lyrics in New Brunswick's Chiac slang, the French peppered with English, about the commercialization of Acadian history and the Evangeline myth.
The story goes that the song was never released for copyright reasons, and it's a testament to Belliveau's cunning that it's hard to know how much of this is true. The engaging film features highly plausible black-and-white footage of a 1960s recording studio in which the producer doubles on tambourine and the backup singers never stop smoking.
Both these takes on cultural identity use, in part, whimsy and fancy to engage their audience. For Gabi Dao, the Vancouver artist representing the West Coast and the Yukon, memory is the slippery material of choice. Based on a research trip she did to the Mekong Delta in Southern Vietnam, Dao has made a film featuring multiple viewpoints on the place and her ancestral links to it, splicing together evocative imagery and adding a soundtrack of her own voice and various interviews. The video screen on which this plays is bookended by two physical frames on which hang bead curtains suggesting entry to a shifting and ephemeral place.
One of the most significant changes in the Sobey criteria for 2021 was the removal of any age limit on this prize for emerging artists. Two of the five finalists have benefited from that: Laakkuluk Williamson Bathory is now 42, while Lorna Bauer is 41. Bathory is a Greenland Inuit mask dancer (who resides in Iqaluit) and is representing the North and the Prairies. She has turned a brief clip of a mask performance into a physical object by screening it, GIF-like, on a stretched animal hide, creating a powerful physical presence in a darkened gallery and an interesting juxtaposition of traditional and technological cultures.
Thematically, Bauer is the odd one out here, addressing form and creation rather than identity. A Montreal artist representing Quebec, she is showing a series of large photographs, with reflections of nature in the glass windows of architecture that ask viewers to position themselves in relationship to these puzzling spaces. Meanwhile, Bauer also includes some of her idiosyncratic blown-glass work, a collection of show-stopping vessels with boxy rectangular bodies and off-centre necks.
The Sobey's regional focus, dividing the country into five areas and picking a finalist from each, has not always served the prize well, as art from Canada's three big cities often overshadows the other entries. That is one possible advantage to removing the age limit – a change that was intended to make the prize more accessible – and certainly this year the competition powers back into action. Last year, the award program's entire $625,000 budget was divided among the 25 artists on the long list, as both the awards ceremony and the exhibition were cancelled. This year, the four runners-up win $25,000 each, but on Saturday night, only one person will walk away with the big prize.
The Sobey Art Award exhibition continues to Feb. 20 at the National Gallery of Canada.
Sign up for The Globe's arts and lifestyle newsletters for more news, columns and advice in your inbox.
A Different Booklist has brought to the Annex poets, authors and art with alternative points of view for 26 years and counting – Toronto Star
The first time I visited A Different Booklist in early 2004, I heard poetry being performed from the cosy backyard branching off from the main floor of the bookstore. Spoken word-friendly finger-snap applause beckoned me. This is my kind of bookstore, I thought, since I was running a poetry series at the time, and I soon sat down at an open mic hosted by author and event producer Dwayne Morgan.
When A Different Booklist first opened in 1995, on the west side of Bathurst Street just south of Honest Ed's, its original owner, Wesley Crichlow, may not have envisioned how it would grow from its modest roots into a hub for the Black community.
A Different Booklist has been quarterbacked by the husband-and-wife team of Miguel San Vicente and Itah Sadu since 1998, when Crichlow secured a full-time teaching position, and they continue to stock and promote books reflecting the Black and Caribbean communities, and the African diaspora. They also encourage poets, authors and political scientists to host events at their space, which are often free to the public.
The store relocated to the east side of Bathurst in 2017, after development replaced Honest Ed's and Mirvish Village. A stroll among the tightly packed bookcases reveals a truly panoramic view of Black history and culture: one section features the work of James Baldwin, Maya Angelou and Roxane Gay; another boasts fiction titles from Toronto authors such as David Chariandy and Catherine Hernandez. The children's literature section offers such books as "I Love My Hair!" by Natasha Anastasia Tarpley and E.B. Lewis, and "Mixed Me!" by actor Taye Diggs and Shane W. Evans.
"(Young Black readers) are excited when they can see themselves reflected in books, which is not often the case," San Vicente says. "And we really appreciate how so many schools have bought our books for their students, which has helped us survive all these years."
For adult readers, San Vicente says the more popular books at his store include Frantz Fanon's "Black Skin, White Masks," a 1952 deconstruction of racism, which he says speaks to what Bob Marley called "mental slavery in 'Redemption Song,' and how a colonial mentality has affected many Black people." Another hot seller is Toronto author Afua Cooper's "The Hanging of Angelique: The Untold Story of Canadian Slavery and the Burning of Old Montreal. There may be books about Canadian slavery written by white people," San Vicente says, "but it's important that a Black author shares these important stories."
A Different Booklist saw a surge of shoppers during and soon after the protests stemming from the murder of George Floyd by a police officer in Minneapolis. "It was great to see so many people coming out, including many non-Black readers, and buying books on fighting discrimination and racism and inequality," says San Vicente. "And it really helped when the Black Lives Matter movement encouraged people to support Black-owned businesses like ours."
The bookstore is also home to A Different Booklist Cultural Centre: The People's Residence. Launched in 2016, the non-profit organization has held author talks, book launches, children's programs and art exhibitions.
During lockdown, the store kept the public engaged with virtual readings and interviews, such as a Zoom conversation with George Elliot Clarke, Toronto's former poet laureate.
In fall 2022, the store is set to move again, this time across the street. Its mission, however, will remain the same. "We want people to learn from the past and to challenge themselves to put their knowledge into action," San Vincente says. "And our books and programming help with those goals."
Can art change society? – Ai Weiwei and Anish Kapoor – Aljazeera.com
Video Duration 25 minutes 45 seconds 25:45
From:
Studio B: Unscripted
Artist and activist Ai Weiwei and abstract sculptor Anish Kapoor on the changing role of art in today's world.
Ai Weiwei is one of the world's most influential living artists and activists, known for addressing human rights and freedom of expression issues through his work. His memoir: 1000 Years of Joy and Sorrows, shares his family story of growing up in China.
Sculptor and installation artist Anish Kapoor has created large-scale artworks across the globe that challenge us to engage subjectively with them, including Cloud Gate in Chicago and the ArcelorMittal Orbit in London.
The two global icons compare notes on freedom of expression, how art can challenge power, and what subversive art looks like today.
Lenny Kravitz wows at private party during Miami Art week – Rocky Mountain Outlook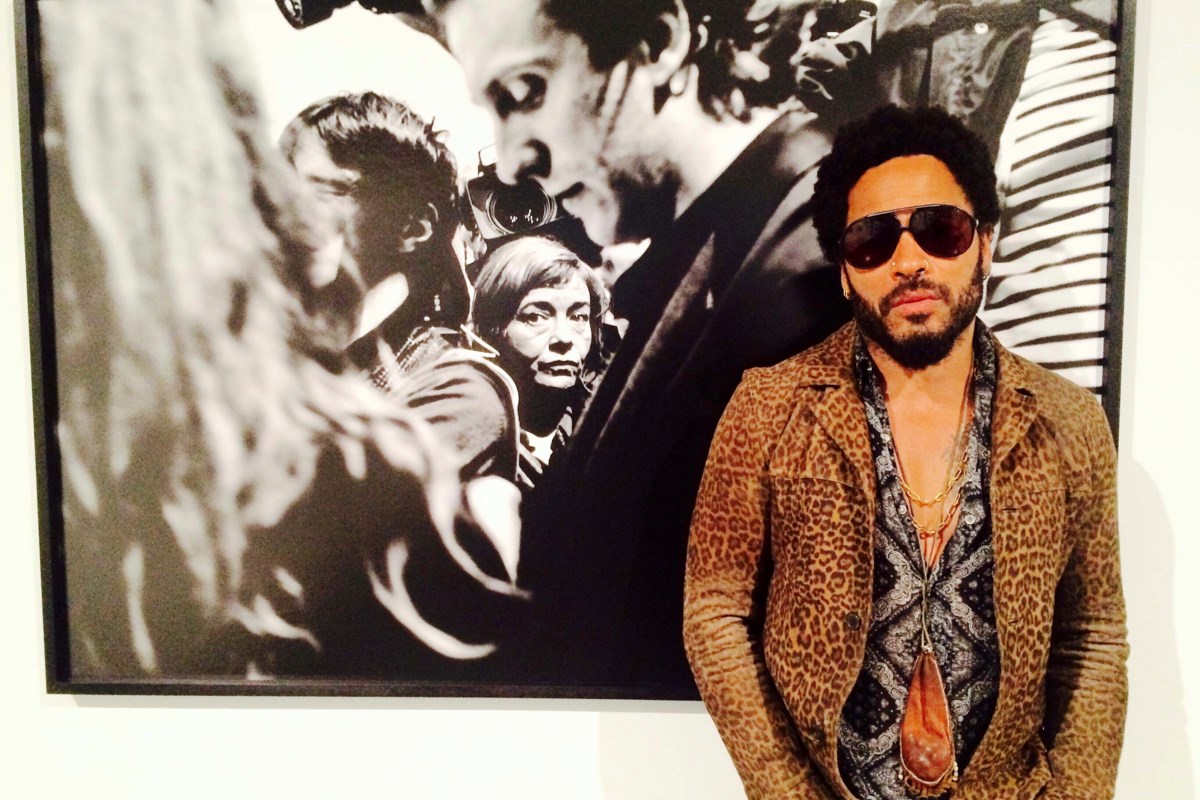 MIAMI BEACH, Fla. (AP) — Legendary rocker Lenny Kravitz gave a private performance Friday for a star-studded crowd that included Leonardo DiCaprio and local Latin boy band CNCO during Miami's Art Week.
The lavish party is an annual affair hosted by business mogul and art collector Wayne Boich. He and his wife also hosted a private dinner before the Richard Mille After Dark event at their waterfront estate. Venus and Serena Williams danced and sang along as Kravitz took the stage for a 75-minute concert as a yacht pulled alongside to hear the rocker.
"This ain't a concert. We're just hanging out," the "Are You Gonna Go My Way," singer said, pulling Boich onstage to dance.
Kravitz, who has lived on and off in Miami for years, is a regular during the prestigious Art Basel week and even displayed his photography during an exhibit in 2015, saying he was tired of always being the subject of photos and wanted to turn the camera around for a change.
The black-and-white collection, titled "Flash," captured soulful photographs and people in their everyday environments.
After midnight, rapper T.I. surprised a crowd that included French Montana, "Transformers" actor Amaury Nolasco and NBA star Joakim Noah.
Even the "Live Your Life" rapper seemed impressed by the event, calling it an "extravagant party … and as the founder of trap music my expectations are high."
The night ended with Hannah Bronfman's husband DJ'ing as she and actress Karrueche danced.
In a week filled with over-the-top events, Boich's parties have become a mainstay. It was canceled last year due to COVID, but guests at his 2019 party which included Floyd Mayweather, Dwyane Wade and Alesso, watched a performance by Wyclef Jean, a cameo from "Country Grammar" singer Nelly and an after-party show by rapper 2 Chainz.
Kelli Kennedy, The Associated Press