Social media CEOs rebuff bias claims, vow to defend election – Pique Newsmagazine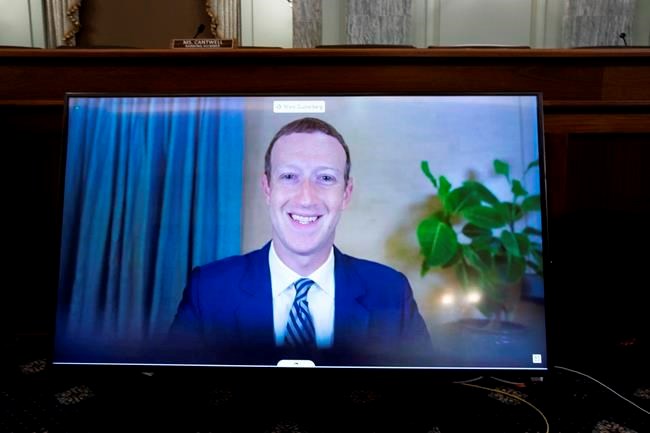 WASHINGTON — Under fire from President Donald Trump and his allies, the CEOs of Twitter, Facebook and Google rebuffed accusations of anti-conservative bias at a Senate hearing Wednesday and promised to aggressively defend their platforms from being used to sow chaos in next week's election.
Lawmakers of both parties, eyeing the companies' tremendous power to disseminate speech and ideas, are looking to challenge their long-enjoyed bedrock legal protections for online speech — the stated topic for the hearing but one that was quickly overtaken by questions related to the presidential campaign.
With worries over election security growing, senators on the Commerce Committee extracted promises from Twitter's Jack Dorsey, Facebook's Mark Zuckerberg and Google's Sundar Pichai that their companies will be on guard against meddling by foreign actors or the incitement of violence around the election results.
Testifying via video, the executives said they are taking several steps, including partnerships with news organizations, to distribute accurate information about voting. Dorsey said Twitter was working closely with state election officials.
"We want to give people using the service as much information as possible," he said.
Republicans, led by Trump, have accused the social media platforms, without evidence, of deliberately suppressing conservative, religious and anti-abortion views, and they say that behaviour has reached new heights in the contest between the president and Democratic nominee Joe Biden.
Sen. Roger Wicker, R-Miss., the committee's chairman, said at the start of the hearing that the laws governing online speech must be updated because "the openness and freedom of the internet are under attack."
Wicker cited the move this month by Facebook and Twitter to limit dissemination of an unverified political story from the conservative-leaning New York Post about Biden. The story, which was not confirmed by other publications, cited unverified emails from Biden's son Hunter that were reportedly disclosed by Trump allies.
"Twitter's conduct has by far been the most egregious," Sen. Ted Cruz, R-Texas, told Dorsey. Cruz cited Twitter's limitations on the newspaper story as part of "a pattern of censorship and silencing Americans with whom Twitter disagrees."
"Who the hell elected you? And put you in charge of what the media are allowed to report?" Cruz asked.
Dorsey told Cruz that he does not believe that Twitter can influence elections because it's only one source of information. He tried to steer senators away from conventional notions of political bias, noting that "much of the content people see today is determined by algorithms." He endorsed a proposal from computer scientist Stephen Wolfram that would allow third parties to guide how artificial intelligence systems choose what postings people see.
GOP senators raised with the executives an array of allegations of other bias on the platforms regarding Iran, China and Holocaust denial.
There's no evidence that the social media giants are biased against conservative news, posts or other material, or that they favour one side of political debate over another, researchers have found. But Republicans aren't alone in raising concerns about the companies' policies.
Democrats focused their criticism mainly on hate speech, misinformation and other content that can incite violence, keep people from voting or spread falsehoods about the coronavirus. They criticized the tech CEOs for failing to police content, blaming the platforms for playing a role in hate crimes and the rise of white nationalism in the U.S.
Amid the debate, the Trump administration has asked Congress to strip some of the protections that have generally shielded the tech companies from legal responsibility for what people post on their platforms. The proposals would make changes to a provision of a 1996 law that has been the foundation for unfettered speech on the internet. Critics in both parties say that immunity under Section 230 of the law enables the social media companies to abdicate their responsibility to impartially moderate content.
Trump chimed in Wednesday with a tweet exhorting, "Repeal Section 230!"
The CEOs argued that the liability shield has helped make the internet what it is today, though Zuckerberg said he believes that Congress "should update the law to make sure it's working as intended." Dorsey and Pichai urged caution in making any changes.
But the executives also rejected accusations of bias. "We approach our work without political bias, full stop," Pichai said. "To do otherwise would be contrary to both our business interests and our mission."
The companies in recent years have wrestled with how strongly to intervene with speech. They have often gone out of their way not to appear biased against conservative views — a posture that some say effectively tilts them toward those viewpoints. The effort has been especially strained for Facebook, which was caught off guard in 2016, when it was used as a conduit by Russian agents to spread misinformation benefiting Trump's presidential campaign.
Wednesday's session lacked the in-person drama of star-witness proceedings before the coronavirus outbreak. The hearing room was nearly empty except for Wicker and a few colleagues, as most senators took part remotely, but their questioning was sharp as tempers flared among members.
Sen. Brian Schatz, D-Hawaii, went after Republicans, saying the hearing was a "sham." With their questions, Schatz said, the Republicans "are trying to bully the heads of private companies into making a hit job" on political leaders.
All three companies have scrambled to stem the tide of material that incites violence and spreads lies and baseless conspiracy theories. In their efforts to police misinformation about the election, Twitter and Facebook have imposed a misinformation label on some content from the president, who has about 80 million followers.
Trump has refused to publicly commit to accepting the results if he loses the presidential contest. He also has raised the baseless prospect of mass fraud in the vote-by-mail process. None of the five states that mail ballots to all voters has seen significant cases of fraud.
Starting Tuesday, Facebook isn't accepting any new political advertising. Previously booked political ads will be able to run until the polls close Nov. 3, when all political advertising will temporarily be banned. Google, which owns YouTube, also is halting political ads after the polls close. Twitter banned all political ads last year.
___
AP Technology Writers Matt O'Brien in Providence, Rhode Island, and Barbara Ortutay in Oakland, California, contributed to this report.
___
Follow Gordon at https://twitter.com/mgordonap.
Marcy Gordon, The Associated Press
Judge at Toronto van attack trial suggests media should stop naming killers but courts should not – National Post
Article content continued
Her words on Friday, born of exasperation, described it as having a "gun to my head" and being handed "a ransom demand" for her kidnapped child.
The evidence from Westphal and his team is the only expected expert testimony directly supporting Minassian's mental state defence.
"All of Mr. Minassian's eggs are in this particular basket," Molloy said in her ruling.
After all, Minassian has admitted he purposely rented a van on April 23, 2018, and drove it down a busy sidewalk with the planned purpose of killing as many people as he could.
Because Westphal is in the United States and the trial is being held online due to COVID-19, Molloy cannot do what she has done before, which is send police to corral a witness and bring them to court, where refusal to testify could lead to imprisonment.
"The devastation wrought by Mr. Minassian cannot be overstated. However, he is entitled to a fair trial in our courts, and to call a defence supported by evidence. That evidence exists, but is in the control of Dr. Westphal," she concluded.
Molloy's words on not naming killers rekindles the debate over what to do in the wake of violence that was raised by Prime Minister Justin Trudeau after the Nova Scotia rampage.
In Trudeau's first public address after the Nova Scotia mass shooting during which 22 people were killed in April, he asked that the killer's identity not be included in media coverage of the tragedy.
"I want to ask the media to avoid mentioning the name and showing the picture of the person involved," he said as part of his prepared remarks. "Do not give him the gift of infamy. Let us instead focus all our intention and attention on the lives we lost and the families and friends who grieve."
Social media 'out of control,' says Norfolk mayor – Simcoe Reformer
Port Rowan man pleads guilty to threatening Chopp
Norfolk County Mayor Kristal Chopp says harassment and even threats of violence have been part of her job since being elected in 2018.
"I'm pretty tough, but the constant barrage of abuse that some find amusing has affected my psychology," the mayor said in an interview last week.
Earlier this month, a 57-year-old Port Rowan man was sentenced after he pleaded guilty to uttering a threat to cause death or bodily harm to Chopp.
Dana Robert Dargie was placed on house arrest for 30 days and put on probation for 18 months, during which he is banned from communicating with or going near the mayor. He also can't go to the municipal building or attend any Norfolk council meetings. And he was directed to get counselling for anger management.
"It's my understanding that he was warned once to stop and he didn't," Chopp said of Dargie.
But Dargie is just one of many people who lash out on social media against the mayor, who has faced controversy over council's decisions to cut services and staff, among other things.
At a Norfolk council meeting last Tuesday, the mayor was accused by her council colleagues of using bullying tactics and intimidation as the politicians aired their feelings and grievances. Chopp refused to participate in the meeting, gathering her things and leaving.
Along with emails and negative online comments, Chopp is mocked through a parody account on Twitter, which often compares her to U.S. President Donald Trump. She said a members-only Facebook site with 3,000 members seems to have been formed specifically to discuss and denigrate her work and that of Norfolk CAO Jason Burgess, who is the municipality's fifth CAO in just over a year.
She said she regularly receives inappropriate emails, including some from a "dirty old man," who has sent dozens of messages, including half-naked photos of himself.
"I never used to believe in blocking people but that has changed in recent times. Social media has become too out of control, too offensive, too damaging and too harassing."
And that harassment has extended to her family.
Chopp said her parents' Hamilton-area farm was visited last year by bylaw officers looking for illegal cannabis.
"They realized they had been sent on a wild goose chase the second they stepped onto the farm but said they had so many phone calls and emails telling them to check it out that they finally went."
A spokesperson for the City of Hamilton confirmed bylaw officers visited the farm and found no violations.
Chopp said that incident is still under investigation and included a "22-page manifesto" from someone named "Harry Smith," who mailed his allegations to major media organizations in Canada and to Chopp's employer, Air Canada, where she works as a pilot. The "manifesto" said the mayor is a narcissistic dictator and psychopath, who owns her own plane and runs a marijuana business.
"I think there's a reason why women, in particular, don't want to get involved in politics," she said. "I can give you a list of more than a dozen men I'm allegedly sleeping with. And, if they don't get off on that one, they call me a lesbian."
Chopp said she has pondered taking civil action against some of the harassers as the abuse intensifies
She said she hopes Dargie's conviction will stop others.
"But I don't think it will," she said. "Social media has taken on a life of its own and the facts don't seem to matter.
"Ignoring the keyboard warriors is difficult but I will do my best to soldier on."
SGamble@postmedia.com
@EXPSGamble
The Debate – France, security and the media: Does the new global law go too far? – FRANCE 24
Issued on: 23/11/2020 – 20:17
France is caught in a row over the right to film police officers in the course of their duty. It is a controversy that has brought demonstrators on to the streets. A new law on the Security of France goes to a final vote on Tuesday. The Bill with a controversial amendment has been passed for a first time by the National Assembly by a margin in 146 to 24. Article 24 concerns the right to film the police. It raises fears and concerns among many media here in France about the right to report and inform.
This evening with our panel we discuss the issues. Police officers have a tough job. But freedom to report is a foundation of democracy
Produced by Alessandro Xenos, Juliette Laurain and Imen Mellaz.