Social media companies face a reckoning for amplifying hate and misinformation – The Globe and Mail
For years, social media platforms have fuelled political polarization and hosted an explosion of hate speech. Now, with four months until the U.S. presidential election and the country's divisions reaching a boiling point, these companies are upping their game against bigotry and threats of violence.
What's not yet clear is whether this action is too little, too late – nor whether the pressure on these companies, including a growing advertiser boycott, will be enough to produce lasting change.
Reddit, an online comment forum that is one of the world's most popular websites, on Monday banned a forum that supported U.S. President Donald Trump as part of a crackdown on hate speech. Also on Monday, live-streaming site Twitch, which is owned by Amazon, temporarily suspended Trump's campaign account for violating its hateful conduct rules.
YouTube, meanwhile, banned several prominent white nationalist figures from its platform, including Stefan Molyneux, David Duke and Richard Spencer.
Social media companies, led by Facebook, now face a reckoning over what critics call indefensible excuses for amplifying divisions, hate and misinformation on their platforms. Civil rights groups have called on large advertisers to stop Facebook ad campaigns during July, saying the social network isn't doing enough to curtail racist and violent content on its platform.
Companies such as the consumer goods giant Unilever – one of the world's largest advertisers – as well as Verizon, Ford and many smaller brands have joined the boycott, some for the month of July and others for the rest of the year. New companies have been signing on to the boycott almost every day. While some are pausing ads only on Facebook, others have also stepped back from advertising on Twitter and other platforms.
On Monday, Ford Motor Co. put the brakes on all national social media advertising for the next 30 days. The company says hate speech, as well as posts advocating violence and racial injustice, need to be eradicated from the sites.
Reddit's action was part of a larger purge at the San Francisco-based site. The company said it took down a total of 2,000 forums, known as the site as "subreddits," most of which it said were inactive or had few users.
The Trump Reddit forum, called The_Donald, was banned because it encouraged violence, regularly broke other Reddit rules, and defiantly "antagonized" both Reddit and other forums, the company said in a statement. Reddit had previously tried to discipline the forum.
"We are cautiously optimistic that Reddit is finally working with groups like ours to dismantle the systems that enable hateful rhetoric on their platform," Bridget Todd, a spokeswoman for the women's advocacy organization UltraViolet, said in an e-mailed statement.
The group said its members met with Reddit CEO Steve Huffman via Zoom last week, encouraging him to address racism and hate speech on the platform.
For its part, Twitch pointed to comments the president made at two rallies, videos of which were posted on the site.
In one, a livestream of a rally in Tulsa, Oklahoma, Trump talked about a "very tough hombre" breaking into someone's home. The other was from a 2015 campaign rally that was recently posted on Twitch, in which Trump said Mexico sends rapists and criminals to the U.S. Twitch declined to say how long the suspension will last.
The White House referred a request for comment to Trump's re-election campaign. Tim Murtaugh, the campaign's director of communications, said that people who want to hear directly from the president should download the campaign's app.
Reddit has tweaked its rules and banned forums for white nationalists over the years in an attempt to rid its platform of vitriol, sometimes producing significant user backlash as a result.
CEO Steve Huffman said earlier this month that Reddit was working with moderators to explicitly address hate speech.
It's not Kanye, it's Ye, after judge approves name change
Rapper Kanye West has won legal approval to officially shorten his name to Ye.
The 44-year-old musician, record producer and fashion entrepreneur has used Ye as his Twitter handle for years and had petitioned a court to make it his full name with no middle name or last name. Los Angeles Superior Court Judge Michelle Williams Court approved his request on Monday, according to court documents.
"Ye" also was the name of the singer's 2018 album. He told a radio host that year he believed ye is the most commonly used word in the Bible, where it means "you."
Representatives for the entertainer did not immediately respond to requests for comment.
The musician recently released his 10th studio album, "Donda," named after his late mother Donda West. He has been married to reality TV star Kim Kardashian West for about seven years. The pair are in the process of getting divorced, though they remain friendly and have been spotted together recently in public.
(Reporting by Lisa Richwine; Editing by Richard Chang)
German media group fires Bild editor after damning press reports – CNN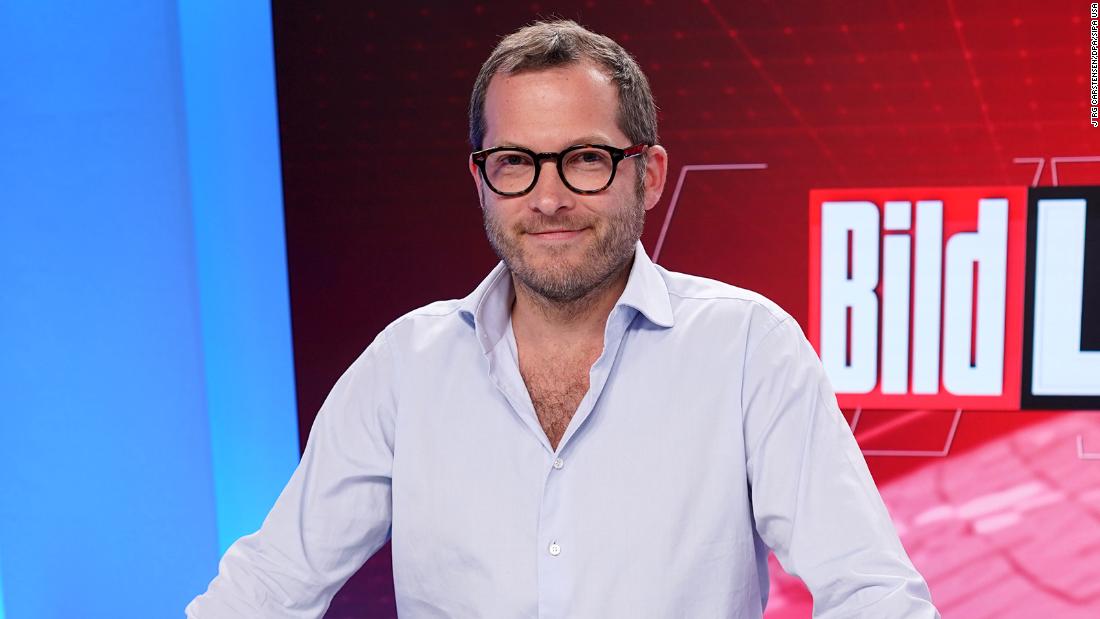 London (CNN Business)German media group Axel Springer said on Monday that it has fired the editor-in-chief of the Bild newspaper, Julian Reichelt, for failing "to maintain a clear boundary between private and professional matters" and being "untruthful to the executive board."
"Axel Springer SE has relieved Bild editor-in-chief Julian Reichelt of his duties with immediate effect," the company said in a statement. "As a result of press investigations, the company gained new knowledge in the last few days" about his "recent conduct."
The publisher employs more than 16,000 people around the world and is aggressively expanding into new markets, including the United States. It commissioned a law firm to conduct an investigation into Reichelt's conduct earlier this year, but reinstated him after determining that he had not committed fireable offenses.
Now, however, Axel Springer says that "new evidence of current misconduct by Julian Reichelt has come to the company's attention in the last few days." Eric F. Phillips, senior vice president at public relations firm Edelman, and a spokesperson for Axel Springer, declined to elaborate on this misconduct in response to a CNN inquiry.
"As the executive board has learned," the Axel Springer statement read, "Julian Reichelt still fails to maintain a clear boundary between private and professional matters and has also been untruthful to the executive board in this regard. The executive board therefore considers the termination of his office to be unavoidable."
Bild is Europe's largest daily newspaper and the publisher's crown jewel. But Axel Springer has sought to expand its digital presence in recent years, especially in the United States, through the acquisition of Business Insider — now called Insider — and newsletter producer Morning Brew. Its
$1 billion takeover of Politico
is expected to close in the fourth quarter of 2021.
Now the spotlight is on workplace culture at its flagship publication in Germany.
The New York Times on ​Sunday
published
a story on Reichelt's alleged abuse of power with female employees. Among the allegations are that Reichelt was in a relationship with a junior employee, whom he promoted beyond what she thought was appropriate, and "continued to summon her to hotel rooms​," ​the Times reported, citing a transcript of testimony the woman gave to the law firm conducting the investigation.
CNN cannot independently verify the Times' reporting and has reached out to Reichelt for comment.
Following that internal investigation earlier this year, Reichelt admitted mistakes, according to a statement reported by Reuters. "I know that I made mistakes in my behaviour towards colleagues and I cannot and will not gloss over it," Reichelt said in March, according to Reuters. "The main thing I blame myself for is that I hurt people for whom I am responsible. I am very sorry about that."
In the statement ​Monday, Axel Springer said that "the compliance investigation against Julian Reichelt never included any allegations of sexual harassment or sexual assault."
"There were, however, allegations of consensual intimate relationships with female Bild employees and indications of abuse of power in that connection. A past relationship with a female Bild employee has been proven and admitted. It remains disputed whether that employee benefited in her career as a result."
CNN does not know the identity of that employee.
The statement said that after the ​inquiry earlier this year, the Board determined that Reichelt "had made mistakes, ​[but] these were not mistakes of an unforgivable nature."
It decided at the time that "mistakes that would have justified an immediate parting of ways were not proven," and had decided to give him a "second chance."
The company ​says it is also taking legal action against "third parties" who leaked confidential transcripts, "business secrets and private communications." ​The company's statement did not specify who the legal actions were against.
They acted, the statement said, "to influence and instrumentalize the spring compliance investigation by unlawful means, evidently with the aim of removing Julian Reichelt from office as well as damaging Bild and Axel Springer."
— Inke Kappeler contributed reporting from Berlin.
'Eternals' movie, boasting a diverse cast and Marvel's first deaf role, premieres
Actors Angelina Jolie and Salma Hayek brought Hollywood glamor to the world premiere of Marvel Studios' latest comic book adapation, "Eternals", on Monday.
Directed by Chloe Zhao, who won best director and best picture for the film "Nomadland " at the Oscars earlier this year, "Eternals" boasts one of the most diverse casts of any Marvel movie.
"I hope it just starts to normalize what should have been there in the first place," Jolie told Reuters. "I hope people watch these films in years to come and we don't even think about it as being diverse, it just becomes what's normal and what's right, and what's appropriate representation of the world we live in."
Gemma Chan plays the lead role of Sersi, one of the Eternals, a group of aliens who have lived on Earth and secretly guided humanity for 7,000 years.
"It's got a different tone, visually it's going to be quite different," said Chan. "Obviously the cast is huge and it spans 7,000 years so it's really an epic story. One of the themes of the film is connection, connection to one another, connection to earth. I hope that resonates with people in some way."
"Eternals" also features the Marvel Cinematic Universe's first deaf character in Lauren Ridloff's Makkari.
"I might be the first but I won't be the only one for much longer," signed Ridloff in American Sign Language. "There's another deaf superhero coming into the MCU very soon so this is definitely a game-changer."
Delayed a year due to the pandemic, "Eternals" will finally hit cinemas on Nov. 5.
(Reporting by Rollo Ross; Editing by Karishma Singh)