Social media data needed for 'harm' research, say doctors – BBC News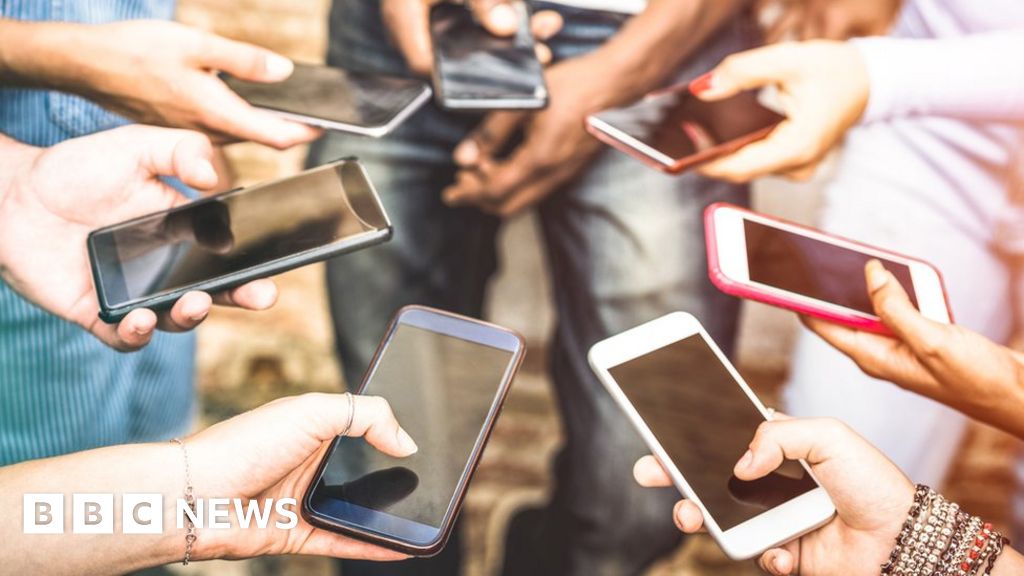 Leading UK psychiatrists say they will never understand the risks and benefits of social media use on children's mental health unless companies hand over their data to researchers.
Tech companies must be made to share data and pay a tax to fund important research, they say in a report.
There is growing evidence internet use can harm mental health but research is still lacking, it adds.
An independent regulator for online safety is planned by the government.
The report, by the Royal College of Psychiatrists, calls on the regulator to require social-media companies to share data on how children and young people are using the likes of Instagram, Facebook and Twitter – not just how much time they spend online.
The data collected would be anonymous, the report says.
Ian Russell, who believes Instagram was partly responsible for his daughter Molly taking her life aged 14 is backing the calls.
"Two years ago, Molly's suicide smashed like a wrecking ball into my family's life," he said.
"Without research using data from social-media companies, we will never know how content can lead our children and young people to self-harm or, in the most tragic cases, take their own lives."
There can be many positives to children using technology, such as online support, instant communication with friends and access to information, but screen time can also be potentially harmful to health, psychiatrists say.
For example, online content can be distressing and children can become addicted to screens at the expense of sleep, exercise and family time.
"To date, research is still fragmented and not systematically evaluated across the spectrum of normative to addictive use, yet initial evidence of negative physical, mental health and cognitive associations necessitates further inter-disciplinary, nationally funded research," the report states.
'Hold to account'
Report co-author Dr Bernadka Dubicka, who chairs the child and adolescent faculty at the Royal College of Psychiatrists, said she was seeing a growing number of children self-harming and attempting suicide as a result of their use of social media and online discussions.
"It is time for government to step-up and take decisive action to hold social-media companies to account for escalating harmful content to vulnerable children and young people," she said.
The government has already said it will create an independent regulator for online safety from April, as part of a package of measure to keep UK users safe online, known as the Online Harms White Paper.
"The regulator will have the power to require transparency reports from companies outlining what they are doing to protect people online," a spokesman said.
"These reports will be published so parents and children can make informed decisions about their internet use."
There are also plans to introduce a 2% tax rate against the sales large digital companies make in the UK.
Tech UK, which represents technology companies, said data, in isolation, "will rarely provide the full picture".
"Industry consistently partners with researchers, academics and charities on a range of issues relating to their products and services, including a recent significant partnership with the Samaritans to deepen the understanding of how people are engaging with harmful online content," deputy chief executive Anthony Walker said.
What is the advice to parents?
For children under the age of one:
For two- to five-year-olds:
ensure any screen time is part of a varied and balanced day, including physical activity and face-to-face conversation
spend at least three hours a day on physical activity
children should spend no more than one hour sitting watching or playing with screens
For five- to 11-year-olds:
develop a plan with your child for screen time and try to stick to it
ensure children have a balance of activities in the day, with physical activity, face-to-face conversation and tech-free times
encourage mealtimes to be tech free
ensure you have spoken to your children about how to keep safe online, check they are keeping safe and make it clear you will support them if they feel unsafe or upset online
try to ensure there are no screens in the bedroom at night
For 11- to 16-year- olds:
develop a plan or check your existing one is still appropriate
encourage a balance of physical activity, face-to-face social time, schoolwork and family time
encourage mealtimes to be tech free
keep having conversations about keeping safe online and offer space to talk about upsetting things teenagers might see online
make it clear you will support them if they feel unsafe or upset online
try to ensure there are no screens in the bedroom at night
Source: Royal College of Psychiatrists
Marjorie Wallace, chief executive of the mental health charity Sane, said it was "shocking" so little had been done to protect vulnerable young people.
"There has been an exponential rise in the numbers of people contacting our helpline in recent years who have self-harmed, now comprising 70% of our callers, some directly linked to the 24-7 pressures of social media," she said.
Social media giants monetise anger and trolling is the result. A crackdown is welcome – The Guardian
Princeton the focus of international media – the story on the story – Penticton Western News – Pentiction Western News
Over the past two weeks the community has been flooded…with media.
Princeton quickly became a focus for journalists across Canada and around the globe, following the devastating events that started Sunday, Nov. 14, when the Tulameen River breached its banks.
Last Thursday, correspondents working for The New York Times were trekking through muck on Fenchurch Avenue, interviewing residents who were starting the process of cleaning out their homes.
"In the town of Princeton, which was uncomfortably close to this summer's wildfires and was hit by record heat, bands of volunteers of all ages were roving the streets and helping out," wrote Ian Austen. "There are a lot of tears in Princeton and other communities right now, but they're not all from grief over what's lost. When flood victims described the kindness of those volunteers to me, some broke out in tears of gratitude."
The U.K. based Guardian also reached out to area homeowners.
Ed Staples, from Coalmont, was interviewed.
"After a summer of staying indoors to shield his lungs from thick smoke, Staples said he's sad to see the loss in his community so soon after the fires," The Guardian wrote. 'It's heartbreaking, I get choked up thinking about it,' said Staples. 'These are real people who have lost everything and it'll take months or years to get their lives in order.'"
Princeton Mayor Spencer Coyne has fielded hundreds of requests for interviews, and granted many.
"I've done so many interviews," he told the Spotlight, "I don't know who all I've interviewed with. It's kind of been a blur to be honest…I was doing, by lunch time, about eight interviews a day at one point."
Coyne said this has given him the opportunity to keep Princeton's needs top-of-mind for government officials, who hold the purse strings for emergency aid. "If I'm not out there, Abbotsford is going to be the story…It's getting us the attention we need."
Coyne appeared live on the CBC's The National, and on the television program Power and Politics. He's spoken frequently with regional affiliates of all the major networks.
While he doesn't particularly relish the limelight, Coyne is uniquely qualified to take on the press. "At one time I was a small town reporter. I worked for Black Press, I worked for (The Similkameen News Leader.)"
Recently a journalist writing for the Globe and Mail followed the mayor for an entire day, as he made the rounds of the community.
"Shortly after 11:30 a.m. on Sunday, Mr. Coyne jumped in his yellow Nissan Xterra and began driving around town, checking on crew progress and speaking to residents about their needs. His cellphone rang constantly. He made a stop at the one-runway airport where the small lounge was crammed with people bringing in dogs and cats in animal carriers," wrote Anthony Davis.
There's been absurdity, attached to some of Coyne's experiences.
"One interview, I won't say what network and what show, they began telling me what I should be wearing in the interview and what the backdrop should be…like a bookshelf."
Coyne eventually gave that interview, via his phone, wearing a high-visibility vest, while inside the Princeton fire hall.
During an interview with the BBC, he was asked about local temperatures. When the mayor reported the temperature was hovering at about minus 3 degrees Celsius, he was asked, "And why is that?"
After requesting the question be repeated, Coyne responded, "Well, it's November. This is when we start to turn into winter."
Coyne said he often prefers to communicate with local media.
"Local media has been invaluable, absolutely invaluable," he stated. "I really appreciate the efforts of the Spotlight in order to keep accurate information going out."
Do you have something to add to this story, or something else we should report on? Email:andrea.demeer@similkameenspotlight.com
---
Like us on Facebook and follow us on Twitter.
Local peer outreach team continuing without Northern Health, claims health authority lied to media – Energeticcity.ca
A public outcry took place once it was announced funding was being cut. Schultz believes NH's statement was an attempt to save face.
"Northern Health is committed to harm reduction and overdose prevention in Fort St. John, and working to improve existing services, and implement additional and expanded services. Peers play an important role in Overdose Prevention work, and Northern Health will work with peers to ensure this continues," said Northern Health in a statement to local media.
The group was formed in April, providing harm reduction services and tackling the stigma surrounding drug addiction. In October, NH informed the team that they were restructuring the funding model.
There were 30 peers working for the outreach teams that were fired, and more than 20 with lived experience were employed by the group, said Schultz.
The peers helped offer food, hygiene kits, first aid, naloxone kits, harm reduction supplies, info on detox and treatment, and warm clothing for those in need. Afterwards, they were paid a cash honorarium, which is what NH has cut.
Schultz and another leader, Neil Bramsleven, were in contact with the health authority to work on the community mobile harm reduction program. Schultz describes the program as a mobile safe injection site.
They were the only ones contacted to continue working for the health authority due to meeting specific criteria, including being clean from drugs and alcohol, said Schultz.
"NH Leadership is in contact and discussion with the peer outreach team leaders to continue peer outreach services in Fort St. John," said Northern Health in a statement.
Schultz has pulled her application for the mobile program following the release of NH's statement.
"There are no outreach programs right now, and they have no plans of getting outreach programs."
Schultz showed Energeticcity an email with an NH worker, which confirms there are no outreach programs in the city.
"They did admit that it was untrue about peer outreach continuing. They said they don't talk with the person who deals with the media."
Peers were previously paid by NH to go on patrol, but Schultz says they will now run on a voluntary basis.
"We will accept donations from the community, and we will get harm reduction from mental health."
At this point, Schultz says the team doesn't want anything to do with the health authority.
"Peers are real. Peers are honest. We have one passion, and that's to help people. We're not even going to work with Northern Health anymore. We will volunteer our time."
Anyone looking to donate to the team can contact Schultz at 250-329-8374.
Eryn Collins, Regional Manager, Public Affairs & Media Relations with NH, says the health authority is aware of the pushback and is working to get clarity on concerns being raised.
With files from Tom Summer, Local Journalism Initiative, Alaska Highway News