Social media giants accused of 'silencing' Kashmir voices – Al Jazeera English
A report by a Kashmiri diaspora group has accused social media giants Twitter, Facebook and Instagram of silencing Kashmiri voices in the digital spaces through the frequent suspension of the accounts of artists, academics, and journalists based in and outside the disputed region, a move termed by experts as "reprehensible".
A 30-page report by the Stand With Kashmir (SWK), titled "How social media corporations enable silence on Kashmir", claims that since 2017, Facebook, Twitter, Instagram and other social media platforms have continually silenced Kashmir-related content.
In August 2019, when the Indian government scrapped the region's semi-autonomous status, it imposed a sweeping communication and internet shutdown in the region. The shutdown continued for months – the longest internet suspension that took place in a democracy, according to Access Now, an international organisation that tracks internet access around the world.
Last year, the advocacy group's report revealed that India topped the list of internet shutdowns in the world among 129 countries as 109 of total 155 internet shutdowns took place in the country.
About its report, the SWK spokesperson told Al Jazeera that "since August 2019, the level of censorship of Kashmiri voices in person but also on social media has only increased".
"Kashmiris already have no avenues to express themselves in person. Social media provided an outlet for them," the spokesperson said, adding, "not only is the Indian government going after Kashmiri social media users in Kashmir, but social media companies are also complicit in censoring Kashmiris by removing content, blocking important accounts that provide information, and restricting the reach of content. This is unacceptable."
'More reprehensible'
Digital rights activists have also expressed their concerns over "the arbitrary removal of the online content" by the social media platforms.
Krishnesh Bapat, a lawyer and fellow with Internet Freedom Foundation, a digital rights group based in the capital, New Delhi, told Al Jazeera that "there is a general lack of transparency whenever the social media content is taken down".
"The content is taken down arbitrarily and it is also restored arbitrarily," Bapat said, adding, "it is very difficult to gauge if they [social media sites] are doing it on the behest of someone else or themselves."
Geeta Seshu, co-founder of Free Speech Collective – a group that advocates for freedom of speech, told Al Jazeera, "Successive governments have censored and silenced voices of dissent in Kashmir for decades now but when social media companies do so too, it becomes all the more reprehensible."
Successive governments have censored and silenced voices of dissent in Kashmir for decades now but when social media companies do so too, it becomes all the more reprehensible
"Companies like Twitter and Facebook are platforms for people to speak out and make themselves heard, not just to those in power but also to one another," said Seshu, who is based in Mumbai.
"If these social media companies succumb to pressure from the government to silence or fail to push back on take-down requests, they do their users a huge disservice," she said, adding that the censorship also "flies in the face of the avowed principles of these companies to provide safe spaces for conversations".
In its statement to Al Jazeera regarding the allegations, a Twitter spokesperson said: "Twitter's reporting processes are designed to be transparent and to enable real accountability."
Twitter's reporting processes are designed to be transparent and to enable real accountability
"Where possible, we provide user notice when we receive these requests. Importantly, unless we are prohibited from doing so, when we remove or withhold content in a certain country, Twitter will provide a copy of the request to the publicly available Lumen Database. When content is withheld, it is only withheld in the country making the removal demand and remains visible in all other jurisdictions," it said.
'Curb expression'
In SWK's online poll with 32,000 followers about the experience of censorship, the report says, it received a response from 311 followers in which 62 percent of respondents said they had experienced some kind of censorship on the three platforms of Facebook, Twitter and Instagram.
The document says: "Corporations are siding with India's suppression of Kashmiri digital rights, including the government's blockade of internet and telecommunications access in the region, as well as its weaponisation of the law and policy to curb the expression of Kashmiri political aspirations in the digital space."
In its six months of research, including surveys and interviews with people based in and outside Kashmir, the group found that Twitter, Facebook and Instagram are censoring and crippling their online spaces of expression.
The group demanded that the social media firms must fulfil their stated human rights obligations to people and provide transparency about the removal of content.
"… users' accounts were disabled, suspended and permanently deleted. Users reported their account privileges were restricted or account content was removed. Users also say platforms offered dishonest technical reasons for the censorship of their accounts," the report said.
It said the majority of Kashmiri users felt the platforms did not redress the censorship issues they were facing in an effective and timely manner.
In October 2019, two months after the scrapping of Kashmir's special status by the Indian authorities, when the region was under a crippling digital and military lockdown, the Committee to Protect Journalists (CPJ), a global media watchdog, revealed in a report that "hundreds of thousands of tweets blocked in India since August 2017" had focused on Kashmir.
The report said the vast majority of the withheld accounts were from the group that referenced Kashmir, hosting more than 920,000 tweets between them.
The Twitter transparency report also revealed that more accounts were withheld in India in the second half of 2018 than in the rest of the world combined.
'New rules'
In recent years, as internet usage became widespread in the region, social media became a prominent mode of expressing opinions in the region claimed by India and Pakistan. However, they control only parts of the Muslim-majority Himalayan territory.
The regional government has frequently ordered internet shutdowns on the ground it is being used to incite protests. In recent years, many users have been booked, summoned and questioned over their social media content.
Last year, two Kashmiri journalists, Masarat Zahra and Gowhar Geelani, were booked under the anti-terror law for their social media posts. The police claimed their posts were "prejudicial to the national integrity, sovereignty and security of India".
India, which has a vast internet market of nearly 700 million users, announced strict rules to regulate content on social media earlier this year. Under the new rules, social media companies are under a legal obligation to remove posts and share information on the origin of content at the request of the government.
The rules, called the Intermediary Guidelines and Digital Media Ethics Code, have sparked criticism from digital rights activists and raised concerns about the freedom of speech in the country.
'Restricting social media reach'
Mir Suhail, a Kashmiri artist based in New York who is also quoted in the SWK report, has accused the social media corporations of restricting his social media reach.
"In early 2020, on an almost daily basis, I started getting notifications that my Instagram posts were being removed for hate speech or symbols," Suhail, who has about 50,000 followers on Instagram, was quoted as saying in the report.
"The same thing was happening on Twitter. I was drawing on different subjects related to the experiences of marginalised communities in India about the experiences of Indian Muslims, the new citizenship laws and on Kashmir," he said.
"To this day, there is a sensitivity filter on my Twitter account for each and everything I post, even if it is something entirely unremarkable. I share my work on these platforms and in doing so trust them to be ethical in how they handle it."
In its statement to Al Jazeera regarding the allegations, a Twitter spokesperson said: "Twitter's reporting processes are designed to be transparent and to enable real accountability."
"Where possible, we provide user notice when we receive these requests. Importantly, unless we are prohibited from doing so, when we remove or withhold content in a certain country, Twitter will provide a copy of the request to the publicly available Lumen Database. When content is withheld, it is only withheld in the country making the removal demand and remains visible in all other jurisdictions," it said.
Facebook and Instagram did not reply to Al Jazeera's request for response until the time of publication of the article.
Western News – Expert insights: Why social media companies need to be reined in – Western News
In September, the Wall Street Journal released the Facebook Files. Drawing on thousands of documents leaked by whistle blower and former employee Frances Haugen, the Facebook Files show that the company knows their practices harm young people, but fails to act, choosing corporate profit over public good.
The Facebook Files are damning for the company, which also owns Instagram and WhatsApp. However, it isn't the only social media company that compromises young people's internationally protected rights and well-being by prioritizing profits.
As researchers and experts on children's rights, online privacy and equality and the online risks, harms and rewards that young people face, the news over the past few weeks didn't surprise us.
Harvested personal data
Harvesting and commodifying personal data (including children's data) underpins the internet financial model — a model that social psychologist and philosopher Shoshana Zuboff has dubbed surveillance capitalism .
Social media companies make money under this model by collecting, analyzing and selling the personal information of users. To increase the flow of this valuable data they work to engage more people, for more time, through more interactions.
Ultimately, the value in harvested personal data lies in the detailed personal profiles the data supports — profiles that are used to feed the algorithms that shape our newsfeeds, personalize our search results, help us get a job (or hinder) and determine the advertisements we receive.
In a self-reinforcing turn, these same data are used to shape our online environments to encourage disclosure of even more data — and the process repeats.
Surveillance capitalism
Recent research confirms that the deliberate design, algorithmic and policy choices made by social media companies (that lie at the heart of surveillance capitalism) directly expose young people to harmful content. However, the harms of surveillance capitalism extend well beyond this.
Our research in both Canada and the United Kingdom has repeatedly uncovered young people's concern with how social media companies and policy-makers are failing them. Rather than respecting young people's rights to expression, to be free from discrimination and to participate in decisions affecting themselves, social media companies monitor young people to bombard them with unsolicited content in service of corporate profits.
As a result, young people have often reported to us that they feel pressured to conform to stereotypical profiles used to steer their behaviour and shape their environment for profit.
For example, teen girls have told us that even though using Instagram and Snapchat created anxiety and insecurity about their bodies, they found it almost impossible to "switch off" the platforms. They also told us how the limited protection provided by default privacy settings leaves them vulnerable to unwanted "dick pics" and requests to send intimate images to men they don't know.
Several girls and their parents told us that this can sometimes lead to extreme outcomes, including school refusal, self harm and, in a few cases, attempting suicide.
The surveillance capitalism financial model that underlies social media ensures that companies do everything they can to keep young people engaged.
Young people have told us that they want more freedom and control when using these spaces — so they are as public or private as they like, without fear of being monitored or profiled, or that their data are being farmed out to corporations.
Teenagers also told us how they rarely bother to report harmful content to the platforms. This isn't because they don't know how, but instead because they have learned from experience that it doesn't help. Some platforms were too slow to respond, others didn't respond at all and some said that what was reported didn't breach community standards, so they weren't willing to help.
Removing toxic content hurts the bottom line
These responses aren't surprising. For years, we have known about the lack of resources to moderate content and deal with online harassment.
Haugen's recent testimony at a Senate Committee on Commerce, Science and Transportation hearing and earlier reports about other social media platforms highlight an even deeper profit motivation. Profit depends on meaningful social engagement, and harmful, toxic and divisive content drives engagement.
Basically, removing toxic content would hurt the corporate bottom line.
Guiding principles that centre children's rights
So, what should be done in light of the recent, though not unprecedented, revelations in the Facebook Files? The issues are undoubtedly complex, but we have come up with a list of guiding principles that centre children's rights and prioritize what young people have told us about what they need:
Young people must be directly engaged in the development of relevant policy.
All related policy initiatives should be evaluated on an ongoing basis using a children's rights assessment framework.
Social media companies should be stopped from launching products for children and from collecting their data for profiling purposes.
Governments should invest more resources into providing fast, free, easy-to-access informal responses and support for those targeted by online harms (learning from existing models like Australia's eSafety Commissioner and Nova Scotia's CyberScan unit).
We need laws that ensure that social media companies are both transparent and accountable, especially when it comes to content moderation.
Government agencies (including police) should enforce existing laws against hateful, sexually violent and harassing content. Thought should be given to expanding platform liability for provoking and perpetuating these kinds of content.
Educational initiatives should prioritize familiarizing young people, the adults who support them and corporations with children's rights, rather than focusing on a "safety" discourse that makes young people responsible for their own protection. This way, we can work together to disrupt the surveillance capitalism model that endangers them in the first place.
Kaitlynn Mendes, Professor of Gender, Media and Sociology, Western University; Jacquelyn Burkell, Associate Professor, Information and Media Studies, Western University; Jane Bailey, Professor of Law and Co-Leader of The eQuality Project, L'Université d'Ottawa/University of Ottawa, and Valerie Steeves, Full Professor, Department of Criminology, L'Université d'Ottawa/University of Ottawa
This article is republished from The Conversation under a Creative Commons license. Read the original article.
Trump Plans to Regain Social Media Presence With New Company – Bloomberg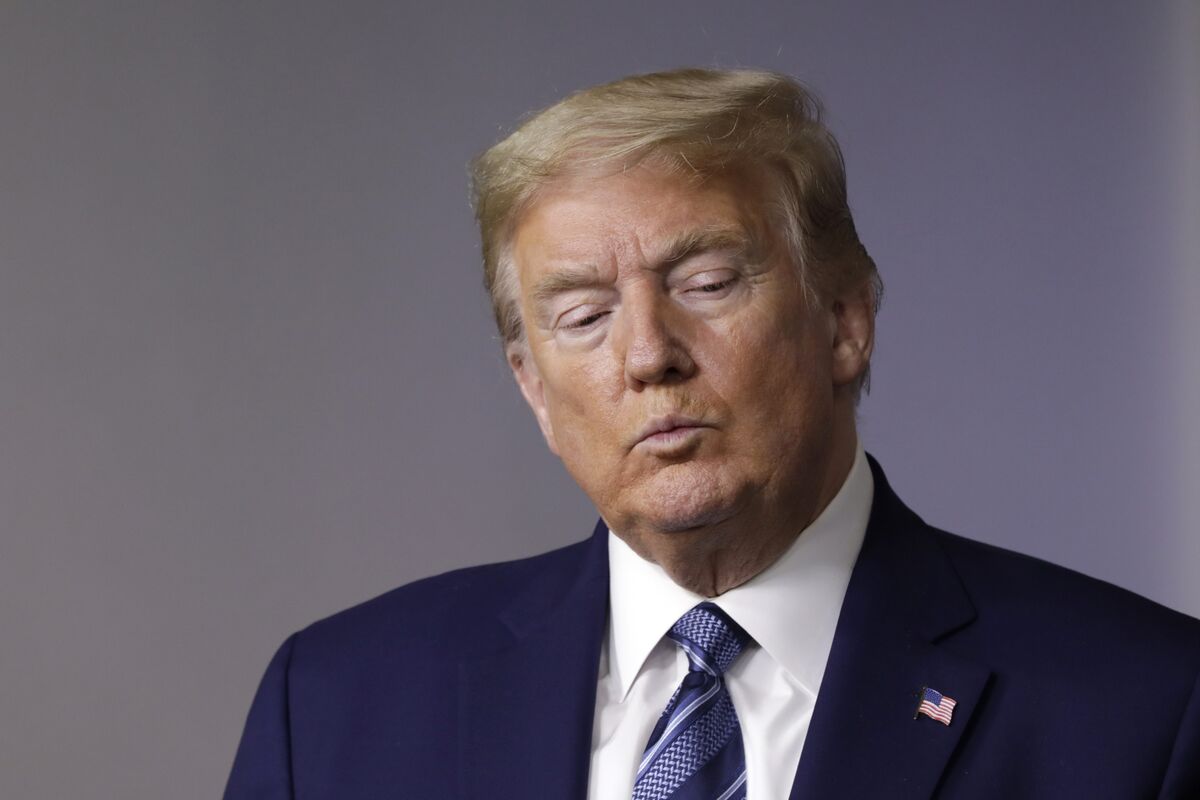 Former President Donald Trump on Wednesday announced a deal that would enable him to regain a social media presence after he was kicked off Twitter Inc. and Facebook Inc. platforms.
The former president's new enterprise will be in operation by the first quarter of 2022, according to a press release from the Trump Media and Technology Group. It says it plans to start a social media company called Truth Social. The moves, if all goes according to plan, would occur well ahead of the 2022 mid-term elections.
Protesters denounce Netflix over Chappelle transgender comments
About 100 people protested near Netflix Inc's headquarters on Wednesday against the streaming pioneer's decision to release comedian Dave Chappelle's new special, which they say ridicules transgender people.
Netflix staff members, transgender rights advocates and public officials gathered on a sidewalk outside a Netflix office blocks away from the company's main 13-story Sunset Boulevard building in Los Angeles.
Demonstrators held signs proclaiming, "Trans Lives Matter" and "Team Trans" and chanted slogans like "What do we want? Accountability," "When do we want it? Now."
Netflix staff were outnumbered by members of the public, but the precise number was not clear. Netflix employees had called for a walkout.
Chief Content Officer Ted Sarandos acknowledged in interviews before the walkout, "I screwed up" in how he spoke to Netflix's staff about Chappelle's special, "The Closer."
Sarandos previously defended the decision to air the show, saying Chappelle's language did not cross the line into inciting violence. Netflix posted record subscriber numbers on Tuesday,
"While we appreciate the acknowledgement of the screw-up, in his own words, we want to actually talk about what that repair looks like," said Ashlee Marie Preston, a transgender activist who came out in support of the Netflix employees.
Joey Soloway, creator of "Transparent," a now-ended streaming series on rival Amazon that had a transgender character, talked about the line that separates edgy jokes and harmful speech.
"People say to me, as a comedian, where's the line?" said Soloway. "The line is anything that makes it worse."
Not everyone supported that message. "…The idea that a small, angry mob can shape entertainment and silence people's speech is terrifying," said counterprotester Dick Masterson.
While employee protests against corporate policies have become common in Silicon Valley, this is believed to be the first such action at the pioneer streaming video company.
The controversy over "The Closer" is playing out against the backdrop of a company-wide diversity effort that began in 2018, after Netflix's former head of communications was fired for using a racial epithet in company meetings.
"It doesn't feel good to have been working at the company that put that out there," Netflix software engineer Terra Field wrote in a Medium post, referring to "The Closer." "Especially when we've spent years building out the company's policies and benefits so that it would be a great place for trans people to work."
(Reporting by Dawn Chmielewski in Los Angeles; editing by Kenneth Li and Cynthia Osterman)