Social Media Has the Same Downsides As Alcohol – The Atlantic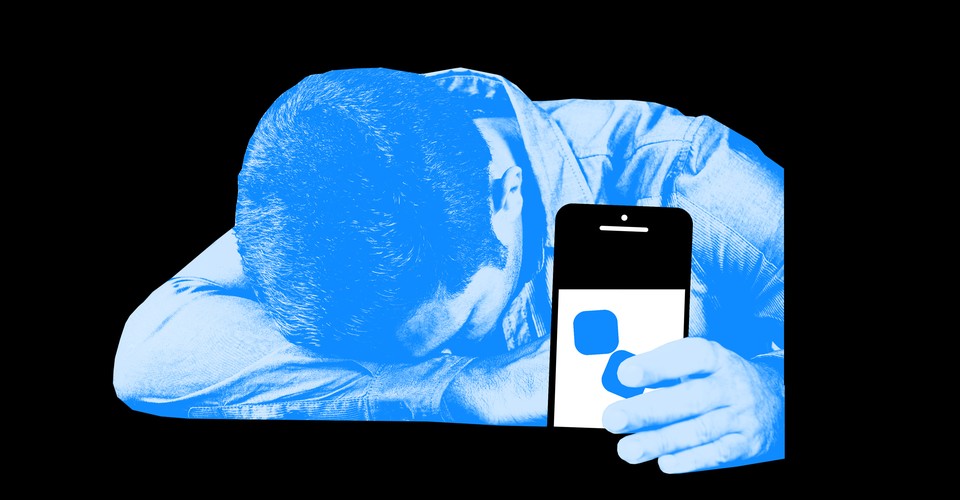 Last year, researchers at Instagram published disturbing findings from an internal study on the app's effect on young women. "Thirty-two percent of teen girls said that when they felt bad about their bodies, Instagram made them feel worse," the authors wrote in a presentation obtained by The Wall Street Journal. "They often feel 'addicted' and know that what they're seeing is bad for their mental health but feel unable to stop themselves."
This was not a new revelation. For years, Facebook, which owns Instagram, has investigated the app's effects on its users, and it kept getting the same result. "We make body image issues worse for one in three teen girls," said one slide from a 2019 presentation. "Teens who struggle with mental health say Instagram makes it worse."
The findings weren't all negative. Although many teenagers reported that Instagram was compulsive but depressing, most teenagers who acknowledged this dark side said they still thought the app was enjoyable and useful.
So a fair summary of Instagram according to Instagram might go like this: Here is a fun product that millions of people seem to love; that is unwholesome in large doses; that makes a sizable minority feel more anxious, more depressed, and worse about their bodies; and that many people struggle to use in moderation.
What does that sound like to you? To me, it sounds like alcohol—a social lubricant that can be delightful but also depressing, a popular experience that blends short-term euphoria with long-term regret, a product that leads to painful and even addictive behavior among a significant minority. Like booze, social media seems to offer an intoxicating cocktail of dopamine, disorientation, and, for some, dependency. Call it "attention alcohol."
I personally don't spend much time on Instagram, but on reflection I love Twitter quite like the way I love wine and whiskey. Other analogies fall short; some people liken social media to junk food, but ultra-processed snacks have few redeemable health qualities compared with just about every natural alternative. I have a more complicated relationship with Twitter. It makes my life better and more interesting. It connects me with writers and thinkers whom I would never otherwise reach. But some days, my attention will get caught in the slipstream of gotchas, dunks, and nonsense controversies, and I'll feel deeply regretful about the way I spent my time … only to open the app again, several minutes later, when the pinch of regret has relaxed and my thumb reaches, without thought, toward a familiar blue icon on my phone.
For the past decade, writers have been trying to jam Facebook into various analogical boxes. Facebook is like a global railroad; or, no, it's like a town square; or, perhaps, it's like a transnational government; or, rather, it's an electric grid, or a newspaper, or cable TV.
Each of these gets at something real. Facebook's ability to connect previously unconnected groups of people to information and commerce really does make it like a 21st-century railroad. The fact that hundreds of millions of people get their news from Facebook makes it very much like a global newspaper. But none of these metaphors completely captures the full berserk mosaic of Facebook or other social-media platforms. In particular, none of them touches on what social media does to the minds of the young people who use it the most.
"People compare social media to nicotine," Andrew Bosworth, a longtime Facebook executive, wrote in an extensive 2019 memo on the company's internal network. "I find that wildly offensive, not to me but to addicts." He went on:
I have seen family members struggle with alcoholism and classmates struggle with opioids. I know there is a battle for the terminology of addiction but I side firmly with the neuroscientists. Still, while Facebook may not be nicotine I think it is probably like sugar. Sugar is delicious and for most of us there is a special place for it in our lives. But like all things it benefits from moderation.
But in 2020, Facebook critics weren't the ones comparing its offerings to addiction-forming chemicals. The company's own users told its research team that its products were akin to a mildly addictive depressant.
If you disbelieve these self-reports, perhaps you'll be persuaded by the prodigious amounts of outside research suggesting the same conclusion. In June, researchers from NYU, Stanford, and Microsoft published a paper with a title that made their position on the matter unambiguous: "Digital Addiction." In closing, they reported that "self-control problems cause 31 percent of social media use." Think about that: About one in three minutes spent on social media is time we neither hoped to use beforehand nor feel good about in retrospect.
Facebook acknowledges these problems. In a response to the Wall Street Journal exposé published on Tuesday, Karina Newton, the head of public policy at Instagram, stood by the company's research. "Many find it helpful one day, and problematic the next," she wrote. "Many said Instagram makes things better or has no effect, but some, particularly those who were already feeling down, said Instagram may make things worse." But this self-knowledge hasn't translated into sufficient reform.
Thinking of social media as attention alcohol can guide reform efforts. We have a kind of social infrastructure around alcohol, which we don't have yet for social media. The need to limit consumption is evident in our marketing: Beer ads encourage people to drink responsibly. It's in our institutions: Established organizations such as Alcoholics Anonymous are devoted to fighting addiction and abuse. It's in our regulatory and economic policy: Alcohol is taxed at higher rates than other food and drink, and its interstate distribution has separate rules. There is also a legal age limit. (Instagram requires its users to be 13 years old, although, as it goes with buying alcohol, many users of the photo-sharing app are surely lying about their age.)
Perhaps most important, people have developed a common vocabulary around alcohol use: "Who's driving tonight?"; "He needs to be cut off"; "She needs some water"; "I went too hard this weekend"; "I might need help." These phrases are so familiar that it can take a second to recognize that they communicate actual knowledge about what alcohol is and what it does to our bodies. We've been consuming booze for several thousand years and have studied the compound's specific chemical effects on the liver and bloodstream. Social media, by contrast, has been around for less than two decades, and we're still trying to understand exactly what it's doing, to whom, and by what mechanism.
We might be getting closer to an answer. A 124-page literature review compiled by Jonathan Haidt, an NYU professor, and Jean Twenge, a San Diego State University professor, finds that the negative effects of social media are highly concentrated among young people, and teen girls in particular. Development research tells us that teenagers are exquisitely sensitive to social influence, or to the opinions of other teens. One thing that social media might do is hijack this keen peer sensitivity and drive obsessive thinking about body image, status, and popularity. Instagram seems to create, for some teenage girls, a suffocating prestige economy that pays people in kudos for their appearance and presentation. The negative externality is dangerously high rates of anxiety.
How do we fix it? We should learn from alcohol, which is studied, labeled, taxed, and restricted. Similar strictures would discourage social-media abuse among teenagers. We should continue to study exactly how and for whom these apps are psychologically ruinous and respond directly to the consensus reached by that research. Governments should urge or require companies to build more in-app tools to discourage overuse. Instagram and other app makers should strongly consider raising their minimum age for getting an account and preventing young users from presenting fake birthdates. Finally, and most broadly, parents, teens, and the press should continue to build a common vocabulary and set of rules around the dangers of excess social media for its most vulnerable users.
Digital sabbaths are currently the subject of columns and confessionals. That's a good start, but this stuff should be sewn into our everyday language: "No apps this weekend"; "I need to be cut off"; "I love you, but I think you need to take a break"; "Can you help me stay offline?" These reforms should begin with Facebook. But with social media, as with every other legal, compulsive product, the responsibility of moderation ends with the users.
Protesters denounce Netflix over Chappelle transgender comments
About 100 people protested near Netflix Inc's headquarters on Wednesday against the streaming pioneer's decision to release comedian Dave Chappelle's new special, which they say ridicules transgender people.
Netflix staff members, transgender rights advocates and public officials gathered on a sidewalk outside a Netflix office blocks away from the company's main 13-story Sunset Boulevard building in Los Angeles.
Demonstrators held signs proclaiming, "Trans Lives Matter" and "Team Trans" and chanted slogans like "What do we want? Accountability," "When do we want it? Now."
Netflix staff were outnumbered by members of the public, but the precise number was not clear. Netflix employees had called for a walkout.
Chief Content Officer Ted Sarandos acknowledged in interviews before the walkout, "I screwed up" in how he spoke to Netflix's staff about Chappelle's special, "The Closer."
Sarandos previously defended the decision to air the show, saying Chappelle's language did not cross the line into inciting violence. Netflix posted record subscriber numbers on Tuesday,
"While we appreciate the acknowledgement of the screw-up, in his own words, we want to actually talk about what that repair looks like," said Ashlee Marie Preston, a transgender activist who came out in support of the Netflix employees.
Joey Soloway, creator of "Transparent," a now-ended streaming series on rival Amazon that had a transgender character, talked about the line that separates edgy jokes and harmful speech.
"People say to me, as a comedian, where's the line?" said Soloway. "The line is anything that makes it worse."
Not everyone supported that message. "…The idea that a small, angry mob can shape entertainment and silence people's speech is terrifying," said counterprotester Dick Masterson.
While employee protests against corporate policies have become common in Silicon Valley, this is believed to be the first such action at the pioneer streaming video company.
The controversy over "The Closer" is playing out against the backdrop of a company-wide diversity effort that began in 2018, after Netflix's former head of communications was fired for using a racial epithet in company meetings.
"It doesn't feel good to have been working at the company that put that out there," Netflix software engineer Terra Field wrote in a Medium post, referring to "The Closer." "Especially when we've spent years building out the company's policies and benefits so that it would be a great place for trans people to work."
(Reporting by Dawn Chmielewski in Los Angeles; editing by Kenneth Li and Cynthia Osterman)
Senior leader at Thunder Bay, Ont., hospital removed after Nazi imagery discovered on his social media – CBC.ca
WARNING: This story contains images, language that may be distressing.
The hospital in Thunder Bay, Ont., has removed a senior official from a leadership council for violating its social media policy after images of Nazi-affiliated items were discovered on his Facebook page.
Keith Taylor is no longer co-chair of the patient family advisory council at the Thunder Bay Regional Health Sciences Centre (TBRHSC), where he had volunteered for about a decade, a spokesperson confirmed Tuesday, citing the hospital's social media policy.
In over a dozen posts to his public Facebook page, mostly in 2012, there were images of swastikas, a bronze sculpture of Adolf Hitler and a military badge, among other items.
One post, about the Vietnam Veterans Memorial, used a slur toward people of Asian heritage; other posts made jokes about Nazis, including one comment with Taylor calling someone "my little nazi."
CBC News was first made aware of these posts Sunday when contacted by an employee at the hospital.
"The individual mentioned in your request is not an employee of TBRHSC, and is no longer serving in a voluntary role on the patient and family advisory council," spokesperson Marcello Bernardo said in an emailed statement Tuesday morning.
Bernardo said it was an internal human resources matter, but cited the hospital's social media policy in his statement and declined further comment.
It wasn't until Taylor was contacted by CBC News that he learned he was no longer in the voluntary role at the hospital.
"I'm not happy about it," he said. "I've probably been involved in over a thousand policy developments and changes that would benefit patients."
He added he understood the decision made by the hospital.
"I'm not a racist. I'm not a Nazi. I'm a man who cares about my community and I'm a history buff."
Ex-official says he hoped to open museum
Taylor said he was collecting the items found on his social media in hopes of opening a museum to educate people about military history. He said he never got the idea off the ground, and since 2012, has donated or given away most of the items to museums or "valid collectors."
But several experts in Holocaust education and history expressed concern to CBC about the way the items were posted on Facebook.
During the Second World War, Hitler's Nazi extermination camps were responsible for the killings of about six million Jewish people and five million non-Jewish people.
Among photos of war memorabilia from a number of countries that the CBC News investigation found, 17 images or videos with swastikas or other items or references to Nazis were posted on Taylor's social media.
Several photos show Nazi flags with swastikas on them.
On Feb. 22, 2012, Taylor posted his "pic of the day" showing a framed armband used to identify people at the Buchenwald concentration camp in Germany.
"Could you imagine if this band could talk, resources were so scarce these bands were sometimes used a few times over," the caption said.
Another photo put up March 2, 2012, shows what Taylor claims to be a "german panzer kill badge … awarded to tankers that achieve multiple kills."
He added in his caption, "i wear this on my bike vest."
Attached to an image of a war-time helmet, Taylor wrote: "hey clem, this one is for you my little nazi, lol."
Apologizes for harm caused
In the interview with CBC News, Taylor apologized for harm caused by any of the Facebook posts.
He said that when he posted the images, he thought he was sharing them only with a few friends who knew about his intent to open a museum, so people could learn about military history.
The items from Nazi Germany, including flags and pieces with swastikas emblazoned on them, were just a part of his collection that also included historical equipment from America, Italy, Russia and Britain, said Taylor.
"I always went to the spot of education. We need to remember this stuff. We need to never forget the atrocities. Ever."
When he had these items in his home, Taylor said, he gave tours to friends and told them the history and stories behind them.
"I have no shame in it, honestly. No ill intent there. It was just an educational tool."
Items carry 'a moral responsibility'
A Facebook post by Taylor on June 17, 2012, shows a sculpture of Hitler's head, which he said was from about 1942 and made of solid bronze.
In the caption, Taylor said, "i am not a nazi, just a history buff."
It's an argument met with skepticism by Jody Spiegel, director of the Holocaust Survivor Memoirs Program at the Azrieli Foundation in Toronto, and incoming chair of the education working group for the International Holocaust Remembrance Alliance.
"These are triggering images, and a place like a museum is a space for education and discussion," Spiegel said after viewing the Facebook posts.
"All of these things have a place. They don't belong in someone's basement and they don't belong in social media forums for discussion about how awesome a collection is."
Daniel Hannah, president of the Shaarey Shomayim Congregation in Thunder Bay, said it's hard to understand why anyone would want to collect items associated with anti-Semitism and the Holocaust.
"It raises questions about their judgment," Hannah said in an emailed statement to CBC.
He worried such collections support the business of auction houses that cater to neo-Nazis, and called several of the images "disturbing."
These symbols do carry a moral responsibility … they can't be divorced from the history in which they were produced.– Valerie Hébert, associate professor of history at Lakehead University
Valerie Hébert, an associate professor of history with Lakehead University in Thunder Bay and an expert in Holocaust education, also reviewed some of Taylor's Facebook posts.
"These symbols do carry a moral responsibility," she said. "They can't be divorced from the history in which they were produced."
There is value in showing and understanding items from historical periods along with text to interpret and contextualize them, Hébert said, but called the way in which the Facebook posts displayed the items "rather cavalier."
"To think you can continue to trade in and display these kinds of symbols and not be responsible for the ideas that they represent is irresponsible. It's careless and it's potentially harmful."
In response to these concerns, Taylor said his intention when posting in 2012 was to share new items he found with the few friends he had on Facebook at the time and who knew about his ambition to start a museum.
He said he posted the images so long ago, he forgot they were still publicly viewable.
"People are uncomfortable with history. They're very sensitive and I understand that, but I'm a big believer that we need to remember the ugliest parts of our history."
Hospital refuses to answer more questions
Taylor posted all his photos nine years ago, shortly after he started volunteering at the hospital.
In 2015, Taylor received an honourable mention for the Patient Safety Champion award from the Canadian Patient Safety Institute for his work in the development and promotion of patient and family-centred care.
He was nominated by Rhonda Crocker Ellacott, current president and chief executive officer of the Thunder Bay hospital, according to an article published by the TBRHSC.
The article noted Taylor's work "has touched many areas of the organization," including support in "hiring leaders" and sitting on a number of committees at the hospital.
She described Taylor at the time as "an amazing leader," saying "we are fortunate to have an individual of his calibre engaged in our work."
A request for an interview with Crocker Ellacott was denied by the hospital, with Bernardo saying: "As the hospital cannot discuss personnel/HR issues publicly, we are unable to grant an interview."
The hospital also would not say what specific images violated its social media policy or whether a formal complaint was filed. It also wouldn't comment on who was responsible for appointing Taylor to his position as co-chair of the patient family advisory council and for his inclusion in the senior leadership council.
The hospital also did not say if it would issue an apology to the public.
Western News – Work with Indigenous communities leads to media career for new grad – Western News
CBC Radio had been a constant companion for Colm Cobb Howes during quiet, bitter-cold commutes to work as a teacher in Indigenous communities in northern Canada. Little did he know he would one day be working to tell those stories he enjoyed listening to since he was a child.
A recent Master of Media in Journalism and Communication (MMJC) graduate, Cobb Howes is now associate producer at CBC News Toronto's Metro Morning radio show.
Cobb Howes is among Western students graduating this fall and will join 328,000 Western alumni from more than 160 countries during virtual Convocation celebrations on Oct 25.
"It's the reason I came to MMJC, to get into CBC and share the stories of the people I met during my time working in Indigenous communities," said Cobb Howes.
Although Cobb Howes joined the Faculty of Information and Media Studies at the start of the pandemic in 2020 and missed many of the in-person learning experiences, he was able to participate in a six-week internship that opened the door for him to work at the CBC – first as an intern and eventually as a full-time associate producer.
"I never assumed or thought that I would be able to work at CBC Toronto, right out of school," he said. "I thought that perhaps I would get a good reference (from the CBC internship) and then it would help me get in somewhere like in a smaller market. And so I feel incredibly lucky to have that opportunity right now."
Northern exposure
Before joining Western's MMJC program, Cobb Howes worked for an educational not-for-profit organization as a teacher for Indigenous students, mostly in the Cree Nation of Eeyou Istchee in Northern Quebec. His work entailed travelling through nine Cree communities as well as the Kuujuarapik Inuit community on Hudson Bay in Quebec. He also had the opportunity to work in a Maliseet Community in New Brunswick, and in an Anishinabek Community in Northern Ontario.
It was during this two-year stint that Cobb Howes developed an interest in storytelling that led him to pursue a postgraduate program in journalism.
"I did teach high school science and math, but at the same time, we also ran programming that was delivered outside of schools. One of the programs is called the cultural mapping program, that's done in partnership with the community, where it's like an internship for youth in the community.
This program offered several workshops for the interns on things like camera operation and storytelling.
"I really enjoyed being able to help facilitate it, being out in the community and talking to people and telling stories," said Cobb Howes. "It was amazing to see how it empowered these kids as they realized they were doing all of this work. And so that's partly why I wanted to go into storytelling."
Writing is not a new-found passion for Cobb Howes, however, who completed his undergraduate degree in English literature at the University of Guelph. When considering his postgraduate program in journalism, Western was the only choice for him.
"I really wanted to choose something I would enjoy and not just do it for the sake of getting a degree. I knew this is where I wanted to be. And that was how I chose Western," said Cobb Howes, whose brother also attended Western for his undergraduate studies.
Work of storytelling
Working as an associate producer for CBC Toronto gives Cobb Howes the opportunity to talk to different people and share their "amazing stories."
"We had someone on who was an astrophysicist and he was getting ready to retire," he recalled. "We were asking him things like, 'Is the universe going to be swallowed by a black hole? What do we need to be worried about? Or, should we be worried about, you know, asteroid hitting earth?' And it was incredible that I, as a citizen, get to interact with this person who is a leading academic in their field, and have these kinds of conversations. I find it amazing that I get to do that every day for work."
Asked if he was given the opportunity to choose one story, any story, that can make an impact on listeners, what would it be – and his answer took him back to his experience working with Indigenous communities.
"There's a lot of stories that happen in the north, that people don't know about, and oftentimes, they get segmented into categories… and it gets put in the Indigenous category of the news desk," he said. "It's unfortunate that those stories don't just get told because they're valid. Sometimes, something will happen in the north, and it doesn't get told in Toronto, because it didn't happen in Toronto. But people in Toronto need to know about that.
"If we're serious about making meaningful change in the way that we tell stories, then we need to start thinking outside of the box, because so often stories like that go under reported because they don't fit into the way that we think they should appear in the news."
***
Virtual Convocation details:
Virtual fall convocation will

be available to stream beginning at 7p.m. EST on Friday, October 22.

There will be three ceremonies, which will be pre-recorded and posted online by navigating through the

uwo.ca

homepage, allowing graduates and their families and loved ones to choose the ceremony they wish to see when they want to see it.

Each ceremony will include celebratory music by Convocation Brass, with administration and faculty on stage and with remarks by honorary degree recipients.
Receiving honorary degrees are: lawyer and community philanthropist Janet Stewart; writer/visual artist Shani Mootoo; historian Natalie Zemon Davis; and medical researcher Tak Mak.

An orator will read out each graduating student's name, which will also be featured on individually displayed slides during the ceremony.

Graduates will receive their parchments by mail.