Social media users voiced fears about election manipulation during 2019 campaign
An internal Elections Canada report shows the agency's social media tracking during the 2019 federal election spotted multiple messages questioning the legitimacy of Canada's elections — claims that non-Canadian citizens might be voting illegally, that foreign elements were influencing the vote and that the voting system itself was "rigged."
During the 2019 election, and for the first time ever, Elections Canada monitored public online chatter to combat disinformation campaigns. The monitoring team was assembled in response to claims of foreign interference in the U.S. presidential election and the U.K.'s Brexit referendum.
The final summary report, released by Elections Canada, suggests that at least some Canadians had profound doubts about the system's integrity.
One social media posting described elections as "a 'gong show' on par with 'North Korea and Russia," according to an Elections Canada social media monitoring report dated Oct. 24.
"Others asserted that [Elections Canada] should be 'monitored' by an independent audit firm since [the 2019 general election] included 'a lot of things that do not pass the sniff test.' Another user claimed that EC is 'compromised.'"
The agency said it's reviewing the social media monitoring initiative to determine what the agency will do with it in the future. Elections Canada said the monitoring effort gave it insight into voters' concerns and the spread of election misinformation online, allowing it to release accurate facts during the campaign.
Between August and the end of October, 2019, a team of 20 people at Elections Canada searched publicly available posts on popular platforms such as YouTube, Facebook, Twitter, Reddit, 4chan and Tumblr. The agency used key words to search for false messaging about where, when and how Canadians could vote.
The group came across posts sharing inaccurate information about the voting process, including posts citing the wrong date for the election. The team also warned social media platforms about 28 instances of inaccurate information shared online and social media accounts impersonating Elections Canada.
After the election, the agency also sent letters to various digital platforms saying they needed to do more to protect the public.
"In those letters, Elections Canada also noted that there is still work to do be done regarding the collection and treatment of user data collection and the spread of inaccurate information on digital platforms," agency spokesperson Sonia Molinski told CBC News.
The team's daily findings were compiled into a report that was sent out to different departments within Elections Canada and the Commissioner of Canada Elections' office. Elections Canada is now working on post-election reports that will include information on the major online trends the agency detected.
CBC News sifted through the 700-page-plus compilation report and pulled out three key issues that lit up social media during the campaign.
Worries about non-citizens voting
One of the most common concerns Election Canada spotted on social media was the fear that non-citizens might cast ballots illegally.
In the spring, Elections Canada reported it was removing 103,000 individuals from the federal voters' registry because they were not Canadian citizens. That sparked news stories and a heated online debate about whether voters should be compelled to show proof of citizenship at the polls.
Under the Canada Elections Act, it's illegal for a non-citizen to vote knowing they are not eligible. Some on social media said the system shouldn't rely on trust and called for stricter voting rules, such as a requirement to show a passport before casting a ballot.
"I think this election is rigged, just like the last one was," wrote one person on Facebook, according to the agency's report on Oct 11. "How many illegal ballots were cast? Why they don't insist on [people] carrying a passport or at least their citizenship papers?"
Another person claimed to have voted with a library card and voter information card while wearing a scarf and sunglasses to show how "ridiculous" they felt the ID requirements are.
"It works! Ridiculous! Anyone could vote in my place … Why do we have photo ID and not required to use it in our country's MOST important event?"
A news story about a permanent resident who had mistakenly received a voter information card in the mail set off another round of hysteria online. Some people online found it "deplorable," according to an Oct. 18 report.
Elections Canada said it's conducting a thorough review of any potential election violations — cross-referencing data it collected during the election with Immigration, Refugees and Citizenship Canada's lists of permanent residents and foreign nationals. It plans to verify that information by opening thousands of bags of election documents in ridings across the country to filter out any data capture errors.
"Based on its initial assessment, Elections Canada has no evidence to suggest that the outcomes in any ridings would have been affected by instances of non-citizens voting in the 2019 federal election," said Molinski.
Foreign interference
Elections Canada also spent time responding to calls for the agency to investigate alleged cases of foreign interference.
Those calls ramped up after bombshell images and footage of Liberal leader Justin Trudeau wearing brownface and blackface surfaced in mid-September.
"Some users found it 'suspicious' that the photo resurfaced in the middle of an election period and labelled it 'foreign interference,'" says an Elections Canada report dated Sept. 19. "One user claimed that the photo was released by 'foreign powers' that want to 'hijack the Canadian election.'"
The next month, outrage erupted online after former U.S. president Barack Obama went on Twitter and asked his "neighbors to the north" to elect Trudeau to another term.
I was proud to work with Justin Trudeau as President. He's a hard-working, effective leader who takes on big issues like climate change. The world needs his progressive leadership now, and I hope our neighbors to the north support him for another term.

—@BarackObama
"Some users speculated that Obama received money in exchange for that endorsement," said the agency's report dated Oct. 16.  "Another set of users speculated what [Elections Canada's] and the public's reaction would be if U.S. President Donald Trump or Russian President Vladimir Putin chose to endorse a candidate in [the election]; many speculated that there 'would be no end to the outrage.'"
Others took aim at Swedish climate activist Greta Thunberg after the 17-year-old visited climate rallies in Edmonton and Vancouver in October.
"One user asked what [Elections Canada] was 'doing about all this obvious interference' and a second user wondered if it was possible to 'get an injunction' to keep Thunberg 'out of the country' due to the impending election," said the agency's report.
Elections Canada ended up explaining to some social media users that election law permits people outside of the country to express opinions on topics related to Canada's election.
Privacy concerns
Elections Canada also faced criticism over its collaborations with social media platforms. The agency rolled out a series of short videos in September and October on Facebook and Snapchat explaining voter information cards, how to register and how to vote. One social media user called it a "deliberate attempt to undermine" Canadian democracy, according to the Elections Canada report from Sept. 25.
One women's rights advocate criticized the campaign on Twitter, saying that something felt "off" about the campaign and accusing Elections Canada of using Facebook and Twitter ads to spread "misinformation."
The advocate "said she's not on the voter registry because she's a victim of stalking and felt it was 'bad for democracy' for Elections Canada to frame voter registration as something voters 'need to do' in order to vote," says the Sept. 22 Elections Canada report. "Her main concern was with voters, who for privacy reasons, wish not to be on the national list of electors."
Another person noted online that the individual shown in the Snapchat ad was wearing a red shirt: "Just saying! No influence here." Others speculated that the Facebook campaign was a data mining operation.
Elections Canada said it assured social media users that it does not share voter information with any social media platforms.
Elections Canada said that its Facebook campaign led to more than 988,222 visits to the online registration service and 474,495 registry confirmations, additions and updates.
Elections Canada said it will release the overall cost of its social media monitoring team when it reports on the cost of the election, but didn't cite a specific date.
TAIT: Lisa LaFlamme's unfortunate ouster a reminder of Canada's changing media landscape – Edmonton Sun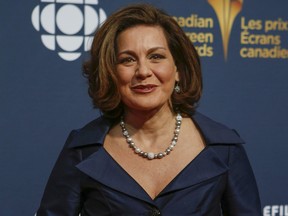 Article content
Now, I'm nervous.
Article content
This Thursday will mark my 43rd anniversary in the news business. I wonder if the phone might ring with some news.
How about that for a segue?
Monday afternoon: a quiet news day, most of the 2,236 weeks I've been a keyboard captain.
Then, late Monday afternoon — a minute before I was set to email my buddy Coffee Chad to say I didn't have a column — the tweet zoomed across my screen.
It is from Lisa LaFlamme. It said: "I have some news."
Big deal, I thought.
Maybe Donald Trump said something that we could, honestly, believe … maybe, there was a peace treaty finally signed between Russia and Ukraine … maybe that illusive test tube, thankfully, emerged that will end all cancers.
No problem, I told myself. Stay up late. Watch LaFlamme on CTV News.
Article content
But then it kicked in: that news sense that loudly rings in my ear, screaming to check everything — no matter how insignificant it might sound — make a phone call, or in today's world, click.
So click I did.
And forget, for a few words, I am a reporter.
As a Canadian I am sad.
I'm sad I had to watch a video, on Twitter no less, of LaFlamme telling her story.
I am sad about that image of her sitting in what seems to be a cosy rustic cottage, perhaps.
I am sad she shared news that Bell-Media informed her June 29 her contract as CTV chief correspondent would not be renewed.
LaFlamme is 58 and has decades of news experience.
Knowing what is news — and more importantly what is not — isn't something you gloriously discover at the bottom of a crackerjack box.
Article content
It's a feeling.
A sense.
A skill, frankly, not everyone has.
LaFlamme had it, absolutely.
She reported some of the biggest stories we will ever hear, with — and I'd bet the farm on this — COVID-19 is near the top.
In my mind, her seniority, calm voice and sincere compassion touched us all no matter how rough the nightly news line-up was, with reassurance, as we drifted off to sleep, that everything would be OK.
The media landscape has changed so significantly in the past 10 years.
We knew that.
What we did not realize is that many great people, with even greater skills, would leave our favourite radio stations, TV stations and, alas, newspapers without producing or writing their last piece.
Business decisions happen all the time. We must respect that.
But we need to remind everyone being a news personality is a noble profession.
When our time comes — on our own call or from ivory tower corporate offices — saying thank you to viewers, listeners and readers closes a chapter gracefully.
Rather than — forgive the aforementioned news voice — wondering why.
Longtime CTV anchor Lisa LaFlamme 'blindsided' as Bell Media ends contract – The Globe and Mail
Lisa LaFlamme was let go as anchor of CTV National News after 35 years at the network in a decision that the veteran journalist said blindsided her and one that prompted shock from colleagues and viewers.
CTV's parent company, Bell Media, said Ms. LaFlamme's removal was a business decision intended to meet changing viewer habits, though it did not elaborate.
Ms. LaFlamme, who has been the face of CTV's national broadcast since 2011, posted a two-minute video to Twitter on Monday in which she said she was told on June 29 that the network was ending her contract. She said she was told to stay quiet until departure details were finalized.
"I'm still shocked and saddened," she said. "At 58, I still thought I'd have a lot more time to tell more of the stories that impact our daily lives. Instead, I leave CTV humbled by the people who put their faith in me to tell their story."
The long-time anchor and foreign correspondent spent her career reporting on some of the biggest stories in Canada and the world, including the Iraq war and other conflicts, natural disasters such as Hurricane Katrina, and global spectacles such as the Olympic Games and the Queen's Diamond Jubilee. More recently, Ms. LaFlamme covered Russia's war against Ukraine and the Pope's historic apology for the role of the Catholic Church in Canada's residential school system.
Bell Media announced her departure in a news release on Monday and said Omar Sachedina will replace Ms. LaFlamme on Sept. 5. Mr. Sachedina is a national affairs correspondent for CTV News who joined the network in 2009.
"Recognizing changing viewer habits, CTV recently advised LaFlamme that it had made the business decision to move its acclaimed news show, CTV National News, and the role of its chief news anchor in a different direction," the company said.
Bell Media did not make anyone available for an interview to explain the decision and instead referred The Globe and Mail to company news releases.
Earlier this year, Ms. LaFlamme was named the Best National News Anchor at the Canadian Screen Awards, having also won the previous year. In 2019, she was named to the Order of Canada and has many other honours attached to her name.
She assumed the top news anchor role in 2011 when Lloyd Robertson retired at 77. He had spent more than four decades as a national news anchor and reminisced on a storied career before signing off for the final time during a newscast on Sept. 1 of that year.
In her Twitter video, Ms. LaFlamme thanked her colleagues, viewers and loved ones for their "unwavering support" and said the video was likely her official sign-off from CTV. "While it is crushing to be leaving CTV National News in a manner that is not my choice, please know reporting to you has truly been the greatest honour of my life," she said.
Her exit from the network ignited outrage on social media from industry colleagues and supporters, with some questioning whether gender discrimination played a role in her removal. Jeffrey Dvorkin, former director of the University of Toronto's journalism program, said it's a fair criticism and one that Bell Media will need to consider.
"I think they're looking for a younger, different demographic and Omar Sachedina fulfills that," said Mr. Dvorkin. "But I think Bell Media may not have appreciated, properly, the kind of loyalty that people have in radio and television audiences. There's a real intimacy in broadcast journalism."
Shari Graydon, the CEO and catalyst of Informed Opinions, an organization that advocates for women's voices in media, called the treatment of Ms. LaFlamme "deeply troubling."
"When you contrast Lloyd Robertson leaving at 77 and Lisa LaFlamme being essentially two decades younger than that, the optics are really bad," she said in an interview, noting that Mr. Robertson had the opportunity to say his goodbyes on the network – as opposed to on social media.
Ms. Graydon also emphasized the significance of Ms. LaFlamme's prior role within the public perception, both for women and girls considering the aspirations they can reach for, but also for boys and men, showing them that "women are as capable, as authoritative, as knowledgeable as their male colleagues."
Concerns of discrimination against on-air journalists are not new. Almost 40 years ago, American TV anchor Christine Craft won a prominent case against her Kansas City station, alleging it demoted her for being "too old, unattractive and not deferential enough to men." In 2019, five female anchorwomen sued the parent company of NY1, a well-known station in New York, alleging gender- and age-based discrimination. The anchors, who ranged in age from 40 to 61 at the time, settled their suit in 2020.
Robert Hurst, former president of CTV News, said in an interview on Monday that he was surprised at the announcement about Ms. LaFlamme but has no knowledge of what led to the decision. He declined to comment on the optics of her departure but spoke fondly of her career, having hired her at CTV many years ago.
"She was just a fabulous reporter travelling the country and the world for us and when it was time for Lloyd Robertson to step down, she was the obvious choice. I was obviously a big fan when we put Lisa into the anchor chair," said Mr. Hurst. "Journalism was in her blood."
Ian Hanomansing, who is one of the anchors of the competing CBC News national broadcast The National said on Twitter that Ms. LaFlamme's departure left him speechless. "Lisa is among the very best at what she does. I know surprisingly arbitrary decisions can be made in this business but Lisa, you deserve better than this. Way better," he wrote on Twitter.
Anchor Dawna Friesen of Global National similarity expressed shock. "Since we started working together years ago at CTV, I've watched you work your butt off and earn the respect of colleagues, competitors and viewers. None of us last in these gigs forever but seems to me you deserve better than this."
Current and former politicians also sounded off on social media about Ms. LaFlamme being shown the door. Alberta NDP Leader Rachel Notley called her "a massive voice in Canadian media." Former Liberal MP Catherine McKenna called the move to end her contract an "appallingly shoddy way to treat an incredible journalist."
Former NDP MP Peggy Nash on Twitter that Ms. LaFlamme deserved respect and appreciation for her many years of hard work and success. "Instead, you got disrespect and dismissal," Ms. Nash wrote.
Our Morning Update and Evening Update newsletters are written by Globe editors, giving you a concise summary of the day's most important headlines. Sign up today.
Being Thrown Off Social Media Was Supposed to End Alex Jones's Career. It Made Him Even Richer – Bloomberg