Some Wuhan Evacuees Ask Why They Aren't Being Tested for the Coronavirus – The New York Times
LOS ANGELES — When 195 Americans, including diplomats, were evacuated from Wuhan, China, last month, they were tested for the coronavirus on arrival at a California military base. Health officials swabbed the throats and noses of everyone in the group — the first to be evacuated from Wuhan — and they were relieved when all of their tests came back negative.
But as more government-arranged flights evacuated Americans from China in the days that followed, the federal health authorities adopted a new protocol: Only people who showed symptoms of illness during a 14-day quarantine period would be tested. For some among the more than 600 people who are still waiting to be cleared to go home from military bases in three states, the new rule has left them worried — and angry. Some are pleading with the Centers for Disease Control and Prevention to test them for the coronavirus.
"We are not asking for skateboards or toys," said Jacob Wilson, 33, one of more than 30 people in quarantine on a base in San Diego who signed a petition this week calling for tests. "We are asking to get tested and make sure we are not passing anything to other people."
The concerns come as three people in quarantine on bases in San Diego and San Antonio, Texas, tested positive for the virus, which has killed more than a thousand people in China but so far has been found to have infected only 15 people in the United States.
At Marine Corps Air Station Miramar in San Diego, where 232 people are waiting out a government-mandated two-week quarantine, some evacuees said they worried that they and their children had spent days mingling with people — in an eating area, on a playground and in a laundry room — and would like to know for sure whether or not they have the virus.
"We believe testing everyone at the facility would help identify potential suspects as early as possible, so the appropriate treatment could be put in place," the evacuees wrote in the petition, which they called a "suggestion letter" and shared with one another over WeChat, a Chinese instant-messaging app.
The C.D.C., however, has declined to test every evacuee. Officials said that such tests are less accurate before people show symptoms, so a negative early result could be misleading rather than helpful. The agency tested everyone on the first evacuation flight, the officials said, because they were learning about the virus and because doing so allowed them to collect more data about it. Since then, they said, they have determined that swabbing hundreds of seemingly healthy people is not useful.
"Every test has a limit of detection," said Dr. Joseph Bresee, a deputy incident manager for the C.D.C.'s response to the coronavirus. "Early on, the test may or may not be able to pick it up."
Almost everyone who gets sick from the virus will show symptoms within 14 days of exposure, often early within that window, Dr. Bresee said. Evacuees on military bases are having their temperature checked at least twice a day and are asked to alert health officials if they feel sick or if their temperature rises.
Dr. Bresee said that he empathized with evacuees who want definitive answers about whether they are healthy.
"They're concerned, they're nervous, and they want to be assured of their safety," he said, adding that the cost of testing was not a factor in the decision not to test everyone. "We don't think testing would be helpful, and if we did, we would test them."
About 1,000 Americans are believed to live in Wuhan, where the outbreak began. As the number of confirmed cases soared and commercial carriers suspended flights out of the city, the United States began chartering planes to bring home citizens who were stranded there.
On the San Diego base, where evacuees have been waiting since last week, not everyone was calling for more testing. John McGory, who is among the group, said some people did not support the petition. Some in the group said fears had been blown out of proportion and that the C.D.C.'s approach seemed reasonable.
The C.D.C. on Thursday announced the latest confirmed coronavirus case in the United States as having been identified among the evacuees at Joint Base San Antonio-Lackland. The person had been under quarantine on the base until symptoms emerged. The person was taken to a hospital and was stable with mild symptoms, the C.D.C. said. In announcing the new case, the C.D.C. said there would likely be more confirmed cases in the coming days.
At the San Diego base, Marine Corps Air Station Miramar, Mr. Wilson and others said that people had to leave their rooms to get breakfast, lunch and dinner from a small room, which is also where their temperatures were taken. People rummaged through boxes of fruit and snacks with their bare hands, he said, and they stood shoulder to shoulder in line waiting to check their temperatures despite being told to stay six feet away from one another.
After the petition was circulated, health officials agreed as of Thursday to deliver meals and take temperatures at the room doors of evacuees who preferred it that way.
"The reality is, it's impossible for us to keep any distance from each other," said Mr. Wilson, a tech entrepreneur in Wuhan. He and others also said officials had not required evacuees to wear masks.
Earlier in the week, a labeling error led the authorities to return an ill woman to the base from a San Diego hospital, though a test later showed that she had the coronavirus. The mistake raised new worries among some evacuees. The C.D.C. had erroneously informed the hospital that the woman had tested negative for the virus when, in fact, her samples had not been tested. Health officials have tried to calm concerns, saying the woman had been isolated from other evacuees before returning to the hospital.
Dr. Bresee said that health officials were learning more about the virus each day, but that there were no plans to change testing procedures for the hundreds in quarantine.
"As we learn more, we may pivot," he said. "It doesn't mean we were wrong once and are right now, it just means we're learning."
Miriam Jordan reported from Los Angeles, and Nicholas Bogel-Burroughs from New York. Amy Qin contributed reporting from San Diego.
Here's why we may have to wait 18 months before we have a Covid-19 vaccine – Scroll.in
The World Health Organization said recently that it may be 18 months before a vaccine against the coronavirus is publicly available. Let's explore why, even with global efforts, it might take this long.
China shared publicly the full RNA sequence of the virus – now known as SARS-CoV-2 rather than COVID-19, which refers to the disease itself – in the first half of January. This kickstarted efforts to develop vaccines around the world, including at the University of Queensland and institutions in the US and Europe.
By late January, the virus was successfully grown outside China for the first time by Melbourne's Doherty Institute, a critically important step. For the first time, researchers in other countries had access to a live sample of the virus.
Using this sample, researchers at CSIRO's high-containment facility, the Australian Animal Health Laboratory, in Geelong, could begin to understand the characteristics of the virus, another crucial step in the global effort towards developing a vaccine.
Vaccines have historically taken two to five years to develop. But with a global effort, and learning from past efforts to develop coronavirus vaccines, researchers could potentially develop a vaccine in a much shorter time.
Here's why we need to work together.
No single institution has the capacity or facilities to develop a vaccine by itself. There are also more stages to the process than many people appreciate. First, we must understand the virus's characteristics and behaviour in the host humans. To do this, we must first develop an animal model.
Next, we must demonstrate that potential vaccines are safe and can trigger the right parts of the body's immunity, without causing damage. Then we can begin pre-clinical animal testing of potential vaccines, using the animal model.
Vaccines that successfully pass pre-clinical testing can then be used by other institutions with the capacity to run human trials. Where these will be conducted, and by whom, has yet to be decided. Generally, it is ideal to test such vaccines in the setting of the current outbreak.
Finally, if a vaccine is found to be safe and effective, it will need to pass the necessary regulatory approvals. And a cost-effective way of making the vaccine will also need to be in place before the final vaccine is ready for delivery.
Each of these steps in the vaccine development pipeline faces potential challenges.
Key challenges
The international Coalition for Epidemic Preparedness Innovations has engaged our team in those first two steps: determining the characteristics of the current virus, then pre-clinical testing of potential vaccines.
While Melbourne's Doherty Institute and others have been instrumental in isolating the novel coronavirus, the next step for us is growing large amounts of it, so our scientists have enough to work with. This involves culturing the virus in the lab – i.e. encouraging it to grow – under especially secure and sterile conditions.
The next challenge we face is developing and validating the right biological model for the virus. This will be an animal model that gives us clues to how the coronavirus might behave in humans. Our previous work with the severe acute respiratory syndrome, better known as SARS, has given us a good foundation to build on.
SARS is another member of the coronavirus family that spread during 2002-'03. Our scientists developed a biological model for SARS, using ferrets, in work to identify the original host of the virus: bats.
SARS and the new SARS-CoV-2 share about 80-90% of their genetic code. So our experience with SARS means we are optimistic our existing ferret model can be used as a starting point for work on the novel coronavirus.
We will also explore other biological models to provide more robust data and as a contingency.
Other challenges
There's also the strong possibility that SARS-CoV-2 will continue to mutate. Being an animal virus, it has already likely mutated as it adapted – first to another animal, and then jumping from an animal to humans.
Initially this was without transmission among people, but now it has taken the significant step of sustained human-to-human transmission. As the virus continues to infect people, it is going through something of a stabilisation, which is part of the mutation process.
This mutation process may even vary in different parts of the world, for various reasons.
This includes population density, which influences the number of people infected and how many opportunities the virus has to mutate. Prior exposure to other coronaviruses may also influence the population's susceptibility to infection, which may result in variant strains emerging, much like seasonal influenza.
Therefore, it's crucial we continue to work with one of the latest versions of the virus to give a vaccine the greatest chance of being effective. All this work needs to be done under stringent quality and safety conditions, to ensure it meets global legislative requirements, and to ensure staff and the wider community are safe.
Another challenge is manufacturing proteins from the virus needed to develop potential vaccines. These proteins are specially designed to elicit an immune response when administered, allowing a person's immune system to protect against future infection.
Fortunately, recent advances in understanding viral proteins, their structure and functions, has allowed this work to progress around the world at considerable speed.
Developing a vaccine is a huge task and not something that can happen overnight. But if things go to plan, it will be much faster than we've seen before. So many lessons were learned during the SARS outbreak. And the knowledge the global scientific community gained from trying to develop a vaccine against SARS has given us a head-start on developing one for this virus.
Rob Grenfell, Director of Health and Biosecurity, CSIRO. Trevor Drew, Director of the Australian Animal Health Laboratory, CSIRO.
This article first appeared on The Conversation.

WHO Official Explains Why Coronavirus Hasn't Been Called a Pandemic – The Epoch Times
Dr. Michael Ryan, a top World Health Organization (WHO) official, revealed why the organization is not classifying the COVID-19 outbreak as a global pandemic.
"I think we need to be extremely cautious in using the term 'pandemic.' We had lots of controversies during the H1N1 situation, around when it was pandemic and when it wasn't pandemic, and I think we need to be careful," he said, referring to the swine flu virus.
A pandemic, Ryan suggested, would have to entail "efficient community transmission outside of China," where COVID-19, or the Novel Coronavirus, is believed to have originated. He is the executive director of WHO's Health Emergencies Program.
"At the present time, we're not observing that. And as such, we're not in a position to have that discussion. What we're seeing is, again, as we've said previously, the majority of cases outside China have a direct link still back to China," Ryan said in a news conference on Monday.
It's important for his organization not to create "fear in the world" by labeling the outbreak as a pandemic, according to the official.
"We've said that the risk is very high in China, it's high regionally and it's high around the world. That is not, 'the risk is high of a pandemic.' The risk is high that the disease may spread further, and I think at face value, that is true," Ryan remarked.
A day earlier, Dr. Michael Fauci of the U.S. National Institutes of Health said the outbreak of COVID-19 is on the brink of becoming a pandemic.
"It certainly is on the verge of that happening reasonably soon unless containment is more successful than it is right now," Fauci told CBS News, adding that two dozen countries outside of mainland China have approximately 500 cases of the virus.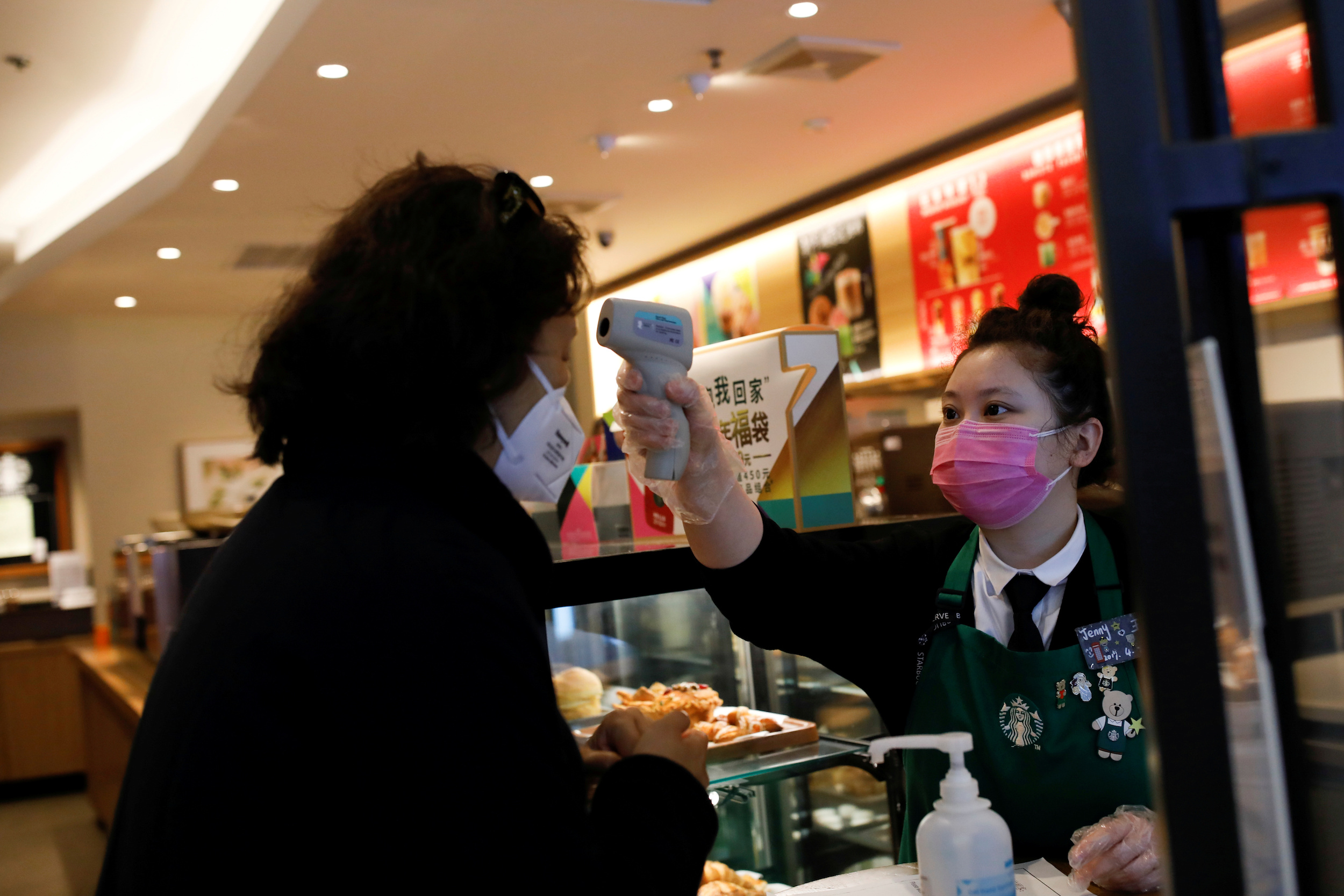 "Several of them," he added, "are starting to get to the second and third transmission." A pandemic officially means that there are several countries with sustained transmission from "person to person to person," Fauci explained.
The World Health Organization several weeks ago declared the virus a health emergency of international concern.
The United States on Sunday had a total of 15 cases of the virus from California, Wisconsin, Massachusetts, Texas, Illinois, Arizona, and Washington State. However, that number rose on Monday after Americans who were evacuated from a cruise ship held in quarantine arrived in the United States.
Health officials said that 13 evacuees who were removed from the Diamond Princess cruise ship, currently docked off the coast of Japan, were taken to a hospital in Nebraska. Some of them showed signs of COVID-19 while others tested positive, officials said in a press conference on Monday.
The bulk of the cases are in mainland China, centered around Hubei Province and Wuhan, it's capitol. Chinese regime officials have implemented lockdowns in dozens of cities, affecting hundreds of millions of people while triggering global supply-chain slowdowns. Last week, top White House advisor Larry Kudlow, said he was "disappointed" with how China has handled the outbreak. "The virus is contained in the United States. We don't know if it's contained in China," he said.
Coronavirus 'lab leakage' rumors spreading | Article – Asia Times
A Wuhan lab affiliated with the Chinese Academy of Sciences has sought to dispel rumors that it "made and leaked" the highly infectious pneumonic virus that led to the still-raging global outbreak. While Chinese President Xi Jinping was briefed about the public health threat by the Chinese Center for Disease Control and Prevention (CCDC) in early January, the government decided against sounding the alarm because it did not want to "mar the festive vibe" during the Lunar New Year celebrations.
The Wuhan Institute of Virology, located in the provincial capital of Hubei, which is the ground zero of the contagion, has been thrust into the media spotlight by the allegation last week that it leaked "bio-hazardous agents."
Posts circulating on WeChat and Weibo claim that a researcher at the institute was the first to be infected by the novel coronavirus, now called Covid-19 by the World Health Organization.
The female virologist and a graduate from the institute, referred to as "patient zero," had never visited the city's shambolic wet market – also known as the "zoo" – where a range of wild animals were sold. The market has been identified by the authorities as the most probable source of the deadly pathogen.
In a statement released on Sunday, the lab stressed that the researcher had left the city in 2015 and was in good health, refusing to release more information about her for privacy reasons.
The institute is said to be the nation's only Biological Security Level 4-certified lab, the highest level in the hierarchy of biosafety and biocontainment procedures codified by the US Center for Disease Control and Prevention. The Wuhan lab has the equipment and staff to handle the most infectious viruses, including Ebola.
Shi Zhengli, the institute's lead researcher on bat-related viruses, said on her social media account that she "guaranteed with her own life" that the outbreak had nothing to do with the lab but was a "nemesis for the barbaric habits and lifestyle of some people – like eating wild game including bats."
Shi's team said at the end of January, when the acute respiratory disease started to strike down more people in Wuhan and the rest of Hubei, that bats could have been the initial host of the coronavirus and SARS virus. Shi also heads an expert panel advising the Hubei provincial government in the battle against the epidemic.
Richard Ebright, a biology professor at Rutgers University in New Jersey, told the BBC that genomic sequencing of the coronavirus showed no proof that it had been artificially modified, yet he could not rule out the possibility that the unfolding pandemic could be the result of a "lab incident."
Ebright said the coronavirus was a cousin of one found in bats captured by the institute in caves in the southwestern province of Yunnan in 2003, and that samples had been kept in the Wuhan lab since 2013.
Also, a paper that appeared in the prestigious medical journal The Lancet at the end of last month has lent credibility to speculation about the origins of the virus. The paper quoted seven doctors at Wuhan's Jinyintan Hospital as saying that the first patient admitted on December 1 had "never been to the wet market," nor had there been any epidemiological link between the first patient and subsequent infection cases, based on the data from the first 41 patients treated there.
Furthermore, a note from the Chinese Ministry of Science and Technology is seen as a tacit admission that some kind of incident may have occurred at the Wuhan lab.
On Saturday, the ministry issued a directive mandating more stringent handling of viruses and bioagents by all labs and research institutes. The document alluded to the slack oversight and management rampant at some facilities, and stressed that protection and decontamination must be beefed up now that more labs across the nation are intensifying their efforts to develop medicines to treat it and a vaccine to prevent it.
Meanwhile, Hong Kong's Ming Pao daily reported on Monday that the CCDC had sounded the alarm in a report on the emerging SARS-like outbreak submitted to the top leadership in early January. However, curbing the spread was not at the top of the agenda when Xi and other members of the party's upper echelon sat down for a Politburo meeting on January 7. Citing its source, the broadsheet said top leaders were opposed to any contingency measures "that may mar the festive vibe and make the public panic."
In a move seen as a bid to highlight Xi's early involvement in combating the outbreak, state media revealed on Sunday that the president "gave specific instructions" to contain the spread in the January 7 meeting, amid people's simmering exasperation with the state and local cadres' tardy response to the public health crisis that has made more than 70,000 sick across the country as of Monday afternoon.
And even though the CCDC alerted Xi early on, its chief, Gao Fu, is still under fire for his public assurances last month that people were not likely to become infected as a result of normal human contact. Calls are being made for Gao, a veterinarian by training, to step down.
Read more:
WHO acused of being 'affiliated' with Beijing
Cadres, experts in quandary over virus and economy
Wuhan virus outbreak delays Xi's trip to Japan
Anger as Wuhan virus kills whistleblower
Radical measures rolled out as Chinese cities battle virus
Gaffes and blame: cadres in virus-stricken Hubeic